Abstract
Purpose
Maccabi Healthcare Services, a large health maintenance organization (HMO) operating in Israel, has recently constructed a computerized registry of patients with severe mental illnesses (SMI). In the present study, we aimed to use this registry to investigate the epidemiology of schizophrenia and bipolar affective disorder among adults, and to assess their comorbidity and mortality compared to the general population.
Methods
In this historical cohort study, we investigated the age- and sex-specific prevalence and incidence rates of HMO members diagnosed with schizophrenia or bipolar affective disorder between 2003 and 2009. We compared their medical comorbidity and mortality to the general HMO population.
Results
A total of 8,848 and 5,732 patients were diagnosed with bipolar (crude prevalence rate of 5 per 1,000) and schizophrenia (3 per 1,000), respectively. The annual incidence rates were 4.2 and 2.4 per 1,000 for schizophrenia and bipolar disorder, respectively. On average, schizophrenic men were diagnosed 4–5 years earlier than schizophrenic women. Compared to the general population, schizophrenia and bipolar disorder patients had a 12- and 9-year shorter life expectancy, respectively. They were also more likely to be diagnosed with diabetes mellitus (odds ratio of 1.9 and 1.6, respectively).
Conclusions
The current study demonstrates the potential use of automated medical databases to characterize the epidemiology of SMI in the community. The increased comorbidity and mortality among these patients has important implication for health authorities for prevention and delivery of health-care services.
Access options
Buy single article
Instant access to the full article PDF.
US$ 39.95
Tax calculation will be finalised during checkout.
Subscribe to journal
Immediate online access to all issues from 2019. Subscription will auto renew annually.
US$ 159
Tax calculation will be finalised during checkout.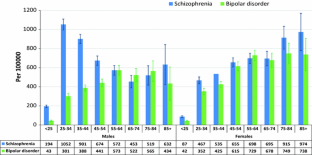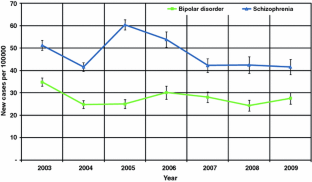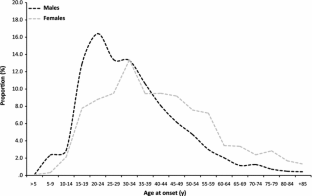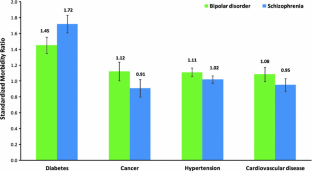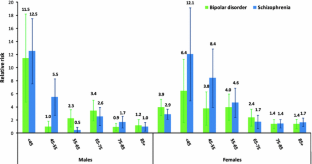 Abbreviations
HMO:

Health maintenance organization

MHS:

Maccabi Healthcare Services

SMI:

Severe mental Illness

OLE:

Overall life expectancy

CVD:

Cardiovascular diseases
References
1.

McGrath J, Saha S, Chant D, Welham J (2008) Schizophrenia: a concise overview of incidence, prevalence, and mortality. Epidemiol Rev 30:67–76

2.

Pini S, de Queiroz V, Pagnin D, Pezawas L, Angst J, Cassano GB, Wittchen HU (2005) Prevalence and burden of bipolar disorders in European countries. Eur Neuropsychopharmacol 15:425–434

3.

Merikangas KR, Akiskal HS, Angst J, Greenberg PE, Hirschfeld RM, Petukhova M, Kessler RC (2007) Lifetime and 12-month prevalence of bipolar spectrum disorder in the National Comorbidity Survey replication. Arch Gen Psychiatry 64:543–552

4.

Gershon A, Weiser M (2009) The epidemiology of schizophrenia disorders in Israel. In: Levav I (ed) Psychiatric and Behavioral Disorders in Israel: From Epidemiology to Mental Health Action. Gefen Publishing House Jerusalem

5.

Weiser M, Werbeloff N, Yoffe R, Lubin G, Shmushkevitch M, Davidson M (2008) Elaboration on immigration and risk for schizophrenia. Psychol Med 38:1113–1119

6.

Weiser M, Knobler H, Lubin G, Nahon D, Kravitz E, Caspi A, Noy S, Knobler H, Davidson M (2004) Body mass index and future schizophrenia in Israeli male adolescents. J Clin Psychiatry 65:1546–1549

7.

Roshanaei-Moghaddam B, Katon W (2009) Premature mortality from general medical illnesses among persons with bipolar disorder: a review. Psychiatr Serv 60:147–156

8.

Jeste DV, Gladsjo JA, Lindamer LA, Lacro JP (1996) Medical comorbidity in schizophrenia. Schizophr Bull 22:413–430

9.

Brown S (1997) Excess mortality of schizophrenia: a meta-analysis. Br J Psychiatry 171:502–508

10.

Felker B, Yazel JJ, Short D (1996) Mortality and medical comorbidity among psychiatric patients: a review. Psychiatr Serv 47:1356–1363

11.

Harris EC, Barraclough B (1998) Excess mortality of mental disorder. Br J Psychiatry 173:11–53

12.

Eaton WW, Byrne M, Ewald H, Mors O, Chen CY, Agerbo E, Mortensen PB (2006) Association of schizophrenia and autoimmune diseases: linkage of Danish national registers. Am J Psychiatry 163:521–528

13.

DE Hert M, Correll C, Bobes J, Cetkovich-Bakmas M, Cohen D, Asai I, Detraux J, Gautam S, Moller HJ, Ndetei DM, Newcomer JW, Uwakwe R, Leucht S (2011) Physical illness in patients with severe mental disorders. I. Prevalence, impact of medications and disparities in health care. World Psychiatry 10(1):52–77

14.

Koran LM, Sox HC Jr, Marton KI, Moltzen S, Sox CH, Kraemer HC, Imai K, Kelsey TG, Rose TG Jr, Levin LC et al (1989) Medical evaluation of psychiatric patients. I. Results in a state mental health system. Arch Gen Psychiatry 46:733–740

15.

Makikyro T, Karvonen JT, Hakko H, Nieminen P, Joukamaa M, Isohanni M, Jones P, Jarvelin MR (1998) Comorbidity of hospital-treated psychiatric and physical disorders with special reference to schizophrenia: a 28 year follow-up of the 1966 northern Finland general population birth cohort. Public Health 112:221–228

16.

Statistical abstract of Israel 2010 (2010) vol No. 61. Central Bureau of Statistics, Israel

17.

Heymann AD, Chodick G, Halkin H, Karasik A, Shalev V, Shemer J, Kokia E (2006) The implementation of managed care for diabetes using medical informatics in a large preferred provider organization. Diabetes Res Clin Pract 71(3):290–298. doi:10.1016/j.diabres.2005.07.002

18.

Chodick G, Heymann AD, Shalev V, Kookia E (2003) The epidemiology of diabetes in a large Israeli HMO. Eur J Epidemiol 18:1143–1146

19.

Shalev V, Chodick G, Bialik M, Green MS, Heymann AD (2007) In a population-based cohort of diabetes patients, men and women had similar risks for all-cause mortality. J Clin Epidemiol 60:86–93

20.

Chodick G, Porath A, Alapi H, Sella T, Flash S, Wood F, Shalev V (2010) The direct medical cost of cardiovascular diseases, hypertension, diabetes, cancer, pregnancy and female infertility in a large HMO in Israel. Health Policy 95:271–276

21.

UN/DESA Population Division WPP (2003) Population size, population by age and sex, median age, population changes: The 2004 Revision Life Expectancy: UN, Demographic year book

22.

Preston S, Heuveline P, Guillot M (2000) Demography: measuring and modeling population processes 2000. Wiley-Blackwell, New York

23.

Development CTR (2011) A language and environment for statistical computing. R Foundation for Statistical Computing Vienna, Austria

24.

Saha S, Chant D, Welham J, McGrath J (2005) A systematic review of the prevalence of schizophrenia. PLoS Med 2:e141

25.

Bulloch AG, Currie S, Guyn L, Williams JV, Lavorato DH, Patten SB (2011) Estimates of the treated prevalence of bipolar disorders by mental health services in the general population: comparison of results from administrative and health survey data. Chronic Dis Inj Can 31:129–134

26.

Merikangas KR, Jin R, He JP, Kessler RC, Lee S, Sampson NA, Viana MC, Andrade LH, Hu C, Karam EG, Ladea M, Medina-Mora ME, Ono Y, Posada-Villa J, Sagar R, Wells JE, Zarkov Z (2011) Prevalence and correlates of bipolar spectrum disorder in the world mental health survey initiative. Arch Gen Psychiatry 68:241–251

27.

Hafner H, an der Heiden W, Behrens S, Gattaz WF, Hambrecht M, Loffler W, Maurer K, Munk-Jorgensen P, Nowotny B, Riecher-Rossler A, Stein A (1998) Causes and consequences of the gender difference in age at onset of schizophrenia. Schizophr Bull 24:99–113

28.

Jablensky A (2000) Epidemiology of schizophrenia: the global burden of disease and disability. Eur Arch Psychiatry Clin Neurosci 250:274–285

29.

Robson D, Gray R (2007) Serious mental illness and physical health problems: a discussion paper. Int J Nurs Stud 44:457–466

30.

Levav I (2009) Psychiatric and behavioral disorders in Israel, from epidemiology to mental health action. Gefen, Jerusalem

31.

Kinder LS, Carnethon MR, Palaniappan LP, King AC, Fortmann SP (2004) Depression and the metabolic syndrome in young adults: findings from the Third National Health and Nutrition Examination Survey. Psychosom Med 66:316–322

32.

Lin P, Shuldiner A (2010) Rethinking the genetic basis for comorbidity of schizophrenia and type 2 diabetes. Schizophr Res 123:234–243

33.

Hughes JR, Hatsukami DK, Mitchell JE, Dahlgren LA (1986) Prevalence of smoking among psychiatric outpatients. Am J Psychiatry 143:993–997

34.

de Leon J, Becona E, Gurpegui M, Gonzalez-Pinto A, Diaz FJ (2002) The association between high nicotine dependence and severe mental illness may be consistent across countries. J Clin Psychiatry 63:812–816

35.

Zammit S, Allebeck P, Dalman C, Lundberg I, Hemmingsson T, Lewis G (2003) Investigating the association between cigarette smoking and schizophrenia in a cohort study. Am J Psychiatry 160:2216–2221

36.

Dickerson FB, McNary SW, Brown CH, Kreyenbuhl J, Goldberg RW, Dixon LB (2003) Somatic healthcare utilization among adults with serious mental illness who are receiving community psychiatric services. Med Care 41(4):560–570

37.

de Leon J, Dadvand M, Canuso C, White AO, Stanilla JK, Simpson GM (1995) Schizophrenia and smoking: an epidemiological survey in a state hospital. Am J Psychiatry 152(3):453–455

38.

Bresee L, Majumdar S, Patten S, Johnson J (2010) Prevalence of cardiovascular risk factors and disease in people with schizophrenia: a population-based study. Schizophr Res 117:75–82

39.

Barak Y, Achiron A, Mandel M, Mirecki I, Aizenberg D (2005) Reduced cancer incidence among patients with schizophrenia. Cancer 104(12):2817–2821

40.

De Hert M, Dekker JM, Wood D, Kahl KG, Holt RI, Moller HJ (2009) Cardiovascular disease and diabetes in people with severe mental illness position statement from the European Psychiatric Association (EPA), supported by the European Association for the Study of Diabetes (EASD) and the European Society of Cardiology (ESC). Eur Psychiatry 24:412–424

41.

Brown S, Inskip H, Barraclough B (2000) Causes of the excess mortality of schizophrenia. Br J Psychiatry 177:212–217

42.

Chang C, Hayes R, Perera G, Broadbent M, Fernandes A, Lee W, Hotopf M, Stewart R (2011) Life expectancy at birth for people with serious mental illness and other major disorders from a secondary mental health care case register in London. PLoS ONE 6:1–6. doi:10.1371/journal.pone.0019590

43.

Leung A, Chue P (2000) Sex differences in schizophrenia, a review of the literature. Acta Psychiatr Scand Suppl 401:3–38

44.

Cantor-Graae E, Selten J (2005) Schizophrenia and migration: a meta-analysis and review. Am J Psychiatry 162:12–24

45.

Kaplan G, Glasser S, Murad H, Atamna A, Alpert G, Goldbourt U, Kalter-Leibovici O (2010) Depression among Arabs and Jews in Israel: a population-based study. Soc Psychiatry Psychiatr Epidemiol 45:931–939
Additional information
A. Kodesh and I. Goldshtein contributed equally to this work.
About this article
Cite this article
Kodesh, A., Goldshtein, I., Gelkopf, M. et al. Epidemiology and comorbidity of severe mental illnesses in the community: findings from a computerized mental health registry in a large Israeli health organization. Soc Psychiatry Psychiatr Epidemiol 47, 1775–1782 (2012). https://doi.org/10.1007/s00127-012-0478-9
Received:

Accepted:

Published:

Issue Date:
Keywords
Severe mental illness

Schizophrenia

Bipolar affective disorders

Comorbidity

Mortality