Abstract
Purpose
To assess the link between multimorbidity, type of chronic physical health problems and depressive symptoms
Method
The study was a cross-sectional postal survey conducted in 30 General Practices in Victoria, Australia as part of the diamond longitudinal study. Participants included 7,620 primary care attendees; 66% were females; age range from 18 to 76 years (mean = 51years SD = 14); 81% were born in Australia; 64% were married and 67% lived in an urban area. The main outcome measures include the Centre for Epidemiologic Studies Depression Scale (CES-D) and a study-specific self-report check list of 12 common chronic physical health problems.
Results
The prevalence of probable depression increased with increasing number of chronic physical conditions (1 condition: 23%; 2 conditions: 27%; 3 conditions: 30%; 4 conditions: 31%; 5 or more conditions: 41%). Only 16% of those with no listed physical conditions recorded CES-D scores of 16 or above. Across the listed physical conditions the prevalence of 'probable depression' ranged from 24% for hypertension; 35% for emphysema; 35% for dermatitis to 36% for stroke. The dose–response relationship is reduced when functional limitations and self-rated health are taken into account, suggesting that these factors mediate the relationship.
Conclusions
A clear dose–response relationship exists between the number of chronic physical problems and depressive symptoms. The relationship between multimorbidity and depression appears to be mediated via self-perceived health related quality of life. Primary care practitioners will identify more cases of depression if they focus on those with more than one chronic health problem, no matter what the problems may be, being especially aware in the group who rate their health as poor/fair.
Access options
Buy single article
Instant access to the full article PDF.
US$ 39.95
Tax calculation will be finalised during checkout.
Subscribe to journal
Immediate online access to all issues from 2019. Subscription will auto renew annually.
US$ 159
Tax calculation will be finalised during checkout.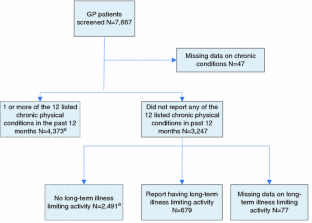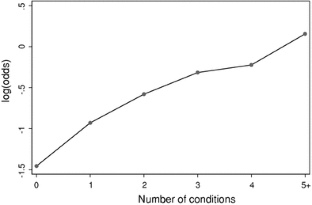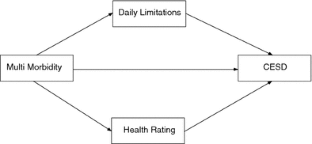 References
1.

Moussavi S, Chatterji S, Verdes E, Tandon A, Patel V, Ustun B (2007) Depression, chronic diseases, and decrements in health: results from the World Health Surveys. Lancet 370:851–858

2.

Stegmann ME, Ormel J, de Graaf R, Haro JM, de Girolamo G, Demyttenaere K, Kovess V, Matschinger H, Vilagut G, Alonso J (2010) Functional disability as an explanation of the associations between chronic physical conditions and 12-month major depressive episode. J Affect Disord 124:38–44

3.

Ormel J, FhV Rijsdijk, Sullivan M, van Sonderen E, Kempen GIJM (2002) Temporal and reciprocal relationship between IADL/ADL disability and depressive symptoms in late life. J Gerontol B Psychol Sci Soc Sci 57:P338–P347

4.

Prince M, Patel V, Saxena S, Maj M, Maselko J, Phillips MR, Rahman A (2007) No health without mental health. Lancet 370:859–877

5.

Koopmans G, Lamers L (2005) Assessing the construct validity of three indicators of psychological distress in relation to perceived health and physical illness. Soc Psychiatry Psychiatr Epidemiol 40:1012–1018

6.

Patten SB, Williams JVA (2007) Assessment of physical etiologies for mood and anxiety disorders in structured diagnostic interviews. Soc Psychiatry Psychiatr Epidemiol 42:462–466

7.

Dowrick C (2006) Chickens and eggs: examining the links between mental health and chronic disease. Intern J Psychiatry Med 36:263–267

8.

Dowrick C, Katona C, Peveler R, Lloyd H (2005) Somatic symptoms and depression: diagnostic confusion and clinical neglect. Br J Gen Pract 55:829–830

9.

Musselman DL, Betan E, Larsen H, Phillips LS (2003) Relationship of depression to diabetes types 1 and 2: epidemiology, biology, and treatment. Biol Psychiatry 54:317–329

10.

Oga T, Nishimura K, Tsukino M, Sato S, Hajiro T, Mishima M (2007) Analysis of longitudinal changes in the psychological status of patients with asthma. Respir Med 101:2133–2138

11.

Opolski M, Wilson I (2005) Asthma and depression: a pragmatic review of the literature and recommendations for future research. Clin Prac Epidemiol Ment Health 1:18

12.

Fortin M, Soubhi H, Hudon C, Bayliss EA, van den Akker M (2007) Multimorbidity's many challenges. BMJ Clinical research ed 334:1016–1017

13.

Uijen AA, van de Lisdonk EH (2008) Multimorbidity in primary care: prevalence and trend over the last 20 years. Eur J Gen Pract 14(Suppl 1):28–32

14.

van den Akker M, Buntinx F, Knottnerus A (1996) Comorbidity or multimorbidity: what's in a name? A review of literature. Eur J Gen Pract 2:65–70

15.

Britt HC, Harrison CM, Miller GC, Knox SA (2008) Prevalence and patterns of multimorbidity in Australia. Med J Aus 189:72–77

16.

Fortin M, Lapointe L, Hudon C, Vanasse A, Ntetu AL, Maltais D (2004) Multimorbidity and quality of life in primary care: a systematic review. Health Qual Life Outcomes 2:51

17.

Wright N, Smeeth L, Heath I (2003) Moving beyond single and dual diagnosis in general practice: many patients have multiple morbidities, and their needs have to be addressed. BMJ (Clinical research ed) 326:512–514

18.

van den Akker M, Buntinx F, Metsemakers JF, Roos S, Knottnerus JA (1998) Multimorbidity in general practice: prevalence, incidence, and determinants of co-occurring chronic and recurrent diseases. J Clin Epidemiol 51:367–375

19.

Fortin M, Bravo G, Hudon C, Lapointe L, Dubois MF, Almirall J (2006) Psychological distress and multimorbidity in primary care. Ann Fam Med 4:417–422

20.

Gunn JM, Gilchrist GP, Chondros P, Ramp M, Hegarty KL, Blashki GA, Pond DC, Kyrios M, Herrman HE (2008) Who is identified when screening for depression is undertaken in general practice? Baseline findings from the diagnosis, management and outcomes of depression in primary care (diamond) longitudinal study. Med J Aus 188:S119–S125

21.

Potiriadis M, Chondros P, Gilchrist G, Hegarty K, Blashki G, Gunn JM (2008) How do Australian patients rate their general practitioner? A descriptive study using the general practice assessment questionnaire. Med J Aus 189:215–219

22.

Calcino G (1993) Sampling from the HIC data set. In: Calcino G (ed) Proceedings from the General Practice Evaluation Program 1993 work-in-progress conference. Department of Health, Housing, Local Government and Community Services, Canberra

23.

Radloff L (1977) The CES-D scale: a self-report depression scale for research in the general population. Appl Psychol Meas 1:385–401

24.

Britt H, Miller G, Charles J, Bayram C, Pan Y, Henderson J, Valenti L, O'Halloran J, Harrison C, Fahridin S (2008) General practice activity in Australia 2006–07. General practice series no 21 Cat no GEP 21. AIHW, Canberra

25.

Australian Institute of Health and Welfare (2008) Australia's Health 2008. AIHW, Canberra

26.

StataCorp. (2009) Stata Statistical Software: Release 11. StataCorp LP, College Station, Texas

27.

MacKinnon DP, Lockwood CM, Hoffman JM, West SG, Sheets V (2002) A comparison of methods to test mediation and other intervening variable effects. Psychol Methods 7:83–104

28.

Gilchrist G, Gunn J (2007) Observational studies of depression in primary care: What do we know? BMC Fam Pract 8:28

29.

Zuithoff NPA, Vergouwe Y, King M, Nazareth I, Hak E, Moons KGM, Geerlings MI (2009) A clinical prediction rule for detecting major depressive disorder in primary care: the PREDICT-NL study. Fam Pr 26:241–250

30.

Simpson CF, Boyd CM, Carlson MC, Griswold ME, Guralnik JM, Fried LP (2004) Agreement between self-report of disease diagnoses and medical record validation in disabled older women: factors that modify agreement. J Am Geriatr Soc 52:123–127

31.

Kriegsman DM, Penninx BW, van Eijk JT, Boeke AJ, Deeg DJ (1996) Self-reports and general practitioner information on the presence of chronic diseases in community dwelling elderly. A study on the accuracy of patients' self-reports and on determinants of inaccuracy. J Clin Epidemiol 49:1407–1417

32.

Kolk AMM, Hanewald G, Schagen S, Gijsbers van Wijk CMT (2002) Predicting medically unexplained physical symptoms and health care utilization: a symptom-perception approach. J Psychosom Res 52:35–44

33.

Linn BS, Linn MW, Gurel L (1968) Cumulative illness rating scale. J Am Geriatr Soc 16:622–626
Acknowledgments
The diamond study was funded by the National Health and Medical Research Council (ID 299869, 454463 & 566511) and the Victorian Centre for Excellence in Depression and Related Disorders, an initiative between beyondblue and the Victorian Government. Neither funding body had a role in study design; the collection, analysis, and interpretation of data; the writing of the manuscript; or the decision to submit this manuscript for publication. The listed authors submit this paper on behalf of the diamond project team, including the investigators and researchers involved in the study: A/Professor Kelsey Hegarty, Dr Grant Blashki, Dr Gail Gilchrist, Professor Michael Kyrios, Professor Dimity Pond, Ms Vanessa Madden, Dr David Pierce, Ms Maria Potiriadis, Ms Melina Ramp, Dr Lena Sanci, Dr Jane Sims, Ms Donna Southern, and the casual research staff. We are grateful to the thirty dedicated GPs, their patients and practice staff for making this research possible.
Conflict of interest
All authors declare that the answer to the questions on competing interest form are all 'No' and therefore have nothing to declare.
About this article
Cite this article
Gunn, J.M., Ayton, D.R., Densley, K. et al. The association between chronic illness, multimorbidity and depressive symptoms in an Australian primary care cohort. Soc Psychiatry Psychiatr Epidemiol 47, 175–184 (2012). https://doi.org/10.1007/s00127-010-0330-z
Received:

Accepted:

Published:

Issue Date:
Keywords
Depression

Multimorbidity

Primary care

Cohort

Chronic illness