Abstract
Purpose
To identify subtypes of adolescent suicide attempters by examining risk profiles related to substance use, violent behavior, and depressive symptoms. To examine the relationship between these subtypes and having had two or more suicide attempts during the past year. To explore race and gender differences across subtypes of suicide attempters.
Methods
Data were combined from five nationally representative cohorts of the US Youth Risk Behavior Surveillance System (YRBSS) and focused on a subpopulation of youth who reported a suicide attempt requiring medical attention. Latent class analysis was used to identify subtypes of suicide attempters.
Results
Analysis yielded three classes of youth who attempted suicide, distinguishable by their levels of substance use and violent behaviors: low substance use and violent behaviors, high substance use and violent behaviors, and extreme substance use and violent behaviors. All three classes had a high propensity for endorsing depressive symptoms. The proportion of youth with two or more suicide attempts during the past year increased across subgroup of attempters with higher levels of substance use and violent behaviors. Racial and gender differences were found across subtypes of suicide attempters.
Conclusions
Preventing and treating the co-occurrence of substance use and violent behaviors may serve as essential strategies for reducing suicide attempts, especially among male youth. The use of public health strategies for suicide prevention should take into account the different needs of youth at risk for suicide.
This is a preview of subscription content, log in to check access.
Access options
Buy single article
Instant access to the full article PDF.
US$ 39.95
Tax calculation will be finalised during checkout.
Subscribe to journal
Immediate online access to all issues from 2019. Subscription will auto renew annually.
US$ 199
Tax calculation will be finalised during checkout.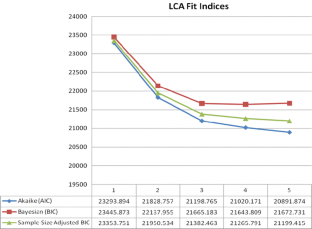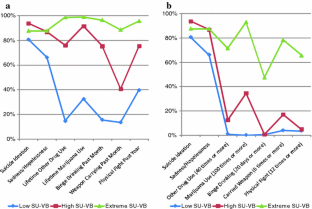 References
1.

United States. Dept. of Health and Human Services. (2001) Healthy people 2010: understanding and improving health. Rev. ed. Jones and Bartlett Publishers, Boston

2.

Pfeffer CR, Klerman GL, Hurt SW, Kakuma T, Peskin JR, Siefker CA (1993) Suicidal children grow up: rates and psychosocial risk factors for suicide attempts during follow-up. J Am Acad Child Adolesc Psychiatry 32:106–113

3.

Vyrostek SB, Annest JL, Ryan GW (2004) Surveillance for fatal and nonfatal injuries–United States, 2001. MMWR Surveill Summ 53:1–57

4.

Ostamo A, Lonnqvist J (2001) Excess mortality of suicide attempters. Soc Psychiatry Psychiatr Epidemiol 36:29–35

5.

Suokas J, Suominen K, Isometsa E, Ostamo A, Lonnqvist J (2001) Long-term risk factors for suicide mortality after attempted suicide––findings of a 14-year follow-up study. Acta Psychiatr Scand 104:117–121

6.

Eaton DK, Kann L, Kinchen S, Shanklin S, Ross J, Hawkins J, Harris WA, Lowry R, McManus T, Chyen D, Lim C, Brener ND, Wechsler H (2008) Youth risk behavior surveillance–United States, 2007. MMWR Surveill Summ 57:1–131

7.

King RA, Schwab-Stone M, Flisher AJ, Greenwald S, Kramer RA, Goodman SH, Lahey BB, Shaffer D, Gould MS (2001) Psychosocial and risk behavior correlates of youth suicide attempts and suicidal ideation. J Am Acad Child Adolesc Psychiatry 40:837–846

8.

Borowsky IW, Ireland M, Resnick MD (2001) Adolescent suicide attempts: risks and protectors. Pediatrics 107:485–493

9.

Gould MS, Greenberg T, Velting DM, Shaffer D (2003) Youth suicide risk and preventive interventions: a review of the past 10 years. J Am Acad Child Adolesc Psychiatry 42:386–405

10.

Thompson MP, Kingree JB, Ho CH (2006) Associations between delinquency and suicidal behaviors in a nationally representative sample of adolescents. Suicide Life Threat Behav 36:57–64

11.

Miranda R, Scott M, Hicks R, Wilcox HC, Harris Munfakh JL, Shaffer D (2008) Suicide attempt characteristics, diagnoses, and future attempts: comparing multiple attempters to single attempters and ideators. J Am Acad Child Adolesc Psychiatry 47:32–40

12.

Wilcox HC (2004) Epidemiological evidence on the link between drug use and suicidal behaviors among adolescents. Can Child Adolesc Psychiatr Rev 13:27–30

13.

Kim C, Lesage A, Seguin M, Chawky N, Vanier C, Lipp O, Turecki G (2003) Patterns of co-morbidity in male suicide completers. Psychol Med 33:1299–1309

14.

Thompson MM (2009) Transitions in suicide risk in a nationally representative sample of adolescents. J Adolesc Health 44:458–463

15.

Sourander AA (2009) Childhood predictors of completed and severe suicide attempts: findings from the Finnish 1981 birth cohort study. Arch Gen Psychiatry 66:398–406

16.

Garrison C, McKeown R, Valois R, Vincent M (1993) Aggression, substance use, and suicidal behaviors in high school students. Am J Public Health 83:179

17.

Bridge JA, Goldstein TR, Brent DA (2006) Adolescent suicide and suicidal behavior. J Child Psychol Psychiatry 47:372–394

18.

Lubell KM, Vetter JB (2006) Suicide and youth violence prevention: the promise of an integrated approach. Aggress Violent Behav 11:167–175

19.

Silverman JG, Raj A, Mucci LA, Hathaway JE (2001) Dating violence against adolescent girls and associated substance use, unhealthy weight control, sexual risk behavior, pregnancy, and suicidality. JAMA 286:572–579

20.

Cleary SD (2000) Adolescent victimization and associated suicidal and violent behaviors. Adolescence 35:671–682

21.

Bossarte RM, Simon TR, Swahn MH (2008) Clustering of adolescent dating violence, peer violence, and suicidal behavior. J Interpers Violence 23:815–833

22.

Swahn MH, Simon TR, Hertz MF, Arias I, Bossarte RM, Ross JG, Gross LA, Iachan R, Hamburger ME (2008) Linking dating violence, peer violence, and suicidal behaviors among high-risk youth. Am J Prev Med 34:30–38

23.

Hallfors DD, Waller MW, Ford CA, Halpern CT, Brodish PH, Iritani B (2004) Adolescent depression and suicide risk: association with sex and drug behavior. Am J Prev Med 27:224–231

24.

Wu P, Hoven CW, Liu X, Cohen P, Fuller CJ, Shaffer D (2004) Substance use, suicidal ideation and attempts in children and adolescents. Suicide Life Threat Behav 34:408–420

25.

O'Donnell L, Stueve A, Wilson-Simmons R (2005) Aggressive behaviors in early adolescence and subsequent suicidality among urban youths. J Adolesc Health 37:517

26.

U.S. Department of Health and Human Services (2010) NREPP: SAMHSA's National Registry of Evidence-based Programs and Practices. SAMHSA. http://www.nrepp.samhsa.gov/AboutNREPP.aspx Accessed 18 August .2010

27.

Zahl DL, Hawton K (2004) Repetition of deliberate self-harm and subsequent suicide risk: long-term follow-up study of 11, 583 patients. Br J Psychiatry 185:70–75

28.

Brener ND, Kann L, Kinchen SA, Grunbaum JA, Whalen L, Eaton D, Hawkins J, Ross JG (2004) Methodology of the youth risk behavior surveillance system. MMWR Recomm Rep 53:1–13

29.

Muthen LK, Muthen BO (2008) Mplus user's guide 5.1. Muthen & Muthen, Los Angeles

30.

Aickin M, Gensler H (1996) Adjusting for multiple testing when reporting research results: the Bonferroni vs Holm methods. Am J Public Health 86:726–728

31.

Collins LM, Schafer JL, Kam CM (2001) A comparison of inclusive and restrictive strategies in modern missing data procedures. Psychol Methods 6:330–351

32.

Nylund KL, Asparouhov T, Muthén BO (2007) Deciding on the number of classes in latent class analysis and growth mixture modeling: a monte carlo simulation study. Struct Equ Model 14:535–569

33.

Brener ND, Billy JO, Grady WR (2003) Assessment of factors affecting the validity of self-reported health-risk behavior among adolescents: evidence from the scientific literature. J Adolesc Health 33:436–457

34.

Flisher AJ, Evans J, Muller M, Lombard C (2004) Brief report: test-retest reliability of self-reported adolescent risk behaviour. J Adolesc 27:207–212

35.

Aloise-Young PA, Chavez EL (2002) Not all school dropouts are the same: ethnic differences in the relation between reason for leaving school and adolescent substance use. Psychol Sch 39:539–547

36.

Freudenberg N, Ruglis J (2007) Reframing school dropout as a public health issue. Prev Chronic Dis 4:A107

37.

Dawes MA, Mathias CW, Richard DM, Hill-Kapturczak N, Dougherty DM (2008) Adolescent suicidal behavior and substance use: developmental mechanisms. Subst Abuse 2:13–28

38.

Childress AR (2006) Chapter 4 what can human brain imaging tell us about vulnerability to addiction and to relapse? In: Miller WR, Carroll K (eds) Rethinking substance abuse: what the science shows and what we should do about it. Guilford Press, New York, pp 46–60

39.

Franklin TR, Acton PD, Maldjian JA, Gray JD, Croft JR, Dackis CA, O'Brien CP, Childress AR (2002) Decreased gray matter concentration in the insular, orbitofrontal, cingulate, and temporal cortices of cocaine patients. Biol Psychiatry 51:134–142

40.

Koob GF, Le Moal M (1997) Drug abuse: hedonic homeostatic dysregulation. Science 278:52–58

41.

Mukamal KJ, Kawachi I, Miller M, Rimm EB (2007) Drinking frequency and quantity and risk of suicide among men. Soc Psychiatry Psychiatr Epidemiol 42:153–160

42.

Hufford MR (2001) Alcohol and suicidal behavior. Clin Psychol Rev 21:797–811

43.

Kim KJ, Conger RD, Elder GH Jr, Lorenz FO (2003) Reciprocal influences between stressful life events and adolescent internalizing and externalizing problems. Child Dev 74:127–143

44.

Vermeiren R (2003) Psychopathology and delinquency in adolescents: a descriptive and developmental perspective. Clin Psychol Rev 23:277–318

45.

Mann JJ (1998) The neurobiology of suicide. Nat Med 4:25–30

46.

Schepis TS, Adinoff B, Rao U (2008) Neurobiological processes in adolescent addictive disorders. Am J Addict 17:6–23

47.

Suominen K, Isometsa E, Haukka J, Lonnqvist J (2004) Substance use and male gender as risk factors for deaths and suicide–a 5-year follow-up study after deliberate self-harm. Soc Psychiatry Psychiatr Epidemiol 39:720–724

48.

Alegria M, Chatterji P, Wells K, Cao Z, Chen CN, Takeuchi D, Jackson J, Meng XL (2008) Disparity in depression treatment among racial and ethnic minority populations in the United States. Psychiatr Serv 59:1264–1272

49.

Pena JB, Wyman PA, Brown CH, Matthieu MM, Olivares TE, Hartel D, Zayas LH (2008) Immigration generation status and its association with suicide attempts, substance use, and depressive symptoms among Latino adolescents in the USA. Prev Sci 9:299–310

50.

Zayas LH, Lester RJ, Cabassa LJ, Fortuna LR (2005) Why do so many latina teens attempt suicide? A conceptual model for research. Am J Orthopsychiatry 75:275–287

51.

Zayas LH, Kaplan C, Turner S, Romano K, Gonzalez-Ramos G (2000) Understanding suicide attempts by adolescent Hispanic females. Soc Work 45:53–63

52.

Mann JJ, Apter A, Bertolote J, Beautrais A, Currier D, Haas A, Hegerl U, Lonnqvist J, Malone K, Marusic A (2005) Suicide prevention strategies. JAMA 294:2064–2074

53.

Goldsmith SK, Institute of Medicine (U.S.). Committee on Pathophysiology & Prevention of Adolescent & Adult Suicide (2002) Reducing suicide: a national imperative. National Academies Press, Washington

54.

Wilcox HC, Kellam SG, Brown CH, Poduska JM, Ialongo NS, Wang W, Anthony JC (2008) The impact of two universal randomized first- and second-grade classroom interventions on young adult suicide ideation and attempts. Drug Alcohol Depend 95(Suppl)1:S60–73

55.

Wyman PA, Brown CH, Inman J, Cross W, Schmeelk-Cone K, Guo J, Pena JB (2008) Randomized trial of a gatekeeper program for suicide prevention: 1-year impact on secondary school staff. J Consult Clin Psychol 76:104–115

56.

Pena JB, Caine ED (2006) Screening as an approach for adolescent suicide prevention. Suicide Life Threat Behav 36:614–637

57.

Hallfors D, Brodish PH, Khatapoush S, Sanchez V, Cho H, Steckler A (2006) Feasibility of screening adolescents for suicide risk in "real-world" high school settings. Am J Public Health 96:282–287

58.

Rotheram-Borus MJ (1993) Suicidal behavior and risk factors among runaway youths. Am J Psychiatry 150:103–107

59.

Henggeler SW, Clingempeel WG, Brondino MJ, Pickrel SG (2002) Four-year follow-up of multisystemic therapy with substance-abusing and substance-dependent juvenile offenders. J Am Acad Child Adolesc Psychiatry 41:868–874

60.

Henggeler SW, Rowland MD, Randall J, Ward DM, Pickrel SG, Cunningham PB, Miller SL, Edwards J, Zealberg JJ, Hand LD, Santos AB (1999) Home-based multisystemic therapy as an alternative to the hospitalization of youths in psychiatric crisis: clinical outcomes. J Am Acad Child Adolesc Psychiatry 38:1331–1339

61.

Szapocznik J, Williams RA (2000) Brief strategic family therapy: twenty-five years of interplay among theory, research and practice in adolescent behavior problems and drug abuse. Clin Child Fam Psychol Rev 3:117–134
Acknowledgments
This publication was made possible in part from funding from the Brown Center for Violence and Injury Prevention Grant Number 1R49CE001510 from the Centers for Disease Control (CDC). Its contents are solely the responsibility of the authors and do not necessarily represent the official view of CDC. This work was also supported, in part, by grant P20MH071897 (E.D. Caine, PI) to the Center for Public Health and Population Interventions for Preventing Suicide, University of Rochester Medical Center and grant R01MH070689 (L.H. Zayas, PI). We thank the Brown Center for Violence and Injury Prevention, the Center for Latino Family Research, the Center for Mental Health Services Research at Washington University in St. Louis, and the Prevention Science Methodology Group for their ongoing support. We also thank research assistants Christina Lindstrom, MSW, Natalie Morgan, and Jill Kuhlberg, MSW at the George Warren Brown School of Social Work at Washington University in St. Louis for their assistance with formatting and uploading the manuscript (contribution was compensated). The NIMH or CDC had no role in the design and conduct of the study; the collection, management, analysis, and interpretation of the data; or the preparation, review, or approval of the manuscript.
Conflict of interest
None.
Additional information
The content is solely the responsibility of the authors and does not necessarily represent the official views of the CDC, NIMH, or the National Institutes of Health.
About this article
Cite this article
Pena, J.B., Matthieu, M.M., Zayas, L.H. et al. Co-occurring risk behaviors among White, Black, and Hispanic US high school adolescents with suicide attempts requiring medical attention, 1999–2007: Implications for future prevention initiatives. Soc Psychiatry Psychiatr Epidemiol 47, 29–42 (2012). https://doi.org/10.1007/s00127-010-0322-z
Received:

Accepted:

Published:

Issue Date:
Keywords
Suicide attempted

Adolescent

Prevention

Health status disparities

Risk-taking