Abstract
Purpose
People with mental disorder and people who are violent are separately recognised as being at high risk of suicide. People detained in high security hospitals are recognised for their violence to others, but perhaps less so for their suicide potential. We aimed to investigate suicide rates among such patients during and after their high security hospital residency, and to establish risk factors for suicide.
Methods
We extracted data from the Special Hospitals' Case Register on each person resident at any time between 1 January 1972 and 31 December 2000. Suicide rates were calculated for the whole period. We compared rates to the general population using standardised mortality ratios (SMRs). We used poisson regression to estimate the effects of gender, legal category of detention, offending history and length of admission on the suicide rate.
Results
Of the 5,955 individuals, 218 completed suicide. The suicide rate was nearly 7 times higher among resident men (SMR 662, 95% CI 478–845) and over 40 times higher in resident women (SMR 4,012, 95% CI 2,526–5,498) than in the general population; it was 23 times higher (SMR 2,325, 95% CI 1,901–2,751) and 45 times higher (SMR 4,486, 95% CI 2,727–6,245) among post-discharge men and women, respectively. The suicide rate was significantly higher among women than men inside high security but not after discharge.
Conclusions
The suicide rate among high security hospital patients was significantly higher than in the general population. Women were especially at risk while resident, whereas for men, the risk was higher after discharge.
Access options
Buy single article
Instant access to the full article PDF.
USD 39.95
Price excludes VAT (USA)
Tax calculation will be finalised during checkout.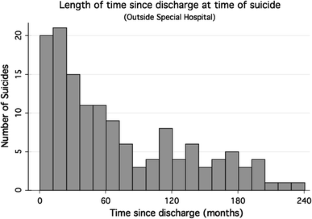 References
Alaraisanen A, Miettunen J, Rasanen P, Fenton W, Koivumaa-Honkanen HT, Isohanni M (2009) Suicide rate in schizophrenia in the Northern Finland 1966 Birth Cohort. Soc Psych Psych Epid 44:1107–1110

Appleby L, Shaw J, Amos T, McDonnell R, Harris C, McCann K, Kiernan K, Davies S, Bickley H, Parsons R (1999) Suicide within 12 months of contact with mental health services: national clinical survey. Br Med J 318:1235–1239

Appleby L, Shaw J, Kapur N (2006) Avoidable deaths. Five year report of the national confidential inquiry into suicide and homicide by people with mental illness. In: Report for the national patient safety agency, Department of health

Baraclough B, Bunch J, Nelson B, Sainsbury P (1974) A hundred cases of suicide: clinical aspects. Br J Psychiatry 125:355–373

Binswanger IA, Stern MF, Deyo RA, Heagerty PJ, Cheadle A, Elmore JG, Koepsell TD (2007) Release from prison—a high risk of death for former inmates. N Engl J Med 356:157–165

Bjork T, Lindqvist P (2005) Mortality among mentally disordered offenders: a community based follow-up study. Crim Behav Ment Health 15:93–96

Burtch BE (1979) Prisoner suicides reconsidered. Int J Law Psychiatry 2:407–413

Corcoran E, Walsh D (2000) Suicide in psychiatric hospital in-patients in Ireland. Br J Psychiatry 177:181

Davies S, Clarke M, Hollin C, Duggan C (2007) Long-term outcomes after discharge from medium secure care: a cause for concern. Br J Psychiatry 191:70–74

DuRand CJ, Burtka GJ, Federman EJ, Haycox JA, Smith JW (1995) A quarter century of suicide in a major urban jail: implications for community psychiatry. Am J Psychiatry 152:1077–1080

Fazel S, Benning R, Danesh J (2005) Suicides in male prisoners in England and Wales, 1978–2003. Lancet 366:1301–1302

Foster T, Gillespie K, McClelland R, Patterson C (1999) Risk factors for suicide independent of DSM-III-R axis I disorder. Case-control psychological autopsy study in Northern Ireland. Br J Psychiatry 175:175–179

Fruehwald S, Matschnig T, Koenig F, Bauer P, Frottier P (2004) Suicide in custody: case-control study. Br J Psychiatry 185:494–498

Geddes JR, Juszczak E (1995) Period trends in rate of suicide in first 28 days after discharge from psychiatric hospital in Scotland, 1968–92. Br Med J 311:357–360

Gordon H (2002) Suicide in secure psychiatric facilities. Adv Psychiatr Treat 8:408–417

Hawton K (1994) Suicide. In: Paykel E, Jenkins R (eds) Prevention in psychiatry. Gaskell, London

Haycock J (1993) Comparative suicide rates in different types of involuntary confinement. Med Sci Law 33:128–136

Haycock J (1993) Double jeopardy: suicide rates in forensic hospitals. Suicide Life Threat Behav 23:130–138

Hiroeh U, Appleby L, Mortensen PB, Dunn G (2001) Death by homicide, suicide, and other unnatural causes in people with mental illness: a population-based study. Lancet 358:2110–2112

Jenkins R, Bhugra D, Meltzer H, Singleton N, Bebbington P, Brugha T, Coid J, Farrell M, Lewis G, Paton J (2005) Psychiatric and social aspects of suicidal behaviour in prisons. Psychol Med 35:257–269

Kapur N, Hunt IM, Webb R, Bickley H, Windfuhr K, Shaw J, Appleby L (2006) Suicide in psychiatric in-patients in England, 1997 to 2003. Psychol Med 36:1485–1492

Lawlor D, Kosky R (1992) Serious suicide attempts among adolescents in custody. Aust N Z J Psychiatry 26:474–478

Lesage A, Boyer R, Grunberg F, Vanier C, Morissette R, Menard-Buteau C, Loyer M (1994) Suicide and mental disorder: a case-control study of young men. Am J Psychiatry 151:1063–1068

Lieberman DZ, Resnik HL, Holder-Perkins V (2004) Environmental risk factors in hospital suicide. Suicide Life Threat Behav 34:448–453

Lindqvist P, Leifman A, Eriksson A (2007) Mortality among homicide offenders: a retrospective population-based long-term follow-up. Crim Behav Ment Health 17:107–112

Meehan J, Kapur N, Hunt IM, Turnbull P, Robinson J, Bickley H, Parsons R, Flynn S, Burns J, Amos T, Shaw J, Appleby L (2006) Suicide in mental health in-patients and within 3 months of discharge. National clinical survey. Br J Psychiatry 188:129–134

Nock M, Marzuk P (2000) Suicide and violence. In: Hawton K, van Heeringen K (eds) The international handbook of suicide and attempted suicide. Wiley, Chichester, pp 437–456

Perez-Carceles MD, Inigo C, Luna A, Osuna E (2001) Mortality in maximum security psychiatric hospital patients. Forensic Sci Int 119:279–283

Powell J, Geddes J, Deeks J, Goldacre M, Hawton K (2000) Suicide in psychiatric hospital in-patients. Risk factors and their predictive power. Br J Psychiatry 176:266–272

Pratt D, Piper M, Appleby L, Webb R, Shaw J (2006) Suicide in recently released prisoners: a population-based cohort study. Lancet 368:119–123

Putkonen H, Komulainen E, Virkkunen M, Lonnqvist J (2001) Female homicide offenders have greatly increased mortality from unnatural deaths. Forensic Sci Int 119:221–224

Qin P, Nordentoft M (2005) Suicide risk in relation to psychiatric hospitalization: evidence based on longitudinal registers. Arch Gen Psychiatry 62:427–432

Ramsay L, Gray C, White T (2001) A review of suicide within the State Hospital, Carstairs 1972–1996. Med Sci Law 41:97–101

Robertson G (1987) Mentally abnormal offenders—manner of death. Br Med J 295:632–634

Robertson G (1987) Mentally abnormal offenders: manner of death. Br Med J 145:469–472

Salize H, Dreßing H (2005) Placement and treatment of mentally disordered offenders. Legislation and practice in EU member states. University of Mannhein, Mannheim, Germany

Shaw J, Appleby L, Amos T, McDonnell R, Harris C, McCann K, Kiernan K, Davies S, Bickley H, Parsons R (1999) Mental disorder and clinical care in people convicted of homicide: national clinical survey. Br Med J 318:1240

Shaw J, Baker D, Hunt IM, Moloney A, Appleby L (2004) Suicide by prisoners. National clinical survey. Br J Psychiatry 184:263–267

Shaw S, Sims A (1984) A survey of unexpected deaths among psychiatric in-patients and ex-patients. Br J Psychiatry 145:473–476

Steels M, Roney G, Larkin E, Jones P, Croudace T, Duggan C (1998) Discharged from special hospital under restrictions: a comparison of the fates of psychopaths and the mentally ill. Crim Behav Ment Health 8:39–55

Stone M (1990) The fate of borderline patients. Guillford Press, London

Taylor P, Dunn E, Felthous AR, Gagné P, Harding T, Kramp P, Lindqvist P, Ogloff JP, Nedopil N, Skipworth J, Thomson L, Yoshikawa K (2010) Forensic psychiatry and its interfaces outside the UK: comparisons across five continents. In: Gunn J, Taylor PJ (eds) Forensic psychiatry. Clinical legal and ethical issues. Hodder, London

Tidemalm D, Elofsson S, Stefansson CG, Waern M, Runeson B (2005) Predictors of suicide in a community-based cohort of individuals with severe mental disorder. Soc Psych Psych Epid 40:595–600

West D (1967) Murder followed by suicide. Harvard University Press, Cambridge, MA

WHO (2007) Suicide rates per 100,000 by country, year and sex. http://www.who.int/mental_health/prevention/suicide_rates/en/index.html

Yen S, Shea MT, Pagano M, Sanislow CA, Grilo CM, McGlashan TH, Skodol AE, Bender DS, Zanarini MC, Gunderson JG, Morey LC (2003) Axis I and axis II disorders as predictors of prospective suicide attempts: findings from the collaborative longitudinal personality disorders study. J Abnorm Psychol 112:375–381

Zilber N, Shufman N, Larner Y (1989) Mortality among psychiatric patients—the groups at risk. Acta Psychiatr Scand 79:248–256
Acknowledgments
Many thanks to Robert Cawley, Winifred Höping and Morven Leese for all of their help in the planning and earlier phases of the study. Many thanks to all those in the Special Hospital Case Register Department who have helped collect and input the data, and of course to the patients themselves who gave so generously of their time in the interview process and consented to the longer term follow-up.
Conflict of interest statement
None.
About this article
Cite this article
Jones, R.M., Hales, H., Butwell, M. et al. Suicide in high security hospital patients. Soc Psychiatry Psychiatr Epidemiol 46, 723–731 (2011). https://doi.org/10.1007/s00127-010-0239-6
Received:

Accepted:

Published:

Issue Date:

DOI: https://doi.org/10.1007/s00127-010-0239-6
Keywords
Suicide

Forensic psychiatry

Unnatural death

Violence