Abstract
Background
The crisis resolution/home treatment (CR/HT) model has brought significant reform of acute mental health care in the UK and beyond. The complex issue of conceptualising crisis is, however, overlooked in CR/HT literature. This study aimed to investigate how crisis is understood amongst those working in CR/HT teams.
Method
Framework analysis was applied to semi-structured interviews with 39 CR/HT workers representative of multidisciplinary mix and drawn from four different teams.
Results
Whilst there was an acknowledgment of the concept's complex nature, there was consensus in: respondents' characterising of crisis; about three different presenting clinical patterns ('clusters') encountered in CR/HT work; and, the pattern of the crisis phenomenon over time.
Conclusions
The findings suggest further development of the CR/HT model, including improving conceptual clarity (to benefit communication with referrers and judge clinical outcome), better timed intervention, and varying intervention for different clusters of crisis presentation.
This is a preview of subscription content, log in to check access.
Access options
Buy single article
Instant access to the full article PDF.
US$ 39.95
Price includes VAT for USA
Subscribe to journal
Immediate online access to all issues from 2019. Subscription will auto renew annually.
US$ 199
This is the net price. Taxes to be calculated in checkout.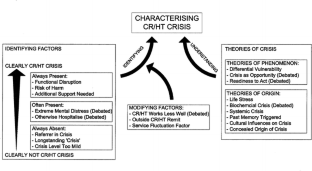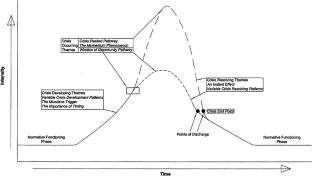 References
1.

Ball JS, Links PS, Strike C, Boydell KM (2005) "It's overwhelming…everything seems to be too much": a theory of crisis for individuals with severe persistent mental illness. Psychiatr Rehabil J 29:10–17

2.

Bonynge ER, Lee RG, Thurber S (2005) A profile of mental health crisis response in a rural setting. Community Ment Health J 41:675–685

3.

Botha UA, Koen L, Joska JA, Parker JS, Horn N, Hering LM, Oosthuizen PP (2009) The revolving door phenomenon in psychiatry: comparing low-frequency and high-frequency users of psychiatric inpatient services in a developing country. Soc Psychiatr Epidemiol. doi:10.1007/s00127-009-0085-6

4.

Bridgett C, Polak P (2003) Social systems intervention and crisis resolution. Part 1: assessment. Adv Psychiatr Treat 9:424–431

5.

Brimblecombe N (2001) Acute mental health care in the community: intensive home treatment. Whurr Publishers, London

6.

Burns T (2004) Community mental health teams: a guide to current practices. OUP, Oxford

7.

Burns T, Priebe S (2004) The survival of mental health services: a pressing research agenda? Br J Psychiatry 185:189–190

8.

Callahan J (1998) Crisis theory and crisis intervention in emergencies. In: Kleespies PM (ed) Emergencies in mental health practice: evaluation and management. The Guilford Press, New York, pp 22–40

9.

Caplan G (1964) Principles of preventive psychiatry. Tavistock Publications, London

10.

Department of Health (2001) The mental health policy implementation guide. The Department of Health, London

11.

Fakhoury W, Priebe S (2002) The process of deinstitutionalization: an international overview. Curr Opin Psychiatry 15:187–192

12.

Glover G, Arts G, Babu KS (2006) Crisis resolution/home treatment teams and psychiatric admission rates in England. Br J Psychiatry 189:441–445

13.

Johnson S (2004) Crisis resolution and intensive home treatment teams. Psychiatry 3:22–25

14.

Johnson S, Nolan F, Hoult J, White IR, Bebbington P, Sandor A, McKenzie N, Patel SN, Pilling S (2005) Outcomes of crises before and after introduction of a crisis resolution team. Br J Psychiatry 187:68–75

15.

Johnson S, Nolan F, Pilling S, Sandor A, Hoult J, McKenzie N, White IR, Thompson M, Bebbington P (2005) Randomised controlled trial of acute mental health care by a crisis resolution team: the North Islington crisis study. Br Med J 331:599–602

16.

Mays N, Pope C (2000) Qualitative research in health care: assessing quality in qualitative research. Br Med J 320:50–52

17.

National Audit Office (2007) Helping people through mental health crisis: the role of crisis resolution and home treatment services. Report by the Comptroller and Auditor General. HC 5 Session 2007–2008

18.

Office of the Deputy Prime Minister (2004) The English indices of deprivation 2004: summary. ODPM, London

19.

Pope C, Ziebland S, Mays N (2000) Qualitative research in health care: analysing qualitative data. Br Med J 320:114–116

20.

Ritchie J, Spencer L (1994) Qualitative data analysis for applied policy research. In: Bryman A, Burgess RG (eds) Analyzing qualitative data. Routledge, London, pp 173–194

21.

Smyth MG (2003) Crisis resolution/home treatment and in-patient care. Psychiatr Bull 27:44–47

22.

Zavradashvili N, Donisi V, Grigoletti L, Pertile R, Gelashvili K, Eliashvili M, Amaddeo F (2009) Is the implementation of assertive community treatment in a low-income country feasible? The experience of Tbilisi, Georgia. Soc Psychiat Epidemiol. doi:10.1007/s00127-009-0125-2
Acknowledgments
We are grateful to the CR/HT workers interviewed who gave their time and shared their ideas, and team managers who supported this study. We thank Dr Nancy Pistrang for her invaluable advice and support in conducting and writing-up this study. This project was funded by the UCL graduate school.
About this article
Cite this article
Tobitt, S., Kamboj, S. Crisis resolution/home treatment team workers' understandings of the concept of crisis. Soc Psychiatry Psychiatr Epidemiol 46, 671–683 (2011). https://doi.org/10.1007/s00127-010-0234-y
Received:

Accepted:

Published:

Issue Date:
Keywords
Crisis

Crisis resolution

Crisis theory

Home treatment

Acute psychiatric care