Abstract
Objective
Health care utilization studies of mental disorders focus largely on the ICD-9 category 290–319, and do not generally include analysis of visits for mental health problems identified under V-code categories. Although active duty service members represent a large young adult employed population who use mental health services at similar rates as age-matched civilian populations, V-codes are used in a larger proportion of mental health visits in military mental health care settings than in civilian settings. However, the utilization of these diagnoses has not been systematically studied. The purpose of this study is to characterize outpatient behavioral health visits in military health care facilities prior to Operation Iraqi Freedom, including the use of diagnoses outside of the ICD-9 290–319 range, in order to evaluate the overall burden of mental health care. This study establishes baseline rates of mental health care utilization in military mental health clinics in 2000 and serves as a comparison for future studies of the mental health care burden of the current war.
Methods
All active duty service members who received care in military outpatient clinics in 2000 (n = 1.35 million) were included. Primary diagnoses were grouped according to mental health relevance in the following categories: mental disorders (ICD-9 290–319), mental health V-code diagnoses (used primarily by behavioral health providers that were indicative of a potential mental health problem), and all other diagnoses. Rates of service utilization within behavioral health clinics were compared with rates in other outpatient clinics for each of the diagnostic groups, reported as individuals or visits per 1,000 person-years. Cox proportional hazard regression was used to produce hazard ratios as measures of association between each of the diagnostic groups and attrition from military service. Time to attrition in months was the difference between the date of military separation and the date of first clinic visit in 2000. Data were obtained from the Defense Medical Surveillance System.
Results
The total number of individuals who utilized behavioral health services in 2000 was just over 115 per 1,000 person-years, almost 12% of the military population. Out of every 1,000 person-years, 57.5 individuals received care from behavioral health providers involving an ICD-9 290–319 mental disorder diagnosis, and an additional 26.7 per 1,000 person-years received care in behavioral health clinics only for V-code diagnoses. Attrition from service was correlated with both categories of mental health-related diagnoses. After 1 year, approximately 38% of individuals who received a mental disorder diagnosis left the military, compared with 23% of those who received mental health V-code diagnoses and 14% of those who received health care for any other reason (which included well visits for routine physicals).
Conclusions
This study establishes baseline rates of pre-war behavioral healthcare utilization among military service members, and the relationship of mental health care use and attrition from service. The research indicates that in the military population the burden of mental illness in outpatient clinics is significantly greater when V-code diagnoses are included along with conventional mental disorder diagnostic codes.
Access options
Buy single article
Instant access to the full article PDF.
USD 39.95
Price includes VAT (USA)
Tax calculation will be finalised during checkout.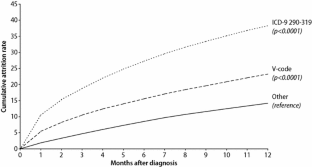 References
1.

Andrews G, Sanderson K, Beard J (1998) Burden of disease. Methods of calculating disability from mental disorder. Br J Psychiatry 173:123–131

2.

Bland RC (1998) Psychiatry and the burden of mental illness. Can J Psychiatry 43(8):801–810

3.

Bloche MG (2000) Fidelity and deceit at the bedside. JAMA 283(14):1881–1884

4.

Creamer M, Carboon I, Forbes AB, McKenzie DP, McFarlane AC, Kelsall HL, Sim MR (2006) Psychiatric disorder and separation from military service: a 10-year retrospective study. Am J Psychiatry 163(4):733–734

5.

Dooley D, Fielding J, Levi L (1996) Health and unemployment. Annu Rev Public Health 17:449–465

6.

Freeman VG, Rathore SS, Weinfurt KP, Schulman KA, Sulmasy DP (1999) Lying for patients: physician deception of third-party payers. Arch Int Med 159(19):2263–2270

7.

Hoge CW, Lesikar SE, Guevara R, Lange JL, Brundage JF, Engel CC, Messer SC, Orman DT (2002) Mental disorders among U.S. military personnel in the 1990s: association with high levels of health care utilization and early military attrition. Am J Psychiatry 159:1576–1583

8.

Hoge CW, Messer SC, Engel CC, Krauss M, Amoroso P, Ryan MA, Orman DT (2003) Priorities for psychiatric research in the U.S. military: an epidemiological approach. Mil Med 168(3):182–185

9.

Hoge CW, Castro CA, Messer SC, McGurk A, Cotting DI, Koffman RL (2004) Combat duty in Iraq and Afghanistan, mental health problems, and barriers to care. N Engl J Med 351(1):13–22

10.

Hoge CW, Toboni HE, Messer SC, Bell N, Amoroso P, Orman DT (2005) The occupational burden of mental disorders in the US military: psychiatric hospitalizations, involuntary separations, and disability. Am J Psychiatry 162:585–591

11.

Hoge CW, Auchterlonie JL, Milliken CS (2006) Mental health problems, use of mental health services, and attrition from military service after returning from deployment to Iraq or Afghanistan. JAMA 295(9):1023–1032

12.

Iglehart JK (1996) Managed care and mental health. N Engl J Med 334(2):131–135

13.

Kang HK, Natelson BH, Mahan CM, Lee KY, Murphy FM (2003) Post-traumatic stress disorder and chronic fatigue syndrome-like illness among Gulf War veterans: a population-based survey of 30,000 veterans. Am J Epidemiol 157(2):141–148

14.

Kaper J, Wagena EJ, van Schayck CP, Severens JL (2006) Encouraging smokers to quit: the cost effectiveness of reimbursing the costs of smoking cessation treatment. Pharmacoeconomics 24(5):453–464

15.

Kessler RC, Sonnega A, Bromet E, Hughes M, Nelson CB (1995) Posttraumatic stress disorder in the National Comorbidity Survey. Arch Gen Psychiatry 52(12):1048–1060

16.

Kinghorn W (1999) Should doctors ever lie on behalf of patients? JAMA 282(17):1674–1675

17.

McCarroll JE, Orman DT, Lundy AC (1993) Clients, problems, and diagnoses in a military community mental health clinic: a 20-month study. Mil Med 158:701–705

18.

McCarroll JE, Orman DT, Lundy AC (1993) Differences in self- and supervisor-referrals to a military mental health clinic. Mil Med 158:705–708

19.

Meyer GS, Krakauer H (1998) Validity of the Department of Defense Standard Inpatient Data Record for quality management and health services research. Mil Med 163(7):461–465

20.

Novack DH, Detering BJ, Arnold R, Forrow L, Ladinsky M, Pezzullo JC (1989) Physicians attitudes toward using deception to resolve difficult ethical problems. JAMA 261:2980–2985

21.

O'Donnell DC, Brown CM, Dastani HB (2006) Barriers to counseling patients with obesity: a study of Texas community pharmacists. J Am Pharm Assoc 46(4):465–471

22.

O'Malley KJ, Cook KF, Price MD, Raiford Wildes K, Hurdle JF, Ashton CM (2005) Measuring diagnoses: ICD code accuracy. Health Serv Res 40(5 Pt 2):1620–1639

23.

Parman CC (2005) Using codes for patient tracking. J Oncol Manag 14(2):31–32

24.

Rifkin DE (1999) Community considerations: the many effects of miscoding. JAMA 282(17):1676–1679

25.

Rogers WH, Wells KB, Meredith LS, Sturm R, Burnam MA (1993) Outcomes for adult outpatients with depression under prepaid or fee-for-service financing. Arch Gen Psychiatry 50(7):517–525

26.

Rubertone MV, Brundage JF (2002) The Defense Medical Surveillance System and the Department of Defense serum repository: glimpses of the future of public health surveillance. Am J Public Health 92(12):1900–1904

27.

Schmitz N, Kruse J (2002) The relationship between mental disorders and medical service utilization in a representative community sample. Soc Psychiatry Psychiatr Epidemiol 37(8):380–386

28.

Siddique CM, Aubry T (1997) Use of mental health resources in the treatment of adult outpatients with no diagnosable mental disorders. Acta Psychiatr Scand 95(1):19–25

29.

Steinbusch PJ, Oostenbrink JB, Zuurbier JJ, Schaepkens FJ (2007) The risk of upcoding in casemix systems: a comparative study. Health Policy 81(2–3):289–299

30.

The United States General Accounting Office (1997) Military attrition: better screening of enlisted personnel could save DOD millions of dollars, March 5, 1997, GAO/T-NSIAD-97-102. http://www.fas.org/man/gao/ns97102.htm

31.

Tsai AG, Asch DA, Wadden TA (2006) Insurance coverage for obesity treatment. J Am Diet Assoc 106:1651–1655

32.

Werner RM, Alexander GC, Fagerlin A, Ubel PA (2002) The "Hassle Factor": what motivates physicians to manipulate reimbursement rules? Arch Intern Med 162(10):1134–1139

33.

Wynia MK, Cummins DS, VanGeest JB, Wilson IB (2000) Physician manipulation of reimbursement rules for patients: between a rock and a hard place. JAMA 283(14):1858–1865

34.

The United States Code of Federal Regulations. Title 32: National Defense. Chapter 1: Office of the Secretary of Defense. Part 219: Protection of human subjects
Acknowledgments
The authors would like to thank George Washington University professors Sean D. Cleary, PhD, MPH, Dante A. Verme, PhD, and Heather A. Young, PhD, MPH for their guidance and contributions to our manuscript. The authors would also like to thank George Washington University professors Katherine L. Hunting, PhD, MPH and Daniel A. Hoffman, PhD, MSPH, as well as John F. Brundage, MD, MPH of the Armed Forces Health Surveillance Center for their time spent in reviewing our manuscript. The authors would like to thank the Armed Forces Health Surveillance Center for the use of the data.
Additional information
The views expressed in this article are those of the authors and do not reflect official policy or position of the Department of the Army, The Department of Defense, the U.S. Government, or any of the institutional affiliations listed.
About this article
Cite this article
Garvey Wilson, A.L., Messer, S.C. & Hoge, C.W. U.S. military mental health care utilization and attrition prior to the wars in Iraq and Afghanistan. Soc Psychiat Epidemiol 44, 473–481 (2009). https://doi.org/10.1007/s00127-008-0461-7
Received:

Revised:

Published:

Issue Date:
Keywords
V-codes

behavioral healthcare utilization

military attrition

mental disorder diagnostic practices

mental health burden