Abstract
Background
Observed reductions in firearm suicides in Australia have been linked to the 1997 national firearms agreement (NFA) introduced following the 1996 Port Arthur massacre. The NFA placed strong access restrictions on firearms.
Aims
To assess the impact of legislative restrictions on the incidence of firearm suicide in Queensland and explore alternative or contributory factors behind observed declines.
Method
The Queensland suicide register (QSR) provided detailed information on all male suicides in Queensland (1990–2004), with additional data for Australia (1968–2004) accessed from other official sources. Trends in suicide rates pre/post NFA, and in method selection, were assessed using negative binomial regressions. Changing method selection patterns were examined using a cohort analysis of 5 years of age classes for Australian males.
Results
The observed reduction in firearms suicides was initiated prior to the 1997 introduction of the NFA in Queensland and Australia, with a clear decline observed in Australian figures from 1988. No significant difference was found in the rate pre/post the introduction of the NFA in Queensland; however, a significant difference was found for Australian data, the quality of which is noticeably less satisfactory. A marked age-difference in method choice was observed through a cohort analysis demonstrating both time and age influences. Within sequential birth cohorts, rates of firearms suicides decreased in younger males but increased in hanging suicides; this trend was far less marked in older males.
Conclusions
The implemented restrictions may not be responsible for the observed reductions in firearms suicide. Data suggest that a change in social and cultural attitudes could have contributed to the shift in method preference.
Access options
Buy single article
Instant access to the full article PDF.
USD 39.95
Price includes VAT (USA)
Tax calculation will be finalised during checkout.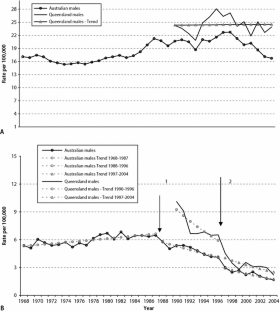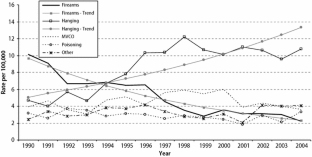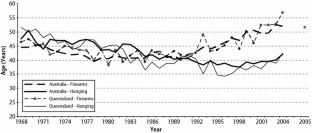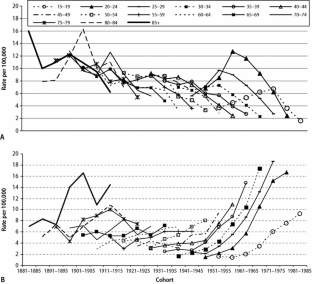 References
1.

Australian Bureau of Statistics (2006) Suicides, Australia, 2004 (catalogue no. 3309.0). Australian Bureau of Statistics, Canberra

2.

Australian Bureau of Statistics (2007) Information paper: external causes of death, data quality, 2005 (catalogue no. 3317.0.55.001). Australian Bureau of Statistics, Canberra

3.

Australian Institute of Criminology (1990) Violence: directions for Australia/National Committee on violence. Australian Institute of Criminology, Canberra

4.

Australian Institute of Health and Welfare (2005) State and territories GRIM (general record of incidence of mortality) books. Australian Institute of Health and Welfare, Canberra

5.

Baker J, McPhedran S (2006) Gun laws and sudden death: did the Australian firearms legislation of 1996 make a difference? Br J Criminol 47:455–469

6.

Barr N (2003) Future agricultural landscapes. Aust Planner 40:123–127

7.

Beautrais AL (2001) Effectiveness of barriers at suicide jumping sites: a case study. Aust NZ J Psychiatry 35:557–562

8.

Beautrais AL, Fergusson DM, Horwood LJ (2006) Firearms legislation and reductions in firearm-related suicide deaths in New Zealand. Aust NZ J Psychiatry 40:253–259

9.

Bennewith O, Nowers M, Gunnell D (2007) Effect of barriers on the Clifton suspension bridge, England, on local patterns of suicide: implications for prevention. Br J Psychiatry 190:266–267

10.

Canetto SS (1997) Meanings of gender and suicidal behaviour during adolescence. Suicide Life Threat Behav 27:339–351

11.

Cantor CH, Baume PJM (1998) Access to methods of suicide: what impact? Aust NZ J Psychiatry 32:8–14

12.

Chapman S, Alpers P, Agho K, Jones M (2006) Australia's 1996 gun law reforms: faster falls in firearm deaths, firearm suicides and a decade without mass shootings. Inj Prev 12:365–372

13.

Chappell D, Grabosky P, Wilson P, Mukherjee S (1988) Firearms and violence in Australia. Australian Institute of Criminology, Canberra

14.

Clarke RV, Lester D (1989) Suicide: closing the exits. Springer-Verlag, New York

15.

De Leo D (2007) Suicide mortality data need revision [letter]. Med J Aust 186:157

16.

De Leo D, Bertolote JM, Lester D (2002) Self-directed violence. In: Krug EG, Dahlberg LL, Mercy JA et al (eds) World report on violence and health. World Health Organization, Geneva, pp 185–212

17.

De Leo D, Dwyer J, Firman D, Neulinger K (2003) Trends in hanging and firearm suicide rates in Australia: substitution of method? Suicide Life Threat Behav 33:151–164

18.

De Leo D, Klieve H (2007) Communication of suicide intent by schizophrenic subjects: data from the Queensland suicide register. Int J Ment Health Syst 1:6

19.

Durkheim A (1897/1997) Suicide. The Free Press, London

20.

Gunnell D, Middleton N, Fraenkel S (2000) Method availability and the prevention of suicide–a re-analysis of secular trends in England and Wales 1950–1975. Soc Psychiatry Psychiatr Epidemiol 35:437–443

21.

Hahn RA, Bilukha O, Crosby A, Fullilove MT, Liberman A, Moscicki E, Snyder S, Tuma F, Briss PA (2005) Firearms laws and the reduction of violence: a systematic review. Am J Prev Med 28:40–71

22.

Hilbe JM (2007) Negative binomial regression. Cambridge University Press, Cambridge

23.

Kapusta ND, Etzerdorfer E, Krall C, Sonneck G (2007) Firearm legislation reform in the European Union: impact on firearm availability, firearm suicide and homicide rates in Austria. Br J Psychiatry 191:253–257

24.

Kapusta ND, Etzerdorfer E, Sonneck G (2007) Austrian firearms: data require a cautious approach–authors reply. Br J Psychiatry 191:563

25.

Kreitman N (1976) The coal gas story. Br J Prev Soc Med 30:86–93

26.

Lester D (1998) Preventing suicide by restricting access to methods for suicide. Arch Suicide Res 4:7–24

27.

McAndrew FT, Garrison AJ (2007) Beliefs about gender differences in methods and causes of suicide. Arch Suicide Res 11:271–279

28.

Maclure GMG (2001) Suicide in children and adolescents in England and Wales 1970–1998. Br J Psychiatry 178:469–474

29.

Marks A, Abernathy T (1974) Towards a sociocultural perspectives on means of self-destruction. Suicide Life Threat Behav 4:3–17

30.

Miller M, Hemenway D (1999) The relationship between firearms and suicide: a review of the literature. Aggress Viol Behav 4:59–75

31.

Neill C, Leigh A (2007) Weak tests and strong conclusions: a re-analysis of gun deaths and the Australian firearms buyback. Available at SSRN: http://ssrn.com/abstract=1011519

32.

Ozanne-Smith J, Ashby K, Newstead S, Stathakis VZ, Clapperton A (2004) Firearm related deaths: the impact of regulatory reform. Inj Prev 10:280–286

33.

Queensland and Australian Firearm Law Institute (1982) A police perspective on gun control: an authoritative paper produced as a parliamentary background brief in September 1982 by the Queensland Police Department, Australian Firearm Law Institute (Victorian Group), Melbourne

34.

Seitz TS (1972) Firearms, homicides and gun control effectiveness. Law & Soc Rev 6:595–614

35.

Stack S, Wasserman I (2005) Race and method of suicide: culture and opportunity. Arch Suicide Res 9:57–68

36.

Wallack L, Winett L, Nettekoven L (2003) The million mom March: engaging the public on gun policy. J Pub Health Pol 24:355–379

37.

Wyder M, De Leo D (2007) Behind impulsive attempts: results from a community study. J Affect Disord 104:167–173
Acknowledgments
We gratefully thank the Queensland Firearms Registry (Queensland Police) for the provision of data on firearm registrations. We are also indebted with Queensland Health for the continuing support to the Queensland Suicide Register.
Conflict of interest: None
About this article
Cite this article
Klieve, H., Barnes, M. & De Leo, D. Controlling firearms use in Australia: has the 1996 gun law reform produced the decrease in rates of suicide with this method?. Soc Psychiat Epidemiol 44, 285 (2009). https://doi.org/10.1007/s00127-008-0435-9
Received:

Accepted:

Published:
Keywords
suicide

firearms

method choice

access restrictions

epidemiology