Abstract
The Western Balkan lithium-boron metallogenic zone can be traced for 1500 km, extending subparallel to the Sava-Vardar and Western Vardar zones toward its Turkish counterpart, the Izmir-Ankara-Erzincan zone. Common features are: (1) lithium-boron mineralization is hosted in Lower-Middle Miocene extensional lacustrine basins; (2) lacustrine series consisting of fine-grained siliciclastic sediments and scarce evaporites with intercalations of volcaniclastics, tuff, or travertine indicating syndepositional volcanic activity; (3) lacustrine basins that are usually normal-fault-controlled extensional grabens, with the fault system probably acting as a major fluid pathway; (4) northernmost sodium borate/borosilicate deposits (Jadar, Valjevo, Rekovac; with jadarite, borax, probertite, searlesite) gradually transition to calcium borate deposits southward (Jarandol-Piskanja, Pobrđe; with colemanite ± ulexite); (5) Oligocene/Miocene granitic rocks from the westernmost part of the zone host pegmatite and greisen occurrences with surface lithium anomalies of 0.02–0.08 wt% Li2O extending for several km2; (6) igneous Li enrichment by fractionation processes is indicated for some younger (?Early/mid-Miocene) peraluminous granite plutons; (7) the formation of the lacustrine basins and associated Li-B mineralization was contemporaneous with the emplacement of the younger phase of Li-bearing granitic intrusions and exhumation of metamorphic core complexes which provided the large-scale heat flow for hydrothermal systems and syngenetic Li-B mineralization.
Access options
Buy single article
Instant access to the full article PDF.
USD 39.95
Price excludes VAT (USA)
Tax calculation will be finalised during checkout.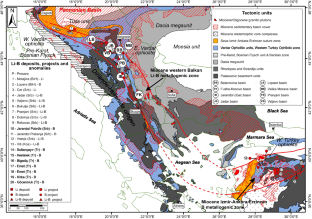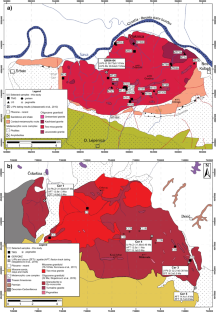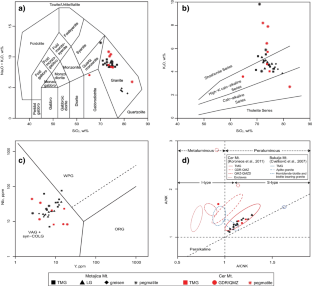 References
Andrić N, Fügenschuh B, Životić D, Cvetković V (2015) The thermal history of the Miocene Ibar Basin Southern Serbia): new constraints from apatite and zircon fission track and vitrinite reflectance data. Geol Carpath 66(1):37–50. https://doi.org/10.1515/geoca-2015-0009

Anđelković M (1986) Geodynamic processes and stratigraphic-paleogeographic development of Oligiocene and Miocene freshwater basins in central and western Serbia. Ann Geol Penins Balk 50:1–74. https://doi.org/10.2298/GABP8650001A

Anđelković J (1989) Tertiary fishes of Yugoslavia – astratigraphic – paleontologic paleoecological study. Paleontologia Yugoslavica, JAZU, Zagreb 38:1–121

Badurina L, Šegvić B, Mandić O, Slovenec D (2021) Miocene tuffs from the Dinarides and Eastern Alps as proxies of the Pannonian Basin lithosphere dynamics and tropospheric circulation patterns in Central Europe. J Geol Soc London 178https://doi.org/10.1144/jgs2020-262

Balkan Mining and Minerals ASX announcement (2021) Drilling to commence at Rekovac Lithium-Borate project. https://www.investi.com.au/api/announcements/bmm/621483c2-f15.pdf

Balkan Mining and Minerals Press release (2021) Initial gravity surveys interpretation completed over dobrinja project. https://www.investi.com.au/api/announcements/bmm/d6c493c5-3d3.pdf

Balling P, Grützner C, Tomljenović B, Spakman W, Ustaszewski K (2021) Post-collisional mantle delamination in the Dinarides implied from staircases of Oligo-Miocene uplifted marine terraces. Sci Rep 11:2685. https://doi.org/10.1038/s41598-021-81561-5

Borojević Šoštarić S, Cvetković V, Neubauer F, Palinkaš LA, Bernroider M, Genser J (2012) Oligocene shoshonitic rocks of the Rogozna Mts. (Central Balkan Peninsula): evidence of petrogenetic links to the formation of Pb-Zn-Ag ore deposits. Lithos 148:176–195. https://doi.org/10.1016/j.lithos.2012.05.028

Cvetković V, Koroneos V, Christofides G, Poli G, Knežević V, Erić V (2002a) Granitoids of Mt. Cer and Mt. Bukulja and their significance for geodynamics of the southern Pannonian realm. Proceedings of XVII. Congress of Carpathian-Balkan Geological Association Bratislava, September 1st–4th 2002, 53. Special issue GeolCarpath (CD)

Cvetković V, Pécskay Z (1999) The Early Miocene eruptive complex of Borač (central Serbia): volcanic facies and evolution over time. Extended abstract Carpathian Geology 2000, October 11–14, 1999, Smolenice. Geol Carpath 50: 91–93.

Cvetković V, Knežević V, Pecskay Z (2000) Tertiary igneous formations of the Dinarides Vardar zone and adjacent regions: from recognition to petrogenetic implications In: Karamata S Janković S (eds) Geology and metallogeny of the Dinarides and the Vardar zone The Academy of Sciences and Arts of the Republic of Srpska Collections and Monographs 1. Dpt of Natur Math and Techn Sci. 1: 245–253

Cvetković V, Poli G, Resimić-Šarić K, Prelević D, Lazarov M (2002b) Tertiary post-collision granitoid of Mt Kopaonik (Serbia)-Petrogenetic constraints based on new geochemical data In: Michalık J, Šimon L, Vozár J (eds) Proceedings of XVII. Congress of Carpathian-Balkan Geological Association Bratislava, September 1st–4th 2002. Volume 53, special issue Geol Carpath (CD)

Cvetković V, Poli G, Christofides G, Koroneos A, Pecskay Z, Resimić-Šarić K, Erić V (2007) The Miocene granitoid rocks of Mt. Bukulja (central Serbia): evidence for Pannonian extension-related granitoid magmatism in the northern Dinarides. Eur J Mineral 19/4: 513–532. https://doi.org/10.1127/0935-1221/2007/0019-1736

Cvetković V, Prelević D, Downes H, Jovanović M, Vaselli O, Pecskay Z (2004) Origin and geodynamic significance of Tertiary post-collisional basaltic magmatism in Serbia (central Balkan Peninsula). Lithos 73(3–4):161–186. https://doi.org/10.1127/0935-1221/2007/0019-1736

Cvetković V, Šarić K, Pécskay Z, Gerdes A (2015) The Rudnik Mts volcano-intrusive complex (central Serbia): an example of how magmatism controls metallogeny. Geol Croat 69(1):89–99

Elezaj Z (2009) Cenozoic molasse basins in Kosovo and their geodynamic evolution. Studii Si Comunicari Stiintele Naturii 25:343–350

Ercegovac M, Wolf M, Hagemann HW, Püttmann W (1991) Petrological and geochemical studies of the coals of the Ibar River basin (Yugoslavia). Int J Coal Geol 19:145–162 (in German)

Erin Ventures Boron Exploration Program results summary 2018. http://www.erinventures.com/media/nws_d.php?id=198

Eti Mines Inc (2006) Annual reports and several product leaflets, Ankara

García-Veigas J, Helvaci C (2013) Mineralogy and sedimentology of the Miocene Göcenoluk borate deposit, Kırka district, western Anatolia, Turkey. Sediment Geol 290:85–96. https://doi.org/10.1016/j.sedgeo.2013.03.006

Harzhauser M, Mandic O (2008) Neogene lake systems of Central and South-Eastern Europe: faunal diversity, gradients and interrelations. Palaeogeogr Palaeoclimatol Palaeoecol 260:417–434. https://doi.org/10.1016/j.palaeo.2007.12.013

Helvacı C, Orti F, Garcia-Veigas J, Rosell L, Gündoğan İ, Yücel-Öztürk Y (2012) Neogene borate deposits: mineralogy, petrology and sedimentology; a workshop with special emphasis on the Anatolian deposits. International Earth Sciences Colloquium on the Agean Region, IESCA 2012, İzmir, Turkey, 1st-5th October p 64

Helvaci C (2019) Turkish borate deposits: geological setting genesis and overview of the deposits In: Pirajno F et al (eds) Mineral resources of Turkey. Mod Approaches Solid Earth Sci 16:535–597. https://doi.org/10.1007/978-3-030-02950-0_11

Hencz M, Biró T, Cseri Z, Karátson D, Márton E, Németh K, Szakács A, Pécskay Z, János Kovács I (2021) A Lower Miocene pyroclastic-fall deposit from the Bükk Foreland Volcanic Area Northern Hungary: clues for an eastward-located source. Geol Carpath 72:26–47. https://doi.org/10.31577/GeolCarp.72.1.3

Huska A, Powell W, Mitrović S, Bankoff HA, Bulatović A, Filipović V, Boger R (2014) Placer tin ores from Mt Cer West Serbia and their potential exploitation during the Bronze Age. Geoarchaeol 29(6):477–493. https://doi.org/10.1002/gea.21488

Ilić A, Neubauer F (2005) Tertiary to recent oblique convergence and wrenching of the Central Dinarides: constraints from a Palaeostress study. Tectonophysics 410:465–484. https://doi.org/10.1016/j.tecto.2005.02.019

Jadar Lithium Limited ABN 66 009 144 503 – annual report 2019. https://www.annualreports.com/HostedData/AnnualReports/PDF/ASX_JDR_2019.pdf

Jelenković R, Kostić A, Životić D, Ercegovac M (2008) Mineral Resour Serbia Geol Carpath 59:345–361

Jovanović O, Novkovic M (1988) Tertiary sedimentary complex of Vranje basin. Vesnik, Geol. Beograd 44:197–213

Jurković I (2004) Metallogeny of Eocene syncollisional granites of Motajica and Prosara Mountains. Rud Geol Naftni Zb 16:31–46

Karamata S, Vasković N, Cvetković V, Knežević-Đorđević V (1994) Upper Cretaceous and Tertiary igneous rocks of the central and eastern Serbia and their metallogeny. Ann Geol Penins Balk 58:159–175

Kochansky-Devidé V, Slišković T (1981) Mlađe miocenske kongerije Livanjskog, Duvanjskog i Kupreškog polja u jugozapadnoj Bosni i Hodova u Hercegovini. Palaeontol Jugoslav 25:1–25

Koroneos A, Poli G, Cvetković V, Christofides G, Krstić D, Pecskay Z (2011) Petrogenesis and tectonic inferences from the study of the Mt Cer pluton (West Serbia). Geol Mag 148(1):89–111. https://doi.org/10.1017/S0016756810000476

Krstić N, Dumadzanov N, Olujić J, Vujanović L, Jankovic Golubović J (2001) Interbedded tuff and bentonite in the Neogene lacustrine sediments of the central part of the Balkan Peninsula. A Review Acta Vulcanol 13:91–99. https://doi.org/10.1400/19067

Lanphere M, Pamić J (1992) K-Ar and Rb-Sr ages of Alpine granite-metamorphic complexes in the northwestern Dinarides and southwestern Pannonian Basin in northern Croatia. Acta Geologia 22:1–15

Lazić B, Kahlenberg V, Vulić P, Pešić L, Dimitrijević R (2009) Meta-autunite from a Li-pegmatite of the Cer Mt Serbia: its mineralogical and XRD investigations. Neues Jahrbuch für Mineralogie - Abhandlungen 186(3):333–344

Lyday PA (2006) Boron Annual Report. USGS, Minerals lnformation, Reston, VA, USA

Maniar PD, Piccoli PM (1989) Tectonic discrimination of granitoids. Geol Soc Am Bull 101:635–643. https://doi.org/10.1130/0016-7606(1989)101%3c0635:TDOG%3e2.3.CO;2

Marić D, Srećković-Batoćanin D, Vasić N, Radisavljević M, Đekić T (2019) History of the Belanovica (Serbia) Neogene lake basin inferred from petrological and geochemical data. Geol Croat 72(1):5–18. https://doi.org/10.4154/gc.2019.05

Marović M, Toljić M, Rundić Lj, Milivojević J (2007) Neoalpine tectonics of Serbia. Serbian Geol Soc, Monograph. HADAR Int. LTD, Belgrade, Serbia, p 87

Middlemost E (1994) Naming materials in the magma/igneous rock system. Earth-Sci Rev 37:215–224. https://doi.org/10.1016/0012-8252(94)90029-9

Mladenović A, Trivić B, Cvetković V (2015) How tectonics controlled post-collisional magmatism within the Dinarides: inferences based on study of tectono-magmatic events in the Kopaonik Mts. (Southern Serbia). Tectonophysics 646:36–49. https://doi.org/10.1016/j.tecto.2015.02.001

Obradovic J, Stamatakis M, Anicic S, Economou G (1992) Borate and borosilicate deposits in the Miocene Jarandol Basin, Serbia. Yugoslavia Econ Geol 87(8):2169–2174. https://doi.org/10.2113/gsecongeo.87.8.2169

Obradovic J, Djurdjevic-Colson J, Vasic N (1997) Phytogenic lacustrine sedimentation – oil shales in Neogene from Serbia, Yugoslavia. J Palaeolimnol 18:351–364. https://doi.org/10.1023/A:1007907109399

Obradović J, Vasić N, Kasanin-Grubin M, Grubin N (2000) Neogene lacustrine sediments and authigenic minerals geochemical characteristics. Ann Geol Penins Balk 63:135–154

Obradović J, Vasić N (2007) Neogene lacustrine basins from Serbia. Monographs, DCLXII, Serbian Academy of Sciences and Arts, p 310

Palcu DV, Patina IS, Șandric I, Lazarev S, Vasiliev I, Stoica M, Krijgsman W (2021) Late Miocene megalake regressions in Eurasia. Sci Rep 11:11471. https://doi.org/10.1038/s41598-021-91001-z

Pamić J, Balen D, Herak M (2002) Origin and geodynamic evolution of Late Paleogene magmatic associations along the Periadriatic-Sava-Vardar magmatic belt. Geodin Acta 15:209–231. https://doi.org/10.1016/S0985-3111(02)01089-6

Pamić J, Prohić E (1989) Novi prilog petrološkom poznavanju alpinskih granitnih i metamorfnih stijena Motajice u sjevernim Dinaridima u Bosni (A new contribution to the petrology of Alpine granite and metamorphic rocks from Motajica Mt. in the northernmost Dinarides, Yugoslavia) (in Serbian with English abstract). Geol Glas 13:145–176

Pamić J, Balen D (2001) Tertiary magmatism of the Dinarides and the adjoining South Pannonian Basin: an overview. Acta Vulcanol 13:9–24

Pearce J, Harris N, Tindle A (1984) Trace element discrimination diagrams for the tectonic interpretation of granitic rocks. J Petrol 25(4):956–983. https://doi.org/10.1093/petrology/25.4.956

Peccerillo A, Taylor SR (1976) Geochemistry of Eocene calc-alkaline volcanic rocks from the Kastamonu Area, Northern Turkey. Contrib Mineral Petrol 58:63–81. https://doi.org/10.1007/BF00384745

Pezelj Đ, Mandić O, Ćorić S (2013) Paleoenvironmental dynamics in the southern Pannonian Basin during initial Middle Miocene marine flooding. Geol Carpath 64:81–100. https://doi.org/10.2478/geoca-2013-0006

Prelević D, Cvetković V, Foley SF (2001) Composite igneous intrusions from Serbia: two case studies of interaction between lamprophyric and granitoid magmas. In: Downes, H, Vaselli, O (eds) Tertiary magmatism in the Dinarides Balkan Peninsula. Acta Vulcan 13: 145–157

Prelević D, Foley SF, Cvetković V, Romer RL (2004) Origin of minette by mixing of lamproite and dacite magmas in Veliki Majdan, Serbia. J Petrol 45:759–792. https://doi.org/10.1093/petrology/egg109

Prelević D, Foley SF, Romer RL, Cvetković V, Downes H (2005) Tertiary ultrapotassic volcanism in Serbia: constraints on petrogenesis and mantle source characteristics. J Petrol 46(7):1443–1487. https://doi.org/10.1093/petrology/egi022

Prysjazhnju V, Kovalenko V, Krstić N (2000) On the terrestrial and freshwater molluscs from Neogene of Western Serbia. Geology and metallogeny of the Dinarides and the Vardar zone. Proc. Internat. Symp., Zvornik, Belgrade, 219–224.

Rio Tinto Notice to ASX (2020) Rio Tinto declares maiden Ore Reserve at Jadar. https://www.riotinto.com/-/media/Content/Documents/Invest/Reserves-and-resources/RT-Jadar-Reserves 2020.pdf?rev=c31b0fd7047f46dcba39bc3dea49ccb6

Rudnick RL, Gao S (2003) Composition of the continental crust. In: Holland HD and Turekian KK (eds) Treatise Geochem 3:1–51. https://doi.org/10.1016/B0-08-043751-6/03016-4

Sant K, Mandic O, Rundić LJ, Kupier K, Krigjsman W (2018) Age and evolution of the Serbian Lake System: integrated results from Middle Miocene Lake Popovac. Newsl Stratigr 51:117–143. https://doi.org/10.1127/nos/2016/0360

Schefer S, Cvetković V, Fugenschuh B, Kounov A, Ovtcharova M, Schaltegger U, Schmid MS (2011) Cenozoic granitoids in the Dinarides of southern Serbia: age of intrusion, isotope geochemistry, exhumation history and significance for the geodynamic evolution of the Balkan Peninsula. Int J Earth Sci 100(5):1181–1206. https://doi.org/10.1007/s00531-010-0599-x

Schmid SM, Fügenschuh B, Kounov A, Maţenco L, Nievergelt P, Oberhänsli R, Pleuger J, Schefer S, Schuster R, Tomljenović B, Ustaszewski K, van Hinsbergen DJJ (2020) Tectonic units of the Alpine collision zone between Eastern Alps and western Turkey. Gondwana Res 78:308–374. https://doi.org/10.1016/j.gr.2019.07.005

Stanley C, Jones G, Rumsey M, Blake C, Roberts A, Stirling JAR, Carpenter GJC, Whitfield P, Grice J, Lepage Y (2007) Jadarite, LiNaSiB3O7(OH), a new mineral species from the Jadar Basin. Serbia Eur J Mineral 19(4):575–580. https://doi.org/10.1127/0935-1221/2007/0019-1741

Stojadinovic U, Matenco L, Andriessen PAM, Toljić M, Foeken JPT (2013) The balance between orogenic building and subsequent extension during the Tertiary evolution of the NE Dinarides: constraints from low temperature thermochronology. Glob Planet Change 103:19–38. https://doi.org/10.1016/j.gloplacha.2012.08.004

Stojadinovic U, Matenco L, Andriessen P, Toljić M, Rundić L, Ducea MN (2017) Structure and provenance of Late Cretaceous-Miocene sediments located near the NE Dinarides margin: inferences from kinematics of orogenic building and subsequent extensional collapse. Tectonophysics 710–711:184–204. https://doi.org/10.1016/j.tecto.2016.12.021

Šajnović A, Grba N, Neubauer F, Kašanin-Grubin M, Stojanović K, Petković N, Jovančićević B (2020) Geochemistry of sediments from the Lopare Basin (Bosnia and Herzegovina): implications for paleoclimate, paleosalinity, paleoredox and provenance. Acta Geol Sin 94(5):1591–1618. https://doi.org/10.1111/1755-6724.14324

Taylor SR, McLennan S (1995) The geochemical evolution of continental crust. Rev Geophys 33(2):241–265. https://doi.org/10.1029/95RG00262

Ustaszewski K, Kounov A, Schmid SM, Schaltegger U, Krenn E, Frank W, Fügenschuh B (2010) Evolution of the Adria-Europe plate boundary in the northern Dinarides: from continent-continent collision to back-arc extension. Tectonics 29: TC6017. https://doi.org/10.1029/2010TC002668

Vardar Minerals Balkan Projects – summary presentation 2018. https://vardarminerals.com/wp-content/uploads/2018/11/180723-vardar-investor-presentation.pdf

Valjevo Project Update to the Mineral Resource Estimate (2020) Samuel Engineering, Euro Lithium – Valjevo Project. https://www.weare121.com/121mininginvestment-hk/wp-content/uploads/sites/2/2020/06/Euro-Lithium-2-Page-Factsheet-V9-June-8.pdf

Vrabac S, Ferhatbegović Z, Đulović I, Dž Bijedić (2011) Findings of marine fossils in salt formation of the salt rock reservoir Tetima near Tuzla. Zbornik Radova III, Kongresa Geologa BiH Sarajevo (in Bosnian/Serbian/Croatian)
Acknowledgements
The authors are grateful to Prof. Elvir Babajić from University of Tuzla, alongside Ana Anzulović, Lucia Hergotić, Lucija Asić, and Magdalena Mirt from University of Zagreb Faculty of Mining, Geology and Petroleum Engineering, for support during field work, sample preparation, and laboratory analysis. Constructive review of Vladica Cvetković and Bernd Lehmann significantly improved the original version of the manuscript.
Funding
This work has been funded by the EIT RawMaterials project 18036 iTARG3T — Innovative targeting and processing of W-Sn-Ta-Li ores: towards EU's self-supply, and by the Virtulab project (KK.01.1.1.02.0022), co-funded by the European Regional Development Fund.
Ethics declarations
Conflict of interest
The authors declare no competing interests.
Additional information
Editorial handling: B. Lehmann.
Publisher's note
Springer Nature remains neutral with regard to jurisdictional claims in published maps and institutional affiliations.
The original online version of this article was revised: Figure 1 has wrong coordinates.
Supplementary Information
Below is the link to the electronic supplementary material.
Rights and permissions
Springer Nature or its licensor (e.g. a society or other partner) holds exclusive rights to this article under a publishing agreement with the author(s) or other rightsholder(s); author self-archiving of the accepted manuscript version of this article is solely governed by the terms of such publishing agreement and applicable law.
About this article
Cite this article
Borojević Šoštarić, S., Brenko, T. The Miocene Western Balkan lithium-boron metallogenic zone. Miner Deposita 58, 639–658 (2023). https://doi.org/10.1007/s00126-022-01151-x
Received:

Accepted:

Published:

Issue Date:

DOI: https://doi.org/10.1007/s00126-022-01151-x
Keywords
Lithium-boron mineralization

Extensional setting

Li-bearing granitic rocks

Miocene lacustrine basins

Sava-Vardar zone

Izmir-Ankara-Erzincan zone