Abstract
The Boulder Bed of the western Bushveld Complex is an m-scale unit of mottled anorthosite containing sub-circular dm-scale 'boulders' of pyroxenite, harzburgite, or norite. To better understand this unit, we have combined high-resolution element mapping and electron back-scatter diffraction analysis with electron-probe microanalysis of plagioclase crystals from the boulders and their host anorthosite. Several key features pertinent to understanding the formation of this unit have been described, including (i) anhedral olivine is concentrated at the base of boulders, whereas clinopyroxene is concentrated towards the tops; (ii) the upward decrease in grain size through the boulders; (iii) the occurrence of chromite along the base of boulders and seldom along the top; (iv) the presence of strongly reverse-zoned cumulus plagioclase (An75-95) in the so-called marginal zone underlying boulders; (v) the absence of deformation in the host anorthosite but the prevalence of intra-crystalline deformation in intercumulus pyroxene of the marginal zone; (vi) that amphibole (± apatite ± phlogopite) partially line the base of some boulders; (vii) traces of pyrrhotite (± pentlandite ± chalcopyrite) occur within the lower halves of boulders. We propose that the boulders formed in response to the disaggregation of a locally PGE-rich pyroxenite, triggered by heat- and (or) volatile-induced partial melting of the noritic host rocks. Several of the petrologic features arose from the reaction between the boulders and the noritic partial melt prior to late-stage viscous compaction.
Access options
Buy single article
Instant access to the full article PDF.
USD 39.95
Price excludes VAT (USA)
Tax calculation will be finalised during checkout.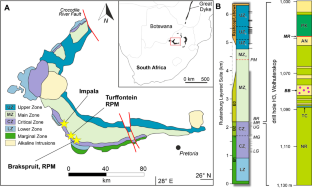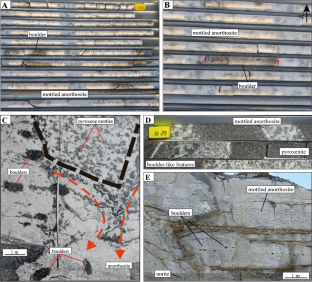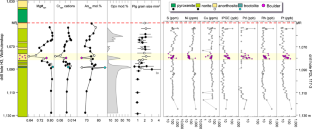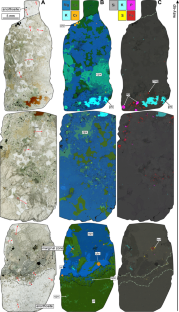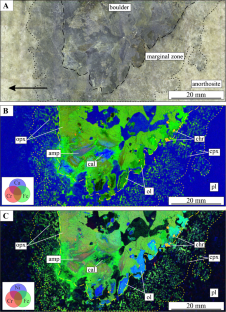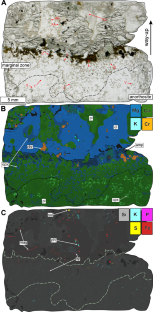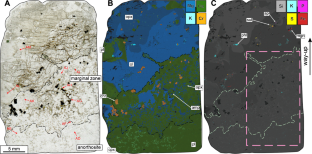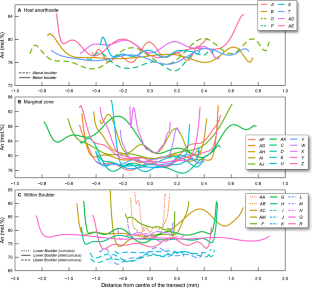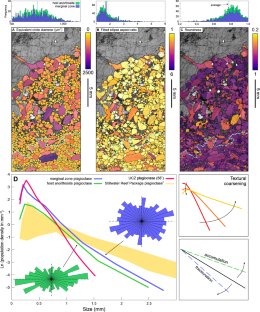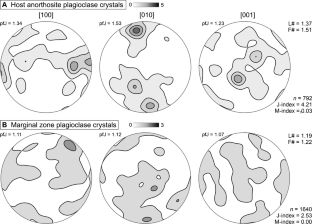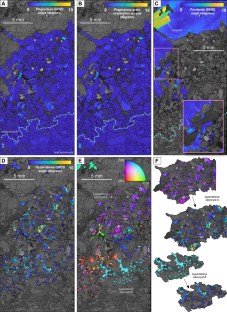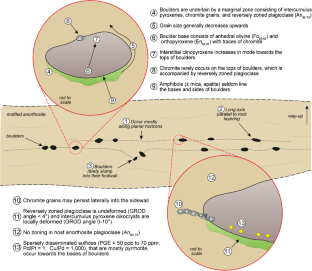 References
Allain-Bonasso N, Wagner F, Berbenni S, Field DP (2012) A study of the heterogeneity of plastic deformation in IF steel by EBSD. Mater Sci Eng A 548:56–63

Armstrong JT (1995) Citzaf-a package of correction programs for the quantitative electron microbeam X-ray-analysis of thick polished materials, thin-films, and particles. Microbeam Anal 4:177–200

Bachmann F, Hielscher R, Schaeben H (2010) Texture analysis with MTEX–free and open source software toolbox. In: Solid state phenomena, vol 160. Trans Tech Publications Ltd., pp 63–68

Baker SR, Boudreau AE (2019) The influence of the thick banded series anorthosites on the crystallization of the surrounding rock of the Stillwater Complex, Montana. Contrib to Mineral Petrol 174:1–14

Ballhaus CG, Cornelius M, Stumpfl EF (1988) The upper critical zone of the bushveld complex and the origin of merensky-type ores - a discussion. Econ Geol 83:1082–1085. https://doi.org/10.2113/gsecongeo.83.5.1082

Barnes SJ, Taranovic V, Miller JM et al (2020) Sulfide emplacement and migration in the Nova-Bollinger Ni-Cu-Co deposit, Albany-Fraser orogen, Western Australia. Econ Geol 115:1749–1776

Bennett EN, Lissenberg CJ, Cashman KV (2019) The significance of plagioclase textures in mid-ocean ridge basalt (Gakkel Ridge, Arctic Ocean). Contrib Min Petrol 174:1–22

Bohrson WA, Spera FJ, Ghiorso MS et al (2014) Thermodynamic model for energy-constrained open-system evolution of crustal magma bodies undergoing simultaneous recharge, assimilation and crystallization: the magma chamber simulator. J Petrol 55:1685–1717

Boorman S, Boudreau A, Kruger FJ (2004) The lower zone–critical zone transition of the Bushveld Complex: a quantitative textural study. J Petrol 45(6):1209–1235

Boudreau AE (2019) Hydromagmatic processes and platinum-group element deposits in layered intrusions. Cambridge University Press

Brewer LN, Field DP and Merriman CC (2009) Mapping and assessing plastic deformation using EBSD. Electron backscatter diffraction in materials science, pp 251–262

Bunge H-J (2013) Texture analysis in materials science: mathematical methods. Elsevier

Campbell IH, Naldrett AJ, Barnes SJ (1983) A model for the origin of the platinum-rich sulfide horizons in the Bushveld and Stillwater Complexes. J Petrol 24:133–165

Cawthorn RG, Barry SD (1992) The role of intercumulus residua in the formation of pegmatoid associated with the UG2 chromitite, Bushveld Complex. Aust J Earth Sci 39:263–276

Cawthorn RG, Boerst K (2006) Origin of the pegmatitic pyroxenite in the Merensky unit, Bushveld Complex, South Africa. J Petrol 47:1509–1530

Cawthorn RG, Walraven F (1998) Emplacement and crystallization time for the Bushveld Complex. J Petrol 39(9):1669–1687

Cawthorn RG, Latypov R, Klemd R, Vuthuza A (2018) Origin of discordant ultramafic pegmatites in the Bushveld Complex from externally-derived magmas. South African J Geol 2018(121):287–310

Cheadle MJ, Gee JS (2017) Quantitative textural insights into the formation of gabbro in mafic intrusions. Elem an Int Mag Mineral Geochem Petrol 13:409–414

Cousins CA (1969) The Merensky Reef of the Bushveld Igneous Complex. Econ Geol Monograph 4:239–251

Eales HV, Cawthorn RG (1996) The bushveld complex. Dev Petrol 15:181–229 (Elsevier)

Eales HV, Marsh JS, Mitchell AA et al (1986) Some geochemical constraints upon models for the crystallization of the upper critical zone-main zone interval, northwestern Bushveld complex. Mineral Mag 50:567–582

Ferguson J, Botha E (1963) Some aspects of igneous layering in the basic zones of the Bushveld Complex. S Afr J Geol 66(1):259–282

Hall AL (1924) On jade (massive garnet) from the Bushveld in the Western Transvaal. S Afr J Geol 27:49–55

Heilbronner R, Tullis J (2002) The effect of static annealing on microstructures and crystallographic preferred orientations of quartzites experimentally deformed in axial compression and shear. Geol Soc London, Spec Publ 200:191–218

Higgins MD (2002) A crystal size-distribution study of the Kiglapait layered mafic intrusion, Labrador, Canada: evidence for textural coarsening. Contrib Miner Petrol 144(3):314–330

Higgins MD (2006) Quantitative textural measurements in igneous and metamorphic petrology. Cambridge University Press

Holness MB, Hallworth MA, Woods A, Sides RE (2007) Infiltration metasomatism of cumulates by intrusive magma replenishment: the wavy horizon, Isle of Rum, Scotland. J Petrol 48:563–587

Holness MB, Cawthorn RG, Roberts J (2017) The thickness of the crystal mush on the floor of the Bushveld magma chamber. Contrib to Mineral Petrol 172:102

Holness MB, Morris C, Vukmanovic Z, Morgan DJ (2020) Insights into magma chamber processes from the relationship between fabric and grain shape in troctolitic cumulates. Front Earth Sci 8:352

Humphreys MCS (2009) Chemical evolution of intercumulus liquid, as recorded in plagioclase overgrowth rims from the Skaergaard intrusion. J Petrol 50:127–145

Hunter RH (1996) Texture development in cumulate rocks. In: Developments in petrology, vol 15. Elsevier, pp 77–101

Jenkins MC, Mungall JE, Zientek ML, Butak K, Corson S, Holick P, McKinley R, Lowers H (2022) The geochemical and textural transition between the Reef Package and its hanging wall, Stillwater Complex, Montana, USA. J Petrol 63(7):egac053. https://doi.org/10.5066/P9IHERKX

Jones JP (1976) Pegmatoidal nodules in the layered rocks of the Bafokeng leasehold area. South African J Geol 79:312–320

Kerr A, Leitch AM (2005) Self-destructive sulfide segregation systems and the formation of high-grade magmatic ore deposits. Econ Geol 100:311–332

Kinnaird JA (2005) The Bushveld large igneous province. The University of the Witwatersrand, Johannesburg, South Africa, Review Paper, p 39

Lee CA, Sharpe MR (1980) Further examples of silicate liquid immiscibility and spherical aggregation in the Bushveld Complex. Earth Planet Sci Lett 48:131–147

Leeb-Du Toit A (1986) The Impala platinum mines. In: Mineral deposits of Southern Africa, pp 1091–1106

Li C, Ripley EM (2006) Formation of Pt-Fe alloy by desulfurization of Pt-Pd sulfide in the JM Reef of the Stillwater Complex, Montana. Can Mineral 44:895–903

Maier W (1995) Olivine oikocrysts in Bushveld Anorthosite; some implications for cumulate formation. Can Mineral 33:1011–1022

Maier WD, Barnes S-J (2003) Platinum-group elements in the Boulder Bed, western Bushveld Complex, South Africa. Miner Depos 38:370–380

Maier WD, Eales HV (1997) Correlation within the UG2-Merensky Reef interval of the western Bushveld Complex. Bull Geol Surv S Aft 120:56

Maier WD, Barnes SJ, Groves DI (2013) The Bushveld Complex, South Africa: formation of platinum–palladium, chrome-and vanadium-rich layers via hydrodynamic sorting of a mobilized cumulate slurry in a large, relatively slowly cooling, subsiding magma chamber. Miner Deposita 48(1):1–56

Maier WD, Karykowski BT, Yang S-H (2016) Formation of transgressive anorthosite seams in the Bushveld Complex via tectonically induced mobilisation of plagioclase-rich crystal mushes. Geosci Front 7:875–889

Maier WD, Barnes S-J, Muir D et al (2021) Formation of Bushveld anorthosite by reactive porous flow. Contrib to Mineral Petrol 176:1–12

Mainprice D, Bachmann F, Hielscher R, Schaeben H (2015) Descriptive tools for the analysis of texture projects with large datasets using MTEX: strength, symmetry and components. Geol Soc London, Spec Publ 409:251–271

Marsh BD (1988) Crystal size distribution (CSD) in rocks and the kinetics and dynamics of crystallization I. Theory Contrib Mineral Petrol 99:277–291

Marsh JS, Pasecznyk MJ, Boudreau AE (2021) Formation of chromitite seams and associated anorthosites in layered intrusion by reactive volatile-rich fluid infiltration. J Petrol 62(2):egaa109

Mathez EA, Kinzler RJ (2017) Metasomatic chromitite seams in the Bushveld and Rum layered intrusions. Elements 13(6):397–402

Meurer WP, Klaber S, Boudreau AE (1997) Discordant bodies from olivine-bearing zones III and IV of the Stillwater Complex, Montana–evidence for postcumulus fluid migration and reaction in layered intrusions. Contrib to Mineral Petrol 130:81–92

Mungall JE, Kamo SL, McQuade S (2016) U-Pb geochronology documents out-of-sequence emplacement of ultramafic layers in the Bushveld Igneous Complex of South Africa. Nat Commun 7:1–13

Naldrett AJ, Gasparrini EC, Barnes SJ et al (1986) The upper critical zone of the Bushveld Complex and the origin of Merensky-type ores. Econ Geol 81(5):1105–1117

Naldrett AJ, Wilson AH, Kinnaird JA, Chunnett G (2009) PGE tenor and metal ratios within and below the Merensky Reef, Bushveld Complex : implications for its Genesis. Am Mineral 50:473–5064

Naslund HR (1986) Disequilibrium partial melting and rheomorphic layer formation in the contact aureole of the Basistoppen sill, East Greenland. Contrib Miner Petrol 93(3):359–367

Nicholson DM, Mathez EA (1991) Petrogenesis of the Merensky Reef in the Rustenburg section of the Bushveld Complex. Contrib to Mineral Petrol 107:293–309

O'Driscoll B, Donaldson CH, Daly JS, Emeleus CH (2009) The roles of melt infiltration and cumulate assimilation in the formation of anorthosite and a Cr-spinel seam in the Rum Eastern Layered Intrusion. NW Scotland Lithos 111(1–2):6–20

Pagé P, Barnes S-J, Bédard JHJ, Zientek ML (2012) In situ determination of Os, Ir, and Ru in chromites formed from komatiite, tholeiite and boninite magmas: implications for chromite control of Os, Ir and Ru during partial melting and crystal fractionation. Chem Geol 302:3–15

Peregoedova A, Barnes S-J, Baker DR (2004) The formation of Pt–Ir alloys and Cu–Pd-rich sulfide melts by partial desulfurization of Fe–Ni–Cu sulfides: results of experiments and implications for natural systems. Chem Geol 208:247–264

Piazolo S, Bestmann M, Prior DJ, Spiers CJ (2006) Temperature dependent grain boundary migration in deformed-then-annealed material: observations from experimentally deformed synthetic rocksalt. Tectonophysics 427:55–71

Prichard HM, Barnes S-J, Godel BM et al (2015) The structure of and origin of nodular chromite from the Troodos ophiolite, Cyprus, revealed using high-resolution X-ray computed tomography and electron backscatter diffraction. Lithos 218:87–98

Robb SJ, Mungall JE (2020) Testing emplacement models for the Rustenburg layered suite of the Bushveld Complex with numerical heat flow models and plagioclase geospeedometry. Earth Planet Sci Lett 534:116084

Scoon RN, Costin G (2018) Chemistry, morphology and origin of magmatic-reaction chromite stringers associated with anorthosite in the upper critical zone at Winnaarshoek, Eastern Limb of the Bushveld Complex. J Petrol 59:1551–1578

Scoon RN, Mitchell AA (2012) The upper zone of the Bushveld Complex at Roossenekal, South Africa: geochemical stratigraphy and evidence of multiple episodes of magma replenishment. South African J Geol 115:515–534

Shaw CSJ, Dingwell DB (2008) Experimental peridotite–melt reaction at one atmosphere: a textural and chemical study. Contrib to Mineral Petrol 155:199–214

Shaw CSJ, Thibault Y, Edgar AD, Lloyd FE (1998) Mechanisms of orthopyroxene dissolution in silica-undersaturated melts at 1 atmosphere and implications for the origin of silica-rich glass in mantle xenoliths. Contrib to Mineral Petrol 132:354–370

Skemer P, Katayama I, Jiang Z, Karato S (2005) The misorientation index: development of a new method for calculating the strength of lattice-preferred orientation. Tectonophysics 411:157–167

Smith WD, Maier WD (2021) The geotectonic setting, age and mineral deposit inventory of global layered intrusions. Earth Sci Rev 220:103736

Smith WD, Maier WD, Barnes SJ et al (2021) Element mapping the Merensky Reef of the Bushveld Complex. Geosci Front 12(3):101101

Veksler IV, Hou T (2020) Experimental study on the effects of H2O upon crystallization in the lower and critical zones of the Bushveld Complex with an emphasis on chromitite formation. Contrib Mineral Petrol 175:1–17

Vermaak CF (1976) The Merensky Reef thoughts on its environment and Genesis. Econ Geol 71:1270–1298

Vigneresse JL, Tikoff B (1999) Strain partitioning during partial melting and crystallizing felsic magmas. Tectonophysics 312:117–132

Viljoen MJ, Hieber R (1986) The Rustenburg Section of Rustenburg Platinum Mines Limited, with reference to the Merensky Reef. In: Anhaeusser CR, Maske S (eds) Mineral deposits of South Africa. Geological Society of South Africa, Johannesburg, pp 1107–1134

Voorhees PW (1985) The theory of Ostwald ripening. J Stat Phys 38:231–252

Vukmanovic Z, Holness MB, Stock MJ, Roberts RJ (2019) The creation and evolution of crystal mush in the upper zone of the Rustenburg Layered Suite, Bushveld Complex, South Africa. J Petrol 60:1523–1542

Yao Z, Mungall JE, Jenkins MC (2021) The Rustenburg Layered Suite formed as a stack of mush with transient magma chambers. Nat Commun 12(1):1–13

Yudovskaya MA, Kinnaird JA, Costin G, McCreesh M, Shilovskikh V, Kovalchuk E, Kuzmin D (2022) Formation of spinel-orthopyroxene symplectites by reactive melt flow: examples from the northern Bushveld Complex and implications for mineralization in layered intrusions. Econ Geol. https://doi.org/10.5382/econgeo.4938
Acknowledgements
The DOI for the dataset "Electron Backscatter Diffraction (EBSD) Data for the Boulder Bed, Bushveld layered intrusion, South Africa." is https://doi.org/10.17035/d.2022.0200189886. This work would not have been possible without the provision of samples from Impala platinum mines (now Implats) and Rustenburg platinum mines to facilitate WDM's work on his PhD thesis in the late 1980s. Anthony Oldroyd is thanked for producing thick sections. Dr. Steve Barnes is thanked for providing micro-XRF maps and reviewing an earlier draft of this manuscript. Prof. David Reid is thanked for providing images of boulders in Fig. 2 from the Lonmin Marikana pit. Dr. Chris Jenkins' assistance helped improve the microtextural aspects of this contribution. Professors Georges Beaudoin and Marco Fiorentini are thanked for their editorial handling of this contribution. Insightful and kind reviews by Dr. Belinda Godel and Dr. Brian O'Driscoll helped improve an earlier version of this contribution.
Ethics declarations
Conflict of interest
The authors declare no competing interests.
Additional information
Editorial handling: M. Fiorentini
Publisher's note
Springer Nature remains neutral with regard to jurisdictional claims in published maps and institutional affiliations.
Highlights
• Microtextural characterisation of the Boulder Bed of the Bushveld Complex.
• Strongly reverse-zoned plagioclase beneath boulders.
• Little evidence for microscopic deformation.
• A new petrogenetic model for the formation of the Boulder Bed.
Supplementary Information
Below is the link to the electronic supplementary material.
Rights and permissions
Springer Nature or its licensor (e.g. a society or other partner) holds exclusive rights to this article under a publishing agreement with the author(s) or other rightsholder(s); author self-archiving of the accepted manuscript version of this article is solely governed by the terms of such publishing agreement and applicable law.
About this article
Cite this article
Smith, W.D., Maier, W.D., Muir, D.D. et al. New perspectives on the formation of the Boulder Bed of the western Bushveld Complex, South Africa. Miner Deposita 58, 617–638 (2023). https://doi.org/10.1007/s00126-022-01150-y
Received:

Accepted:

Published:

Issue Date:

DOI: https://doi.org/10.1007/s00126-022-01150-y
Keywords
Bushveld Complex

Boulder Bed

PGE

Merensky Reef

South Africa

EPMA

EBSD