Abstract
The Pha Lek Fe-polymetallic deposit in the southwest of the Truong Son orogenic belt records the evolution and metallogenesis of the southeastern Asia Tethys. Debates remain on the roles the Late Triassic volcanism played in the formation of the iron oxides of the deposit. Petrographic and SEM studies led to the recognition of two dominant iron oxides (magnetite and hematite) and three stages of mineralization (pre-ore, syn-ore, and post-ore stages). In situ LA–ICP–MS analyses for trace elements and Fe and O isotopic analyses were applied to understand the origin of the iron oxides. Generally, iron oxide of the syn-ore stage has higher total trace elements than post-ore stage, and magnetite has higher lithophile elements, whereas hematite has higher chalocophile elements. The trace-element abundance in magnetite is most comparable to porphyry-skarn-hydrothermal magnetite, and hematite is more comparable to supergene and secondary, non-magmatic hydrothermal chemistry. All δ56Fe values of the iron-oxide separates are above 0‰ and have an igneous signature, and syn-ore stage magnetite has relatively higher δ56Fe values than the post-ore stage hematite. All δ18O values of the iron-oxide separates are below 1‰ and plot within the non-igneous field, and show a similar decreasing trend from syn-ore stage magnetite to post-ore stage hematite. We propose that the Triassic volcanic activities played a limited role during the mineralization process; the deposit was formed because of the Late Carboniferous–Early Permian, porphyry-skarn-related, magmatic hydrothermal alteration; and the mixing of non-magmatic fluid and/or the supergene weathering caused the wide reprecipitation of Fe oxides. An evolutionary mineralization model related to the low-angle subduction for the deposit is also proposed.
This is a preview of subscription content, log in to check access.
Access options
Buy single article
Instant access to the full article PDF.
US$ 39.95
Tax calculation will be finalised during checkout.
Subscribe to journal
Immediate online access to all issues from 2019. Subscription will auto renew annually.
US$ 199
Tax calculation will be finalised during checkout.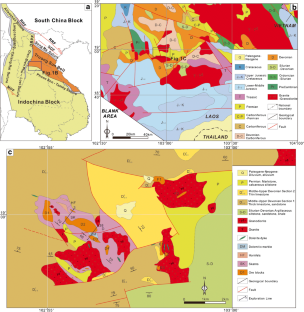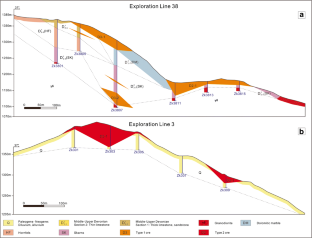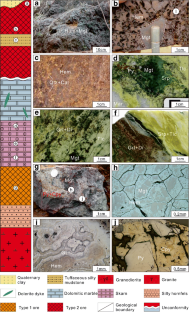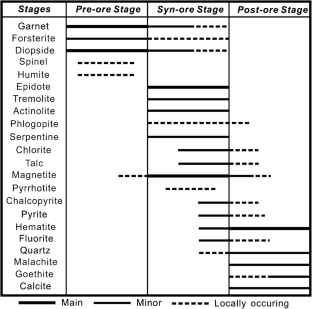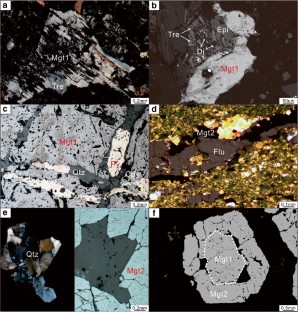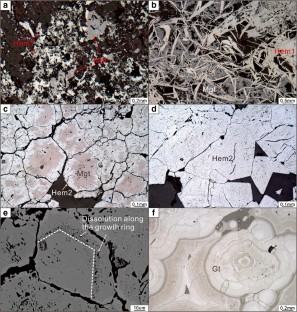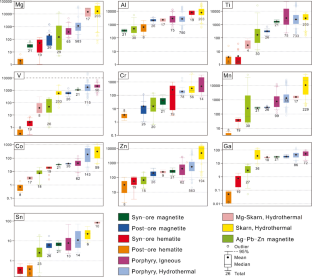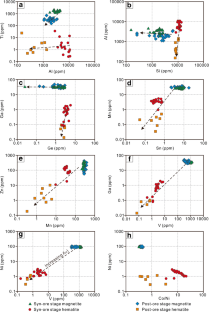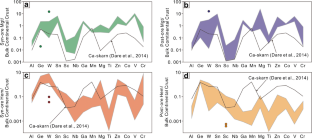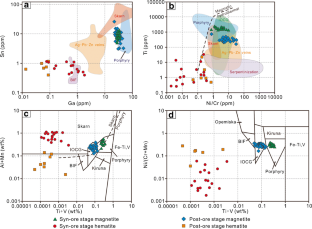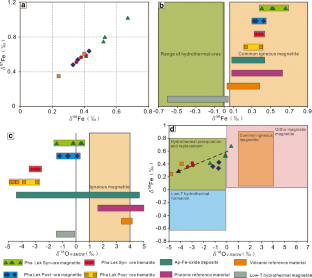 References
Acosta-Góngora P, Gleeson SA, Samson IM, Ootes L, Corriveau L (2014) Trace element geochemistry of magnetite and its relationship to Cu-Bi-Co-Au-Ag-U-W mineralization in the great bear magmatic zone, NWT. Canada Econ Geol 109:1901–1928

Anber A, Jarzecki A, Spiro T (2005) Theoretical investigation of iron isotope fractionation between Fe (H2O)63+ and Fe(H2O)62+: implications for iron stable isotope geochemistry. Geochim Cosmochim Acta 69:825–837

Bajwah ZU, Seccombe PK, Offler R (1987) Trace element distribution Co: Ni ratios and genesis of the Big Cadia iron-copper deposit, New South Wales, Australia. Mineral Deposita 22:292–300

Balci N, Bullen TD, Witte-Lien K, Shanks WC, Motelica M, Mandernack KW (2006) Iron isotope fractionation during microbially stimulated Fe (II) oxidation and Fe (III) precipitation. Geochim Cosmochim Acta 70:622–639

Beard BL, Johnson CM, Skulan JL, Nealson KH, Cox L, Sun H (2003) Application of Fe isotopes to tracing the geochemical and biological cycling of Fe. Chem Geol 195:87–117

Bilenker LD, VanTongeren JA, Lundstrom CC, Simon AC (2016a) Iron isotopic evolution during fractional crystallization of the uppermost Bushveld Complex layered mafic intrusion. Geochem Geophys Geosyst 18:18–972. https://doi.org/10.1002/2016GC006660

Bilenker LD, Simon AC, Reich M, Lundstrom CC, Gajos N, Bindeman I, Barra F, Munizaga R (2016b) Fe–O stable isotope pairs elucidate a high-temperature origin of Chilean iron oxide-apatite deposits. Geochim Cosmochim Acta 177:94–104

Chen TW, Zhou MF, Gao JF, Hu RZ (2015) Geochemistry of magnetite from Proterozoic Fe-Cu deposits in the Kangdian metallogenic province, SW China. Mineral Deposita 50:795–809

Childress TM, Simon AC, Day WC, Lundstrom CC, Bindeman IN (2016) Iron and oxygen isotope signatures of the pea ridge and pilot knob magnetite-apatite deposits, Southeast Missouri, USA. Econ Geol 111:2033–2044

Chung D, Zhou MF, Gao JF, Chen TW (2015) In-situ LA–ICP-MS trace elemental analyses of magnetite: the late Palaeoproterozoic Sokoman Iron formation in the Labrador Trough, Canada. Ore Geol Rev 65:917–928

Dare SA, Barnes SJ, Beaudoin G (2012) Variation in trace element content of magnetite crystallized from a fractionating sulfide liquid, Sudbury, Canada: implications for provenance discrimination. Geochim Cosmochim Acta 88:27–50

Dare SA, Barnes SJ, Beaudoin G, Méric J, Boutroy E, Potvin-Doucet C (2014) Trace elements in magnetite as petrogenetic indicators. Mineral Deposita 49:785–796

Dauphas N, John SG, Rouxel O (2017) Iron isotope systematics. Rev Mineral Geochem 82:415–510

Dupuis C, Beaudoin G (2011) Discriminant diagrams for iron oxide trace element fingerprinting of mineral deposit types. Mineral Deposita 46:319–335

Faure M, Lepvrier C, Nguyen VV, Vu TV, Lin W, Chen ZC (2014) The South China block-Indochina collision: where, when, and how? J Asia Earth Sci 79:260–274

Günther T, Klemd R, Zhang X, Horn I, Weyer S (2017) In-situ trace element and Fe-isotope studies on magnetite of the volcanic-hosted Zhibo and Chagangnuoer iron ore deposits in the Western Tianshan, NW China. Chem Geol 453:111–127

Hou L, Liu SS, Guo LN, Xiong FH, Li C, Shi MF, Zhang QM, Xu SW, Wu SY (2019a) Geology, geochronology, and Hf isotopic composition of the Pha Lek Fe deposit, northern Laos: implications for early Permian subduction-related skarn Fe mineralization in the Truong Son belt. J Earth Sci 30:109–120

Hou L, Xiong FH, Wang W, Guo LN, Peng HJ, Ni SJ, Zhang QM (2019b) Carboniferous-Triassic felsic igneous rocks and typical mineral deposits in the Truong Son orogenic belt, SE Asia: implications for Paleo-Tethyan tectonic evolution and metallogeny. Ore Geol Rev 112:103036

Hu X, Chen HY, Zhao LD, Han JS, Xia XP (2017) Magnetite geochemistry of the Longqiao and Tieshan Fe–(Cu) deposits in the middle-lower Yangtze River belt: implications for deposit type and ore genesis. Ore Geol Rev 89:822–835

Hyslop EV, Valley JW, Johnson CM, Beard BL (2007) The effects of metamorphism on O and Fe isotope compositions in the Biwabik Iron formation, northern Minnesota. Contrib Mineral Petrol 155:313–328

Johnson CM, Roden EE, Welch SA, Beard BL (2005) Experimental constraints on Fe isotope fractionation during magnetite and Fe carbonate formation coupled to dissimilatory hydrous ferric oxide reduction. Geochim Cosmochim Acta 69:963–993

Jonsson E, Troll VR, Högdahl K, Harris C, Weis F, Nilsson KP, Skelton A (2013) Magmatic origin of giant 'Kiruna-type' apatite-iron-oxide ores in Central Sweden. Sci Rep 3:1644

Kamvong T, Khin Z, Meffre S, Maas R, Stein H, Lai C (2014) Adakites in the Truong Son and Loei fold belts, Thailand and Laos: genesis and implications for geodynamics and metallogeny. Gondwana Res 26:165–184

Khin Z, Meffre S, Lai C, Burrett C, Santosh M, Graham I, Manaka T, Salam A, Kamvong T, Cromie P (2014) Tectonics and metallogeny of mainland Southeast Asia – a review and contribution. Gondwana Res 26:5–30

Leprier C, Maluski H, Tich VV, Leyreloup A, Phan TT, Nguyen VV (2004) The Early Triassic Indosinian orogeny in Vietnam (Truong Son Belt and Kontum Massif); implications for the geodynamic evolution of Indochina. Tectonophysics 393:87–118

Li J, Zhu XK, Tang SH (2012) Equilibrium fractionation of Fe isotopes during Fe (III) hydrolysis. Acta Petrol Mineral 31:891–896

Li DF, Chen HY, Hollings P, Zhang L, Sun XM, Zheng Y, Xia XP, Xiao B, Wang CM, Fang J (2018) Trace element geochemistry of magnetite: implications for ore genesis of the Talate skarn Pb-Zn (-Fe) deposit, Altay, NW China. Ore Geol Rev 100:471–482

Manaka T (2014) A study of mineralogical, geochemical and geochronological characteristics and ore genesis in Phuoc Son Gold deposit area, Central Vietnam. Published Ph.D thesis. University of Tasmania, Hobart: 207

Mao HJ (2012) Geology and metallogeny of the Pha Lek deposit in Truong Son Belt, Laos. Published Ph.D thesis. Chengdu University of Technology, Chengdu: 1–104

Nadoll P, Mauk JL, Hayes TS, Koenig AE, Box SE (2012) Geochemistry of magnetite from hydrothermal ore deposits and host rocks of the Mesoproterozoic Belt Supergroup, United States. Econ Geol 107:1275–1292

Nadoll P, Angerer T, Mauk JL, French D, Walshe J (2014) The chemistry of hydrothermal magnetite: a review. Ore Geol Rev 61:1–32

Nielsen RL, Beard JS (2000) Magnetite–melt HFSE partitioning. Chem Geol 164:21–34

Nielsen RL, Forsythe LM, Gallahan WE, Fisk MR (1994) Major- and trace-element magnetite–melt equilibria. Chem Geol 117:167–191

Qian X, Feng QL, Wang WQ, Wang YJ, Chonglakmani CP, Monjai DC (2015) Arc-like volcanic rocks in NW Laos: geochronological and geochemical constraints and their tectonic implications. J Asian Earth Sci 98:342–357

Shi MF, Lin FC, Fan W, Deng Q, Cong F, Tran MT, Zhu HP, Wang H (2015) Zircon U–Pb ages and geochemistry of granitoids in the Truong Son terrane, Vietnam: tectonic and metallogenic implications. J Asian Earth Sci 101:101–120

Sillitoe RH (2009) Porphyry copper systems. Econ Geol 105:3–41

Sone M, Metchlfe I (2008) Parallel Tethyan sutures in mainland Southeast Asia: new insights for Palaeo-Tethys closure and implications for the Indosinian orogeny. CR Tectonics 340:166–179

Sun J, Zhu XK (2015) Fe isotope geochemistry of earth surface system. Geol Rev 61:1370–1382 (in Chinese with English Abstract)

Sun XM, Lin H, Fu Y, Li DF, Hollings P, Yang TJ, Liu ZR (2017) Trace element geochemistry of magnetite from the giant Beiya goldpolymetallic deposit in Yunnan Province, Southwest China and its implications for the ore forming processes. Ore Geol Rev 91:477–490

Tate NM (2005) Discovery, geology and mineralization of the Phu Kham copper-gold deposit Lao People's Democratic Republic., Mineral Deposit Research: Meeting the Global Challenge. Springer, Berlin Heidelberg, pp 1077–1080

Toplis MJ, Carroll MR (1995) An experimental study of the influence of oxygen fugacity on Fe–Ti oxide stability, phase relations, and mineral–melt equilibria in ferro-basaltic systems. J Petrol 36:1137–1170

Toplis MJ, Corgne A (2002) An experimental study of element partitioning between magnetite, clinopyroxene and iron-bearing silicate liquids with particular emphasis on vanadium. Contrib Mineral Petrol 144:22–37

Troll VR, Weis FA, Jonsson E, Andersson UB, Majidi SA, Högdahl K, Harris C, Millet MA, Chinnasamy SS, Kooijman E, Nilsson KP (2019) Global Fe–O isotope correlation reveals magmatic origin of Kiruna-type apatite-iron-oxide ores. Nat Commun 10:1712. https://doi.org/10.1038/s41467-019-09244-4

Wang Y, Zhu XK (2012) Fe isotope systematics and its implications in ore deposit geology. Acta Petrol Sin 28:3638–3654 (in Chinese with English Abstract)

Wang JL, Lin FC, Zhu HP, Wang H, Shi MF (2013) SHRIMP zircon U-Pb dating of the ore-forming monzogranite from the Phalek iron deposit, Vientiane, Laos and its geological implications. Sediment Geol Tethyan Geol 33(3):87–93 (in Chinese with English Abstract)

Welch S, Beard B, Johnson C, Braterman P (2003) Kenetic and equilibrium Fe isotope fractionation between aqueous Fe (II) and Fe (III). Geochim Cosmochim Acta 67:4231–4250

Zaw K, Meffre S, Lai CK, Burrett C, Santosh M, Graham I, Manaka T, Salam A, Kamvong T, Cromie P (2014) Tectonics and metallogeny of mainland Southeast Asia–a review and contribution. Gondwana Res 26:5–30

Zhao LD, Chen HY, Zhang L, Li DF, Zhang WF, Wang CM, Yang JT, Yan XL (2018) Magnetite geochemistry of the Heijianshan Fe–Cu (–Au) deposit in Eastern Tianshan: Metallogenic implications for submarine volcanic-hosted Fe–Cu deposits in NW China. Ore Geol Rev 100:422–440

Zhou GF, Wu ZB, Gao JH, Fan WY, Wu WX, Liu ZT, Jiao YJ, Yang J, Deng K (2012) Geological characteristics and prospecting target of the Pali Mountain iron deposit in SaiSong-Wen County, Vientiane Province, Laos. Geol China 39(5):1375–1386 (in Chinese with English Abstract)

Zhou ZJ, Tang HS, Chen YJ, Chen ZL (2017) Trace elements ofmagnetite and iron isotopes of the Zankan iron deposit, westernmost Kunlun, China: a case study of seafloor hydrothermal iron deposits. Ore Geol Rev 80:1191–1205

Zhu XK, Guo Y, O'Nions RK, Young ED, Ash RD (2001) Isotopic homogeneity of iron in the early solar nebula. Nature 412:311–313

Zhu HP, Fan WY, Mao HJ, Wu ZB, Gao JH, Liu SS (2014) Geological characteristics and Metallogenesis of the PhaLek iron deposit in Vientiane Province, Laos. J Jilin Univ (Earth Sci Ed) 44(5):1492–1501 (in Chinese with English Abstract)

Zhu B, Zhang HF, Zhao XM, He YS (2016a) Iron isotope fractionation during skarn-type alteration: implications for metal source in the Han-Xing iron skarn deposit. Ore Geol Rev 74:139–150

Zhu XK, Sun J, Wang Y (2016b) Fe isotope geochemistry of magmatic system. Earth Sci Envriron 38:1–10 (in Chinese with English Abstract)
Acknowledgments
Suggestions of Mark D. Barton of the University of Arizona led to significant improvements in this paper. This manuscript benefited greatly from the editor of the journal, Bernd Lehmann, and the associate editor, Alexandre Raphael Cabral, and two reviewers, Tristan Morgan Childress and an anonymous expert, whose constructive suggestions helped to clarify our purpose and ideas.
Funding
This study was financially supported by the National Geological Survey Foundation of China (No. 121201010000150013 and No. DD20201161) and the National Natural Science Foundation of China (No. 41972077).
Additional information
Publisher's note
Springer Nature remains neutral with regard to jurisdictional claims in published maps and institutional affiliations.
Editorial handling: A. R. Cabral
Supplementary Information
About this article
Cite this article
Hou, L., Guo, L., Xu, S. et al. In situ geochemistry and Fe–O isotopic composition of iron oxides from the Pha Lek Fe deposit, northwest Truong Son orogenic belt, Laos: implications for ore-forming processes. Miner Deposita (2020). https://doi.org/10.1007/s00126-020-01028-x
Received:

Accepted:

Published:
Keywords
Truong Son orogenic belt

Pha Lek deposit

Iron oxides

Trace element

Fe and O isotope

Ore forming process