Abstract
Hydrous Mg silicate-type Ni-laterite deposits, like those in the Falcondo district, Dominican Republic, are dominated by Ni-enriched serpentine and garnierite. Recently, abundant Ni-smectite in the saprolite zone have been discovered in Loma Ortega, one of the nine Ni-laterite deposits in Falcondo. A first detailed study on these Ni-smectites has been performed (μXRD, SEM, EPMA), in addition to a geochemical and mineralogical characterisation of the Loma Ortega profile (XRF, ICP-MS, XRD). Unlike other smectite occurrences in laterite profiles worldwide, the Loma Ortega smectites are trioctahedral and exhibit high Ni contents never reported before. These Ni-smectites may be formed from weathering of pyroxene and olivine, and their composition can be explained by the mineralogy and the composition of the Al-depleted, olivine-rich parent ultramafic rock. Our study shows that Ni-laterites are mineralogically complex, and that a hydrous Mg silicate ore and a clay silicate ore can be confined to the same horizon in the weathering profile, which has significant implications from a recovery perspective. In accordance, the classification of "hybrid hydrous Mg silicate – clay silicate" type Ni-laterite deposit for Loma Ortega would be more appropriate.
Access options
Buy single article
Instant access to the full article PDF.
US$ 39.95
Tax calculation will be finalised during checkout.
Subscribe to journal
Immediate online access to all issues from 2019. Subscription will auto renew annually.
US$ 119
Tax calculation will be finalised during checkout.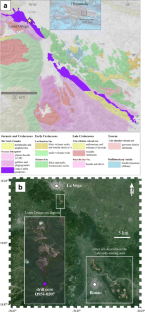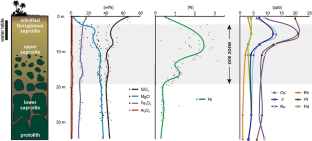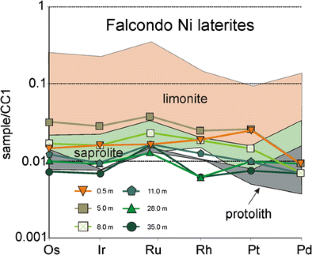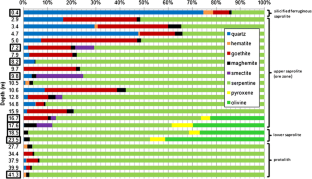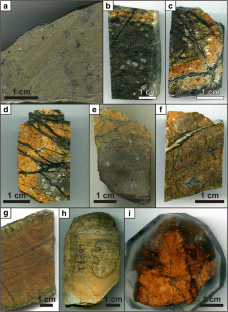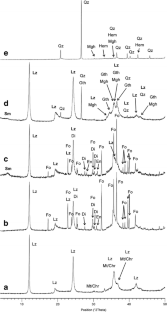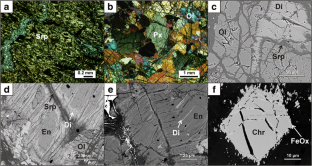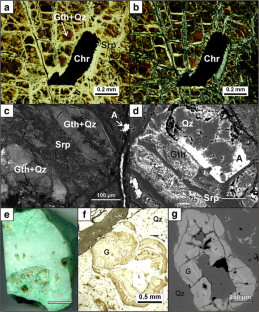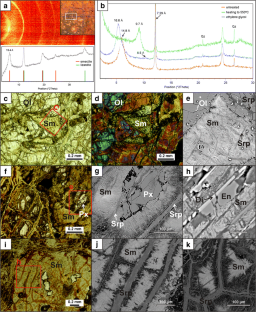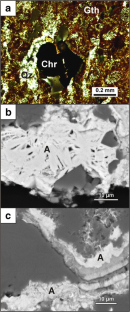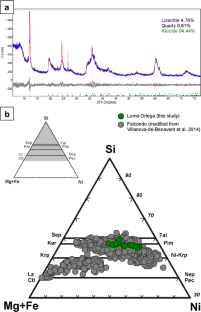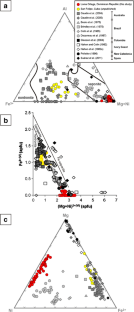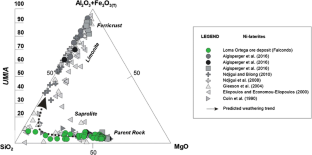 References
Aiglsperger T, Proenza JA, Zaccarini F, Lewis JF, Garuti G, Labrador M, Longo F (2015) Platinum group minerals (PGM) in the Falcondo Ni-laterite deposit, Loma Caribe peridotite (Dominican Republic). Mineral Deposita 50:105–123

Aiglsperger T, Proenza JA, Font-Bardia M, Baurier-Aymat S, Galí S, Lewis JF, Longo F (2016a) Supergene neoformation of Pt-Ir-Fe-Ni alloys: multistage grains explain nugget formation in Ni-laterites. Mineral Deposita. doi:10.1007/s00126-016-0692-6

Aiglsperger T, Proenza JA, Lewis JF, Labrador M, Svojtka M, Rojas-Purón A, Longo F, Ďurišová J (2016b) Critical metals (REE, Sc, PGE) in Ni-laterites from Cuba and the Dominican Republic. Ore Geol Rev 73:127–147

Barros de Oliveira SM, Trescases JJ, Melfi AJ (1992) Lateritic nickel deposits of Brazil. Mineral Deposita 27:137–146

Berger VI, Singer DA, Bliss JD, Moring BC (2011) Ni-Co laterite deposits of the world; database and grade and tonnage models: US Geol Surv Open File Rep 2011–1058. http://pubs.usgs.gov/of/2011/1058/

Bosio NJ, Hurst VJ, Smith RL (1975) Nickeliferous nontronite, a 15 Å garnierite, at Niquelândia, Goiás, Brazil. Clay Clay Miner 23:400–403

Brand NW, Butt CRM, Elias M (1998) Nickel laterites: classification and features. AGSO J Australian Geol Geoph 17:81–88

Brindley GW, de Souza JV (1975) Nickel containing montmorillonites and chlorites from Brazil, with remarks on schuchardtite. Mineral Mag 40:141–152

Brindley GW, Hang PT (1973) The nature of garnierite: I. Structure, chemical compositions and color characteristics. Clay Clay Miner 21:27–40

Brindley GW, Bish D, Wan HM (1977) The nature of kerolite, its relation to talc and stevensite. Mineral Mag 41:443–452

Brindley GW, Bish DL, Wan HM (1979) Compositions, structures, and properties of nickel-containing minerals in the kerolite-pimelite series. Am Mineral 64:615–625

Bruker (2007) Bruker AXS Inc. Madison, Wisconsin

Butt CRM, Cluzel D (2013) Nickel laterite ore deposits: weathered serpentinites. Elements 9:123–128

Camuti KS, Gifford MG (1997) Mineralogy of the Murrin Murrin nickel laterite deposit, Western Australia. In: Papunen H (ed) Mineral deposits: research and exploration—where do they meet? Abstracts of the 4th meeting of the SGA, 407–410

Cathelineau M, Quesnel B, Gautier P, Boulvais P, Couteau C, Drouillet M (2016) Nickel dispersion and enrichment at the bottom of the regolith: formation of pimelite target-like ores in rock block joints (Koniambo Ni deposit, New Caledonia). Mineral Deposita 51:271–282

Chan TK, Finch IJ (2001) Determination of platinum-group elements and gold by inductively coupled plasma mass spectrometry. Australian Platinum Conference, Perth, pp 1–9

Colin F, Noack Y, Trescases JJ, Nahon D (1985) L'alteration latéritique débutante des pyroxenites de Jacuba, Niquelândia, Brésil. Clay Miner 20:93–113

Colin F, Nahon D, Trescases JJ, Melfi AJ (1990) Lateritic weathering of pyroxenites at Niquelandia, Goias, Brazil: the supergene behaviour of nickel. Econ Geol 85:1010–1023

Dalvi AD, Gordon Bacon W, Osborne RC (2004) The past and the future of nickel laterites. PDAC Int. Convention, Toronto, p 27

Decarreau A, Colin F, Herbillon A, Manceau A, Nahon D, Paquet H, Trauth-Badaud D, Trescases JJ (1987) Domain segregation in Ni-Fe-Mg-smectites. Clay Clay Miner 35:1–10

Dong HL, Kostka JE, Kim J (2003) Microscopic evidence for microbial dissolution of smectite. Clay Clay Miner 51:502–512

Draper G, Gutiérrez G, Lewis JF (1996) Thrust emplacement of the Hispaniola peridotite belt: orogenic expression of the mid-Cretaceous Caribbean arc polarity reversal? Geology 24:1143–1146

Eggleton RA (1975) Nontronite topotaxial after hedenbergite. Am Mineral 6:1063–1068

Elias M (2002) Nickel laterite deposits—geological overview, resources and exploration. In: Cooke D, Pongratz J (eds) Giant ore deposits—characteristics, genesis, and exploration. CODES special publication 4. University of Tasmania, Hobart, pp 205–220

Elias M, Donaldson MJ, Giorgetta N (1981) Geology, mineralogy, and chemistry of lateritic nickel-cobalt deposits near Kalgoorlie, Western Australia. Econ Geol 76:1775–1783

Escuder-Viruete J, Joubert M, Urien P, Friedman R, Weis D, Ullrich T, Pérez-Estaún A (2008) Caribbean island-arc rifting and back-arc basin development in the Late Cretaceous: geochemical, isotopic and geochronological evidence from Central Hispaniola. Lithos 104:378–404

Escuder-Viruete J, Pérez-Estaún A, Weis D, Friedman R (2010) Geochemical characteristics of the Río Verde Complex, Central Hispaniola: implications for the paleotectonic reconstruction of the Lower Cretaceous Caribbean island-arc. Lithos 114:168–185

Freyssinet P, Butt CRM, Morris RC (2005) Ore-forming processes related to lateritic weathering. Econ Geol 100th Anniv:681–722

Gallardo T, Tauler E, García-Romero E, Proenza JA, Suárez-Barrios M, Chang A (2011) Caracterización Mineralógica de las Esmectitas Niquelíferas del yacimiento de San Felipe (Camagüey, Cuba). Macla 15:89–90

Gaudin A, Grauby O, Noack Y, Decarreau A, Petit S (2004) Accurate crystal chemistry of ferric smectites from the lateritic nickel ore of Murrin Murrin (Western Australia). I XRD and multi-scale chemical approaches. Clay Miner 39:301–315

Gaudin A, Decarreau A, Noack Y, Grauby O (2005) Clay mineralogy of the nickel laterite ore developed from serpentinised peridotites at Murrin Murrin, Western Australia. Australian J Earth Sci 52:231–241

Gleeson SA, Butt CR, Elias M (2003) Nickel laterites: a review. SEG Newsletter 54:11–18

Gleeson SA, Herrington RJ, Durango J, Velásquez CA, Koll G (2004) The mineralogy and geochemistry of the Cerro Matoso S.A. Ni-laterite deposit, Montelíbano, Colombia. Econ Geol 99:1197–1213

Golightly JP (1981) Nickeliferous laterite deposits. Econ Geol 75th Anniv:710–735

Golightly JP (2010) Progress in understanding the evolution of nickel laterites. Econ Geol Spec Pub 15:451–485

Golightly JP, Arancibia ON (1979) The chemical composition and infrared spectrum of nickel- and iron-substituted serpentine form a nickeliferous laterite profile, Soroako, Indonesia. Can Mineral 17:719–728

Haldemann E, Buchan R, Blowes J, Chandler T (1979) Geology of lateritic nickel deposits, Dominican Republic. International Laterite Symposium 4:57–84

Hotz P (1964) Nickeliferous laterites in southwestern Oregon and northwestern California. Econ Geol 59:355–396

Kesler SE, Campbell IH, Allen CM (2005) Age of the Los ranchos formation, Dominican Republic: timing and tectonic setting of primitive island arc volcanismin in the Caribbean region. Geol Soc Am Bull 117:987–995

Kuck PH (2013) Nickel. USGS mineral commodity summaries 108–109

Lewis JF, Draper G (1990) Geological and tectonic evolution of the northern Caribbean margin. In: Dengo G, Case JE (eds) The Geology of North America, The Caribbean region, vol H. Geological Society of America, Colorado, pp 77–140

Lewis JF, Astacio VA, Espaillat J, Jiménez J (2000) The occurrence of volcanogenic massive sulfide deposits in the Maimón Formation, Dominican Republic: the Cerro de Maimón, Loma Pesada and Loma Barbuito deposits. In: Sherlock R, Barsch R, Logan A (eds) VMS deposits of Latin America, Geol. Soc. can. Spec. Publ, vol 2, pp 213–239

Lewis JF, Draper G, Proenza JA, Espaillat J, Jimenez J (2006) Ophiolite-related ultramafic rocks (serpentinites) in the Caribbean region: a review of their occurrence, composition origin, emplacement and Ni-laterite soils formation. Geol Acta 4:237–263

Lithgow E (1993) Nickel laterites of central Dominican Republic part I. Mineralogy and ore dressing. In: Reddy RG, Weizenbach RN (eds) The Paul E. Queneau Int. Symposium, extractive metallurgy of copper, nickel and cobalt, volume I: fundamental aspects. The Minerals, Metals and Materials Society, Portland, pp 403–442

Marchesi C, Garrido CJ, Proenza JA, Hidas K, Butjosa L, Lewis JF (2016) Geochemical record of subduction initiation in the sub-arc mantle: insights from the Loma Caribe peridotite (Dominican Republic). Lithos 252–253:1–15

Moore D, Reynolds RC Jr (1997) X-ray diffraction and the identification and analysis of clay minerals. Oxford University Press, Oxford, p 379

Nahon DB, Colin F (1982) Chemical weathering of orthopyroxenes under lateritic conditions. Am J Sci 282:1232–1243

Nahon DB, Colin F, Tardy Y (1982a) Formation and distribution of Mg, Fe, Mn-smectites in the first stages of the lateritic weathering of forsterite and tephroite. Clay Miner 17:339–348

Nahon DB, Paquet H, Delvigne J (1982b) Lateritic weathering of ultramafic rocks and the concentration of nickel in the Western Ivory Coast. Econ Geol 77:1159–1175

Naldrett AJ, Duke JM (1980) Platinum metals in magmatic sulfide ores. Science 208:1417–1424

Nelson CE, Proenza JA, Lewis JF, López-Kramer J (2011) The metallogenic evolution of the Greater Antilles. Geol Acta 9:229–264

Nelson CE, Ituralde-Vinent M, Proenza J, Draper G, Escuder-Viruete J, Garcia-Casco A (2015) Tectonostratigraphic map of the Greater Antilles (1:1,000,000 scale): Recursos del Caribe, S.A

Noack Y, Colin F, Nahon D, Delvigne J, Michaux L (1993) Secondary-mineral formation during natural weathering of pyroxene: review and thermodynamic approach. Am J Sci 293:111–134

Pelletier B (1996) Serpentines in nickel silicate ore from New Caledonia. Australasian Institute of Mining and Metallurgy publication series—nickel conference "mineral to market", Kalgoorlie. Western Australia 6(96):197–205

Proenza JA, Zaccarini F, Lewis JF, Longo F, Garuti G (2007) Chromian spinel composition and the platinum-group minerals of the PGE-rich Loma Peguera chromitites, Loma Caribe peridotite, Dominican Republic. Can Mineral 45:631–648

Redwood S (2014) Gold surge mining is booming in the Dominican Republic as investors follow the gold rush. Min J 24:23–27

Suárez S, Nieto F, Velasco F, Martín FJ (2011) Serpentine and chlorite as effective Ni-Cu sinks during weathering of the Aguablanca sulphide deposit (SW Spain). TEM evidence for metal-retention mechanisms in sheet silicates. Eur J Miner 23:179–196

Tauler E, Proenza J, Galí S, Lewis J, Labrador M, García-Romero E (2009) Ni-sepiolite-falcondoite in garnierite mineralisation from the Falcondo Ni-laterite deposit, Dominican Republic. Clay Miner 44:435–454

Torró L, García-Casco A, Proenza JA, Blanco-Quintero I, Gutiérrez-Alonso G, Lewis JF (2016) High-pressure greenschist to blueschist facies transition in the Maimón Formation (Dominican Republic) suggests mid-Cretaceous subduction of the Early Cretaceous Caribbean arc. Lithos 266-267:309–331

Torró L, Proenza JA, Marchesi C, García-Casco A, Lewis JF (2017) Petrogenesis of meta-volcanic rocks from the Maimón Formation (Dominican Republic): geochemical record of the nascent Greater Antilles paleo-arc. Lithos 278-281:255–273

Trescases JJ (1975) L'évolution géochimique supergène des roches ultrabasiques en zone tropicale et la formation des gisements nickélifères de Nouvelle-Calédonie. Mémoires ORSTOM 78:288

Vieira Coelho AC, Poncelet G, Ladrière J (2000) Nickel, iron-containing clay minerals from Niquelândia deposit, Brazil 1. Characterization. Appl Clay Sci 17:163–181

Villanova-de-Benavent C, Proenza JA, Galí S, García-Casco A, Tauler E, Lewis JF, Longo F (2014) Garnierites and garnierites: textures, mineralogy and geochemistry of garnierites in the Falcondo Ni-laterite deposit, Dominican Republic. Ore Geol Rev 58:91–109

Villanova-de-Benavent C, Nieto F, Viti C, Proenza JA, Galí S, Roqué-Rosell J (2016a) Ni-phyllosilicates (garnierites) from the Falcondo Ni-laterite deposit (Dominican Republic): mineralogy, nanotextures and formation mechanisms by HRTEM and AEM. Am Mineral. doi:10.2138/am-2015-5518

Villanova-de-Benavent C, Domènech C, Tauler E, Galí S, Tassara S, Proenza JA (2016b) Fe-Ni-bearing Serpentines from the Saprolite Horizon of Caribbean Ni-Laterite Deposits: New insights from thermodynamic calculations. Mineral Deposita. doi:10.1007/s00126-016-0683-7

Wells MA, Ramanaidou ER, Verrall M, Tessarolo C (2009) Mineralogy and crystal chemistry of "garnierites" in the Goro lateritic nickel deposit, New Caledonia. Eur J Miner 21:467–483

Zeissink HE (1969) The mineralogy and chemistry of a Nickeliferous laterite profile (Greenvale, Queensland, Australia). Mineral Deposita 4:132–152
Acknowledgements
This research has been financially supported by FEDER Funds, the Spanish projects CGL2009-10924 and CGL2012-36263. The authors are grateful to the Falcondo Glencore Xstrata Nickel mine staff for their hospitality and generosity during field work and sampling. The careful and detailed revision of this manuscript made by S. Gleeson and A. González-Álvarez are acknowledged, as well as the guidance and recommendations by Editor Georges Beaudoin and Associate Editor Beate Orberger.
Additional information
Editorial handling: B. Orberger
Electronic supplementary material
About this article
Cite this article
Tauler, E., Lewis, J.F., Villanova-de-Benavent, C. et al. Discovery of Ni-smectite-rich saprolite at Loma Ortega, Falcondo mining district (Dominican Republic): geochemistry and mineralogy of an unusual case of "hybrid hydrous Mg silicate – clay silicate" type Ni-laterite. Miner Deposita 52, 1011–1030 (2017). https://doi.org/10.1007/s00126-017-0750-8
Received:

Accepted:

Published:

Issue Date:
Keywords
Ni-smectite

Ni-laterite

Hydrous Mg silicate deposit

Clay silicate deposit

Dominican Republic