Abstract
Mixing of sedimentary formation fluids with basement-derived brines is an important mechanism for the formation of hydrothermal veins. We focus on the sources of the sediment-derived fluid component in ore-forming processes and present a comprehensive fluid inclusion study on 84 Jurassic hydrothermal veins from the Schwarzwald mining district (SW Germany). Our data derive from about 2300 fluid inclusions and reveal differences in the average fluid composition between the northern, central, and southern Schwarzwald. Fluids from the northern and southern Schwarzwald are characterised by high salinities (18–26 wt% NaCl+CaCl2), low Ca/(Ca+Na) mole ratios (0.1–0.4), and variable Cl/Br mass ratios (30–1140). In contrast, fluids from the central Schwarzwald show even higher salinities (23–27 wt% NaCl+CaCl2), higher Ca/(Ca+Na) mole ratios (0.2–0.9), and less variable Cl/Br mass ratios (40–130). These fluid compositions correlate with the nature and thickness of the now eroded sedimentary cover rocks. Compared to the northern and the southern Schwarzwald, where halite precipitation occurred during the Middle Triassic, the sedimentary basin in the central Schwarzwald was relatively shallow at this time and no halite was precipitated. Accordingly, Cl/Br ratios of fluids from the central Schwarzwald provide no evidence for the reaction of a sedimentary brine with halite, whereas those from the northern and southern Schwarzwald do. Instead, elevated Ca/(Ca+Na), high SO4 contents, and relatively low Cl/Br imply the presence of a gypsum dissolution brine during vein formation in the central Schwarzwald which agrees with the reconstructed regional Triassic geology. Hence, the information archived in fluid inclusions from hydrothermal veins in the crystalline basement has the potential for reconstructing sedimentary rocks in the former overburden.
This is a preview of subscription content,
to check access.
Access this article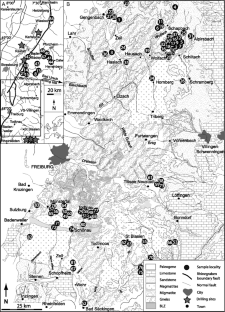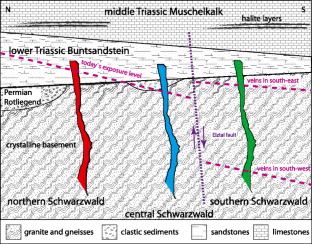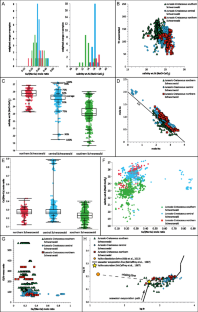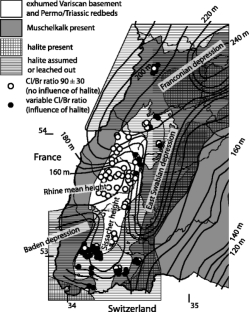 References
Altherr R, Holl A, Hegner E, Langer C, Kreuzer H (2000) High-potassium, calc-alkaline I-type plutonism in the European Variscides: northern Vosges (France) and northern Schwarzwald (Germany). Lithos 50:51–73

Aquilina L, Boulvais P, Mossmann J-R (2011) Fluid migration at the basement/sediment interface along the margin of the Southeast basin (France): implications for Pb–Zn ore formation. Mineral Deposita 46:959–979

Bakker RJ, Diamond LW (2006) Estimation of volume fractions of liquid and vapor phases in fluid inclusions, and definition of inclusion shapes. Am Mineral 91:635–657

Banks D, Green R, Cliff R, Yardley B (2000) Chlorine isotopes in fluid inclusions: determination of the origins of salinity in magmatic fluids. Geochim Cosmochim Acta 64:1785–1789

Banks D, Boyce A, Samson I (2002) Constraints on the origins of fluids forming Irish Zn-Pb-Ba deposits: evidence from the composition of fluid inclusions. Econ Geol 97:471–480

Bau M, Romer RL, Lüders V, Dulski P (2003) Tracing element sources of hydrothermal mineral deposits: REE and Y distribution and Sr-Nd-Pb isotopes in fluorite from MVT deposits in the Pennine Orefield, England. Mineral Deposita 38:992–1008

Bliedtner M, Martin M (1986) Erz- und Minerallagerstätten des Mittleren Schwarzwaldes. LGRB, Freiburg, p 786

Bodnar RJ, Vityk MO (1994) Interpretation of microthermometric data for H2O-NaCl fluid inclusions. In: De Vivo B, Frezzotti ML (eds) Fluid inclusions in minerals, methods and applications. Virginia Tech, Blacksburg, pp 117–130

Boiron M-C, Cathelineau M, Banks DA, Buschaert S, Fourcade S, Coulibaly Y, Michelot JL, Boyce A (2002) Fluid transfer at a basement/cover interface. Part II. Large-scale introduction of chlorine into the basement by Mesozoic basinal brines. Chem Geol 192:121–140

Boiron M-C, Cathelineau M, Bank DA, Fourcade S, Vallance J (2003) Mixing of metamorphic and surficial fluids during the uplift of the Hercynian upper crust: consequences for gold deposition. Chem Geol 194:119–141

Boiron MC, Cathelineau M, Richard A (2010) Fluid flows and metal deposition near basement/cover unconformity: lessons and analogies from Pb-Zn-F-Ba systems for the understanding of Proterozoic U deposits. Geofluids 10:270–292

Bons PD, Fusswinkel T, Gomez-Rivas E, Markl G, Wagner T, Walter B (2014) Fluid mixing from below in unconformity-related hydrothermal ore deposits. Geology 42:1035–1038

Bottrell SH, Yardley BWD, Buckley F (1988) A modified crush-leach method for the analysis of fuid inclusion electrolytes. Bull Minéral 111:279–290

Brown E, Hoek E (1978) Trends in relationships between measured in-situ stresses and depth. Internat J Rock Mechanics Mining Sci Geomechanics Abstr: 211–215.

Bucher K, Stober I (2002) Water-rock reaction experiments with Black Forest gneiss and granite. Water Sci Technol Library 40:61–95

Bucher K, Stober I (2010) Fluids in the upper continental crust. Geofluids 10(1–2):241–253

Bucher K, Stober I (2016) Large-scale chemical stratification of fluids in the crust: hydraulic and chemical data from the geothermal research site Urach, Germany. Geofluids 16:813–825

Burisch M, Marks M, Novak M, Markl G (2016a) The effect of temperature and cataclastic deformation on the composition of upper crustal fluids. Chem Geol 433:24–35

Burisch M, Walter BF, Wälle M, Markl G (2016b) Tracing fluid migration pathways in the root zone below unconformity-related hydrothermal veins: insights from trace element systematics of individual fluid inclusions. Chem Geol 429:44–50

Carignan J, Gariépy C, Hillaire-Marcel C (1997) Hydrothermal fluids during Mesozoic reactivation of the St. Lawrence rift system, Canada: C, O, Sr and Pb isotopic characterization. Chem Geol 137:1–21

Channer DMDER, Spooner ETC (1992) Analysis of fluid inclusion leachates from quartz by ion chromatography. Geochim Cosmochim Acta 56:249–259

Chi G, Savard MM (1997) Sources of basinal and Mississippi Valley-type mineralizing brines: mixing of evaporated seawater and halite-dissolution brine. Chem Geol 143:121–125

Dolníček Z, René M, Hermannová S, Prochaska W (2014) Origin of the Okrouhlá Radouň episyenite-hosted uranium deposit, Bohemian Massif, Czech Republic: fluid inclusion and stable isotope constraints. Mineral Deposita 49:409–425

Duane M, De Wit M (1988) Pb-Zn ore deposits of the northern Caledonides: products of continental-scale fluid mixing and tectonic expulsion during continental collision. Geology 16:999–1002

Fontes JC, Matray JM (1993). Geochemistry and origin of formation brines from the Paris Basin, France: 1. Brines associated with Triassic salts. Chem Geol 109: 149–175.

Frape S, Fritz P (1987) Geochemical trends for groundwaters from the Canadian Shield. Geol Assoc Can Spec Pap 33:19–38

Frape S, Blyth A, Blomqvist R, McNutt R, Gascoyne M (2003) Deep fluids in the continents: II. Crystalline rocks. Treatise on Geochemistry 5: 541–580.

Fusswinkel T, Wagner T, Wälle M, Wenzel T, Heinrich C, Markl G (2013) Fluid mixing forms basement-hosted Pb-Zn deposits: insight from metal and halogen geochemistry of individual fluid inclusions. Geology 41:679–682

Fusswinkel T, Wagner T, Wenzel T, Wälle M, Lorenz J (2014) Red bed and basement sourced fluids recorded in hydrothermal Mn–Fe–As veins, Sailauf (Germany): a LA-ICPMS fluid inclusion study. Chem Geol 363:22–39

Garven G, Appold MS, Toptygina VI, Hazlett TJ (1999) Hydrogeologic modeling of the genesis of carbonate-hosted lead-zinc ores. Hydrogeol J 7:108–126

Geyer OF, Gwinner MP (2011) Geologie von Baden-Württemberg. – 5., völlig neu bearbeitete Auflage. Schweizerbart'sche Verlagsbuchhandlung (Nägele u.Obermiller), Stuttgart, p. 627

Göb S, Loges A, Nolde N, Bau M, Jacob DE, Markl G (2013) Major and trace element compositions (including REE) of mineral, thermal, mine and surface waters in SW Germany and implications for water-rock interaction. Appl Geochem 33:127–152

Goldstein RH, Reynolds TJ (1994) Systematics of fluid inclusions in diagenetic minerals: SEPM Short Course Notes 31: 1–199.

Hann HP, Chen F, Zedler H, Frisch W, Loeschke J (2003) The Rand Granite in the southern Schwarzwald and its geodynamic significance in the Variscan belt of SW Germany. Intern J Earth Sci 92:821–842

Hansch W, Simon T (2003) Das Steinsalz aus dem Mittleren Muschelkalk Südwest-deutschlands. Museo 20:152–159

Hoeve J, Sibbald TI (1978) On the genesis of Rabbit Lake and other unconformity-type uranium deposits in northern Saskatchewan, Canada. Econ Geol 73:1450–1473

Jenkner B (1986) Ein Vorschlag zur Neugliederung des sedimentären Oberrotliegenden in der Baden-Badener Senke und ihrer nordöstlichen Fortsetzung (Nordschwarzwald). Jb Geol Landesamt Baden-Württemberg 28:49–159

Kessen K, Woodruff M, Grant N (1981) Gangue mineral 87Sr/86Sr ratios and the origin of Mississippi Valley-type mineralization. Econ Geol 76:913–920

Köhler J, Schönenberger J, Upton B, Markl G (2009) Halogen and trace-element chemistry in the Gardar Province, South Greenland: subduction-related mantle metasomatism and fluid exsolution from alkalic melts. Lithos 113:731–747

Ladenburger S (2012) Crush-Leach Analysen an Flüssigkeitseinschlüssen von hydrothermalen Erzlagerstätten des Schwarzwaldes. Unpubl BSc Thesis, Tübingen, p 134

Ladenburger S, Marks M, Markl G (2012) Analysis of crush leach solutions from hydrothermal ore deposits by combining ion chromatography (IC) and total reflection X-ray fluorescence spectroscopy (TXRF). European Mineralogical Conference Abstr 1:223

Leach DL, Marsh E, Emsbo P, Rombach CS, Kelley KD, Anthony M (2004) Nature of hydrothermal fluids at the shale-hosted Red Dog Zn-Pb-Ag deposit, Brooks Range, Alaska. Econ Geol 99:1449–1480

Lüders V, Möller P (1992) Fluid evolution and ore deposition in the Harz Mountains (Germany). European J Mineral 4:1053–1068

Markl G (2015) Schwarzwald - Lagerstätten und Mineralien aus vier Jahrhunderten. Bode Verlag, Salzhemmendorf. Volume I, p. 672

McCaffrey M, Lazar B, Holland HD (1987) The evaporation path of seawater and the coprecipitation of Br− and K+ with halite. J Sedim Res 57:928–937

McCaig AM, Tritlla J, Banks DA (2000) Fluid mixing and receycling during Pyrenean thrusting: evidence from fluid inclusion halogen ratios. Geochim Cosmochim Acta 64:3395–3412

Metz R, Richter M, Schürenberg H (1957) Die Blei-Zink-Erzgänge des Schwarzwaldes. Geol Jb Beihefte 29:1–277

Möller P, Stober I, Dulski P (1997) Seltenerdelement-, Yttrium-Gehalte und Bleiisotope in Thermal- und Mineralwässern des Schwarzwaldes. Grundwasser 2(3):118–132

Möller P, Woith H, Dulski P, Lüders V, Erzinger J, Kämpf H, Pekdeger A, Hansen B, Lodemann M, Banks DA (2005) Main and trace elements in KTB-VB fluid: composition and hints to its origin. Geofluids 5:28–41

Nitsch E, Zedler H (2009) Oberkarbon und Perm in Baden-Württemberg. LGRB- Information 22:7–102

O'Keeffe W (1986) Age and postulated source rocks for mineralization in central Ireland as indicated by lead isotopes, in Andrew CJ, Crowe RWA, Finlay S, Pennell WM, Pyne J (ed). Geology and genesis of mineral deposits in Ireland: Dublin, Irish Association for Economic Geology: pp 617–624.

Pfaff K, Romer RL, Markl G (2009) U-Pb ages of ferberite, chalcedony, agate, "U-mica" and pitchblende: constraints on the mineralization history of the Schwarzwald ore district. Eur J Mineral 21:817–836

Pfaff K, Hildebrandt LH, Leach DL, Jacob DE, Markl G (2010) Formation of the Wiesloch Mississippi Valley-type Zn-Pb-Ag deposit in the extensional setting of the Upper Rhinegraben, SW Germany. Mineral Deposita 45:647–666

Pfaff K, Koenig MA, Wenzel T, Ridley I, Hildebrandt LH, Leach D, Markl G (2011) Trace and minor element variations and sulfur isotopes in crystalline and colloform ZnS: incorporation mechanisms and implications for their genesis. Chem Geol 286:118–134

Richard A, Cathelineau M, Boiron MC, Mercadier J, Banks DA, Cuney M (2016) Metal-rich fluid inclusions provide new insights into unconformity-related U deposits (Athabasca Basin and basement, Canada). Mineral Deposita 51:249–270

Rupf I, Nitsch E (2008) Das Geologische Landesmodell von Baden-Württemberg: Datengrundlagen, technische Umsetzung und erste geologische Ergebnisse. Landesamt für Geologie, Rohstoffe und Bergbau Baden-Württemberg. LGRB-Information 21:1–82

Shepherd TJ, Rankin AH, Alderton DH (1985) A practical guide to fluid inclusion studies. Blackie Glasgow, p.239

Staude S, Bons PD, Markl G (2009) Hydrothermal vein formation by extension-driven dewatering of the middle crust: an example from SW Germany. Earth Planet Sci Letts 286:387–395

Staude S, Mordhorst T, Neumann R, Prebeck W, Markl G (2010) Compositional variation of the tennantite-tetrahedrite solid-solution series in the Schwarzwald ore district (SW Germany): the role of mineralization processes and fluid source. Mineral Mag 74:309–339

Staude S, Göb S, Pfaff K, Ströbele F, Premo WR, Markl G (2011) Deciphering fluid sources of hydrothermal systems: a combined Sr- and S-isotope study on barite (Schwarzwald, SW Germany). Chem Geol 286:1–20

Staude S, Mordhorst T, Nau S, Pfaff K, Brügmann G, Jacob DE, Markl G (2012a) Hydrothermal carbonates of the Schwarzwald ore district, southwestern Germany: carbon source and conditions of formation using δ18O, δ13C, 87Sr/86Sr, and fluid inclusions. Can Mineral 50:1401–1434

Staude S, Werner W, Mordhorst T, Wemmer K, Jacob D, Markl G (2012b) Multi-stage Ag–Bi–Co–Ni–U and Cu–Bi vein mineralization at Wittichen, Schwarzwald, SW Germany: geological setting, ore mineralogy, and fluid evolution. Mineral Deposita 47:251–276

Steele-MacInnis M, Bodnar RJ, Naden J (2011) Numerical model to determine the composition of H2O-NaCl-CaCl2 fluid inclusions based on microthermometric and microanalytical data. Geochim Cosmochim Acta 75:21–40

Stober I, Bucher K (1999a) Deep groundwater in the crystalline basement of the Black Forest region. Applied Geochem 14:237–254

Stober I, Bucher K (1999b) Origin of salinity of deep groundwater in crystalline rocks. Terra Nov. 11(4):181–185

Stober I, Bucher K (2004) Fluid sinks within the earth's crust. Geofluids 4:143–151

Stober I, Bucher K (2007) Hydraulic properties of the crystalline basement. Hydrogeol J 15:213–224

Stober I, Bucher K (2015) Hydraulic and hydrochemical properties of deep sedimentary reservoirs of the Upper Rhine Graben, Europe. Geofluids 15(3):464–482

Ströbele F, Staude S, Pfaff K, Premo WR, Hildebrandt LH, Baumann A, Pernicka E, Markl G (2012) Pb isotope constraints on fluid flow and mineralization processes in SW Germany. N Jb Mineral Abh: J Mineral Geochem 189:287–309

Todt W (1976) Zirkon U/Pb-Alter des Malsburg-Granits vom Südschwarzwald. N Jb Mineral Monatsh 12:532–544

Tornos F, Casquet C, Locutura J, Collado R (1991) Fluid inclusion and geochemical evidence for fluid mixing in the genesis of Ba-F (Pb-Zn) lodes of the Spanish Central System. Min Mag 55:225–234

Wagner T, Okrusch M, Weyer S, Lorenz J, Lahaye Y, Taubald H, Schmitt RT (2010) The role of the Kupferschiefer in the formation of hydrothermal base metal mineralization in the Spessart ore district, Germany: insight from detailed sulfur isotope studies. Mineral Deposita 45:217–239

Walter BF, Immenhauser A, Geske A, Markl G (2015) Exploration of hydrothermal carbonate magnesium isotope signatures as tracers for continental fluid aquifers, Schwarzwald mining district, SW Germany. Chem Geol 400:87–105

Walter BF, Burisch M, Markl G (2016) The long-term chemical evolution of continental basement brines—a field study from the Schwarzwald, SW Germany. Geofluids 16:604–623

Wilkinson JJ (2010) A review of fluid inclusion constraints on mineralization in the Irish ore field and implications for the genesis of sediment-hosted Zn-Pb deposits. Econ Geol 105:417–442

Wilkinson JJ, Eyre SL, Boyce AJ (2005a) Ore-forming processes in Irish-type carbonate- hosted Zn-Pb deposits: evidence from mineralogy, chemistry, and isotopic composition of sulfides at the Lisheen mine. Econ Geol 100:63–86

Wilkinson JJ, Weiss D, Mason T, Coles B (2005b) Zinc isotope variation in hydrothermal systems: preliminary evidence from the Irish Midlands ore field. Econ Geol 100:583–590

Wilkinson JJ, Stoffell B, Wilkinson CC, Jeffries TE, Appold MS (2009) Anomalously metal-rich fluids form hydrothermal ore deposits. Science 323:764–767

Yardley BWD (2005) Metal concentrations in crustal fluids and their relationship to ore formation. Econ Geol 100:613–632

Ziegler PA (1990) Geological Atlas of Western and Central Europe, Shell Internationale Petroleum Maatschappij B.V., Geological Society of London p. 239
Acknowledgements
We would like to thank Ingrid Stober, her comments improved this manuscript substantially. We acknowledge the very detailed and constructive comments by the reviewers Antonin Richard and Kåre Kullerud and the editorial guidance by Bernd Lehmann. Edgar Nitsch (LGRB) is gratefully acknowledged for invaluably hints on the paleo-topography of the sedimentary cover in SW Germany. We thank Gabi Stoschek and Bernd Steinhilber for their help with crush-leach analyses. Furthermore, we thank S. Schafflick and P. Jeiseke for sample preparation. This study was supported by the Alfried-Krupp Prize for Young University Teachers of the Krupp Foundation to Gregor Markl, and the German Research Foundation (DFG), grant Ma2135/20-1.
Additional information
Editorial handling: R. Moritz
About this article
Cite this article
Walter, B.F., Burisch, M., Marks, M.A. et al. Major element compositions of fluid inclusions from hydrothermal vein-type deposits record eroded sedimentary units in the Schwarzwald district, SW Germany. Miner Deposita 52, 1191–1204 (2017). https://doi.org/10.1007/s00126-017-0719-7
Received:

Accepted:

Published:

Issue Date:

DOI: https://doi.org/10.1007/s00126-017-0719-7
Keywords