Abstract
Ongoing exploration in the Red Sea Hills of NE Sudan has led to the identification of a large alteration–mineralization system within a relatively undeformed Neoproterozoic intrusive–extrusive succession centered on Jebel Ohier. The style of mineralization, presence of an extensive stockwork vein network within a zoned potassic-propylitic-argillic-advanced argillic-altered system, a mineralization assemblage comprising magnetite-pyrite-chalcopyrite-bornite (±gold, silver and tellurides), and the recurrence of fertile mafic to intermediate magmatism in a developing convergent plate setting all point to a porphyry copper–gold association, analogous to major porphyry Cu–Au–Mo deposits in Phanerozoic supra-subduction settings such as the SW Pacific. Preliminary U–Pb age dating yielded a maximum constraint of c. 730 Ma for the emplacement of the stockwork system into a significantly older (c. 800 Ma) volcanic edifice. The mineralization formed prior to regional deformation and accretion of the host terrane to a stable continental margin at by c. 700 Ma, thus ensuring preservation of the deposit. The Jebel Ohier deposit is interpreted as a relatively well-preserved, rare example of a Neoproterozoic porphyry Cu–Au system and the first porphyry Cu–Au deposit to be identified in the Arabian–Nubian Shield.
Access options
Buy single article
Instant access to the full article PDF.
US$ 39.95
Tax calculation will be finalised during checkout.
Subscribe to journal
Immediate online access to all issues from 2019. Subscription will auto renew annually.
US$ 119
Tax calculation will be finalised during checkout.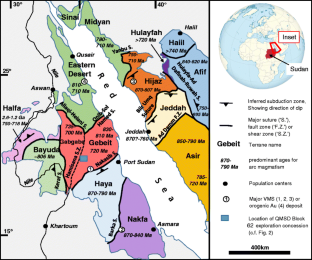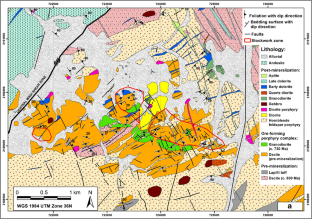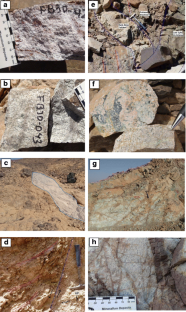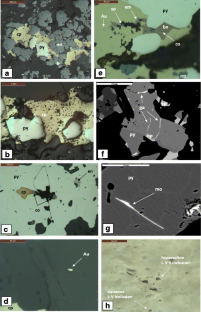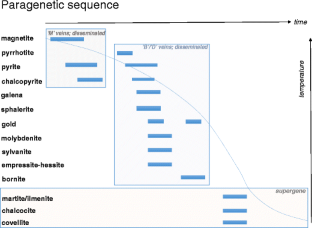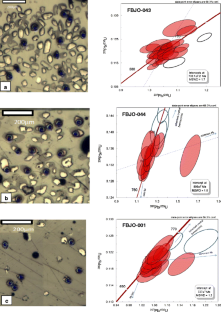 References
Abdelsalam MG (2010) Quantifying 3D post-accretionary tectonic strain in the Arabian–Nubian Shield: superimposition of the Oko Shear Zone on the Nakasib Suture, Red Sea Hills, Sudan. J Afr Earth Sci 56:167–178

Abdelsalam MG, Stern RJ (1993) Structure of the late Proterozoic Nakasib suture, Sudan. J Geol Soc Lond 150:1065–1074

Adde AE (2004) Preliminary geochemical gold exploration at Jebel Oheir Area, NE Sudan, GRAS, Sudan (unpublished)

Adde AE (2005) Phase 2 geochemical gold exploration at Jebel Oheir Area, NE Sudan, GRAS, Sudan (unpublished)

Almond DC, Ahmed F (1987) Ductile shear zones in the northern Red Sea Hills, Sudan, and their implication for crustal collision. Geology 22:175–184

Arne D, Brauhart C, King M, Reynolds N (2014) Second phase exploration of Block 62 concession in Sudan, Red Sea Hills. Final Report for Qatar Mining Sudan Co Ltd (unpublished)

Barley ME (1982) Porphyry-style mineralization associated with early calc-alkaline igneous activity, eastern Pilbara, Western Australia. Econ Geol 77:1230–1236

Bejgarn T, Söderlund U, Weihed P, Årebäck H, Ernst RE (2013) Palaeoproterozoic porphyry Cu-Au, intrusion-hosted Au and ultramafic Cu-Ni deposits in the Fennoscandian Shield: temporal constraints using U-Pb geochronology. Lithos 174:236–254

Bierlein FP, Groves DI, Cawood PAC (2009) Metallogeny of accretionary orogens—the connection between lithospheric processes and endowment. Ore Geol Rev 36:282–292

Bodnar RJ (1995) Fluid-inclusion evidence for a magmatic source for metals in porphyry copper deposits. In: Thompson JFH (ed) Magmas, fluids, and ore deposits. Mineralogical Association of Canada short course series 23, p. 139–152

Cottard F, Braux C, Cortial P, Deschamps Y, Elsamani Y, Hottin AM, Younis MO (1986) Les amas sulfurés polymétalliques et les minéralisations aurifères du district d'Ariab (Red Sea Hills, Soudan). Historique de la découverte, cadre géologique et principaux caractèr des gisements. Chroniques Recherches Miniéres 483:19–40

Fitches WRG, Rahamr H, Husseini M, Ries AC, Shackletro NM, Price RC (1983) The late Proterozoic ophiolite of Sol Hamed, NE Sudan. Precambrian Res 19:385–411

Gaál G, Isohanni M (1979) Characteristics of igneous intrusions and various wall rocks in some Precambrian porphyry copper-molybdenum deposits in Pohjanmaa, Finland. Econ Geol 74:1198–1210

Garwin S, Hall R, Watanabe Y (2005) Tectonic setting, geology, and gold and copper mineralization in Cenozoic magmatic arcs of southeast Asia and the west Pacific. In: Hedenquist JW, Thompson JFH, Goldfarb RJ, Richards JP (eds) Society of Economic Geologists, Economic Geology 100th Anniversary Volume, p. 891–930

Goodman S, Williams-Jones AE, Carles P (2005) Structural controls on the Archean Troilus gold–copper deposit, Quebec, Canada. Econ Geol 100:577–582

Groves DI, Vielreicher RM, Goldfarb RJ, Condie KC (2005) Controls on the heterogeneous distribution of mineral deposits through time. Geol Soc Lond Spec Publ 248:71–101

Gustafson LB, Hunt JP (1975) The porphyry copper deposit at El Salvador, Chile. Econ Geol 70:857–912

Halpin JA, Jensen T, McGoldrick P, Meffre S, Berry RF, Everard JL, Calver CR, Thompson J, Goemann K, Whittaker JM (2014) Authigenic monazite and detrital zircon dating from the Proterozoic Rocky Cape Group, Tasmania: Links to the Belt-Purcell Supergroup, North America, Precambrian Research 250: 50-67

John DA, Ayuso RA, Barton MD, Blakely RJ, Bodnar RJ, Dilles JH, Gray F, Graybeal FT, Mars JC, McPhee DK, Seal RR, Taylor RD, Vikre PG (2010) Porphyry copper deposit model, chap. B of Mineral deposit models for resource assessment: U.S. Geological Survey Scientific Investigations Report 2010–5070–B, 169 p

Johnson PR, Andresen A, Collins AS, Fowler AR, Fritz H, Ghebreab W, Kusky T, Stern RJ (2011) Late cryogenian–ediacaran history of the Arabian–nubian shield: A review of depositional, plutonic, structural, and tectonic events in the closing stages of the northern East African Orogen. J Afr Earth Sci 61:167–232

Kerrich R, Goldfarb RJ, Richards J (2005) Metallogenic provinces in an evolving geodynamic framework. In: Hedenquist JW, Thompson JFH, Goldfarb RJ, Richards JP (eds) Economic geology 100th anniversary volume. Society of Economic Geologists, Littleton, Colorado, pp 1097–1136

Kesler SE, Wilkinson BH (2006) The role of exhumation in the temporal distribution of ore deposits. Econ Geol 101:919–923

Klemenic PM (1985) New geochronological data on volcanic rocks from northeast Sudan and their implication for crustal evolution. Precambrian Res 30:263–276

Klemm D, Klemm R, Murr A (2001) Gold of the pharaohs—6000 years of gold mining in Egypt and Nubia. J Afr Earth Sci 33:643–659

Kröner A, Stern RJ (2005) Pan-African Orogeny, North African Phaerozoic Rift Valley, Encyclopedia of Geology (2004), vol 1. Elsevier, Amsterdam

Kröner A, Greiling R, Reischmann T, Hussein IM, Stern RJ, Durr S, Kruger J, Zimmer M (1987) Pan-African crustal evolution in the Nubian segment of NE Africa. In: Kröner A (Ed) Proterozoic Lithospheric Evolution, American Geophysical Union Geodynamics Series, vol. 17, pp. 235–257

Ludwig KR (2012) User's manual for isoplot—a geochronological toolkit for Microsoft Excel. Berkeley Geochronology Center Special Publication 5, 75p (http://www.bgc.org/isoplot_etc/isoplot/Isoplot3_75-4_15manual.pdf)

Malenda M, Friehauf K, Mathur R (2014) Re-Os isotopic dating of the Mesoproterozoic Haib porphyry copper deposit, southern Namibia. 2014 GSA Annual Meeting in Vancouver, British Columbia (19–22 October 2014) Abstracts Volume, pp. xxx

de Oliveira CG, de Oliveira FB, Schutesky Della Giustina ME, Campos Marques G, Dantas EL, Pimentel MM, Buhn BM (2015) The Chapada Cu–Au deposit, Mara Rosa magmatic arc, central Brazil: constraints on the metallogenesis of a Neoproterozoic large porphyry-type deposit. Ore Geol Rev 72:1–21

Qui Y, Groves DI (1999) Late Archean collision and delamination in the Southwest Yilgarn Block: the driving force for Archean orogenic lode gold mineralization. Econ Geol 94:115–122

Reischmann T, Kröner A (1994) Late Proterozoic island arc volcanics from Gebeit, Red Sea Hills, north-east Sudan. Geolog Rundsch 83:547–562

Richards JR (2009) Postsubduction porphyry Cu–Au and epithermal Au deposits: products of remelting of subduction-modified lithosphere. Geology 37:247–250

Richards JP, Boyce AJ, Pringle MS (2001) Geological evolution of the Escondida area, northern Chile: a model for spatial and temporal localization of porphyry Cu mineralization. Econ Geol 96:271–305

Scott SD (1983) Chemical behavior of sphalerite and arsenopyrite in hydrothermal and metamorphic environments. Mineral Mag 47:427–435

Seedorff E, Dilles JH, Proffett JM Jr, Einaudi MT, Zurcher L, Stavast WJA, Johnson DA, Barton MD (2005) Porphyry deposits—characteristics and origin of hypogene features. In: Hedenquist JW, Thompson JFH, Goldfarb RJ, Richards JP (eds) Society of Economic Geologists, Economic Geology 100th Anniversary Volume, 1905–2005, p. 251–298

Sibson RH (2001) Seismogenic framework for hydrothermal transport and ore deposition: reviews in. Econ Geol 14:25–50

Sillitoe RH (2000) Styles of high-sulphidation gold, silver, and copper mineralization in porphyry and epithermal environments. AusIMM Proc 305:19–34

Sillitoe RH (2010) Porphyry copper systems. Econ Geol 105:3–41

Stacey JS, Kramers JD (1975) Approximation of terrestrial lead isotope evolution by a two-stage model. Earth Planet Sci Lett 26:207–221

Stein HJ, Hannah JL, Zimmerman A, Markey RJ, Sarkar SC, Pal AB (2004) A 2.5 Ga porphyry Cu-Mo-Au deposit at Malanjkhand, central India: implications for Late Archean continental assembly. Precambrian Res 134:189–226

Stern RJ (1994) Arc assembly and continental collision in the Neoproterozoic east African Orogen: implication for the consolidation of Gondwanaland. Annu Rev Earth Planet Sci 22:319–351

Stern RJ (2002) Crustal evolution in the East African Orogen: a neodymium isotopic perspective. J Afr Earth Sci 34:109–117

Sun WD, Liang HY, Ling MX, Zhan MZ, Ding X, Zhang H, Yang XY, Li YL, Ireland TR, Wei QR, Fan WM (2013) The link between reduced porphyry copper deposits and oxidized magmas. Geochim Cosmochim Acta 103:263–275

Vail JR (1985) Pan-African (late Precambrian) tectonic terrains and the reconstruction of the Arabian–Nubian Shield. Geology 13:839–884

Vos IMA, Bierlein FP, Heithersay PS (2007) A crucial role for slab break-off in the generation of world-class mineral deposits: insights from central and eastern Australia. Mineral Deposita 42:515–522

Walshe JL, Heithersay PS, Morrison GW (1995) Toward an understanding of the metallogeny of the Tasman Fold Belt System. Econ Geol 90:1382–1401

Wu C, Huayong C, Hollings P, Xu D, Liang P, Han J, Xiao B, Cai K, Liu Z, Qi Y (2015) Magmatic sequences in the Halasu Cu Belt, NW China: trigger for the Paleozoic porphyry Cu mineralization in the Chinese Altay—East Junggar. Ore Geol Rev 71:373–404

Yakubchuk AS, Shatov VV, Kirwin D, Edwards A, Tomurtogoo O, Badarch G, Buryak VA (2005) Gold and base metal metallogeny of the central Asian orogenic supercollage. In: Hedenquist JW, Thompson JFH, Goldfarb RJ, Richards JP (eds) Society of Economic Geologists, Economic Geology 100th Anniversary Volume, 1905–2005, pp. 1035-1068
Acknowledgments
We acknowledge the permission of QM and QMSD executive management, as well as the Sudanese Ministry of Minerals to publish the results presented herein. The technical and support staff at QMSD are thanked for their invaluable assistance in the office and during field work. In particular, we would like to express our gratitude to P Kumar, O M Al Sayed, M Salah, M Mohe El-Dien, A Kurdi, and A Okair. D Arne and M King from CSA Global are thanked for constructive comments and their important input into ongoing work at Jebel Ohier. The manuscript benefitted greatly from input by H Frimmel and an exceptionally thorough and constructive review by J Richards. B Lehmann is acknowledged for the (as always) efficient editorial handling of this submission to Mineralium Deposita.
Additional information
Editorial handling: H. Frimmel
Electronic supplementary material
Below is the link to the electronic supplementary material.
About this article
Cite this article
Bierlein, F.P., McKeag, S., Reynolds, N. et al. The Jebel Ohier deposit—a newly discovered porphyry copper–gold system in the Neoproterozoic Arabian–Nubian Shield, Red Sea Hills, NE Sudan. Miner Deposita 51, 713–724 (2016). https://doi.org/10.1007/s00126-015-0630-z
Received:

Accepted:

Published:

Issue Date:
Keywords
Porphyry Cu–Au

Neoproterozoic

Red Sea Hills

U–Pb age dating

Arabian–Nubian Shield