Abstract
Two Ni-laterite profiles from the Loma Caribe peridotite (Dominican Republic) have been investigated for their platinum group element (PGE) geochemistry and mineralogy. One profile (Loma Peguera) is characterized by PGE-enriched (up to 3.5 ppm total PGE) chromitite bodies incorporated within the saprolite, whereas the second profile is chromitite-free (Loma Caribe). Total PGE contents of both profiles slightly increase from parent rocks (36 and 30 ppb, respectively) to saprolite (∼50 ppb) and reach highest levels within the limonite zone (640 and 264 ppb, respectively). Chondrite-normalized PGE patterns of saprolite and limonite reveal rather flat shapes with positive peaks of Ru and Pd. Three types of platinum group minerals (PGM) were found by using an innovative hydroseparation technique: (i) primary PGM inclusions in fresh Cr-spinel (laurite and bowieite), (ii) secondary PGM (e.g., Ru-Fe-Os-Ir compounds) from weathering of preexisting PGM (e.g., serpentinization and/or laterization), and (iii) PGM precipitated after PGE mobilization within the laterite (neoformation). Our results provide evidence that (i) PGM occurrence and PGE enrichment in the laterite profiles is independent of chromitite incorporation; (ii) PGE enrichment is residual on the profile scale; and (iii) PGE are mobile on a local scale leading to in situ growth of PGM within limonite, probably by bioreduction and/or electrochemical metal accretion.
Access options
Buy single article
Instant access to the full article PDF.
US$ 39.95
Tax calculation will be finalised during checkout.
Subscribe to journal
Immediate online access to all issues from 2019. Subscription will auto renew annually.
US$ 119
Tax calculation will be finalised during checkout.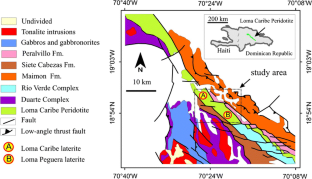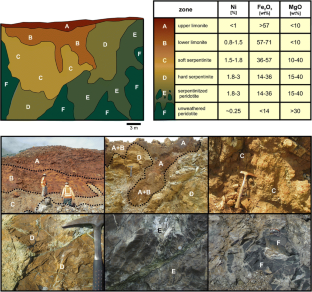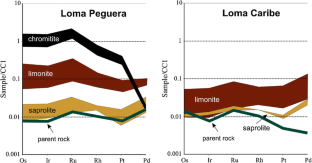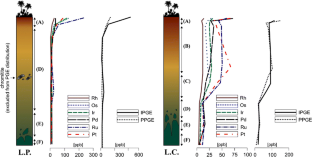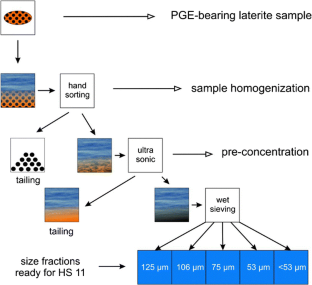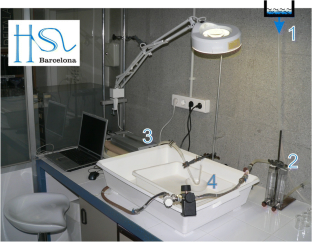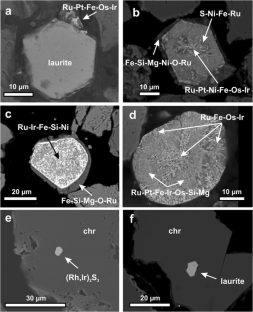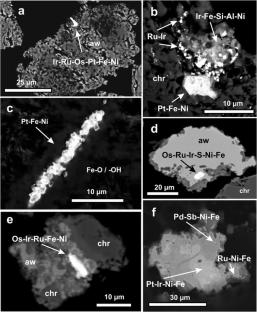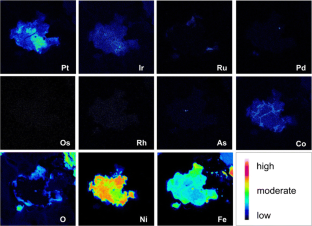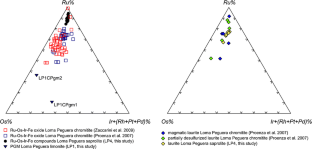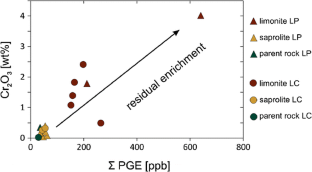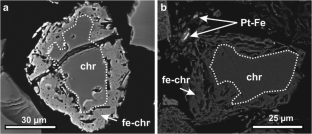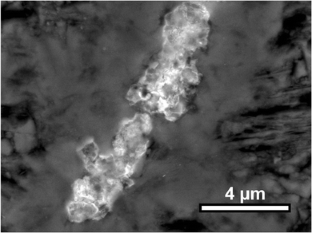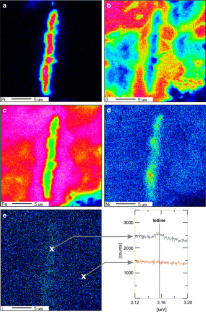 References
Aiglsperger T, Proenza JA, Zaccarini F, Labrador M, Navarro-Ciuriana D (2011) Looking for needles in a haystack: how to find PGM in laterites by using hydroseparation techniques. Macla 15:23–24

Augé T, Maurizot P, Breton J, Eberlé JM, Gilles C, Jézequel P, Mezière J, Robert M (1995) Magmatic and supergene platinum-group minerals in the New Caledonia ophiolite. Chron Rech Min 520:3–26

Azaroual M, Romand B, Freyssinet P, Disnar JR (2001) Solubility of platinum in aqueous solutions at 25 ºC and pHs 4 to 10 under oxidizing conditions. Geochim Cosmochim Acta 65:4453–4463

Bowin CO (1966) Geology of the central Dominican Republic (a case history of part of an island arc). In: Hess H (ed) Caribbean Geological Studies. Mem Geol Soc Am 98:11-84

Bowles JFW (1986) The development of platinum-group minerals in laterites. Econ Geol 81:1278–1285

Bowles JFW, Gize AP, Vaughan DJ, Norris SJ (1994) Development of platinum-group minerals in laterites-initial comparison of organic and inorganic controls. Trans Inst Min Metall 103:B53–B56

Butt CRM, Cluzel D (2013) Nickel laterite ore deposits: weathered serpentinites. Elements 9:123–128

Cabral AR, Lehmann B, Tupinambá M, Schlosser S, Kwitko-Ribeiro R, De Abreu FR (2009) The platiniferous Au-Pd belt of Minas Gerais, Brazil, and genesis of its botryoidal Pt-Pd aggregates. Econ Geol 104:1265–1276

Cabral AR, Radtke M, Munnik F, Lehmann B, Reinholz U, Riesemeier H, Tupinambá M, Kwitko-Ribeiro R (2011) Iodine in alluvial platinum-palladium nuggets: evidence for biogenic precious-metal fixation. Chem Geol 281:152–132

Cabri LJ, Harris DC (1975) Zoning in Os-Ir alloys and the relation of the geological and tectonic environment of the source rocks to the bulk Pt: Pt + Ir + Os ratio for placers. Can Mineral 13:266–274

Cabri LJ, Rudashevsky NS, Rudashevsky VN, Lastra R (2006) Hydroseparation: a new development in process mineralogy of platinum-bearing ores. CIM Bull 99(1092):1–7

Cabri LJ, Rudashevsky NS, Rudashevsky VN, Gorkovetz VY (2008) Study of native gold from the Luopensulo deposit (Kostomuksha area, Karelia, Russia) using a combination of electric pulse disaggregation (EPD) and hydroseparation (HS). Miner Eng 21:463–470

Capobianco CJ, Drake MJ (1990) Partitioning of ruthenium, rhodium, and palladium between spinel and silicate melt and implications for platinum group element fractionation trends. Geochim Cosmochim Acta 54:869–874

Chan TK, Finch IJ (2001) Determination of platinum-group elements and gold by inductively coupled plasma mass spectrometry. In: Australian Platinum Conference, Perth, Western Australia:1-9

Colombo C, Oated CJ, Monhemius AJ, Plant JA (2008) Complexation of platinum, palladium and rhodium with inorganic ligands in the environment. Geochem Explor Environ Anal 8:91–101

Cooper GRC (2002) Oxidation and toxicity of chromium in ultramafic soils in Zimbabwe. Appl Geochem 17:981–986

Desborough GA, Criddle AJ (1984) Bowieite: a new rhodium-iridium-platinum sulfide in platinum-alloy nuggets, Goodnews Bay, Alaska. Can Mineral 22:543–552

Draper G, Gutiérrez G, Lewis JF (1996) Thrust emplacement of the Hispaniola peridotite belt: orogenic expression of the mid Cretaceous Caribbean arc polarity reversal? Geology 24:1143–1146

Eliopoulos DG, Economou-Eliopoulos M (2000) Geochemical and mineralogical characteristics of Fe-Ni- and bauxitic-laterite deposits of Greece. Ore Geol Rev 16:41–58

Escuder Viruete J, Díaz de Neira A, Hernáiz Huerta PP, Monthel J, García Senz J, Joubert M, Lopera E, Ullrich T, Friedman R, Mortensen J, Pérez-Estaún A (2006) Magmatic relationships and ages of Caribbean Island arc tholeiites, boninites and related felsic rocks, Dominican Republic. Lithos 90:161–186

Escuder-Viruete J, Pérez-Estaún A, Contreras F, Joubert M, Weis D, Ullrich TD, Spadea P (2007) Plume mantle source heterogeneity through time: Insights from the Duarte Complex, Hispaniola, northeastern Caribbean. J Geophys Res 112(B04203)

Fuchs AW, Rose AW (1974) The geochemical behavior of platinum and palladium in the weathering cycle in the Stillwater Complex, Montana. Econ Geol 69:332–346

Garuti G, Zaccarini F (1997) In situ alteration of platinum-group minerals at low temperature: evidence from serpentinized and weathered chromitite of the Vourinos Complex, Greece. Can Mineral 35:611–626

Garuti G, Proenza JA, Zaccarini F (2007) Distribution and mineralogy of platinum-group elements in altered chromitites of the Campo Formoso layered intrusion (Bahia State, Brazil): control by magmatic and hydrothermal processes. Mineral Petrol 86:159–188

Garuti G, Zaccarini F, Proenza JA, Thalhammer OAR, Angeli N (2012) Platinum-group minerals in chromitites of the Niquelândia layered intrusion (Central Goias, Brazil): their magmatic origin and low-temperature reworking during serpentinization and lateritic weathering. Minerals 2:365–384

Golightly JP (2010) Progress in understanding the evolution of nickel laterites. Soc Econ Geol Spec Publ 15:451–485

Gray JD, Schorin KH, Butt CRM (1996) Mineral associations of platinum and palladium in lateritic regolith, Ora Banda Sill, Western Australia. J Geochem Explor 57:245–255

Haldemann EG, Buchan R, Blowes JH, Chandler T (1979) Geology of lateritic nickel deposits, Dominican Republic. Int Laterite Symp 4:57–84

Lázaro C, Blanco-Quintero IF, Rojas-Agramonte Y, Proenza JA, Núñez-Cambra K, García-Casco A (2013) First description of a metamorphic sole related to ophiolite obduction in the northern Caribbean: geochemistry and petrology of the Güira de Jauco Amphibolite complex (eastern Cuba) and tectonic implications. Lithos 179:193–210

Lewis JF, Draper G (1990) Geological and tectonic evolution of the northern Caribbean margin. In: Dengo G, Case JE (eds) The Geology of North America. Geol Soc Am, Vol H (The Caribbean region), pp 77-140

Lewis JF, Jiménez JG (1991) Duarte Complex in the La Vega-Janico area, central Hispaniola: geological and geochemical features of the sea floor during early stages of arc evolution. Geol Soc Am Special Paper 262:115–141

Lewis JF, Escuder-Viruete J, Hernaiz-Huerta PP, Gutiérrez G, Draper G, Pérez-Estaún A (2002) Subdivisión geoquímica del arco de Isla Circum-Caribeño, Cordillera Central Dominicana: Implicaciones para la formación, acreción y crecimiento cortical en un ambiente intraoceánico. Acta Geol Hisp 37:81–122

Lewis JF, Draper G, Proenza JA, Espaillat J, Jiménez J (2006) Ophiolite-related ultramafic rocks (serpentinites) in the Caribbean region: a review of their occurrence, composition, origin, emplacement and nickel laterite soils. Geol Acta 4:237–263

Lithgow EW (1993) Nickel laterites of central Dominican Republic Part I. Mineralogy and ore dressing. In: Reddy RG, Weizenbach RN (eds) The Paul E. Queneau Int. Symposium, Extractive Metallurgy of Copper, Nickel and Cobalt, Volume I: Fundamental Aspects. The Minerals, Metals and Materials Society, Portland, pp 403–425

Lorand JP, Luguet A, Alard O (2008) Platinum-group elements: a new set of key tracers for the Earth's interior. Elements 4:247–252

Mann AW (1984) Mobility of gold and silver in lateritic weathering profiles: some observations from Western Australia. Econ Geol 79:38–49

Marchesi C, Garrido CJ, Proenza JA, Konc Z, Hidas K, Lewis JF, Lidiak E (2012) Mineral and whole rock compositions of peridotites from Loma Caribe (Dominican Republic): insights into the evolution of the oceanic mantle in the Caribbean region. Geophys Res Abs 14, EGU 2012, Vienna, p 12161

McDonald AM, Proenza JA, Zaccarini Z, Rudashevsky NS, Cabri LJ, Stanley CJ, Rudashevsky VN, Melgarejo JC, Lewis JF, Longo F, Bakker RJ (2010) Garutiite, (Ni, Fe, Ir), a new hexagonal polymorph of native Ni from Loma Peguera, Dominican Republic. Eur J Mineral 22:293–304

Nahon D, Colin F, Boulange B (1992) Metallogeny of weathering: an introduction in weathering and soils & paleosols. In: Martini IP, Chesworth W (eds) Weathering, soils and paleosols (developments in Earth surface processes vol. 2 ). Elsevier, Amsterdam, pp 445–471

Naldrett AJ, Duke JM (1980) Platinum metals in magmatic sulfide ores. Science 208:1417–1428

Ndjigui PD, Bilong P (2010) Platinum-group elements in the serpentinite lateritic mantles of the Kongo–Nkamouna ultramafic massif (Lomié region, South-East Cameroon). J Geochem Explor 107:63–76

Oberthür T, Melcher F, Buchholz P, Locmelis M (2013) The oxidized ores of the Main Sulphide Zone, Great Dyke, Zimbabwe: turning resources into minable reserves—mineralogy is the key. J S Afr Inst Min Metall 113:191–201

Ottemann J, Augustithis SS (1967) Geochemistry and origin of "platinum-nuggets" in lateritic covers from ultrabasic rocks and birbirites of W. Ethiopia. Miner Deposita 1:269–277

Pan P, Wood SA (1994) Solubility of Pt and Pd sulfides and Au metal in aqueous bisulfide solutions. Miner Deposita 29:312–326

Proenza JA, Zaccarini F, Lewis JF, Longo F, Garuti G (2007) Chromian spinel composition and the platinum group minerals of the PGE-rich Loma Peguera chromitites, Loma Caribe peridotite, Dominican Republic. Can Mineral 45:631–648

Redwood S (2014) Gold surge mining is booming in the Dominican Republic as investors follow the gold rush. Min J 24:23–27

Righter K, Cambell AJ, Humayun M, Herwig RL (2004) Partitioning of Ru, Rh, Pd, Re, Ir and Au between Cr-bearing spinel, olivine, pyroxene and silicate melts. Geochim Cosmochim Acta 68:867–880

Rudashevsky NS, Burakov BE, Lupal SD, Thalhammer OAR, Saini-Eidukat B (1995) Liberation of accessory minerals from various rock types by electric-pulse disintegration—method and application. Trans Inst Min Metall Sec C Mineral Proc Extract Metall 104:C25–C29

Rudashevsky NS, Lupal SD, Rudashevsky VN (2001) The hydraulic classifier. Russia patent N 2165300, Patent Cooperation Treaty PCT/RU01/00123 (Moscow: 20 April 2001; 10 May 2001) (in Russian and English)

Rudashevsky NS, Garuti G, Andersen JC, Kretser Yu L, Rudashevsky VN, Zaccarini F (2002) Separation of accessory minerals from rocks and ores by hydroseparation (HS) technology: method and application to CHR-2 chromitite, Niquelândia intrusion, Brazil. Trans Inst Mining Metall 111:B87–B94

Rudashevsky NS, Rudashevsky VN (2006) Patent of Russian Federation #2281808, invention "Hydraulic Classifier", Moscow, 20 August 2006

Rudashevsky NS, Rudashevsky VN (2007) Patent of Russian Federation #69418, industrial (useful) model, "Device for separation of solid particles". Moscow December 27:2007

Salpeteur I, Martel-Jantin B, Rakotomanana D (1995) Pt and Pd mobility in ferralitic soils of the Andriamena area (Madagascar). Evidence of a supergene origin of some Pt and Pd minerals. Chron Rech Min 520:27–45

Stockman HW, Hlava PF (1984) Platinum-group minerals in Alpine chromitites from south-western Oregon. Econ Geol 79:491–508

Suárez S, Prichard HM, Velasco F, Fisher PC, McDonald I (2010) Alteration of platinum-group minerals and dispersión of platinum-group elements during progressive weathering of the Aguablanca Ni-Cu deposit, SW Spain. Mineral Deposita 45:331–350

Talovina IV, Lazarenkov VG (2001) Distribution and genesis of platinum group minerals in nickel ores of the Sakhara and Elizavet deposits in the Urals. Lithol Miner Res 36:116–122

Tauler E, Proenza JA, Galí S, Lewis JF, Labrador M, García-Romero E, Suarez M, Longo F, Bloise G (2009) Ni-sepiolite-falcondoite in garnierite mineralization from the Falcondo Ni-laterite deposit, Dominican Republic. Clay Miner 44:435–454

Traoré D, Beauvais A, Chabaux F, Peiffert C, Parisot JC, Ambrosi JP, Colin F (2008a) Chemical and physical transfers in an ultramafic rock weathering profile: part 1. Supergene dissolution of Pt-bearing chromite. Am Mineral 93:22–30

Traoré D, Beauvais A, Augé T, Parisot JC, Colin F, Cathelineau M (2008b) Chemical and physical transfers in an ultramafic rock weathering profile: part 2. Dissolution vs. accumulation of platinum group minerals. Am Mineral 93:31–38

Uysal I, Zaccarini F, Sadiklar BM, Bernhardt HJ, Bigi S, Garuti G (2009) Occurrence of rare Ru-Fe-Os-Ir-oxide and associated platinum-group minerals (PGM) in the chromitite of Mugla ophiolite, SW-Turkey. Neues Jahrb Miner Abh 185(3):323–333

Van Middlesworth JM, Wood SA (1999) The stability of palladium (II) hydroxide and hydroxy-chloride complexes: an experimental solubility study at 25-85 ºC and 1 bar. Geochim Cosmochim Acta 63:1751–1765

Villanova-de-Benavent C, Proenza JA, Galí S, García-Casco A, Tauler E, Lewis JF, Longo F (2014) Garnierites and garnierites: textures, mineralogy and geochemistry of garnierites in the Falcondo Ni-laterite deposit, Dominican Republic. Ore Geol Rev 58:91–109

Wilde A, Edwards A, Yakubchuk A (2003) Unconventional deposits of Pt and Pd: a review with implications for exploration. SEG Newsletter 52:1 and 10-18

Yang Y, Liu S, Jin Z (2009) Laterization and its control to gold occurrence in Laowanchang gold deposit, Guizhou Province, Southwest of China. J Geochem Explor 100:67–74

Zaccarini F, Proenza JA, Ortega Gutierrez F, Garuti G (2005) Platinum group minerals in ophiolitic chromitites from Tehuitzingo (Acatlan complex, Southern Mexico): implications for post-magmatic modification. Mineral Petrol 84:147–168

Zaccarini F, Proenza JA, Rudashevsky NS, Cabri LJ, Garuti G, Rudashevsky VN, Melgarejo JC, Lewis JF, Longo F, Bakker RJ, Stanley CJ (2009) The Loma Peguera ophiolitic chromitite (Central Dominican Republic): a source of new platinum group minerals (PGM) species. N Jb Miner Abh 185(3):335–349
Acknowledgments
This research has been financially supported by the Spanish projects CGL2009-10924, CGL2012-36263, and SGR 2009-444 as well as by a PhD grant and a travel grant to Leoben (estancia breve FPI 2012) to TA sponsored by the Ministerio de Economia y Competitividad (Spain). The authors gratefully acknowledge the help and hospitality extended by the staff of Falcondo mine (Falcondo Glencore). Excellent technical support during EPMA sessions by Dr. X. Llovet and during FESEM sessions by Eva Prats and Aránzazu Villuendas at the Serveis Cientificotècnics (University of Barcelona) is highly appreciated. The University Centrum for Applied Geosciences (UCAG) in Leoben is thanked for access to the E. F. Stumpfl electron microprobe laboratory. Louis Cabri and Vladimir Rudashevsky are greatly thanked for their help during installation of the HS-11 laboratory in Barcelona. We want to thank one anonymous referee and Prof. Bernd Lehmann for their constructive comments, suggestions, and editing.
Additional information
Editorial handling: C. Li
About this article
Cite this article
Aiglsperger, T., Proenza, J.A., Zaccarini, F. et al. Platinum group minerals (PGM) in the Falcondo Ni-laterite deposit, Loma Caribe peridotite (Dominican Republic). Miner Deposita 50, 105–123 (2015). https://doi.org/10.1007/s00126-014-0520-9
Received:

Accepted:

Published:

Issue Date:
Keywords
Ni-laterite

Platinum group elements

Platinum group minerals

Falcondo

Dominican Republic