Abstract
We believe the hypothesis presented by Maier et al. (Miner Deposita 48:1–56, 2012) for the formation of the various ore bodies in the Bushveld Complex to be overly simplistic, and we raise concerns that some of our work, used in support of this hypothesis, has been misrepresented. The formation of both diverse metalliferous layers (platinum-group element (PGE) reefs and Ti-magnetite layers) and some discordant (pipe) ore deposits has been ascribed by Maier et al. to the single unifying process of hydrodynamic sorting. The problem faced by authors of universal hypotheses for the Bushveld Complex is the sheer size and complexity of the intrusion. We disagree with many aspects of the overall Maier et al. model and have also identified several minor errors on maps and photographs, although some of these do not have a material effect on the model. The nature and origin of the layering is, however, too complex a topic to deal with in the context of this commentary, and we restrict ourselves to noting that our preferred hypothesis, namely the incremental buildup of layering from numerous episodes of replenishment, by different magma lineages, is consistent with field relationships. Our hypothesis for the origin of the ultramafic-hosted PGE-rich reefs, i.e., lateral mixing, is applicable to economically mineralized reefs (Mitchell and Scoon, Econ Geol 102:971–1009, 2007) and poorly mineralized layers such as the Pseudoreef harzburgite (Scoon and De Klerk, Canad Mineral 25:51–77, 1987) and the chromitite layers below the UG2 (Scoon and Teigler, Econ Geol 89:1094–1121, 1994).
Access options
Buy single article
Instant access to the full article PDF.
US$ 39.95
Tax calculation will be finalised during checkout.
Subscribe to journal
Immediate online access to all issues from 2019. Subscription will auto renew annually.
US$ 119
Tax calculation will be finalised during checkout.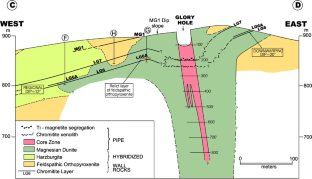 References
Bhattacharji S, Smith CH (1964) Flowage differentiation. Science 45:150–153

Cameron EN, Desborough GA (1964) Origin of certain magnetite-bearing pegmatites in the eastern part of the Bushveld Complex, South Africa. Econ Geol 59:197–225

Cameron EN, Glover ED (1973) Unusual titanium-chromian spinels from the eastern Bushveld Complex. Amer Mineral 58:172–188

Eales HV, Marsh JS, Mitchell AA, de Klerk WJ, Kruger FJ, Field M (1986) Some geochemical constraints upon models for the crystallization of the upper Critical Zone-Main Zone interval, northwestern Bushveld Complex. Miner Mag 50:567–582

Hall AL (1932) The Bushveld Igneous Complex of the central Transvaal. Geol Surv S Africa Mem 28:560

Irvine TN, Baragar WRA (1971) A guide to the chemical classification of the common volcanic rocks. Canad J Earth Sci 8:523–548

Lee CA, Butcher AR (1990) Cyclicity in the Sr isotope stratigraphy through the Merensky and Bastard Reef Units, Atok Section, eastern Bushveld Complex. Econ Geol 85:877–883

Maier WD, Barnes S-J, Groves DI (2012) The Bushveld Complex, South Africa: formation of platinum–palladium, chrome- and vanadium-rich layers via hydrodynamic sorting of a mobilized cumulate slurry in a large, relatively slowly cooling, subsiding magma chamber. Mineral Dep 48:1–56

Mitchell AA, Scoon RN (2007) The Merensky reef at Winnaarshoek, Eastern Bushveld Complex: a primary magmatic hypothesis based on a wide reef facies. Econ Geol 102:971–1009

Scoon RN, De Kierk WJ (1987) The relationship of olivine cumulates and mineralization to cyclic units in part of the Upper Critical Zone of the Western Bushveld Complex. Canad Mineral 25:51–77

Scoon RN, Eales HV (2002) Unusual Fe-Ti-Cr spinels from discordant bodies of iron-rich ultramafic pegmatite at the Amandelbult Platinum mine, northwestern Bushveld Complex. Miner Mag 66:857–879

Scoon RN, Mitchell AA (1994) Discordant iron-rich ultramafic pegmatites in the Bushveld Complex and their relationship to iron-rich intercumulus and residual liquids. J Pet 35:881–917

Scoon RN, Mitchell AA (2004a) The platiniferous dunite pipes in the eastern limb of the Bushveld Complex: review and comparison with unmineralized discordant ultramafic bodies. S Afr J Geol 107:505–520

Scoon RN, Mitchell AA (2004b) Petrogenesis of discordant magnesian dunites from the central sector of the Eastern Bushveld Complex with emphasis on the Winnaarshoek pipe and disruption of the Merensky Reef. Econ Geol 99:517–541

Scoon RN, Mitchell AA (2009) A multi-stage orthomagmatic and partial melting hypothesis for the Driekop platiniferous dunite pipe, eastern limb of the Bushveld Complex, South Africa. S Afr J Geol 112:187–196

Scoon RN, Mitchell AA (2010) The principal geological features of the Onverwacht platiniferous dunite pipe, eastern limb of the Bushveld Complex, South Africa. S Afr J Geol 113:155–168

Scoon RN, Mitchell AA (2011) The principal geological features of the Mooihoek platiniferous dunite pipe, eastern limb of the Bushveld Complex, South Africa, and similarities with replaced Merensky Reef at the Amandelbult mine. S Afr J Geol 114:15–40

Scoon RN, Teigler EB (1994) Platinum-group element mineralization in the Critical Zone of the western Bushveld Complex: I. Sulfide-poor chromitites below the UG-2. Econ Geol 89:1094–1121

Teigler B (1990) Mineralogy, petrology and geochemistry of the Lower and Lower Critical zones, northwestern Bushveld Complex. Unpublished Ph.D. thesis, Rhodes University, Grahamstown, South Africa, 247 pp

Teigler B, Eales HV, Scoon RN (1992) The cumulate succession in the Critical zone of the Rustenburg Layered Sequence at Brits, western Bushveld Complex. S Afr J Geol 95:17–28

Viljoen MJ, Scoon RN (1985) The distribution and main geologic features of discordant bodies of iron-rich ultramafic pegmatite in the Bushveld Complex. Econ Geol 80:1109–1128

Wagner PA (1929) The platinum deposits and mines of South Africa. Oliver & Boyd, Edinburgh, 326 pp

Willemse J (1969a) The geology of the Bushveld Igneous Complex, the largest repository of magmatic ore deposits in the World. Econ Geol Mon 4:1–22

Willemse J (1969b) The vanadiferous magmatic iron ores of the Bushveld Igneous Complex. Econ Geol Mon 4:187–208
About this article
Cite this article
Scoon, R.N., Mitchell, A.A. Discussion of "The Bushveld Complex, South Africa: formation of platinum–palladium, chrome- and vanadium-rich layers via hydrodynamic sorting of a mobilized cumulate slurry in a large, relatively slowly cooling, subsiding magma chamber" by Maier et al. (2013) Miner Deposita 48:1–56. Miner Deposita 49, 399–404 (2014). https://doi.org/10.1007/s00126-013-0480-5
Received:

Accepted:

Published:

Issue Date:
Keywords
Olivine

Wall Rock

Core Zone

Bushveld Complex

Econ Geol