Abstract
The North Pennine Orefield Alston Block has produced approximately 4 Mt Pb, 0.3 Mt Zn, 2.1 Mt fluorite, 1.5 Mt barite, 1 Mt witherite, plus a substantial amount of iron ore and copper ore from predominantly vein-hosted mineralisation in Carboniferous limestones. However, a significant proportion of this production (ca. 20%) came from stratabound deposits. Though much is known about the vein mineralisation, the relationship between the veins and the stratabound mineralisation is not well-understood. New petrographic, isotopic and fluid inclusion data derived from samples of stratabound mineralisation allow us to present a unified model that addresses the genesis of both the vein and stratabound styles of mineralisation. The mineralisation can be considered in terms of three episodes:
1.

Dolomitisation and ankeritisation Limestones in the vicinity of the stratabound mineralisation were pervasively dolomitised/ankeritised, and developed vuggy porosity in the presence of a high-salinity brine consistent with fluids derived from adjacent mud and shale-filled basins.

2.

Main stage fluorite–quartz–sulphide mineralisation Metasomatism of limestone was accompanied by brecciation, dissolution and hydrothermal karstification with modification of the existing pore system. The open space was filled with fluorite, galena, sphalerite, quartz and barite, formed in response to mixing of low-salinity sodic groundwater with high-salinity calcic brine with elevated metal contents (particularly Fe up to 7,000 ppm) relative to "normal" high total dissolved solids sedimentary brines.

3.

Late-stage barite mineralisation paragenetically appears to represent either the waning stages or the distal portions of the main hydrothermal circulation system under cooler conditions.
Access options
Buy single article
Instant access to the full article PDF.
US$ 39.95
Tax calculation will be finalised during checkout.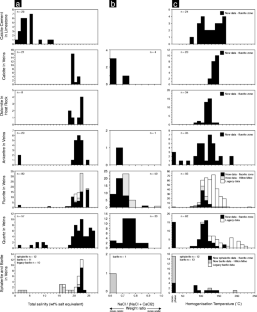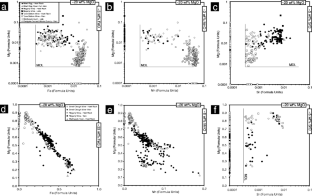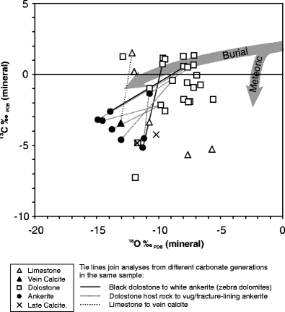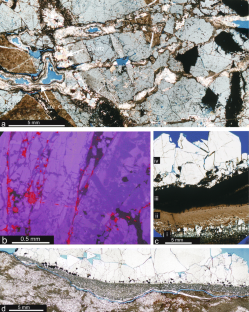 References
Allan MM, Yardley BWD, Forbes LJ, Shmulovich KI, Banks DA, Shepherd TJ (2006) Validation of LA-ICP-MS fluid inclusion analysis with synthetic inclusions. Am Mineral 90:11–12

Arne DC, Kissin SA (1989) The significance of "diagenetic crystallization rhythmites" at the Nanisivik Pb–Zn–Ag deposit, Baffin island, Canada. Miner Depos 24:230–232

Bau M, Romer RL, Lüders V, Dulski P (2003) Tracing element sources of hydrothermal mineral deposits: REE and Y distribution and Sr–Nd–Pb isotopes in fluorite from MVT deposits in the Pennine Orefield, England. Miner Depos 38:992–1008

Boles JR, Franks SG (1979) Clay diagenesis in Wilcox sandstones of Southwest Texas; implications of smectite diagenesis on sandstone cementation. J Sediment Petrol 49:55–70

Boni M, Parente G, Bechstadt T, De Vivo B, Iannace A (2000) Hydrothermal dolomites in SW Sardinia (Italy): evidence for a widespread late-Variscan fluid flow event. Sediment Geol 131:181–200

Bruckschen P, Veizer J (1997) Oxygen and carbon isotopic composition of Dinantian brachiopods: Paleoenvironmental implications for the Lower Carboniferous of western Europe. Palaeogeogr Palaeoclimatol Palaeoecol 132:243–264

Cann JR, Banks DA (2001) Constraints on the genesis of the mineralization of the Alston Block, Northern Pennine Orefield, northern England. Proc Yorks Geol Soc 53:187–196

Choquette PW, James NP (1987) Diagenesis 12. Diagenesis in limestones 3. The deep burial environment. Geosci Can 14:3–35

Christoula M (1993) Fluid inclusion geochemistry of selected epigenetic, low temperature mineralization in the U.K. Ph.D. Thesis, Imperial College of Science and Technology, London University

Corbella M, Ayora C, Cardellach E (2004) Hydrothermal mixing, carbonate dissolution and sulfide precipitation in Mississippi Valley-type deposits. Miner Depos 39:344–357

Crowley SF, Bottrell SH, McCarthy MDB, Ward J, Young B (1997) delta S-34 of lower Carboniferous anhydrite, Cumbria and its implications for barite mineralization in northern Pennines. J Geol Soc 154:597–600

Davison JM, Ineson PR, Mitchell JG (1992) Potassium–argon isotope age determinations from the metasomatic alteration of the Great Limestone, Northern Pennine Orefield. Proc Yorks Geol Soc 49:71–74

Dunham KC (1948) Geology of the Northern Pennine Orefield, vol. 1. Tyne to Stainmore, 1st edn. Memoir of the Geological Survey of Great Britain. HMSO, London

Dunham KC (1990) Geology of the Northern Pennine Orefield, vol. 1. Tyne to Stainmore. Economic memoir covering the areas of 1:50000 and one-inch geological sheets 19 and 25 and parts of 13, 24, 26, 31, 32 (England and Wales) British Geological Survey. HMSO, London, p 299

Dunham KC, Wilson AA (1985) Geology of the Northern Pennine Orefield, vol. 2. Stainmore to Craven. Memoir of the Geological Survey of Great Britain. HMSO, London

Dunham KC, Dunham AC, Hodge BL, Johnson GAL (1965) Granite beneath Viséan sediments with mineralization at Rookhope, northern Pennines. J Geol Soc 121:383–417

Dunham KC, Fitch FJ, Ineson PR, Miller JA, Mitchell JG (1968) The geochronological significance of argon-40/ argon-39 age determinations on White Whin from the northern Pennine orefield. Proc R Soc Lond A Math Phys Sci 307:251–266

Fitch FJ, Miller JA (1967) The age of the Whin sill. Geol J 5:233–250

Francois R (1988) A study on the regulation of the concentrations of some trace metals (Rb, Sr, Zn, Pb, Cu, V, Cr, Ni, Mn and Mo) in Saanich Inlet sediments, British Columbia, Canada. Mar Geol 83:285–308

Friedman I, O'Neil JR (1977) Compilation of stable isotope fractionation factors of geochemical interest. USGS Prof Pap 440-KK

Goldstein RH (2001) Fluid inclusions in sedimentary and diagenetic systems. Lithos 55:159–193

Gunther D, Frischknecht R, Heinrich CA, Kahlert HJ (1997a) Capabilities of an Argon Fluoride 193 nm excimer laser for laser ablation inductively coupled plasma mass spectrometry microanalysis of geological materials. J Anal At Spectrom 12:939–944

Gunther D, Frischknecht R, Muschenborn HJ, Heinrich CA (1997b) Direct liquid ablation: a new calibration strategy for laser ablation ICP-MS microanalysis of solids and liquids. Fresenius' J Anal Chem 359:390–393

Hollis C, Walkden G (1996) The use of burial diagenetic calcite cements to determine the controls upon hydrocarbon emplacement and mineralization on a carbonate platform, Derbyshire, England. In: Strogen P, Somerville ID, Jones GLL (eds) Recent advances in lower carboniferous geology. Geol Soc Lond Spec Pub 107:35–49

Ineson PR (1968) The petrology and geochemistry of altered quartz–dolerite in the Closehouse Mine area. Proc Yorks Geol Soc 36:373–384

Ixer RA (1986) The ore mineralogy and paragenesis of the lead–zinc–fluorite–barite orefields of the English Pennines and Mendip Hills. In: Craig JR (ed) Mineral parageneses. Theophrastus, Athens, pp 179–211

Ixer RA, Vaughan DJ (1993) Lead–zinc–fluorite–baryte deposits of the Pennines, North Wales and the Mendips. In: Pattrick RAD, Polya DA (eds) Mineralization in the British Isles. Chapman & Hall, London, pp 355–418

Ixer RA, Young B, Stanley CJ (1996) Bismuth-bearing assemblages from the Northern Pennine Orefield. Min Mag 60:317–324

Lenehan T (1997) An investigation into thermo-tectonic and maturation histories in north-west Britain. Ph.D. Thesis, University of Leeds

McCrea J (1950) On the isotopic chemistry of carbonates and palaeo-temperature scale. J Chem Phys 18:849–857

Moore GR (1980) A chemical and isotopic study of fluid inclusions from the Northern Pennine Orefield. Ph.D. Thesis, Durham University

Naden J (1996) CalcicBrine 1.5: a Microsoft Excel 5.0 add-in for calculating salinities from microthermometric data in the system NaCl–CaCl2–H2O. PACROFI VI Abstracts. University of Wisconsin

Nielsen P, Swennen R, Muchez P, Keppens E (1998) Origin of Dinantian zebra dolomites south of the Brabant-Wales Massif, Belgium. Sedimentology 45:727–743

Plant J, Jones D, Smith N, Shepherd T (1995) Carboniferous shale basins as sources of Pennine ore fluids: implications for MVT ore deposit formation. In: Pasava J, Kribek B, Zak K (eds) Mineral deposits: their origin to their environmental impacts. A.A. Balkema, Rotterdam, pp 967–970

Rankin AH, Graham MJ (1988) Na, K and Li contents of mineralizing fluids in the Northern Pennine Orefield, England and their genetic significance. Trans Inst Min Metall B Appl Earth Sci 97:99–107

Roedder E (1985) Fluid inclusions. Mineral Soc Am Rev Miner 12:644

Rosenbaum J, Sheppard SMF (1986) An isotopic study of siderites, dolomites and ankerites at high temperatures. Geochim Cosmochim Acta 50:1147–1150

Sawkins FJ (1966) Ore genesis in the North Pennine orefield, in the light of fluid inclusion studies. Econ Geol 61:385–401

Shepherd TJ, Darbyshire DPF, Moore GR, Greenwood DA (1982) Rare earth element and isotopic geochemistry of the North Pennine ore deposits. In: Anonymous (ed) Symposium Jules Agard; Gites filoniens Pb–Zn–F–Ba de basse temperature du domaine varisque d'Europe et d'Afrique du Nord; III, Etudes geochimiques et modeles genetiques; etudes structurales; Guide de prospection. Bureau de Recherches Geologiques et Minieres, (BRGM), Paris, France, pp 371–377

Smith FW (1974) Factors governing the development of fluorspar orebodies in the North Pennine Orefield. Ph.D. Thesis, Durham University, p 395

Solomon M, Rafter TA, Dunham KC (1971) Sulphur and oxygen isotope studies in the northern Pennines in relation to ore genesis. Trans Inst Min Metall B Appl Earth Sci 80:259–275

Solomon M, Rafter TA, Dunham K (1972) Sulphur and oxygen isotope studies in the northern Pennines in relation to ore genesis; discussion. Trans Inst Min Metall B Appl Earth Sci 81:172–177

Timofeeff MN, Lowenstein TK, Brennan ST, Demicco RV, Zimmermann H, Horita J, von Borstel LE (2001) Evaluating seawater chemistry from fluid inclusions in halite: Examples from modern marine and nonmarine environments. Geochim Cosmochim Acta 65:2293–2300

Tucker M, Wright VP (1990) Carbonate sedimentology. Blackwell Scientific, p 482

Vaughan DJ, Ixer RA (1980) Studies of sulphide mineralogy of North Pennine ores and its contribution to genetic models. Trans Inst Min Metall B Appl Earth Sci 89:99–109

Wallace MW, Both RA, Ruano SM, Fenoll HAP, Lees T (1994) Zebra textures from carbonate-hosted sulfide deposits; sheet cavity networks produced by fracture and solution enlargement. Econ Geol 89:1183–1191

Warren E, Smalley P, Howarth R (1994) Part 4: Compositional variations of North Sea formation waters. In: Warren E, Smalley P (eds) North Sea formation waters atlas. Blackwell [for the] Geological Society of London, London, pp 119–206

Young B, Styles MT, Berridge NG (1985) Niccolite–magnetite mineralization from Upper Teesdale, North Pennines. Min Mag 49:555–559
Acknowledgements
The authors wish to thank numerous colleagues who have provided valuable technical support throughout this study. David Banks and Linda Berry, University of Leeds, are thanked for assistance given to TJS during the laser ablation fluid inclusion microchemical analyses. We also wish to thank the reviewers Volker Leuders and Bernd Lehman for constructive reviews, which helped clarify the focus of this paper. Publication for JEB, JN, AB, JAM and BY is by permission of the Directory, British Geological Survey, NERC.
Additional information
Editorial handling: B. Lehmann
About this article
Cite this article
Bouch, J.E., Naden, J., Shepherd, T.J. et al. Direct evidence of fluid mixing in the formation of stratabound Pb–Zn–Ba–F mineralisation in the Alston Block, North Pennine Orefield (England). Miner Deposita 41, 821–835 (2006). https://doi.org/10.1007/s00126-006-0093-3
Received:

Accepted:

Published:

Issue Date:
Keywords
North Pennine Orefield

Alston Block

Stratabound mineralisation