Abstract
The Malanjkhand copper–molybdenum deposit in the Bhandara Craton, Central India, is hosted by a granite complex which consists of regionally dominant "grey granitoid" and "pink granitoid" confined to the mineralized zone. New SHRIMP RG data on zircons from both granite types are inferred to have crystallized during the same magmatic pulse at ca 2.48 Ga. The discrepancy between zircon age and earlier obtained Rb–Sr whole-rock age is attributed to modification of the Rb–Sr system by hydrothermal overprint. Similarity in petrographic features and chemical affinity in combination with identical age strongly indicate that the pink granite is the hydrothermally altered variety (microclinization and silicification) of the grey granite. The spatially associated, main Cu–Mo mineralization event at Malankhand appears to be broadly contemporaneous with and genetically related to the emplacement of the host granitoids at about 2.48 Ga.
Access options
Buy single article
Instant access to the full article PDF.
USD 39.95
Price excludes VAT (USA)
Tax calculation will be finalised during checkout.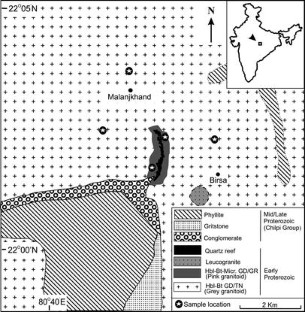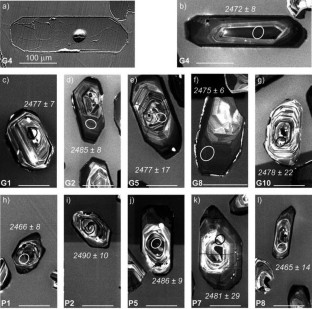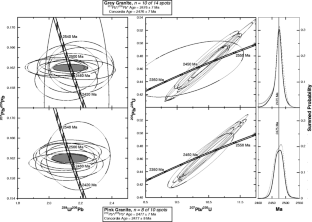 References
Acharya SK (2003) The nature of Mesoproterozoic Central Indian tectonic zone with exhumed reworked older granulites. Gondwana Res 6:197–214

Bacon CR, Persing HM, Wooden JL, Ireland TR (2000) Late Pleistocene granodiorite beneath Crater Lake caldera, Oregon, dated by ion microprobe. Geology 28:467–470

Bhargava M, Pal AB (1999) Anatomy of a porphyry copper deposit—Malanjkhand, Madhya Pradesh. J Geol Soc India 53:675–691

Bhargava M, Pal AB (2000) Cu-Mo-Au metallogeny associated with Proterozoic tectono-magmatism in Malanjkhand porphyry copper district, Madhya Pradesh. J Geol Soc India 56:395–413

Collerson KD, Bridgewater D (1979) Metamorphic development of early Archean tonalitic and trondjhemitic gneiss, Saglek Area, Labrador. In: Barker F (ed) Trondjhemites, dacites, and related rocks. Elsevier, Amsterdam, pp 275–290

Deino A, Potts R (1992) Age-probability spectra for examination of single-crystal 40Ar/39Ar dating results: examples from Olorgesailie, southern Kenya Rift. Quaternary Int 13/14:47–53

Gerstenberger H (1989) Autometasomatic Rb enrichments in highly evolved granitoids causing lowered Rb-Sr isochron intercepts. Earth Planet Sci Lett 93:65–75

Ghosh PK, Chandy KC, Bishui PK, Prasad R (1986) Rb-Sr age of granitoid gneiss in Malanjkhand area, Balaghat District, Madhya Pradesh, India. Ind Min 40:1–8

Hanchar JM, Miller CF (1993) Zircon zonation patterns as revealed by cathodoluminescence backscattered electron images; implications for interpretation of complex crustal histories. Chem Geol 110:1–13

Jain SC, Nair KK, Yedekar DB (1995) Geology of Son-Narmada-Tapti lineament zone of Central India. Geol Surv India Spec Publ 10:1–154

Ludwig KR (1991) ISOPLOT—a plotting, regression program for radiogenic isotope data. USGS Open-File Report 91–445, US Geol Survey, Reston

Ludwig KR (1998) On the treatment of concordant uranium-lead ages. Geochim Cosmochim Acta 62:665–676

Paces JB, Miller JD Jr (1993) Precise U-Pb ages of Duluth Complex and related mafic intrusions, northeastern Minnesota: Geochronological insights to physical, petrogenetic, paleomagnetic and tectonomagnetic processes associated with the 1.1 Ga midcontinent rift system. J Geophys Res B Solid Earth Planets 98:13997–14013

Panigrahi MK (1992) Copper-molybdenum mineralization and associated granitoids at Malanjkhand, MP, India. PhD thesis, IIT, Kharagpur, p 153

Panigrahi MK, Mookherjee A (1997) The Malanjkhand copper + molybdenum deposit, India: mineralization from a low-temperature ore fluid of granitoid affiliation. Miner Deposita 32:133–148

Panigrahi MK, Mookherjee A (1998) The Malanjkhand, copper + molybdenum deposit, India: mineralization from a low-temperature ore fluid of granitoid affiliation: a reply. Miner Deposita 33:430–432

Panigrahi MK, Mishra B, Mookherjee A (1991) Ore mineralogy and fluid inclusion characteristics of different ore associations from Malanjkhand copper deposit, MP, India. J Geol Soc India 37:239–256

Panigrahi MK, Mookherjee A, Pantulu GVC, Gopalan K (1993) Granitoids around the Malanjkhand copper deposit: types and age relationship. Proc Ind Acad Sci Earth Planet Sci 102:399–413

Panigrahi MK, Misra KC, Bream B, Naik RK (2002) Genesis of the granitoid affiliated copper mineralization at Malanjkhand, Central India: facts and problems. In: 11th IAGOD symposium and GEOCONGRESS (ext. abstract), Windhoek, p 7

Rai KL, Venkatesh AS (1990) Malanjkhand copper deposit—a petrological and geochemical appraisal. Geol Surv India Spec Publ 28:563–584

Romer RL (1994) Rb-Sr data structure—a possible cause for differences in Rb-Sr whole rock and U-Pb zircon ages. GFF 116:93–103

Roy A, Prasad MH (2003) Tectonothermal events in Central Indian Tectonic Zone (CITZ) and its implications in Rodinia crustal assembly. J Asian Earth Sci 22:115–129

Sarkar SC, Kabiraj S, Bhattacharya S, Pal AB (1996) Nature, origin and evolution of granitoid-hosted early Proterozoic copper-molybdenum mineralization at Malanjkhand, Central India. Miner Deposita 31:419–431

Schaltegger U (1990) Post-magmatic resetting of Rb-Sr whole rock ages—a study in the Central Aar granitoids Central Alps, Switzerland. Geologische Rdschau 79:709–724

Seidemann DE, Sikka DB, Nehru CE (1992) The geochronology of the Malanjkhand porphyry copper deposit, MP, India.In: Abstracts of first South Asia geological congress, Islamabad

Sikka DB (1989) Malanjkhand Proterozoic porphyry copper deposit, MP, India. J Geol Soc India 34:487–504

Sikka DB, Nehru CE (1997) Review of Precambrian porphyry Cu±Mo±Au deposits with special reference to Malanjkhand porphyry copper deposit, Madhya Pradesh, India. J Geol Soc India 49:239–288

Sikka DB, Nehru CE (1998) Comment on the article by M. K.Panigrahi and A. Mookherjee "The Malanjkhand copper (+molybdenum) deposit, India: mineralization from a low-temperature ore fluid of granitoid affiliation". Miner Deposita 32:425–429

Sikka DB, Nehru CE (2002) Malanjkhand copper deposit, India: is it not a porphyry type? J Geol Soc India 59:339–362

Stacey JS, Kramers JD (1975) Approximation of terrestrial lead isotope evolution by a two-stage model. Earth Planet Sci Lett 26:207–221

Tarney J, Weaver B, Drury SA (1979) Geochemistry of Archean trondjhemitic and tonalitic gneisses from Scotland and East Greenland. In: Barker F (ed) Trondjhemites, dacites and related rocks. Amsterdam, Elsevier, pp 275–290

Vavra G (1990) On the kinematics of zircon growth, its petrogenetic significance; a cathodoluminescence study. Contrib Miner Petrol 106:90–99

Wendt I, Carl C (1991) A statistical distribution of the mean squared weighted deviation. Chem Geol Isotope Geosc Sect 86:275–285

Zimmerman A, Stein HJ, Markey RJ, Hannah JL, Sarkar SC, Pal AB (2002) Re-Os dating of the Malanjkhand Cu Mo deposit in Central India: tracking formation, deformation during the late Archean-early Proterozoic. Geol Soc Am Abstr Programs 34:187
Acknowledgments
The authors acknowledge the cooperation and encouragement received from the personnel of Malanjkhand Copper Project, at Malanjkhand. MKP and KCM acknowledge support from the Department of Geology and Geophysics, IIT, Kharagpur and the Department of Earth and Planetary Sciences, University of Tennessee, Knoxville, respectively, for fieldwork. BRB gratefully acknowledges Joe Wooden and Anders Meibom for assistance with the SHRIMP RG, Allan Patchen for assistance with the UTK electron microprobe, the University of Tennessee Science Alliance Center of Excellence for funding, and Profs. Robert Hatcher Jr and Calvin Miller for their encouragement with regard to the time commitment for this project. RKN acknowledges financial support from the Institute in the form of a Research Fellowship. We are thankful to Prof. Bernd Lehmann for his comments and suggestions for improvement of the quality of the manuscript.
About this article
Cite this article
Panigrahi, M.K., Bream, B.R., Misra, K.C. et al. Age of granitic activity associated with copper–molybdenum mineralization at Malanjkhand, Central India. Miner Deposita 39, 670–677 (2004). https://doi.org/10.1007/s00126-004-0441-0
Received:

Accepted:

Published:

Issue Date:

DOI: https://doi.org/10.1007/s00126-004-0441-0
Keywords