Abstract
Aims/hypothesis
Transcriptome analyses revealed insulin-gene-derived transcripts in non-beta endocrine islet cells. We studied alternative splicing of human INS mRNA in pancreatic islets.
Methods
Alternative splicing of insulin pre-mRNA was determined by PCR analysis performed on human islet RNA and single-cell RNA-seq analysis. Antisera were generated to detect insulin variants in human pancreatic tissue using immunohistochemistry, electron microscopy and single-cell western blot to confirm the expression of insulin variants. Cytotoxic T lymphocyte (CTL) activation was determined by MIP-1β release.
Results
We identified an alternatively spliced INS product. This variant encodes the complete insulin signal peptide and B chain and an alternative C-terminus that largely overlaps with a previously identified defective ribosomal product of INS. Immunohistochemical analysis revealed that the translation product of this INS-derived splice transcript was detectable in somatostatin-producing delta cells but not in beta cells; this was confirmed by light and electron microscopy. Expression of this alternatively spliced INS product activated preproinsulin-specific CTLs in vitro. The exclusive presence of this alternatively spliced INS product in delta cells may be explained by its clearance from beta cells by insulin-degrading enzyme capturing its insulin B chain fragment and a lack of insulin-degrading enzyme expression in delta cells.
Conclusions/interpretation
Our data demonstrate that delta cells can express an INS product derived from alternative splicing, containing both the diabetogenic insulin signal peptide and B chain, in their secretory granules. We propose that this alternative INS product may play a role in islet autoimmunity and pathology, as well as endocrine or paracrine function or islet development and endocrine destiny, and transdifferentiation between endocrine cells. INS promoter activity is not confined to beta cells and should be used with care when assigning beta cell identity and selectivity.
Data availability
The full EM dataset is available via www.nanotomy.org (for review: http://www.nanotomy.org/OA/Tienhoven2021SUB/6126-368/). Single-cell RNA-seq data was made available by Segerstolpe et al [13] and can be found at https://sandberglab.se/pancreas. The RNA and protein sequence of INS-splice was uploaded to GenBank (BankIt2546444 INS-splice OM489474).
Graphical abstract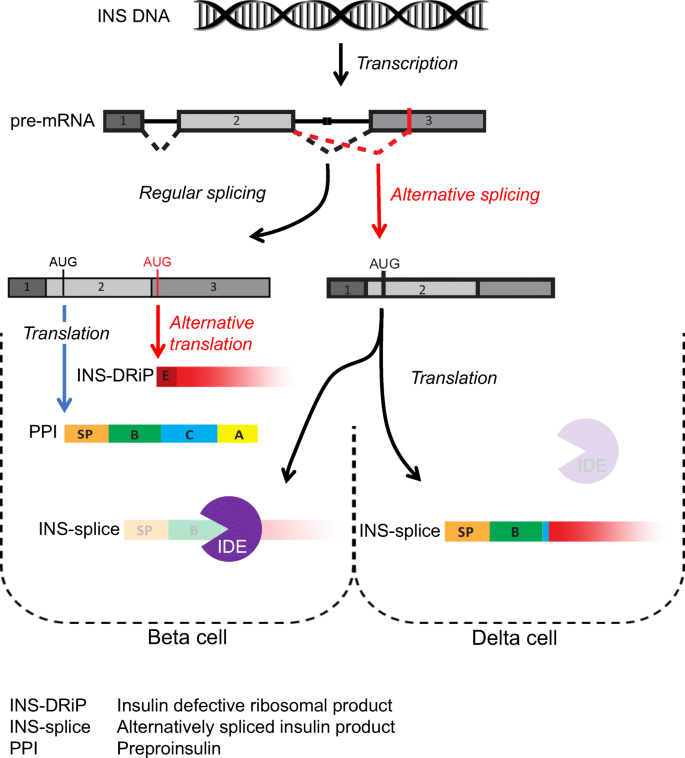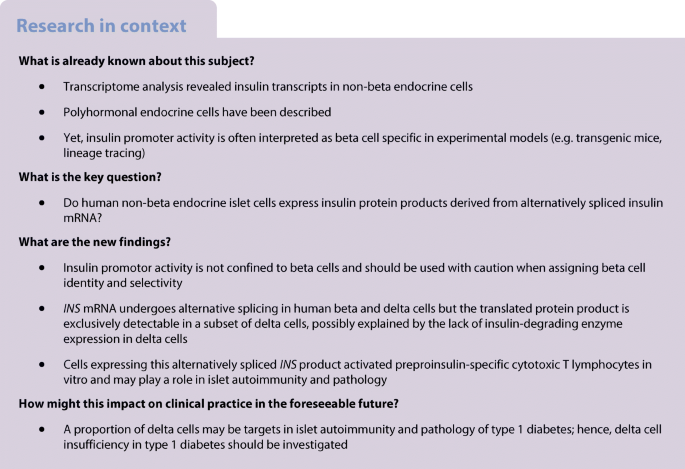 Abbreviations
CTL:

Cytotoxic T lymphocyte

EM:

Electron microscopy

ER:

Endoplasmic reticulum

IDE:

Insulin-degrading enzyme

INS-DRiP:

Insulin defective ribosomal product

INS-splice:

Alternatively spliced insulin product

MCC:

Manders co-localisation coefficient

PPI:

Preproinsulin

MIP-1β:

Macrophage inflammatory protein-1 β
Acknowledgements
The authors are grateful for the expert technical assistance provided by the following people: H. A. M. Töns, J. Prins, T. J. M. Pool and S. J. Cramer (Leiden University Medical Center, the Netherlands); and L. Miao and B. Armstrong (City of Hope National Medical Center, USA). We also thank P. T. Fueger and I. H. Al-Abdullah (City of Hope National Medical Center, USA) for providing paraffin coupes of endocrine tissue. Human pancreatic islets were provided by the NIDDK-funded Integrated Islet Distribution Program (IIDP) (RRID:SCR _014387) at City of Hope National Medical Center, NIH Grant no. U24DK098085. The content and views expressed are the responsibility of the authors and do not necessarily reflect the official view of nPOD. Some of the data were presented as an abstract at the Western Region Islet Study Group Meeting in 2021.
Authors' relationships and activities
The authors declare that there are no relationships or activities that might bias, or be perceived to bias, their work.
Contribution statement
BOR, AZ and ARvdS conceived and designed the work. RvT and MJLK drafted the manuscript. BOR and AZ interpreted the data, revised the manuscript and supervised the project together with RCH. RvT, MJLK, ARvdS, ST, AHGW, JPRR and MSN acquired and analysed the data. AHGW and BNGG performed EM and analysed the data. JPRR analysed the single-cell RNA-seq data. MSN wrote the QuPath script and analysed immunohistochemical data. FC and EJPK supervised the human islet isolation and analyses. All co-authors contributed to discussions about and revisions of the manuscript, assume personal accountability for their own contributions and approved the final version of this work. BOR and AZ are the guarantors of this work and take full responsibility for the manuscript.
Funding
This work was supported by the ZonMW grant 91111.006. We acknowledge Stichting DON and the Dutch Diabetes Research Foundation, the Network for Pancreatic Organ donors with Diabetes (nPOD; RRID:SCR_014641), a collaborative type 1 diabetes research project supported by JDRF (nPOD: 5-SRA-2018-557-Q-R) and The Leona M. & Harry B. Helmsley Charitable Trust (grant no. 2018PG-T1D053, G-2108-04793). This work was supported by the Wanek Family Project for Type 1 Diabetes and the IMI2-JU under grant agreement no. 115797 (INNODIA).
Additional information
Publisher's note
Springer Nature remains neutral with regard to jurisdictional claims in published maps and institutional affiliations.
René van Tienhoven and Maria J. L. Kracht are joint first authors.
Supplementary information
3D reconstruction of insulin B-chain expressing delta cell. Pancreas section was stained for insulin (green), insulin B-chain (white), somatostatin (red) and Hoechst (blue). 3D colocalization analysis was performed using Imaris 9.7.1 software and a video was created using Amira 2019.1 software. Insulin B-chain was shown inside the delta cell (MP4 11.3 MB)
Rights and permissions
Open Access This article is licensed under a Creative Commons Attribution 4.0 International License, which permits use, sharing, adaptation, distribution and reproduction in any medium or format, as long as you give appropriate credit to the original author(s) and the source, provide a link to the Creative Commons licence, and indicate if changes were made. The images or other third party material in this article are included in the article's Creative Commons licence, unless indicated otherwise in a credit line to the material. If material is not included in the article's Creative Commons licence and your intended use is not permitted by statutory regulation or exceeds the permitted use, you will need to obtain permission directly from the copyright holder. To view a copy of this licence, visit http://creativecommons.org/licenses/by/4.0/.
About this article
Cite this article
van Tienhoven, R., Kracht, M.J.L., van der Slik, A.R. et al. Presence of immunogenic alternatively spliced insulin gene product in human pancreatic delta cells. Diabetologia 66, 884–896 (2023). https://doi.org/10.1007/s00125-023-05882-y
Received:

Accepted:

Published:

Issue Date:

DOI: https://doi.org/10.1007/s00125-023-05882-y
Keywords
Alternative splicing

Alternative translation

Beta cell

Defective ribosomal product

Delta cell

Human islets of Langerhans

Insulin gene

Insulin-degrading enzyme

Type 1 diabetes