Abstract
Aims/hypothesis
Methods to identify individuals at highest risk for type 1 diabetes are essential for the successful implementation of disease-modifying interventions. Simple metabolic measures are needed to help stratify autoantibody-positive (Aab+) individuals who are at risk of developing type 1 diabetes. HOMA2-B is a validated mathematical tool commonly used to estimate beta cell function in type 2 diabetes using fasting glucose and insulin. The utility of HOMA2-B in association with type 1 diabetes progression has not been tested.
Methods
Baseline HOMA2-B values from single-Aab+ (n = 2652; mean age, 21.1 ± 14.0 years) and multiple-Aab+ (n = 3794; mean age, 14.5 ± 11.2 years) individuals enrolled in the TrialNet Pathway to Prevention study were compared. Cox proportional hazard models were used to determine associations between HOMA2-B tertiles and time to progression to type 1 diabetes, with adjustments for age, sex, HLA status and BMI z score. Receiver operating characteristic (ROC) analysis was used to test the association of HOMA2-B with type 1 diabetes development in 1, 2, 5 and 10 years.
Results
At study entry, HOMA2-B values were higher in single- compared with multiple-Aab+ Pathway to Prevention participants (91.1 ± 44.5 vs 83.9 ± 38.9; p < 0.001). Single- and multiple-Aab+ individuals in the lowest HOMA2-B tertile had a higher risk and faster rate of progression to type 1 diabetes. For progression to type 1 diabetes within 1 year, area under the ROC curve (AUC-ROC) was 0.685, 0.666 and 0.680 for all Aab+, single-Aab+ and multiple-Aab+ individuals, respectively. When correlation between HOMA2-B and type 1 diabetes risk was assessed in combination with additional factors known to influence type 1 diabetes progression (insulin sensitivity, age and HLA status), AUC-ROC was highest for the single-Aab+ group's risk of progression at 2 years (AUC-ROC 0.723 [95% CI 0.652, 0.794]).
Conclusions/interpretation
These data suggest that HOMA2-B may have utility as a single-time-point measurement to stratify risk of type 1 diabetes development in Aab+ individuals.
Graphical abstract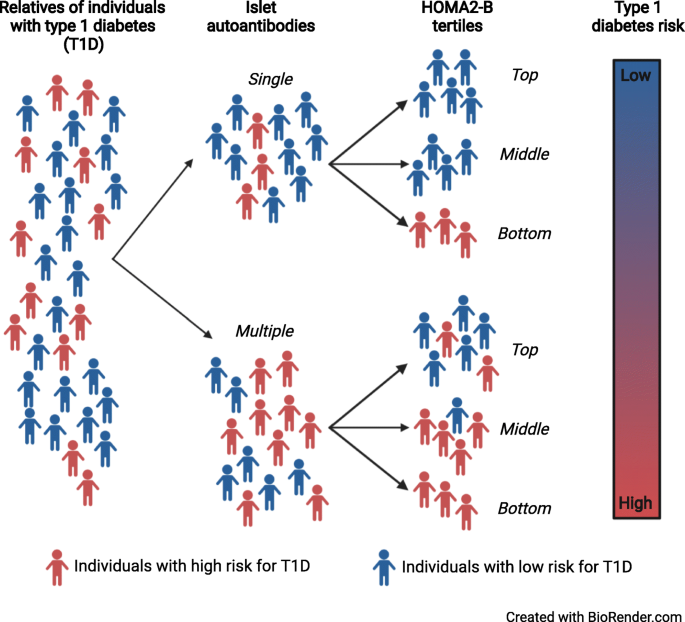 Access options
Buy single article
Instant access to the full article PDF.
USD 39.95
Price includes VAT (USA)
Tax calculation will be finalised during checkout.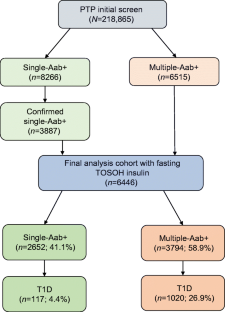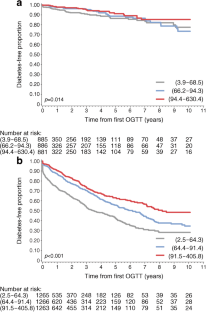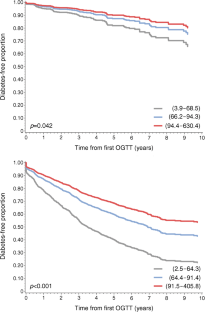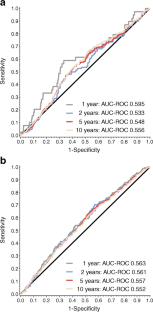 Data availability
The datasets analysed during the current study are available from the corresponding author on reasonable request.
Abbreviations
Aab+:

Autoantibody positive

AUC-ROC:

Area under the receiver operating characteristic curve

DPT-1:

Diabetes Prevention Trial – Type 1

FPIR:

First-phase insulin response

IA-2:

Islet antigen-2

ICA:

Islet cell autoantibody

mIAA:

Micro-insulin autoantibody

ROC:

Receiver operating characteristic

ZnT8:

Zinc transporter 8
Acknowledgements
The authors thank M. Cleves, within the Health Informatics Institute, University of South Florida (Tampa, FL, USA), for assistance with statistical analysis and data preparation. The Graphical Abstract was created with Biorender.com.
Authors' relationships and activities
The authors declare that there are no relationships or activities that might bias, or be perceived to bias, their work.
Funding
This work was supported by NIH grant R21 DK119800 (CEM), JDRF grant 3-PDF-2019-752-A-N (JLF) and JDRF Australia grant 1-SRA-2020-900 (JMW). We acknowledge the support of the Type 1 Diabetes TrialNet Study Group, which identified study participants and provided samples and follow-up data for this study. The Type 1 Diabetes TrialNet Study Group is a clinical trials network funded by the National Institutes of Health (NIH) through the National Institute of Diabetes and Digestive and Kidney Diseases, the National Institute of Allergy and Infectious Diseases and The Eunice Kennedy Shriver National Institute of Child Health and Human Development, through the cooperative agreements U01 DK061010, U01 DK061034, U01 DK061042, U01 DK061058, U01 DK085453, U01 DK085461, U01 DK085465, U01 DK085466, U01 DK085476, U01 DK085499, U01 DK085504, U01 DK085509, U01 DK103180, U01 DK103153, U01 DK103266, U01 DK103282, U01 DK106984, U01 DK106994, U01 DK107013, U01 DK107014, UC4 DK106993, UC4 DK11700901, U01 DK 106693-02 and the JDRF. The contents of this article are solely the responsibility of the authors and do not necessarily represent the official views of the NIH or the JDRF.
Additional information
Publisher's note
Springer Nature remains neutral with regard to jurisdictional claims in published maps and institutional affiliations.
A complete list of Type 1 Diabetes TrialNet Study Group members is included in the electronic supplementary material (ESM).
Supplementary Information
About this article
Cite this article
Felton, J.L., Cuthbertson, D., Warnock, M. et al. HOMA2-B enhances assessment of type 1 diabetes risk among TrialNet Pathway to Prevention participants. Diabetologia (2021). https://doi.org/10.1007/s00125-021-05573-6
Received:

Accepted:

Published:
Keywords
Autoantibody

Biomarker

HOMA2-B

Risk prediction

TrialNet Pathway to Prevention

Type 1 diabetes