Abstract
Aims/hypothesis
We report the case of a woman who underwent a partial pancreatectomy for a serous cystadenoma when aged 56 years. She had been diagnosed with diabetes 6 years before and had Hashimoto's thyroiditis. Despite positive anti-GAD autoantibodies (GADA) and previous surgery, she was transiently weaned off long-acting insulin. Blood glucose levels remained well controlled with low-dose long-acting insulin. Insulin needs eventually increased 8 years after surgery, in conjunction with anti-zinc transporter 8 (ZnT8) seroconversion and decreasing residual C-peptide. We hypothesised that the surgical pancreas specimens and blood autoimmune T cell responses may provide correlates of this indolent clinical course.
Methods
Beta and alpha cell area and insulitis were quantified on pancreas head tissue sections obtained at surgery. Blood T cell responses against beta cell antigens were analysed by enzyme-linked immunospot.
Results
Pancreas sections displayed reduced beta cell and normal alpha cell area (0.27% and 0.85% of section area, respectively). High-grade insulitis was observed, mostly in insulin-containing islets, with a peri-insulitis pattern enriched in T cells positive for regulatory forkhead box protein 3 (FOXP3). In vitro challenge with beta cell antigens of circulating T cells collected 4 and 9 years after surgery revealed dominant and persistent IL-10 responses; IFN-γ responses increasing at 9 years, after anti-ZnT8 seroconversion, was observed.
Conclusions/interpretation
Despite persistent GADA and the histopathological finding of insulitis and decreased beta cell area 6 years after diabetes diagnosis, glycaemic control was maintained with low-dose insulin up to 8 years after surgery. Regulated T cell responses towards beta cell antigens and FOXP3-positive peri-insulitis suggest spontaneous long-term regulation of islet autoimmunity after substantial beta cell loss, and eventual autoimmune progression upon anti-ZnT8 seroconversion.
Graphical abstract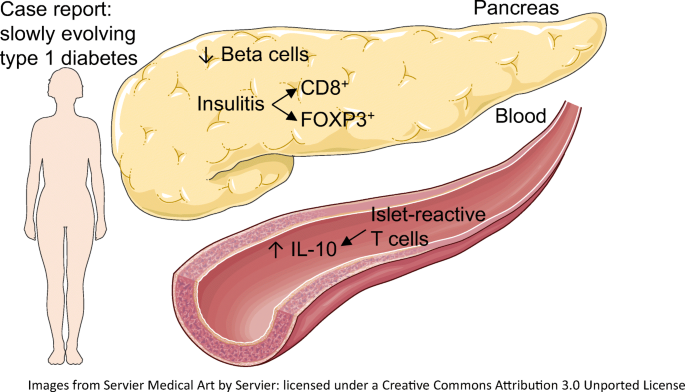 Access options
Buy single article
Instant access to the full article PDF.
US$ 39.95
Tax calculation will be finalised during checkout.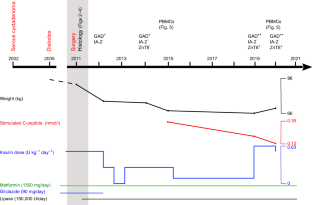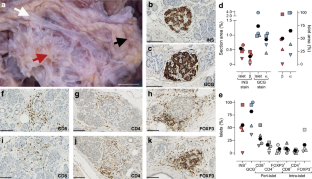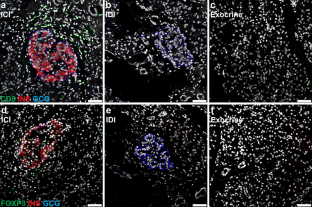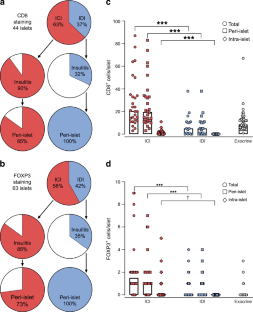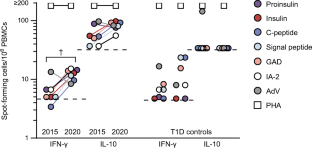 Data availability
Data are available from the authors on request.
Abbreviations
aAb:

Autoantibody

DiViD:

Diabetes Virus Detection

FOXP3:

Forkhead box protein 3

GADA:

GAD autoantibodies

IA-2:

Islet antigen 2

ICI:

Insulin-containing islet

IDI:

Insulin-deficient islet

PBMC:

Peripheral blood mononuclear cell

PHA:

Phytohaemagglutinin

Teff:

Effector T cell

Treg:

Regulatory T cell

ZnT8:

Zinc transporter 8
References
1.

Atkinson MA, Eisenbarth GS, Michels AW (2014) Type 1 diabetes. Lancet 383:69–82. https://doi.org/10.1016/S0140-6736(13)60591-7

2.

Katsarou A, Gudbjornsdottir S, Rawshani A et al (2017) Type 1 diabetes mellitus. Nat Rev Dis Primers 3:17016. https://doi.org/10.1038/nrdp.2017.16

3.

Craig ME, Kim KW, Isaacs SR et al (2019) Early-life factors contributing to type 1 diabetes. Diabetologia 62:1823–1834. https://doi.org/10.1007/s00125-019-4942-x

4.

von Herrath M, Sanda S, Herold K (2007) Type 1 diabetes as a relapsing-remitting disease? Nat Rev Immunol 7:988–994. https://doi.org/10.1038/nri2192

5.

Le Goux C, Vacher S, Pignot G et al (2017) mRNA expression levels of genes involved in antitumor immunity: identification of a 3-gene signature associated with prognosis of muscle-invasive bladder cancer. Oncoimmunology 6:e1358330. https://doi.org/10.1080/2162402X.2017.1358330

6.

Campbell-Thompson ML, Atkinson MA, Butler AE et al (2013) The diagnosis of insulitis in human type 1 diabetes. Diabetologia 56:2541–2543. https://doi.org/10.1007/s00125-013-3043-5

7.

Putnam AL, Brusko TM, Lee MR et al (2009) Expansion of human regulatory T-cells from patients with type 1 diabetes. Diabetes 58:652–662. https://doi.org/10.2337/db08-1168

8.

Martinuzzi E, Afonso G, Gagnerault MC et al (2011) acDCs enhance human antigen-specific T-cell responses. Blood 118:2128–2137. https://doi.org/10.1182/blood-2010-12-326231

9.

Mallone R, Mannering SI, Brooks-Worrell BM et al (2011) Isolation and preservation of peripheral blood mononuclear cells for analysis of islet antigen-reactive T cell responses: position statement of the T-cell workshop Committee of the Immunology of diabetes society. Clin Exp Immunol 163:33–49. https://doi.org/10.1111/j.1365-2249.2010.04272.x

10.

Carré A, Richardson SJ, Larger E, Mallone R (2021) Presumption of guilt for T cells in type 1 diabetes: lead culprits or partners in crime depending on age of onset? Diabetologia 64:15–25. https://doi.org/10.1007/s00125-020-05298-y

11.

Rodriguez-Calvo T, Ekwall O, Amirian N, Zapardiel-Gonzalo J, von Herrath MG (2014) Increased immune cell infiltration of the exocrine pancreas: a possible contribution to the pathogenesis of type 1 diabetes. Diabetes 63:3880–3890. https://doi.org/10.2337/db14-0549

12.

Coppieters KT, Dotta F, Amirian N et al (2012) Demonstration of islet-autoreactive CD8 T cells in insulitic lesions from recent onset and long-term type 1 diabetes patients. J Exp Med 209:51–60. https://doi.org/10.1084/jem.20111187

13.

Arif S, Tree TI, Astill TP et al (2004) Autoreactive T cell responses show proinflammatory polarization in diabetes but a regulatory phenotype in health. J Clin Invest 113:451–463. https://doi.org/10.1172/JCI19585

14.

In't Veld P (2011) Insulitis in human type 1 diabetes: the quest for an elusive lesion. Islets 3:131–138. https://doi.org/10.4161/isl.3.4.15728

15.

Campbell-Thompson M, Fu A, Kaddis JS et al (2016) Insulitis and beta-cell mass in the natural history of type 1 diabetes. Diabetes 65:719–731. https://doi.org/10.2337/db15-0779

16.

Arif S, Leete P, Nguyen V et al (2014) Blood and islet phenotypes indicate immunological heterogeneity in type 1 diabetes. Diabetes 63:3835–3845. https://doi.org/10.2337/db14-0365

17.

Leete P, Mallone R, Richardson SJ, Sosenko JM, Redondo MJ, Evans-Molina C (2018) The effect of age on the progression and severity of type 1 diabetes: potential effects on disease mechanisms. Curr Diab Rep 18:115. https://doi.org/10.1007/s11892-018-1083-4

18.

Imagawa A, Hanafusa T, Tamura S et al (2001) Pancreatic biopsy as a procedure for detecting in situ autoimmune phenomena in type 1 diabetes: close correlation between serological markers and histological evidence of cellular autoimmunity. Diabetes 50:1269–1273. https://doi.org/10.2337/diabetes.50.6.1269

19.

Krogvold L, Wiberg A, Edwin B et al (2016) Insulitis and characterisation of infiltrating T cells in surgical pancreatic tail resections from patients at onset of type 1 diabetes. Diabetologia 59:492–501. https://doi.org/10.1007/s00125-015-3820-4

20.

Diedisheim M, Mallone R, Boitard C, Larger E (2016) beta-cell mass in nondiabetic autoantibody-positive subjects: an analysis based on the network for pancreatic organ donors database. J Clin Endocrinol Metab 101:1390–1397. https://doi.org/10.1210/jc.2015-3756

21.

Cabrera O, Berman DM, Kenyon NS, Ricordi C, Berggren PO, Caicedo A (2006) The unique cytoarchitecture of human pancreatic islets has implications for islet cell function. Proc Natl Acad Sci U S A 103:2334–2339. https://doi.org/10.1073/pnas.0510790103

22.

Brissova M, Fowler MJ, Nicholson WE et al (2005) Assessment of human pancreatic islet architecture and composition by laser scanning confocal microscopy. J Histochem Cytochem 53:1087–1097. https://doi.org/10.1369/jhc.5C6684.2005

23.

Poudel A, Savari O, Striegel DA et al (2015) Beta-cell destruction and preservation in childhood and adult onset type 1 diabetes. Endocrine 49:693–702. https://doi.org/10.1007/s12020-015-0534-9

24.

In't Veld P, Lievens D, De Grijse J et al (2007) Screening for insulitis in adult autoantibody-positive organ donors. Diabetes 56:2400–2404. https://doi.org/10.2337/db07-0416

25.

Rodriguez-Calvo T, Richardson SJ, Pugliese A (2018) Pancreas pathology during the natural history of type 1 diabetes. Curr Diab Rep 18:124. https://doi.org/10.1007/s11892-018-1084-3

26.

Willcox A, Richardson SJ, Bone AJ, Foulis AK, Morgan NG (2009) Analysis of islet inflammation in human type 1 diabetes. Clin Exp Immunol 155:173–181. https://doi.org/10.1111/j.1365-2249.2008.03860.x

27.

Tree TI, Lawson J, Edwards H et al (2010) Naturally arising human CD4 T cells that recognize islet autoantigens and secrete IL-10 regulate pro-inflammatory T cell responses via linked suppression. Diabetes 59:1451–1460. https://doi.org/10.2337/db09-0503

28.

Oleinika K, Nibbs RJ, Graham GJ, Fraser AR (2013) Suppression, subversion and escape: the role of regulatory T cells in cancer progression. Clin Exp Immunol 171:36–45. https://doi.org/10.1111/j.1365-2249.2012.04657.x

29.

Van Laethem JL, Resibois A, Rickaert F et al (1997) Different expression of transforming growth factor beta 1 in pancreatic ductal adenocarcinoma and cystic neoplasms. Pancreas 15:41–47. https://doi.org/10.1097/00006676-199707000-00006

30.

Grinberg-Bleyer Y, Saadoun D, Baeyens A et al (2010) Pathogenic T cells have a paradoxical protective effect in murine autoimmune diabetes by boosting Tregs. J Clin Invest 120:4558–4568. https://doi.org/10.1172/JCI42945

31.

Biondi B, Cooper DS (2018) Subclinical hyperthyroidism. N Engl J Med 378:2411–2419. https://doi.org/10.1056/NEJMcp1709318

32.

Van den Driessche A, Eenkhoorn V, Van Gaal L, De Block C (2009) Type 1 diabetes and autoimmune polyglandular syndrome: a clinical review. Neth J Med 67:376–387

33.

Merbl Y, Zucker-Toledano M, Quintana FJ, Cohen IR (2007) Newborn humans manifest autoantibodies to defined self molecules detected by antigen microarray informatics. J Clin Invest 117:712–718. https://doi.org/10.1172/JCI29943

34.

Sorgjerd EP, Skorpen F, Kvaloy K, Midthjell K, Grill V (2012) Time dynamics of autoantibodies are coupled to phenotypes and add to the heterogeneity of autoimmune diabetes in adults: the HUNT study, Norway. Diabetologia 55:1310–1318. https://doi.org/10.1007/s00125-012-2463-y

35.

Occhipinti M, Lampasona V, Vistoli F et al (2011) Zinc transporter 8 autoantibodies increase the predictive value of islet autoantibodies for function loss of technically successful solitary pancreas transplant. Transplantation 92:674–677. https://doi.org/10.1097/TP.0b013e31822ae65f

36.

Ehlers MR (2018) Who let the dogs out? The ever-present threat of autoreactive T cells. Sci Immunol 3. https://doi.org/10.1126/sciimmunol.aar6602

37.

Mallone R, Eizirik DL (2020) Presumption of innocence for beta cells: why are they vulnerable autoimmune targets in type 1 diabetes? Diabetologia 63:1999–2006. https://doi.org/10.1007/s00125-020-05176-7
Acknowledgements
We thank R. Scharfmann (Inserm U1016, Cochin Institute, Paris) for reviewing the manuscript.
Authors' relationships and activities
The authors declare that there are no relationships or activities that might bias, or be perceived to bias, their work.
Funding
This work was performed within the Département Hospitalo-Universitaire (DHU) AutHorS and supported by grants from the JDRF (2-SRA-2016-164-Q-R), the Fondation pour la Recherche Medicale (EQU20193007831), the Agence Nationale de la Recherche (ANR-19-CE15–0014-01) and the Innovative Medicines Initiative 2 Joint Undertaking under grant agreements 115797 and 945268 (INNODIA and INNODIA HARVEST), which receive support from the EU Horizon 2020 programme, the European Federation of Pharmaceutical Industries and Associations, JDRF and The Leona M. & Harry B. Helmsley Charitable Trust. ZZ is supported by JDRF Postdoctoral Fellowship 3-PDF-2020-942-A-N. The funding sources had no involvement in study design, collection, analysis and interpretation of data, writing of the report or in the decision to submit the manuscript.
Additional information
Publisher's note
Springer Nature remains neutral with regard to jurisdictional claims in published maps and institutional affiliations.
Supplementary Information
About this article
Cite this article
Faucher, P., Beuvon, F., Fignani, D. et al. Immunoregulated insulitis and slow-progressing type 1 diabetes after duodenopancreatectomy. Diabetologia (2021). https://doi.org/10.1007/s00125-021-05563-8
Received:

Accepted:

Published:
Keywords
Autoimmunity

Duodenopancreatectomy

Insulin secretion

Regulatory T cells

Type 1 diabetes