Abstract
Aims/hypothesis
We and others previously reported the presence of tertiary lymphoid organs (TLOs) in the pancreas of NOD mice, where they play a role in the development of type 1 diabetes. Our aims here are to investigate whether TLOs are present in the pancreas of individuals with type 1 diabetes and to characterise their distinctive features, in comparison with TLOs present in NOD mouse pancreases, in order to interpret their functional significance.
Methods
Using immunofluorescence confocal microscopy, we examined the extracellular matrix (ECM) and cellular constituents of pancreatic TLOs from individuals with ongoing islet autoimmunity in three distinct clinical settings of type 1 diabetes: at risk of diabetes; at/after diagnosis; and in the transplanted pancreas with recurrent diabetes. Comparisons were made with TLOs from 14-week-old NOD mice, which contain islets exhibiting mild to heavy leucocyte infiltration. We determined the frequency of the TLOs in human type 1diabetes with insulitis and investigated the presence of TLOs in relation to age of onset, disease duration and disease severity.
Results
TLOs were identified in preclinical and clinical settings of human type 1 diabetes. The main characteristics of these TLOs, including the cellular and ECM composition of reticular fibres (RFs), the presence of high endothelial venules and immune cell subtypes detected, were similar to those observed for TLOs from NOD mouse pancreases. Among 21 donors with clinical type 1 diabetes who exhibited insulitis, 12 had TLOs and had developed disease at younger age compared with those lacking TLOs. Compartmentalised TLOs with distinct T cell and B cell zones were detected in donors with short disease duration. Overall, TLOs were mainly associated with insulin-containing islets and their frequency decreased with increasing severity of beta cell loss. Parallel studies in NOD mice further revealed some differences in so far as regulatory T cells were essentially absent from human pancreatic TLOs and CCL21 was not associated with RFs.
Conclusions/interpretation
We demonstrate a novel feature of pancreas pathology in type 1 diabetes. TLOs represent a potential site of autoreactive effector T cell generation in islet autoimmunity and our data from mouse and human tissues suggest that they disappear once the destructive process has run its course. Thus, TLOs may be important for type 1 diabetes progression.
Graphical abstract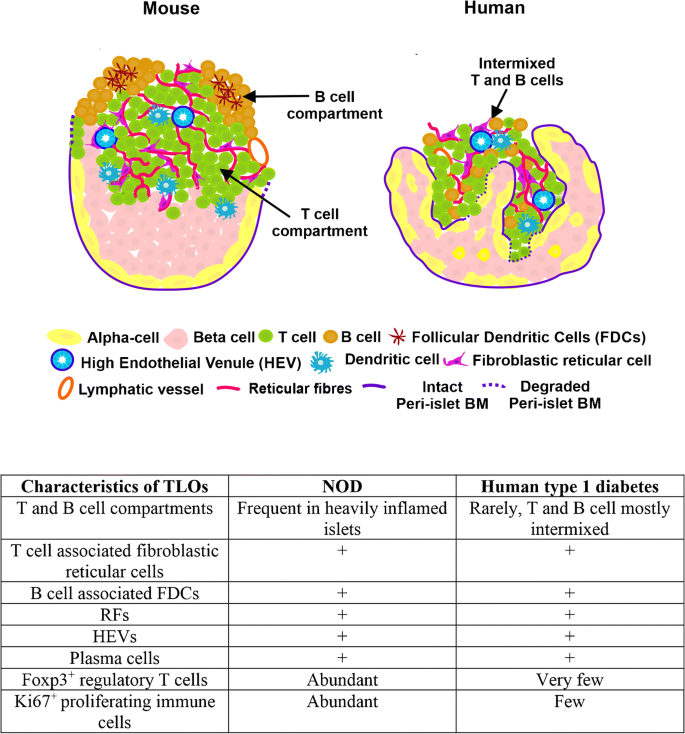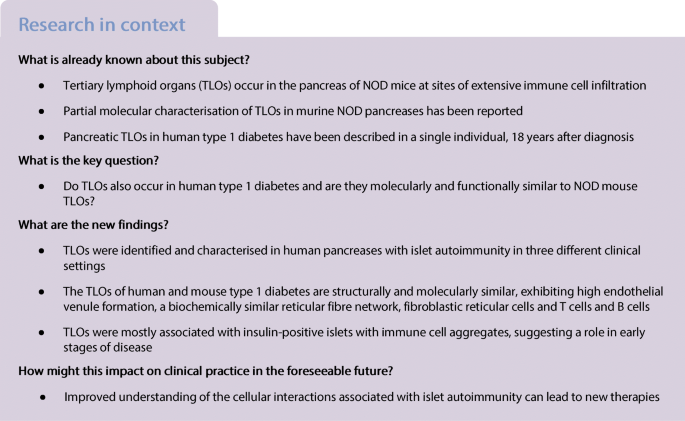 Data availability
Further information about the data are available from the corresponding author upon request.
Abbreviations
aAb:

Autoantibody

BM:

Basement membrane

EADB:

Exeter Archival Diabetes Biobank

ECM:

Extracellular matrix

FDC:

Follicular dendritic cell

FRC:

Fibroblastic reticular cell

FOXP3:

Forkhead box P3

GADA:

GAD aAb

HEV:

High endothelial venule

IAA:

Insulin aAb

IA-2A:

Tyrosine phosphatase-related islet antigen 2 aAb

LN:

Lymph node

nPOD:

Network for Pancreatic Organ Donors with Diabetes

PDGFrβ:

Platelet-derived growth factor receptor β

PLM:

Pan-laminin

RF:

Reticular fibre

SPK:

Simultaneous pancreas and kidney

TLO:

Tertiary lymphoid organ

ZnT8A:

Zinc transporter 8 aAb
References
Drayton DL, Liao S, Mounzer RH, Ruddle NH (2006) Lymphoid organ development: from ontogeny to neogenesis. Nat Immunol 7(4):344–353. https://doi.org/10.1038/ni1330

Ulrichs T, Kosmiadi GA, Trusov V et al (2004) Human tuberculous granulomas induce peripheral lymphoid follicle-like structures to orchestrate local host defence in the lung. J Pathol 204(2):217–228. https://doi.org/10.1002/path.1628

Slight SR, Rangel-Moreno J, Gopal R et al (2013) CXCR5(+) T helper cells mediate protective immunity against tuberculosis. J Clin Invest 123(2):712–726. https://doi.org/10.1172/JCI65728

Sautes-Fridman C, Petitprez F, Calderaro J, Fridman WH (2019) Tertiary lymphoid structures in the era of cancer immunotherapy. Nat Rev Cancer 19(6):307–325. https://doi.org/10.1038/s41568-019-0144-6

Corsiero E, Nerviani A, Bombardieri M, Pitzalis C (2016) Ectopic Lymphoid Structures: Powerhouse of Autoimmunity. Front Immunol 7:430. https://doi.org/10.3389/fimmu.2016.00430

Shipman WD, Dasoveanu DC, Lu TT (2017) Tertiary lymphoid organs in systemic autoimmune diseases: pathogenic or protective? F1000Res 6:196. https://doi.org/10.12688/f1000research.10595.1

Aloisi F, Pujol-Borrell R (2006) Lymphoid neogenesis in chronic inflammatory diseases. Nat Rev Immunol 6(3):205–217. https://doi.org/10.1038/nri1786

Sixt M, Kanazawa N, Selg M et al (2005) The conduit system transports soluble antigens from the afferent lymph to resident dendritic cells in the T cell area of the lymph node. Immunity 22(1):19–29. https://doi.org/10.1016/j.immuni.2004.11.013

Lokmic Z, Lammermann T, Sixt M, Cardell S, Hallmann R, Sorokin L (2008) The extracellular matrix of the spleen as a potential organizer of immune cell compartments. Semin Immunol 20(1):4–13. https://doi.org/10.1016/j.smim.2007.12.009

Anderson ND, Anderson AO, Wyllie RG (1976) Specialized structure and metabolic activities of high endothelial venules in rat lymphatic tissues. Immunology 31(3):455–473

Ruddle NH (2016) High Endothelial Venules and Lymphatic Vessels in Tertiary Lymphoid Organs: Characteristics, Functions, and Regulation. Front Immunol 7:491. https://doi.org/10.3389/fimmu.2016.00491

Bajenoff M, Egen JG, Koo LY et al (2006) Stromal cell networks regulate lymphocyte entry, migration, and territoriality in lymph nodes. Immunity 25(6):989–1001. https://doi.org/10.1016/j.immuni.2006.10.011

Gretz JE, Norbury CC, Anderson AO, Proudfoot AE, Shaw S (2000) Lymph-borne chemokines and other low molecular weight molecules reach high endothelial venules via specialized conduits while a functional barrier limits access to the lymphocyte microenvironments in lymph node cortex. J Exp Med 192(10):1425–1440. https://doi.org/10.1084/jem.192.10.1425

Bajenoff M, Glaichenhaus N, Germain RN (2008) Fibroblastic reticular cells guide T lymphocyte entry into and migration within the splenic T cell zone. J Immunol 181(6):3947–3954. https://doi.org/10.4049/jimmunol.181.6.3947

Penaranda C, Tang Q, Ruddle NH, Bluestone JA (2010) Prevention of diabetes by FTY720-mediated stabilization of peri-islet tertiary lymphoid organs. Diabetes 59(6):1461–1468. https://doi.org/10.2337/db09-1129

Kendall PL, Yu G, Woodward EJ, Thomas JW (2007) Tertiary lymphoid structures in the pancreas promote selection of B lymphocytes in autoimmune diabetes. J Immunol 178(9):5643–5651. https://doi.org/10.4049/jimmunol.178.9.5643

Link A, Hardie DL, Favre S et al (2011) Association of T-zone reticular networks and conduits with ectopic lymphoid tissues in mice and humans. Am J Pathol 178(4):1662–1675. https://doi.org/10.1016/j.ajpath.2010.12.039

Smeets S, Staels W, Stange G, Gillard P, De Leu N, In't Veld P (2020) Insulitis and lymphoid structures in the islets of Langerhans of a 66-year-old patient with long-standing type 1 diabetes. Virchows Arch. https://doi.org/10.1007/s00428-020-02915-4

Insel RA, Dunne JL, Atkinson MA et al (2015) Staging presymptomatic type 1 diabetes: a scientific statement of JDRF, the Endocrine Society, and the American Diabetes Association. Diabetes Care 38(10):1964–1974. https://doi.org/10.2337/dc15-1419

Vendrame F, Pileggi A, Laughlin E et al (2010) Recurrence of type 1 diabetes after simultaneous pancreas-kidney transplantation, despite immunosuppression, is associated with autoantibodies and pathogenic autoreactive CD4 T-cells. Diabetes 59(4):947–957. https://doi.org/10.2337/db09-0498

Pugliese A, Reijonen HK, Nepom J, Burke GW 3rd (2011) Recurrence of autoimmunity in pancreas transplant patients: research update. Diabetes Manag (Lond) 1(2):229–238. https://doi.org/10.2217/dmt.10.21

Korpos E, Kadri N, Kappelhoff R et al (2013) The peri-islet basement membrane, a barrier to infiltrating leukocytes in type 1 diabetes in mouse and human. Diabetes 62(2):531–542. https://doi.org/10.2337/db12-0432

Campbell-Thompson ML, Atkinson MA, Butler AE et al (2013) The diagnosis of insulitis in human type 1 diabetes. Diabetologia 56(11):2541–2543. https://doi.org/10.1007/s00125-013-3043-5

Arfuso F (2006) A study of physiologic angiogenesis in the human using the dental pulp as an in vivo model. Endothelium 13(5):359–363. https://doi.org/10.1080/10623320600972101

Campbell-Thompson M, Wasserfall C, Kaddis J et al (2012) Network for Pancreatic Organ Donors with Diabetes (nPOD): developing a tissue biobank for type 1 diabetes. Diabetes Metab Res Rev 28(7):608–617. https://doi.org/10.1002/dmrr.2316

Morgan NG, Richardson SJ (2018) Fifty years of pancreatic islet pathology in human type 1 diabetes: insights gained and progress made. Diabetologia 61(12):2499–2506. https://doi.org/10.1007/s00125-018-4731-y

Gretz JE, Kaldjian EP, Anderson AO, Shaw S (1996) Sophisticated strategies for information encounter in the lymph node: the reticular network as a conduit of soluble information and a highway for cell traffic. J Immunol 157(2):495–499

Kaldjian EP, Gretz JE, Anderson AO, Shi Y, Shaw S (2001) Spatial and molecular organization of lymph node T cell cortex: a labyrinthine cavity bounded by an epithelium-like monolayer of fibroblastic reticular cells anchored to basement membrane-like extracellular matrix. Int Immunol 13(10):1243–1253. https://doi.org/10.1093/intimm/13.10.1243

Link A, Vogt TK, Favre S et al (2007) Fibroblastic reticular cells in lymph nodes regulate the homeostasis of naive T cells. Nat Immunol 8(11):1255–1265. https://doi.org/10.1038/ni1513

Tew JG, Kosco MH, Burton GF, Szakal AK (1990) Follicular dendritic cells as accessory cells. Immunol Rev 117:185–211. https://doi.org/10.1111/j.1600-065x.1990.tb00573.x

Heesters BA, Myers RC, Carroll MC (2014) Follicular dendritic cells: dynamic antigen libraries. Nat Rev Immunol 14(7):495–504. https://doi.org/10.1038/nri3689

Lee Y, Chin RK, Christiansen P et al (2006) Recruitment and activation of naive T cells in the islets by lymphotoxin beta receptor-dependent tertiary lymphoid structure. Immunity 25(3):499–509. https://doi.org/10.1016/j.immuni.2006.06.016

D'Alise AM, Auyeung V, Feuerer M et al (2008) The defect in T-cell regulation in NOD mice is an effect on the T-cell effectors. Proc Natl Acad Sci U S A 105(50):19857–19862. https://doi.org/10.1073/pnas.0810713105

Vendrame F, Hopfner YY, Diamantopoulos S et al (2016) Risk Factors for Type 1 Diabetes Recurrence in Immunosuppressed Recipients of Simultaneous Pancreas-Kidney Transplants. Am J Transplant 16(1):235–245. https://doi.org/10.1111/ajt.13426

In't Veld P (2014) Insulitis in human type 1 diabetes: a comparison between patients and animal models. Semin Immunopathol 36(5):569–579. https://doi.org/10.1007/s00281-014-0438-4

Campbell-Thompson M, Fu A, Kaddis JS et al (2016) Insulitis and beta-Cell Mass in the Natural History of Type 1 Diabetes. Diabetes 65(3):719–731. https://doi.org/10.2337/db15-0779

MacLennan IC (1994) Germinal centers. Annu Rev Immunol 12:117–139. https://doi.org/10.1146/annurev.iy.12.040194.001001

Leete P, Willcox A, Krogvold L et al (2016) Differential Insulitic Profiles Determine the Extent of beta-Cell Destruction and the Age at Onset of Type 1 Diabetes. Diabetes 65(5):1362–1369. https://doi.org/10.2337/db15-1615

Craig ME, Kim KW, Isaacs SR et al (2019) Early-life factors contributing to type 1 diabetes. Diabetologia 62(10):1823–1834. https://doi.org/10.1007/s00125-019-4942-x

Martin-Pagola A, Sisino G, Allende G et al (2008) Insulin protein and proliferation in ductal cells in the transplanted pancreas of patients with type 1 diabetes and recurrence of autoimmunity. Diabetologia 51(10):1803–1813. https://doi.org/10.1007/s00125-008-1105-x
Acknowledgements
This work was performed with the help of the nPOD (RRID: SCR_014641), a collaborative type 1 diabetes research project sponsored by JDRF (nPOD: 5-SRA-2018-557-Q-R) and the Leona M. & Harry B. Helmsley Charitable Trust (grant no. 2018PG-T1D053). The content and views expressed are the responsibility of the authors and do not necessarily reflect the official view of nPOD. Organ Procurement Organizations (OPO) partnering with nPOD to provide research resources are listed at http://www.jdrfnpod.org/for-partners/npod-partners. We are thankful to nPOD and EADB for providing us with precious donor samples. We are grateful to organ donors and their families. We are thankful to M.-J. Hannocks (Institute of Physiological Chemistry and Pathobiochemistry, University of Muenster, Germany) for critical reading of the manuscript.
Authors' relationships and activities
The authors declare that there are no relationships or activities that might bias, or be perceived to bias, their work.
Funding
Open Access funding enabled and organized by Projekt DEAL. This work was supported by the European Foundation for the Study of Diabetes (ZUW80166) and the Leona T. Helmsley Charitable Trust George Eisenbarth Award for nPOD Team Science (2015PG-T1D052).
Additional information
Publisher's note
Springer Nature remains neutral with regard to jurisdictional claims in published maps and institutional affiliations.
Supplementary information
Rights and permissions
Open Access This article is licensed under a Creative Commons Attribution 4.0 International License, which permits use, sharing, adaptation, distribution and reproduction in any medium or format, as long as you give appropriate credit to the original author(s) and the source, provide a link to the Creative Commons licence, and indicate if changes were made. The images or other third party material in this article are included in the article's Creative Commons licence, unless indicated otherwise in a credit line to the material. If material is not included in the article's Creative Commons licence and your intended use is not permitted by statutory regulation or exceeds the permitted use, you will need to obtain permission directly from the copyright holder. To view a copy of this licence, visit http://creativecommons.org/licenses/by/4.0/.
About this article
Cite this article
Korpos, É., Kadri, N., Loismann, S. et al. Identification and characterisation of tertiary lymphoid organs in human type 1 diabetes. Diabetologia 64, 1626–1641 (2021). https://doi.org/10.1007/s00125-021-05453-z
Received:

Accepted:

Published:

Issue Date:

DOI: https://doi.org/10.1007/s00125-021-05453-z
Keywords