Abstract
Aims/hypothesis
We aimed to investigate the association between maternal consumption of gluten-containing foods and other selected foods during late pregnancy and offspring risk of islet autoimmunity (IA) and type 1 diabetes in The Environmental Determinants of Diabetes in the Young (TEDDY) study.
Methods
The TEDDY study recruited children at high genetic risk for type 1 diabetes at birth, and prospectively follows them for the development of IA and type 1 diabetes (n = 8556). A questionnaire on the mother's diet in late pregnancy was completed by 3–4 months postpartum. The maternal daily intake was estimated from a food frequency questionnaire for eight food groups: gluten-containing foods, non-gluten cereals, fresh milk, sour milk, cheese products, soy products, lean/medium-fat fish and fatty fish. For each food, we described the distribution of maternal intake among the four participating countries in the TEDDY study and tested the association of tertile of maternal food consumption with risk of IA and type 1 diabetes using forward selection time-to-event Cox regression.
Results
By 28 February 2019, 791 cases of IA and 328 cases of type 1 diabetes developed in TEDDY. There was no association between maternal late-pregnancy consumption of gluten-containing foods or any of the other selected foods and risk of IA, type 1 diabetes, insulin autoantibody-first IA or GAD autoantibody-first IA (all p ≥ 0.01). Maternal gluten-containing food consumption in late pregnancy was higher in Sweden (242 g/day), Germany (247 g/day) and Finland (221 g/day) than in the USA (199 g/day) (pairwise p < 0.05).
Conclusions/interpretation
Maternal food consumption during late pregnancy was not associated with offspring risk for IA or type 1 diabetes.
Trial registration
ClinicalTrials.gov NCT00279318.
Graphical abstract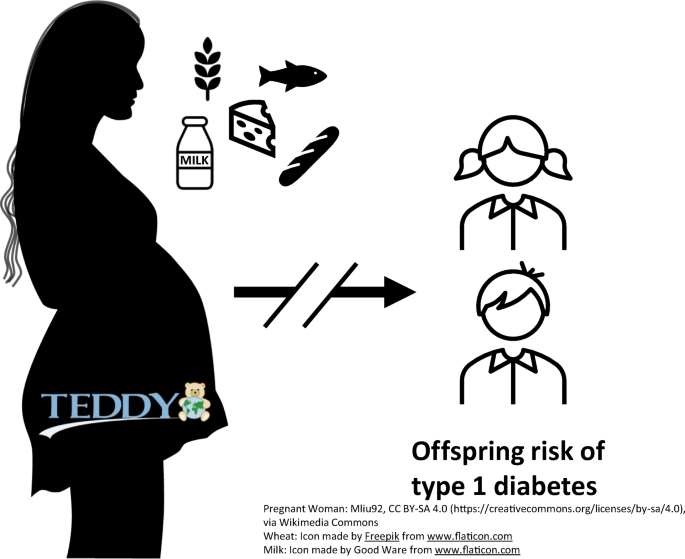 Access options
Buy single article
Instant access to the full article PDF.
US$ 39.95
Tax calculation will be finalised during checkout.
Subscribe to journal
Immediate online access to all issues from 2019. Subscription will auto renew annually.
US$ 119
Tax calculation will be finalised during checkout.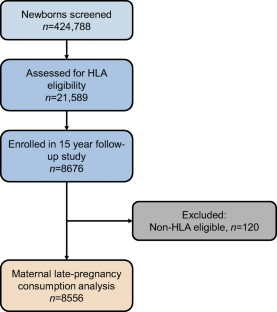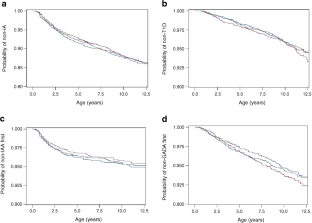 Abbreviations
FFQ:

Food frequency questionnaire

IA:

Islet autoimmunity

IA-2A:

Insulinoma antigen-2 autoantibody

IAA:

Insulin autoantibody

GADA:

GAD autoantibody

TEDDY:

The Environmental Determinants of Diabetes in the Young
Acknowledgements
Thank you to the participants and families of the TEDDY study, whose continued commitment make such research possible. The TEDDY Study Group is acknowledged for excellent collaboration (see the ESM).
Authors' relationships and activities
The authors declare that there are no relationships or activities that might bias, or be perceived to bias, their work.
Funding
The TEDDY study is funded by U01 DK63829, U01 DK63861, U01 DK63821, U01 DK63865, U01 DK63863, U01 DK63836, U01 DK63790, UC4 DK63829, UC4 DK63861, UC4 DK63821, UC4 DK63865, UC4 DK63863, UC4 DK63836, UC4 DK95300, UC4 DK100238, UC4 DK106955, UC4 DK112243, UC4 DK117483 and Contract No. HHSN267200700014C from the National Institute of Diabetes and Digestive and Kidney Diseases (NIDDK), the National Institute of Allergy and Infectious Diseases (NIAID), the Eunice Kennedy Shriver National Institute of Child Health and Human Development (NICHD), the National Institute of Environmental Health Sciences (NIEHS), the Centers for Disease Control and Prevention (CDC) and JDRF. This work was supported in part by the NIH/NCATS Clinical and Translational Science Awards to the University of Florida (UL1 TR000064) and the University of Colorado (UL1 TR002535).
Additional information
Publisher's note
Springer Nature remains neutral with regard to jurisdictional claims in published maps and institutional affiliations.
Supplementary Information
About this article
Cite this article
Johnson, R.K., Tamura, R., Frank, N. et al. Maternal food consumption during late pregnancy and offspring risk of islet autoimmunity and type 1 diabetes. Diabetologia (2021). https://doi.org/10.1007/s00125-021-05446-y
Received:

Accepted:

Published:
Keywords
Autoimmunity

Gluten

Maternal diet

Pregnancy

Type 1 diabetes