Abstract
Aims/hypothesis
The aim of this work was to investigate whether different clinical pain phenotypes of diabetic polyneuropathy (DPN) are distinguished by functional connectivity at rest.
Methods
This was an observational, cohort study of 43 individuals with painful DPN, divided into irritable (IR, n = 10) and non-irritable (NIR, n = 33) nociceptor phenotypes using the German Research Network of Neuropathic Pain quantitative sensory testing protocol. In-situ brain MRI included 3D T1-weighted anatomical and 6 min resting-state functional MRI scans. Subgroup differences in resting-state functional connectivity in brain regions involved with somatic (thalamus, primary somatosensory cortex, motor cortex) and non-somatic (insular and anterior cingulate cortices) pain processing were examined. Multidimensional reduction of MRI datasets was performed using a machine-learning approach to classify individuals into each clinical pain phenotype.
Results
Individuals with the IR nociceptor phenotype had significantly greater thalamic–insular cortex (p false discovery rate [FDR] = 0.03) and reduced thalamus–somatosensory cortex functional connectivity (p-FDR = 0.03). We observed a double dissociation such that self-reported neuropathic pain score was more associated with greater thalamus–insular cortex functional connectivity (r = 0.41; p = 0.01) whereas more severe nerve function deficits were more related to lower thalamus–somatosensory cortex functional connectivity (r = −0.35; p = 0.03). Machine-learning group classification performance to identify individuals with the NIR nociceptor phenotype achieved an accuracy of 0.92 (95% CI 0.08) and sensitivity of 90%.
Conclusions/interpretation
This study demonstrates differences in functional connectivity in nociceptive processing brain regions between IR and NIR phenotypes in painful DPN. We also establish proof of concept for the utility of multimodal MRI as a biomarker for painful DPN by using a machine-learning approach to classify individuals into sensory phenotypes.
Graphical abstract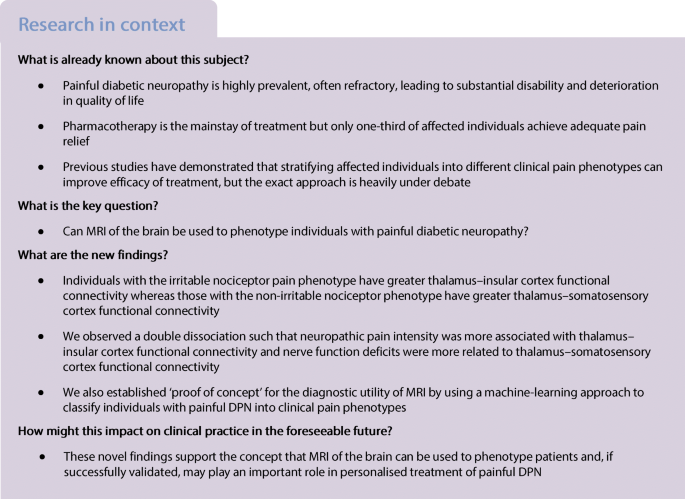 Data availability
The datasets generated and/or analysed during the current study are available from the corresponding author on reasonable request.
Abbreviations
BOLD:

Blood oxygen level-dependent

DFNS:

German Research Network of Neuropathic Pain

DPN:

Diabetic polyneuropathy

FDR:

False discovery rate

NTSS-6:

Neuropathy Total Symptom Score-6

PPT:

Pressure pain threshold

QST:

Quantitative sensory testing

ROI:

Regions of interest

RS-fMRI:

Resting-state functional MRI

SVM:

Support vector machine

TCNS:

Toronto Clinical Neuropathy Score

TE:

Echo time

TR:

Repetition time

WUR:

Wind-up ratio
References
Finnerup NB, Attal N, Haroutounian S et al (2015) Pharmacotherapy for neuropathic pain in adults: a systematic review and meta-analysis. Lancet Neurol 14:162–173. https://doi.org/10.1016/S1474-4422(14)70251-0

Finnerup NB, Sindrup SH, Jensen TS (2010) The evidence for pharmacological treatment of neuropathic pain. Pain 150:573–581. https://doi.org/10.1016/j.pain.2010.06.019

Backonja MM, Attal N, Baron R et al (2013) Value of quantitative sensory testing in neurological and pain disorders: NeuPSIG consensus. Pain 154:1807–1819. https://doi.org/10.1016/j.pain.2013.05.047

Smith SM, Dworkin RH, Turk DC et al (2017) The potential role of sensory testing, skin biopsy, and functional brain imaging as biomarkers in chronic pain clinical trials: IMMPACT considerations. J Pain 18:757–777. https://doi.org/10.1016/j.jpain.2017.02.429

Fox MD, Greicius M (2010) Clinical applications of resting state functional connectivity. Front Syst Neurosci 17:19–32

Selvarajah D, Wilkinson ID, Fang F et al (2019) Structural and Functional Abnormalities of the Primary Somatosensory Cortex in Diabetic Peripheral Neuropathy: A Multimodal MRI Study. Diabetes. 68:796–806. https://doi.org/10.2337/db18-0509

Wilkinson ID, Teh K, Heiberg-Gibbons F et al (2020) Determinants of Treatment Response in Painful Diabetic Peripheral Neuropathy. A Combined Deep Sensory Phenotyping and Multi-modal Brain Magnetic Resonance Imaging Study. Diabetes https://doi.org/10.2337/db20-0029

Bastyr EJIII, Price KL, Bril V, MBBQ Study Group (2005) Development and validity testing of the neuropathy total symptom score-6: questionnaire for the study of sensory symptoms of diabetic peripheral neuropathy. Clin Ther 27:1278–1294. https://doi.org/10.1016/j.clinthera.2005.08.002

Bril V, Tomioka S, Buchanan RA, Perkins BA, mTCNS Study Group (2009) Reliability and validity of the modified Toronto Clinical Neuropathy Score in diabetic sensorimotor polyneuropathy. Diabet Med 26:240–246. https://doi.org/10.1111/j.1464-5491.2009.02667.x

England JD, Gronseth GS, Franklin G et al (2005) Distal symmetric polyneuropathy: a definition for clinical research: report of the American Academy of Neurology, the American Association of Electrodiagnostic Medicine, and the American Academy of Physical Medicine and Rehabilitation. Neurology 64:199–207. https://doi.org/10.1212/01.WNL.0000149522.32823.EA

Rolke R, Magerl W, Campbell K et al (2006) Quantitative sensory testing: a comprehensive protocol for clinical trials. Eur J Pain 10:77–88. https://doi.org/10.1016/j.ejpain.2005.02.003

Mager LW, Krumova EK, Baron R, Tolle T, Treede R-D, Maier C (2010) Reference data for quantitative sensory testing (QST): refined stratification for age and a novel method for statistical comparison of group data. Pain 151:598–605. https://doi.org/10.1016/j.pain.2010.07.026

Demant DT, Lund K, Vollert J et al (2014) The effect of oxcarbazepine in peripheral neuropathic pain depends on pain phenotype: a randomised, double-blind, placebo-controlled phenotype-stratified study. Pain 155:2263–2273. https://doi.org/10.1016/j.pain.2014.08.014

Whitfield-Gabrieli S, Nieto-Castanon A (2012) Conn: a functional connectivity toolbox for correlated and anticorrelated brain networks. Brain Connect 2:125–141. https://doi.org/10.1089/brain.2012.0073

Pedregosa F, Varoquaux G, Gramfort A et al (2011) Scikit-learn: Machine learning in Python. J Mach Learn Res 12:2825–2830

Varoquaux G, Raamana PR, Engemann DA, Hoyos-Idrobo A, Schwartz Y, Thirion B (2017) Assessing and tuning brain decoders: Cross-validation, caveats, and guidelines. Neuroimage 145:166–179. https://doi.org/10.1016/j.neuroimage.2016.10.038

King J-R, Gwilliams L, Holdgraf C et al (2018) Encoding and Decoding Neuronal Dynamics: Methodological Framework to Uncover the Algorithms of Cognition https://hal.archives-ouvertes.fr/hal-01848442

Huang MW, Chen CW, Lin WC, Ke SW, Tsai CF (2017) SVM and SVM ensembles in breast cancer prediction. PLoS One 12(1):e0161501. https://doi.org/10.1371/journal.pone.0161501

Steiger JH (1980) Testing pattern hypotheses on correlation matrices: alternative statistics and some empirical results. Multivar Behav Res 15:335–352

As-Sanie S, Kim J, Schmidt-Wilcke T, Sundgren PC et al (2016) Functional Connectivity is Associated With Altered Brain Chemistry in Women With Endometriosis-Associated Chronic Pelvic Pain. J Pain 17:1–13. https://doi.org/10.1016/j.jpain.2015.09.008

Lu C, Yang T, Zhao H et al (2016) Insular cortex is critical for the perception, modulation, and chronification of pain. Neurosci Bull 32:191–201. https://doi.org/10.1007/s12264-016-0016-y

Gore M, Brandenburg N, Hoffman DL et al (2006) Burden of illness in painful diabetic peripheral neuropathy: the patients'perspectives. J Pain 7:982–900

Rice AS, Smith BH, Blyth FM (2016) Pain and the global burden of disease. Pain 157:791–796. https://doi.org/10.1097/j.pain.0000000000000454

Finnerup NB, Kuner R, Jensen TS (2020) Neuropathic pain: From mechanisms to treatment. Physiol Rev 101:259–301
Acknowledgements
The authors acknowledge the hard work, skills and contributions of the radiographers at the University of Sheffield Magnetic Resonance Imaging Department. The authors also greatly appreciate the study volunteers who spent considerable time participating in this study.
Authors' relationships and activities
ST has received lecture honoraria from Worwag Pharma, Pfizer, Novo Nordisk, Merk, Eva Pharma, Hikma, Grunenthal, Abbott, AstraZeneca and Trigocare International, and is on the medical Advisory Board of Bayer. All other authors declare that there are no relationships or activities that might bias, or be perceived to bias, their work.
Funding
This study was supported by the European Foundation for the Study of Diabetes European Research Programme in Microvascular Complications of Diabetes supported by Novartis, Knowledge Exchange Support Fund (X/162218, University of Sheffield) and the Efficacy and Mechanism Evaluation (EME) Programme (NIHR129921), an MRC and NIHR partnership. The views expressed in this publication are those of the author(s) and not necessarily those of the MRC, NIHR or the Department of Health and Social Care. The study sponsor/funder was not involved in the design of the study; the collection, analysis and interpretation of data; writing the report; and did not impose any restrictions regarding the publication of the report.
Additional information
Publisher's note
Springer Nature remains neutral with regard to jurisdictional claims in published maps and institutional affiliations.
Kevin Teh and Iain D. Wilkinson are joint first authors.
Dr Iain D. Wilkinson, who substantially contributed to this research, died on 22 October 2020 before publication of this work. Iain will be fondly remembered and sadly missed. (https://www.sheffield.ac.uk/staff/obituary/home).
Supplementary information
Rights and permissions
Open Access This article is licensed under a Creative Commons Attribution 4.0 International License, which permits use, sharing, adaptation, distribution and reproduction in any medium or format, as long as you give appropriate credit to the original author(s) and the source, provide a link to the Creative Commons licence, and indicate if changes were made. The images or other third party material in this article are included in the article's Creative Commons licence, unless indicated otherwise in a credit line to the material. If material is not included in the article's Creative Commons licence and your intended use is not permitted by statutory regulation or exceeds the permitted use, you will need to obtain permission directly from the copyright holder. To view a copy of this licence, visit http://creativecommons.org/licenses/by/4.0/.
About this article
Cite this article
Teh, K., Wilkinson, I.D., Heiberg-Gibbons, F. et al. Somatosensory network functional connectivity differentiates clinical pain phenotypes in diabetic neuropathy. Diabetologia 64, 1412–1421 (2021). https://doi.org/10.1007/s00125-021-05416-4
Received:

Accepted:

Published:

Issue Date:

DOI: https://doi.org/10.1007/s00125-021-05416-4
Keywords
Diabetic neuropathy

Machine learning

MRI

Painful diabetic neuropathy

Resting-state functional MRI