Abstract
Aims/hypothesis
Stimulator of IFN genes (STING) is a central hub for cytosolic nucleic acid sensing and its activation results in upregulation of type I IFN production in innate immune cells. A type I IFN gene signature seen before the onset of type 1 diabetes has been suggested as a driver of disease initiation both in humans and in the NOD mouse model. A possible source of type I IFN is through activation of the STING pathway. Recent studies suggest that STING also has antiproliferative and proapoptotic functions in T cells that are independent of IFN. To investigate whether STING is involved in autoimmune diabetes, we examined the impact of genetic deletion of STING in NOD mice.
Methods
CRISPR/Cas9 gene editing was used to generate STING-deficient NOD mice. Quantitative real-time PCR was used to assess the level of type I IFN-regulated genes in islets from wild-type and STING-deficient NOD mice. The number of islet-specific glucose-6-phosphatase catalytic subunit-related protein (IGRP)206-214-specific CD8+ T cells was determined by magnetic bead-based MHC tetramer enrichment and flow cytometry. The incidence of spontaneous diabetes and diabetes after adoptive transfer of T cells was determined.
Results
STING deficiency partially attenuated the type I IFN gene signature in islets but did not suppress insulitis. STING-deficient NOD mice accumulated an increased number of IGRP206-214-specific CD8+ T cells (2878 ± 642 cells in NOD.STING−/− mice and 728.8 ± 196 cells in wild-type NOD mice) in peripheral lymphoid tissue, associated with a higher incidence of spontaneous diabetes (95.5% in NOD.STING−/− mice and 86.2% in wild-type NOD mice). Splenocytes from STING-deficient mice rapidly induced diabetes after adoptive transfer into irradiated NOD recipients (median survival 75 days for NOD recipients of NOD.STING−/− mouse splenocytes and 121 days for NOD recipients of NOD mouse splenocytes).
Conclusions/interpretation
Data suggest that sensing of endogenous nucleic acids through the STING pathway may be partially responsible for the type I IFN gene signature but not autoimmunity in NOD mice. Our results show that the STING pathway may play an unexpected intrinsic role in suppressing the number of diabetogenic T cells.
Graphical abstract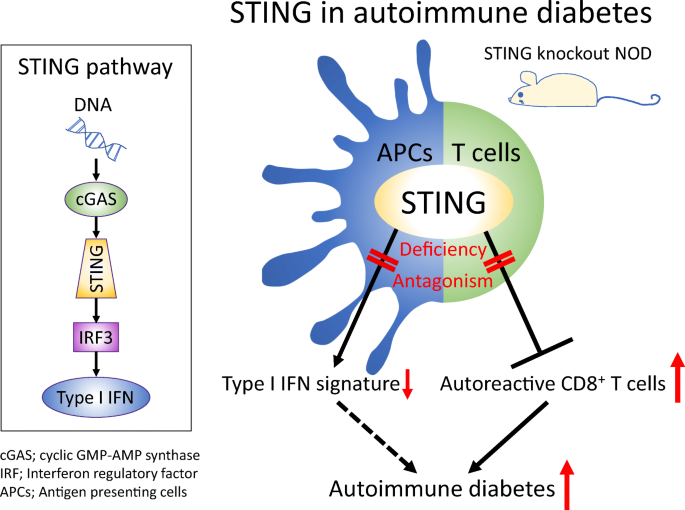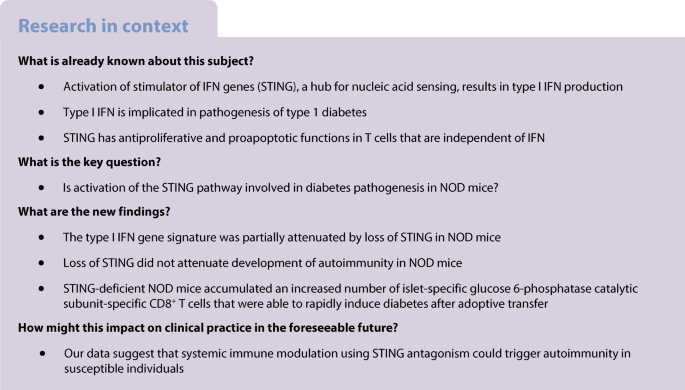 Data availability
All data generated or analysed during this study are included in this published article (and its supplementary information files).
Abbreviations
BMDM:

Bone marrow-derived macrophage

CFSE:

Carboxyfluorescein succinimidyl ester

cGAMP:

Cyclic GMP-AMP

cGAS:

Cyclic GMP-AMP synthase

DMXAA:

5,6-Dimethylxanthenone-4-acetic acid

FOXP3:

Forkhead box P3

IAA:

Insulin autoantibodies

IGRP:

Islet-specific glucose-6-phosphatase catalytic subunit-related protein

ILN:

Inguinal lymph node

IRF3:

IFN regulatory factor 3

Ly-6G:

Lymphocyte antigen 6 complex locus G6D

MDA5:

Melanoma differentiation associated gene 5

PD-1:

Programmed cell death protein-1

PDCA-1:

Plasmacytoid dendritic cell antigen-1

PLN:

Pancreatic lymph node

SAVI:

STING-associated vasculopathy with onset infancy

SLE:

Systemic lupus erythematosus

STING:

Stimulator of IFN genes

TLR:

Toll-like receptor

TREX-1:

Three-prime repair exonuclease-1

TIGIT:

T cell immunoreceptor with Ig and ITIM domains

TIM-3:

T cell immunoglobulin and mucin domain containing protein 3
Acknowledgements
We thank C. Tan, C. Anthony, V. Moshovakis, V. Madafferi, H. Barlow and A. Cornelisz (St Vincent's Institute) for technical support, genotyping and animal husbandry. CRISPR/Cas9 gene editing in NOD mice was performed by L. Hawkey, D. Truman and I. Smyth (Australian Phenomics Facility, Monash University, Clayton, Australia). Some of the data were presented as an abstract at The Australasian Society for Immunology 2017 Annual Scientific Meeting.
Authors' relationships and activities
The authors declare that there are no relationships or activities that might bias, or be perceived to bias, their work.
Funding
This work was funded by National Health and Medical Research Council of Australia (NHMRC) Program grants (GNT1126237 and GNT1150425), a JDRF Innovation Award (1-INO-2016-218-A-N) and fellowships from the JDRF (3-PDF-2017-379-A-N) and Manpei Suzuki Diabetes Foundation (SA). The St Vincent's Institute receives support from the Operational Infrastructure Support Scheme of the Government of Victoria.
Additional information
Publisher's note
Springer Nature remains neutral with regard to jurisdictional claims in published maps and institutional affiliations.
Supplementary information
About this article
Cite this article
Akazawa, S., Mackin, L., Jhala, G. et al. Deficiency of the innate immune adaptor STING promotes autoreactive T cell expansion in NOD mice. Diabetologia 64, 878–889 (2021). https://doi.org/10.1007/s00125-020-05378-z
Received:

Accepted:

Published:

Issue Date:

DOI: https://doi.org/10.1007/s00125-020-05378-z
Keywords
CD8+ T cells

NOD mice

STING

Type 1 diabetes

Type 1 interferon