Abstract
Aims/hypothesis
Diabetic retinopathy is characterised by retinal neurodegeneration and retinal vascular abnormalities, affecting one third of diabetic patients with disease duration of more than 10 years. Accumulated evidence suggests that serine racemase (SR) and D-serine are correlated with the pathogenesis of diabetic retinopathy and the deletion of the Srr gene reverses neurovascular pathologies in diabetic mice. Since D-serine content is balanced by SR synthesis and D-amino acid oxidase (DAAO) degradation, we examined the roles of DAAO in diabetic retinopathy and further explored relevant therapy.
Methods
Rats were used as a model of diabetes by i.p. injection of streptozotocin at the age of 2 months and blood glucose was monitored with a glucometer. Quantitative real-time PCR was used to examine Dao mRNA and western blotting to examine targeted proteins in the retinas. Bisulphite sequencing was used to examine the methylation of Dao mRNA promoter in the retinas. Intravitreal injection of DAAO-expressing adenovirus (AAV8-DAAO) was conducted one week before streptozotocin administration. Brain specific homeobox/POU domain protein 3a (Brn3a) immunofluorescence was conducted to indicate retinal ganglion cells at 3 months after virus injection. The permeability of the blood–retinal barrier was examined by Evans blue leakage from retinal capillaries. Periodic acid–Schiff staining and haematoxylin counterstaining were used to indicate retinal vasculature, which was further examined with double immunostaining at 7 months after virus injection.
Results
At the age of 12 months, DAAO mRNA and protein levels in retinas from diabetic animals were reduced to 66.2% and 70.4% of those from normal (control) animals, respectively. The Dao proximal promoter contained higher levels of methylation in diabetic than in normal retinas. Consistent with the observation, DNA methyltransferase 1 was increased in diabetic retinas. Injection of DAAO-expressing virus completely prevented the loss of retinal ganglion cells and the disruption of blood–retinal barrier in diabetic rats. Diabetic retinas contained retinal ganglion cells at a density of 54 ± 4/mm2, which was restored to 68 ± 9/mm2 by DAAO overexpression, similar to the levels in normal retinas. The ratio between the number of endothelial cells and pericytes in diabetic retinas was 6.06 ± 1.93/mm2, which was reduced to 3.42 ± 0.55/mm2 by DAAO overexpression; the number of acellular capillaries in diabetic retinas was 10 ± 5/mm2, which was restored to 6 ± 2/mm2 by DAAO overexpression, similar to the levels in normal retinas. Injection of the DAAO-expressing virus increased the expression of occludin and reduced gliosis, which were examined to probe the mechanism by which the disrupted blood–retinal barrier in diabetic rats was rescued and retinal neurodegeneration was prevented.
Conclusions/interpretation
Altogether, overexpression of DAAO before the onset of diabetes protects against neurovascular abnormalities in retinas from diabetic rats, which suggests a novel strategy for preventing diabetic retinopathy.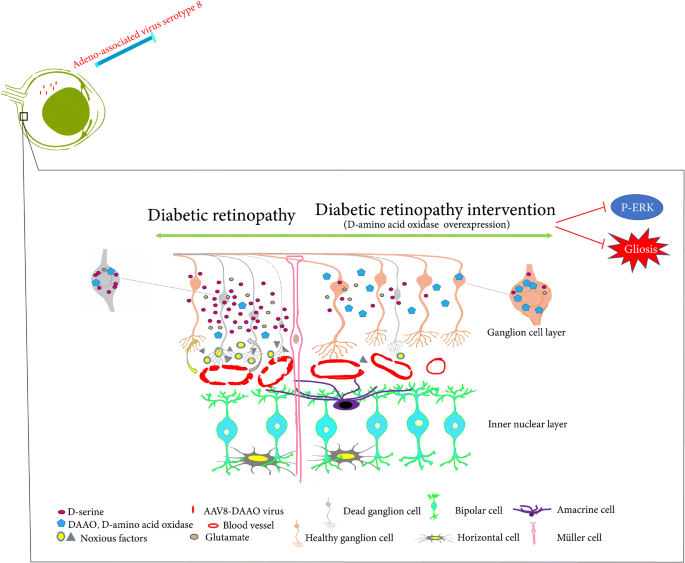 Similar content being viewed by others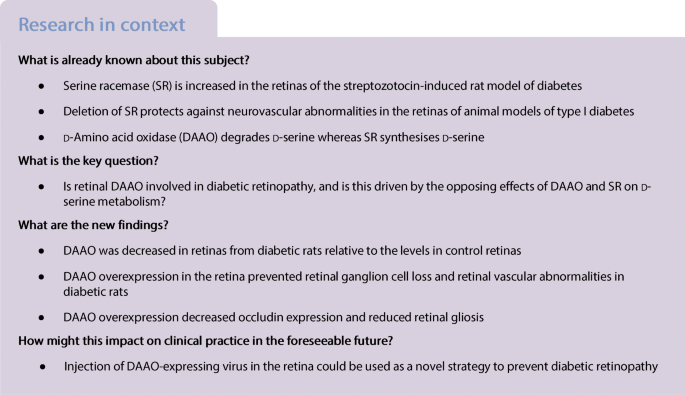 Data availability
Data will be provided by the corresponding author upon reasonable request.
Abbreviations
AAV:

Adeno-associated virus

AAV8:

Adeno-associated virus serotype 8

AMPAR:

α-Amino-3-hydroxyl-5-methyl-4-isoxazole propionic acid receptor

Brn3a:

Brain specific homeobox/POU domain protein 3a

DAAO:

d-Amino acid oxidase

DNMT:

DNA methyltransferase

ERK:

Extracellular signal-regulated kinase

GFAP:

Glial fibrillary acidic protein

IPL:

Inner plexiform layer

IRES:

Internal ribosomal entry site

NMDAR:

N-Methyl-d-aspartate receptor

ONL:

Outer nuclear layer

PAS:

Period acid–Schiff

RGC:

Retinal ganglion cell

SR:

Serine racemase

STZ:

Streptozotocin

TSS:

Translation start site
References
Barber AJ, Lieth E, Khin SA, Antonetti DA, Buchanan AG, Gardner TW (1998) Neural apoptosis in the retina during experimental and human diabetes. Early onset and effect of insulin. J Clin Invest 102:783–791. https://doi.org/10.1172/JCI2425

Sohn EH, van Dijk HW, Jiao C et al (2016) Retinal neurodegeneration may precede microvascular changes characteristic of diabetic retinopathy in diabetes mellitus. Proc Natl Acad Sci U S A 113:E2655–E2664. https://doi.org/10.1073/pnas.1522014113

Cogan DG, Toussaint D, Kuwabara T (1961) Retinal vascular patterns. IV. Diabetic retinopathy. Arch Ophthalmol 66:366–378. https://doi.org/10.1001/archopht.1961.00960010368014

Adamis AP, Altaweel M, Bressler NM et al (2006) Changes in retinal neovascularization after pegaptanib (Macugen) therapy in diabetic individuals. Ophthalmology 113:23–28. https://doi.org/10.1016/j.ophtha.2005.10.012

Foltyn VN, Bendikov I, De Miranda J et al (2005) Serine racemase modulates intracellular D-serine levels through an alpha,beta-elimination activity. J Biol Chem 280:1754–1763. https://doi.org/10.1074/jbc.M405726200

Wolosker H, Blackshaw S, Snyder SH (1999) Serine racemase: a glial enzyme synthesizing D-serine to regulate glutamate-N-methyl-D-aspartate neurotransmission. Proc Natl Acad Sci U S A 96:13409–13414

Zhang H, Song L, Chang Y et al (2017) Potential deficit from decreased cerebellar granule cell migration in serine racemase-deficient mice is reversed by increased expression of GluN2B and elevated levels of NMDAR agonists. Mol Cell Neurosci 85:119–126. https://doi.org/10.1016/j.mcn.2017.09.005

Turpin FR, Potier B, Dulong JR et al (2009) Reduced serine racemase expression contributes to age-related deficits in hippocampal cognitive function. Neurobiol Aging 32:1495–1504

Huang AS, Lee DA, Blackshaw S (2008) D-Aspartate and D-aspartate oxidase show selective and developmentally dynamic localization in mouse retina. Exp Eye Res 86:704–709. https://doi.org/10.1016/j.exer.2008.01.015

Romero GE, Lockridge AD, Morgans CW, Bandyopadhyay D, Miller RF (2014) The postnatal development of D-serine in the retinas of two mouse strains, including a mutant mouse with a deficiency in D-amino acid oxidase and a serine racemase knockout mouse. ACS Chem Neurosci 5:848–854. https://doi.org/10.1021/cn5000106

Gustafson EC, Morgans CW, Tekmen M et al (2013) Retinal NMDA receptor function and expression are altered in a mouse lacking D-amino acid oxidase. J Neurophysiol 110:2718–2726. https://doi.org/10.1152/jn.00310.2013

Daniels BA, Wood L, Tremblay F, Baldridge WH (2012) Functional evidence for D-serine inhibition of non-N-methyl-D-aspartate ionotropic glutamate receptors in retinal neurons. Eur J Neurosci 35:56–65. https://doi.org/10.1111/j.1460-9568.2011.07925.x

Stevens ER, Esguerra M, Kim PM et al (2003) D-serine and serine racemase are present in the vertebrate retina and contribute to the physiological activation of NMDA receptors. Proc Natl Acad Sci U S A 100:6789–6794

Sullivan SJ, Esguerra M, Wickham RJ, Romero GE, Coyle JT, Miller RF (2011) Serine racemase deletion abolishes light-evoked NMDA receptor currents in retinal ganglion cells. J Physiol 589:5997–6006. https://doi.org/10.1113/jphysiol.2011.217059

Pollegioni L, Molla G, Sacchi S, Rosini E, Verga R, Pilone MS (2008) Properties and applications of microbial D-amino acid oxidases: current state and perspectives. Appl Microbiol Biotechnol 78:1–16. https://doi.org/10.1007/s00253-007-1282-4

D'Aniello A, D'Onofrio G, Pischetola M et al (1993) Biological role of D-amino acid oxidase and D-aspartate oxidase. Effects of D-amino acids. J Biol Chem 268:26941–26949

Gabler M, Hensel M, Fischer L (2000) Detection and substrate selectivity of new microbial D-amino acid oxidases. Enzym Microb Technol 27:605–611. https://doi.org/10.1016/S0141-0229(00)00262-3

Dun Y, Duplantier J, Roon P, Martin PM, Ganapathy V, Smith SB (2008) Serine racemase expression and D-serine content are developmentally regulated in neuronal ganglion cells of the retina. J Neurochem 104:970–978. https://doi.org/10.1111/j.1471-4159.2007.05015.x

Jiang H, Wu M, Liu Y et al (2017) Serine racemase deficiency attenuates choroidal neovascularization and reduces nitric oxide and VEGF levels by retinal pigment epithelial cells. J Neurochem 143:375–388. https://doi.org/10.1111/jnc.14214

Jiang H, Fang J, Wu B et al (2011) Overexpression of serine racemase in retina and overproduction of D-serine in eyes of streptozotocin-induced diabetic retinopathy. J Neuroinflammation 8:119. https://doi.org/10.1186/1742-2094-8-119

Jiang H, Du J, He T, Qu J, Song Z, Wu S (2014) Increased D-serine in the aqueous and vitreous humour in patients with proliferative diabetic retinopathy. Clin Exp Ophthalmol 42:841–845. https://doi.org/10.1111/ceo.12329

Jiang H, Du J, Song J et al (2018) Loss-of-function mutation of serine racemase attenuates retinal ganglion cell loss in diabetic mice. Exp Eye Res 175:90–97. https://doi.org/10.1016/j.exer.2018.06.017

Ozaki H, Inoue R, Matsushima T, Sasahara M, Hayashi A, Mori H (2018) Serine racemase deletion attenuates neurodegeneration and microvascular damage in diabetic retinopathy. PLoS One 13:e0190864. https://doi.org/10.1371/journal.pone.0190864

Zhang H, Kuang XL, Chang Y, Lu J, Jiang H, Wu S (2015) Reduced serine racemase expression in aging rat cerebellum is associated with oxidative DNA stress and hypermethylation in the promoter. Brain Res 1629:221–230. https://doi.org/10.1016/j.brainres.2015.10.034

Li LC, Dahiya R (2002) MethPrimer: designing primers for methylation PCRs. Bioinformatics 18:1427–1431. https://doi.org/10.1093/bioinformatics/18.11.1427

Jiang H, Wang X, Zhang H, Chang Y, Feng M, Wu S (2016) Loss-of-function mutation of serine racemase attenuates excitotoxicity by intravitreal injection of N-methyl-D-aspartate. J Neurochem 136:186–193. https://doi.org/10.1111/jnc.13400

Xu Q, Qaum T, Adamis AP (2001) Sensitive blood-retinal barrier breakdown quantitation using Evans blue. Invest Ophthalmol Vis Sci 42:789–794

Chou JC, Rollins SD, Fawzi AA (2013) Trypsin digest protocol to analyze the retinal vasculature of a mouse model. J Vis Exp 76:e50489

Guo C, Zhang Z, Zhang P et al (2013) Novel transgenic mouse models develop retinal changes associated with early diabetic retinopathy similar to those observed in rats with diabetes mellitus. Exp Eye Res 119:77–87

Luo D, Fan Y, Xu X (2012) The effects of aminoguanidine on retinopathy in STZ-induced diabetic rats. Bioorg Med Chem Lett 22:4386–4390. https://doi.org/10.1016/j.bmcl.2012.04.130

McVicar CM, Hamilton R, Colhoun LM et al (2011) Intervention with an erythropoietin-derived peptide protects against neuroglial and vascular degeneration during diabetic retinopathy. Diabetes 60:2995–3005. https://doi.org/10.2337/db11-0026

Ibrahim AS, El-Remessy AB, Matragoon S et al (2011) Retinal microglial activation and inflammation induced by amadori-glycated albumin in a rat model of diabetes. Diabetes 60:1122–1133. https://doi.org/10.2337/db10-1160

Long L, Li Y, Yu S et al (2019) Scutellarin prevents angiogenesis in diabetic retinopathy by downregulating VEGF/ERK/FAK/Src pathway signaling. J Diabetes Res 2019:4875421. https://doi.org/10.1155/2019/4875421

Antonetti DA, Barber AJ, Bronson SK et al (2006) Diabetic retinopathy: seeing beyond glucose-induced microvascular disease. Diabetes 55:2401–2411. https://doi.org/10.2337/db05-1635

Kern TS (2007) Contributions of inflammatory processes to the development of the early stages of diabetic retinopathy. Exp Diabetes Res 2007:95103. https://doi.org/10.1155/2007/95103

Bikbova G, Oshitari T, Baba T, Yamamoto S (2014) Neurotrophic factors for retinal ganglion cell neuropathy - with a special reference to diabetic neuropathy in the retina. Curr Diabetes Rev 10:166–176. https://doi.org/10.2174/1573399810666140508121927

Wu S, Barger SW (2004) Induction of serine racemase by inflammatory stimuli is dependent on AP-1. Ann N Y Acad Sci 1035:133–146

Wu SZ, Bodles AM, Porter MM, Griffin WS, Basile AS, Barger SW (2004) Induction of serine racemase expression and D-serine release from microglia by amyloid beta-peptide. J Neuroinflammation 1:2. https://doi.org/10.1186/1742-2094-1-2

Inoue R, Hashimoto K, Harai T, Mori H (2008) NMDA- and beta-amyloid1-42-induced neurotoxicity is attenuated in serine racemase knock-out mice. J Neurosci 28:14486–14491. https://doi.org/10.1523/JNEUROSCI.5034-08.2008

Martineau M, Parpura V, Mothet JP (2014) Cell-type specific mechanisms of D-serine uptake and release in the brain. Front Synaptic Neurosci 6:12

Leal EC, Martins J, Voabil P et al (2010) Calcium dobesilate inhibits the alterations in tight junction proteins and leukocyte adhesion to retinal endothelial cells induced by diabetes. Diabetes 59:2637–2645. https://doi.org/10.2337/db09-1421

Balcar VJ, Johnston GA (1972) The structural specificity of the high affinity uptake of L-glutamate and L-aspartate by rat brain slices. J Neurochem 19:2657–2666. https://doi.org/10.1111/j.1471-4159.1972.tb01325.x

Ishida AT, Fain GL (1981) D-aspartate potentiates the effects of L-glutamate on horizontal cells in goldfish retina. Proc Natl Acad Sci U S A 78:5890–5894

Santiago AR, Pereira TS, Garrido MJ, Cristovao AJ, Santos PF, Ambrosio AF (2006) High glucose and diabetes increase the release of [3H]-D-aspartate in retinal cell cultures and in rat retinas. Neurochem Int 48:453–458. https://doi.org/10.1016/j.neuint.2005.10.013

Sasabe J, Chiba T, Yamada M et al (2007) D-serine is a key determinant of glutamate toxicity in amyotrophic lateral sclerosis. EMBO J 26:4149–4159. https://doi.org/10.1038/sj.emboj.7601840

Yoshihisa Y, Rehman MU, Nakagawa M et al (2018) Inflammatory cytokine-mediated induction of serine racemase in atopic dermatitis. J Cell Mol Med 22:3133–3138

Tang J, Kern TS (2011) Inflammation in diabetic retinopathy. Prog Retin Eye Res 30:343–358. https://doi.org/10.1016/j.preteyeres.2011.05.002
Acknowledgements
The authors appreciate the support of G. Shan, School of Life Science, University of Science and Technology in China, Hefei.
Authors' relationships and activities
The authors declare that there are no relationships or activities that might bias, or be perceived to bias, their work.
Funding
The study is supported by the National Natural Science Foundation of China for Youth (81600755), by the Zhejiang Province Natural Science Foundation (LY19H090011 and LY18H1200030), by the Wenzhou Medical University (QTJ100001) and by the Scientific Funding of Wenzhou city (Y20180173 and Y20180083).
Additional information
Publisher's note
Springer Nature remains neutral with regard to jurisdictional claims in published maps and institutional affiliations.
Supplementary Information
About this article
Cite this article
Jiang, H., Zhang, H., Jiang, X. et al. Overexpression of d-amino acid oxidase prevents retinal neurovascular pathologies in diabetic rats. Diabetologia 64, 693–706 (2021). https://doi.org/10.1007/s00125-020-05333-y
Received:

Accepted:

Published:

Issue Date:

DOI: https://doi.org/10.1007/s00125-020-05333-y
Keywords