Abstract
Aims/hypothesis
The release of podocyte-derived microparticles into the urine may reflect early kidney injury in diabetes. We measured the urinary excretion of podocyte-derived microparticles in youth with type 1 and type 2 diabetes, and related the values to blood pressure, renal function and blood glucose levels.
Methods
Cross-sectional, exploratory analysis of urine samples and clinical data from youth with type 1 (n = 53) and type 2 (n = 50) diabetes was carried out. Urinary podocyte-derived microparticle numbers, measured by flow cytometry, were assessed in relation to measures of blood glucose levels and renal function.
Results
Podocyte-derived microparticle excretion (MPE) normalised to urinary creatinine (MP/UCr) was higher in type 1 vs type 2 diabetes (median [IQR] MP/UCr: 7.88 [8.97] vs 1.84 [8.62]; p < 0.0001), despite the type 2 diabetes group having higher blood pressure (systolic blood pressure, median [range]: 124 [110–154] vs 114 [94–143] mmHg) and higher proportions of microalbuminuria (44.0% vs 13.2%), but shorter time since diabetes diagnosis (median [range]: 1.2 [0.0–7.0] vs 6.4 [2.0–13.9] years), than the type 1 diabetes cohort. MPE in youth with type 1 diabetes was associated with blood glucose (p = 0.01) and eGFR (p = 0.03) but not HbA1c, systolic or diastolic blood pressure or urine albumin/creatinine ratio. After adjustment for age at baseline, duration of diabetes, sex and BMI, the association with eGFR remained significant (p = 0.04). No associations were found between MPE and these clinical variables in youth with type 2 diabetes.
Conclusions/interpretation
Significant associations between podocyte MPE, blood glucose levels and eGFR were observed in youth with type 1 diabetes but not in those with type 2 diabetes, notwithstanding increased renal pathology in the type 2 diabetes cohort. These findings suggest that podocyte injury differs in the two diabetes cohorts.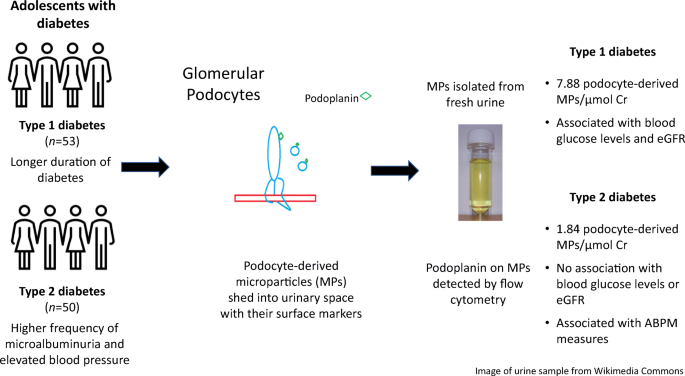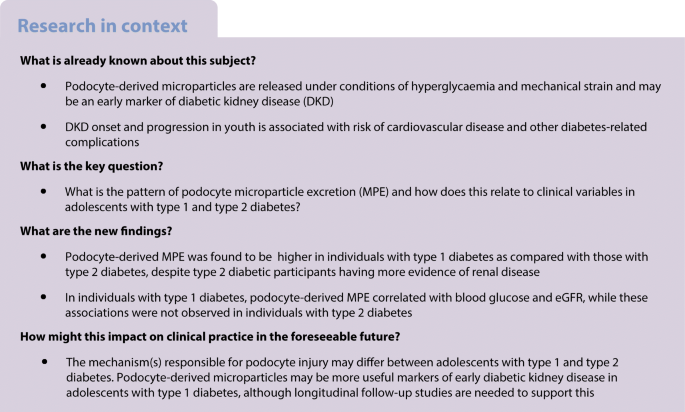 Data availability
Data used for the analysis is available on request, by contacting the corresponding author.
Abbreviations
ABPM:

Ambulatory blood pressure monitoring

ACR:

Albumin/creatinine ratio

AdDIT:

Adolescent Type 1 Diabetes Cardio-Renal Intervention Trial

MPE:

Microparticle excretion

MP/UCr:

Microparticle excretion normalised to urinary creatinine
References
Fioretto P, Mauer M (2007) Histopathology of diabetic nephropathy. Semin Nephrol 27(2):195–207. https://doi.org/10.1016/j.semnephrol.2007.01.012

Susztak K, Raff AC, Schiffer M, Bottinger EP (2006) Glucose-induced reactive oxygen species cause apoptosis of podocytes and podocyte depletion at the onset of diabetic nephropathy. Diabetes 55(1):225–233

Shah R, Patel T, Freedman JE (2018) Circulating extracellular vesicles in human disease. N Engl J Med 379(10):958–966. https://doi.org/10.1056/NEJMra1704286

Burger D, Thibodeau JF, Holterman CE, Burns KD, Touyz RM, Kennedy CR (2014) Urinary podocyte microparticles identify prealbuminuric diabetic glomerular injury. J Am Soc Nephrol 25(7):1401–1407. https://doi.org/10.1681/ASN.2013070763

Lytvyn Y, Xiao F, Kennedy CR et al (2017) Assessment of urinary microparticles in normotensive patients with type 1 diabetes. Diabetologia 60(3):581–584. https://doi.org/10.1007/s00125-016-4190-2

Dart AB, Martens PJ, Rigatto C, Brownell MD, Dean HJ, Sellers EA (2014) Earlier onset of complications in youth with type 2 diabetes. Diabetes Care 37(2):436–443. https://doi.org/10.2337/dc13-0954

Har RL, Reich HN, Scholey JW et al (2014) The urinary cytokine/chemokine signature of renal hyperfiltration in adolescents with type 1 diabetes. PLoS One 9(11):e111131. https://doi.org/10.1371/journal.pone.0111131

Dart AB, Wicklow BA, Sellers EA et al (2014) The Improving Renal Complications in Adolescents With Type 2 Diabetes Through the REsearch (iCARE) Cohort Study: rationale and protocol. Can J Diabetes 38(5):349–355. https://doi.org/10.1016/j.jcjd.2014.07.224

Dart AB, McGavock J, Sharma A, Chateau D, Schwartz GJ, Blydt-Hansen T (2019) Estimating glomerular filtration rate in youth with obesity and type 2 diabetes: the iCARE study equation. Pediatr Nephrol. https://doi.org/10.3390/genes10110921

Flynn JT, Kaelber DC, Baker-Smith CM et al (2017) Clinical Practice Guideline for Screening and Management of High Blood Pressure in Children and Adolescents. Pediatrics 140(3). https://doi.org/10.1542/peds.2017-1904

Pagtalunan ME, Miller PL, Jumping-Eagle S et al (1997) Podocyte loss and progressive glomerular injury in type II diabetes. J Clin Invest 99(2):342–348. https://doi.org/10.1172/JCI119163

Toyoda M, Najafian B, Kim Y, Caramori ML, Mauer M (2007) Podocyte detachment and reduced glomerular capillary endothelial fenestration in human type 1 diabetic nephropathy. Diabetes 56(8):2155–2160. https://doi.org/10.2337/db07-0019

Raile K, Galler A, Hofer S et al (2007) Diabetic nephropathy in 27,805 children, adolescents, and adults with type 1 diabetes: effect of diabetes duration, A1C, hypertension, dyslipidemia, diabetes onset, and sex. Diabetes Care 30(10):2523–2528. https://doi.org/10.2337/dc07-0282

Hokke S, Arias N, Armitage JA et al (2016) Maternal glucose intolerance reduces offspring nephron endowment and increases glomerular volume in adult offspring. Diabetes Metab Res Rev 32(8):816–826. https://doi.org/10.1002/dmrr.2805

Sellers EA, Blydt-Hansen TD, Dean HJ, Gibson IW, Birk PE, Ogborn M (2009) Macroalbuminuria and renal pathology in First Nation youth with type 2 diabetes. Diabetes Care 32(5):786–790. https://doi.org/10.2337/dc08-1828

Dalla Vestra M, Saller A, Bortoloso E, Mauer M, Fioretto P (2000) Structural involvement in type 1 and type 2 diabetic nephropathy. Diabetes Metab 26(Suppl 4):8–14

Perkins BA, Bebu I, de Boer IH et al (2019) Risk factors for kidney disease in type 1 diabetes. Diabetes Care 42(5):883–890. https://doi.org/10.2337/dc18-2062

Vallon V, Komers R (2011) Pathophysiology of the diabetic kidney. Compr Physiol 1(3):1175–1232. https://doi.org/10.1002/cphy.c100049
Acknowledgements
L. Motran (Laboratory Research Coordinator, University of Toronto, Toronto, ON, Canada) is acknowledged for organising and coordinating participant samples.
Authors' relationships and activities
The authors declare that there are no relationships or activities that might bias, or be perceived to bias, their work.
Funding
Funding was provided by the Canadian Institute of Health Research Operating Grant MOP-343810, and Can-SOLVE CKD SPOR network (CIHR, Research Manitoba and Manitoba Institute of Child Health) and JDRF-CCTN.
Additional information
Publisher's note
Springer Nature remains neutral with regard to jurisdictional claims in published maps and institutional affiliations.
Electronic supplementary material
About this article
Cite this article
Sullivan, K.M., Scholey, J., Moineddin, R. et al. Urinary podocyte-derived microparticles in youth with type 1 and type 2 diabetes. Diabetologia 64, 469–475 (2021). https://doi.org/10.1007/s00125-020-05297-z
Received:

Accepted:

Published:

Issue Date:

DOI: https://doi.org/10.1007/s00125-020-05297-z
Keywords