Abstract
Aims/hypothesis
Individuals with longstanding and recent-onset type 1 diabetes have a smaller pancreas. Since beta cells represent a very small portion of the pancreas, the loss of pancreas volume in diabetes is primarily due to the loss of pancreatic exocrine mass. However, the structural changes in the exocrine pancreas in diabetes are not well understood.
Methods
To characterise the pancreatic endocrine and exocrine compartments in diabetes, we studied pancreases from adult donors with type 1 diabetes compared with similarly aged donors without diabetes. Islet cell mass, islet morphometry, exocrine mass, acinar cell size and number and pancreas fibrosis were assessed by immunohistochemical staining. To better understand possible mechanisms of altered pancreas size, we measured pancreas size in three mouse models of insulin deficiency.
Results
Pancreases from donors with type 1 diabetes were approximately 45% smaller than those from donors without diabetes (47.4 ± 2.6 vs 85.7 ± 3.7 g), independent of diabetes duration or age of onset. Diabetic donor pancreases had decreased beta cell mass (0.061 ± 0.025 vs 0.94 ± 0.21 g) and reduced total exocrine mass (42.0 ± 4.9 vs 96.1 ± 6.5 g). Diabetic acinar cells were similar in size but fewer in number compared with those in pancreases from non-diabetic donors (63.7 ± 8.1 × 109 vs 121.6 ± 12.2 × 109 cells/pancreas), likely accounting for the difference in pancreas size. Within the type 1 diabetes exocrine tissue, there was a greater degree of fibrosis. The pancreases in three mouse models of insulin deficiency were similar in size to those in control mice.
Conclusions/interpretation
Pancreases from donors with type 1 diabetes are smaller than normal donor pancreases because exocrine cells are fewer in number rather than smaller in size; these changes occur early in the disease process. Our mouse data suggest that decreased pancreas size in type 1 diabetes is not directly caused by insulin deficiency, but the precise mechanism responsible remains unclear.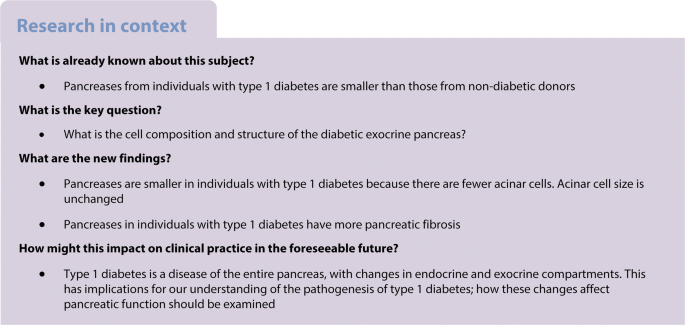 Data availability
The datasets generated and/or analysed during the current study are available from the corresponding author. Images of stained tissue sections used in this manuscript are available at www.pancreatlas.org.
Acknowledgements
We thank the organ donors and their families for their invaluable donation and the International Institute for the Advancement of Medicine (IIAM), organ procurement organisations, the Allegheny-Singer Research Institute, the National Disease Research Interchange (NDRI), the Network for Pancreatic Organ Donors with Diabetes (nPOD), and the Alberta Diabetes Institute Islet Core for their partnership in studies of human pancreatic tissue for research. We thank the Vanderbilt University Translational Pathology Shared Resource for assistance with trichrome blue staining.
Funding
This research was performed using resources and/or funding provided by the National Institute of Diabetes and Digestive and Kidney Diseases–supported Human Islet Research Network and the Human Pancreas Analysis Program (RRID: SCR_014393; https://hirnetwork.org; UC4 DK104211, DK108120, and DK112232), by DK106755, DK72473, DK89572, DK97829, DK94199, T32DK7061, DK46266, DK95735, OD020351 and DK20593, and by grants from JDRF, The Leona M. and Harry B. Helmsley Charitable Trust, and the Department of Veterans Affairs (BX000666).
Ethics declarations
The authors declare that there are no relationships or activities that might bias, or be perceived to bias, their work.
Additional information
Publisher's note
Springer Nature remains neutral with regard to jurisdictional claims in published maps and institutional affiliations.
Electronic supplementary material
About this article
Cite this article
Wright, J.J., Saunders, D.C., Dai, C. et al. Decreased pancreatic acinar cell number in type 1 diabetes. Diabetologia 63, 1418–1423 (2020). https://doi.org/10.1007/s00125-020-05155-y
Received:

Accepted:

Published:

Issue Date:

DOI: https://doi.org/10.1007/s00125-020-05155-y
Keywords
Acinar cells

Atrophy

Exocrine

Fibrosis

Histology

Pancreas

Pathogenesis

Type 1 diabetes