Abstract
Aims/hypothesis
Mitochondrial oxidative metabolism is central to glucose-stimulated insulin secretion (GSIS). Whether Ca2+ uptake into pancreatic beta cell mitochondria potentiates or antagonises this process is still a matter of debate. Although the mitochondrial Ca2+ importer (MCU) complex is thought to represent the main route for Ca2+ transport across the inner mitochondrial membrane, its role in beta cells has not previously been examined in vivo.
Methods
Here, we inactivated the pore-forming subunit of the MCU, encoded by Mcu, selectively in mouse beta cells using Ins1Cre-mediated recombination. Whole or dissociated pancreatic islets were isolated and used for live beta cell fluorescence imaging of cytosolic or mitochondrial Ca2+ concentration and ATP production in response to increasing glucose concentrations. Electrophysiological recordings were also performed on whole islets. Serum and blood samples were collected to examine oral and i.p. glucose tolerance.
Results
Glucose-stimulated mitochondrial Ca2+ accumulation (p< 0.05), ATP production (p< 0.05) and insulin secretion (p< 0.01) were strongly inhibited in beta cell-specific Mcu-null (βMcu-KO) animals, in vitro, as compared with wild-type (WT) mice. Interestingly, cytosolic Ca2+ concentrations increased (p< 0.001), whereas mitochondrial membrane depolarisation improved in βMcu-KO animals. βMcu-KO mice displayed impaired in vivo insulin secretion at 5 min (p< 0.001) but not 15 min post-i.p. injection of glucose, whilst the opposite phenomenon was observed following an oral gavage at 5 min. Unexpectedly, glucose tolerance was improved (p< 0.05) in young βMcu-KO (<12 weeks), but not in older animals vs WT mice.
Conclusions/interpretation
MCU is crucial for mitochondrial Ca2+ uptake in pancreatic beta cells and is required for normal GSIS. The apparent compensatory mechanisms that maintain glucose tolerance in βMcu-KO mice remain to be established.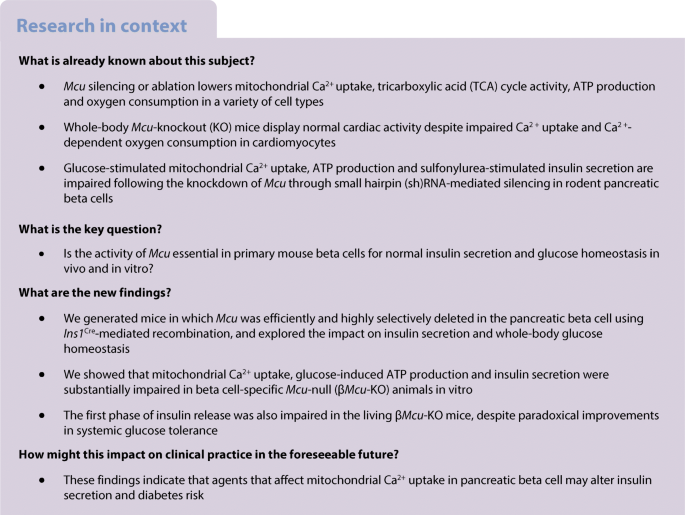 Data availability
All data generated or analysed during this study are included in the published article (and its supplementary information files). No applicable resources were generated or analysed during the current study.
Abbreviations
[Ca2+]cyt :

Cytoplasmic Ca2+ concentration

[Ca2+]mito :

Mitochondrial free Ca2+ concentration

FCCP:

Carbonyl cyanide-4-phenylhydrazone

GIP:

Glucose-dependent insulinotropic peptide

GLP-1:

Glucagon-like peptide-1

GSIS:

Glucose-stimulated insulin secretion

HFHS:

High-fat high-sucrose diet

KATP :

ATP-sensitive K+ (channel)

KO:

Knockout

Δψm :

Mitochondrial membrane potential

MCU:

Mitochondrial Ca2+ uniporter

βMcu-KO:

Beta cell-specific Mcu-null (animal)

MICU:

Mitochondrial calcium uptake protein

MOI:

Multiplicity of infection

NA:

Numerical aperture

NCLX:

Na+/Ca2+ exchanger

OPT:

Optical projection tomography

qRT-PCR:

Quantitative RT-PCR

RAM:

Rapid mode of mitochondrial Ca2+ uptake

TCA:

Tricarboxylic acid

TMRE:

Tetramethylrhodamine ethyl ester

VDCC:

Voltage-dependent Ca2+ channel

WT:

Wild-type
References
International Diabetes Federation. Type 2 diabetes. Available from www.idf.org/aboutdiabetes/type-2-diabetes.html. Accessed 31 January 2020

Kahn SE, Zraika S, Utzschneider KM, Hull RL (2009) The beta cell lesion in type 2 diabetes: there has to be a primary functional abnormality. Diabetologia 52(6):1003–1012. https://doi.org/10.1007/s00125-009-1321-z

Rutter GA, Pullen TJ, Hodson DJ, Martinez-Sanchez A (2015) Pancreatic beta-cell identity, glucose sensing and the control of insulin secretion. The Biochemical journal 466(2):203–218. https://doi.org/10.1042/bj20141384

Rutter GA, Theler JM, Murgia M, Wollheim CB, Pozzan T, Rizzuto R (1993) Stimulated Ca2+ influx raises mitochondrial free Ca2+ to supramicromolar levels in a pancreatic beta-cell line. Possible role in glucose and agonist-induced insulin secretion. J Biol Chem 268(30):22385–22390

Kennedy ED, Rizzuto R, Theler JM et al (1996) Glucose-stimulated insulin secretion correlates with changes in mitochondrial and cytosolic Ca2+ in aequorin-expressing INS-1 cells. J Clin Invest 98(11):2524–2538. https://doi.org/10.1172/JCI119071

Denton RM, McCormack JG (1980) On the role of the calcium transport cycle in heart and other mammalian mitochondria. FEBS Lett 119(1):1–8. https://doi.org/10.1016/0014-5793(80)80986-0

Drews G, Bauer C, Edalat A, Dufer M, Krippeit-Drews P (2015) Evidence against a Ca2+-induced potentiation of dehydrogenase activity in pancreatic beta-cells. Pflugers Archiv 467(11):2389–2397. https://doi.org/10.1007/s00424-015-1707-3

Wiederkehr A, Wollheim CB (2012) Mitochondrial signals drive insulin secretion in the pancreatic beta-cell. Mol Cell Endocrinol 353(1–2):128–137. https://doi.org/10.1016/j.mce.2011.07.016

Anello M, Lupi R, Spampinato D et al (2005) Functional and morphological alterations of mitochondria in pancreatic beta cells from type 2 diabetic patients. Diabetologia 48(2):282–289. https://doi.org/10.1007/s00125-004-1627-9

Tarasov AI, Semplici F, Ravier MA et al (2012) The mitochondrial Ca2+ uniporter MCU is essential for glucose-induced ATP increases in pancreatic beta-cells. PLoS One 7(7):e39722. https://doi.org/10.1371/journal.pone.0039722

De Stefani D, Patron M, Rizzuto R (2015) Structure and function of the mitochondrial calcium uniporter complex. Biochim Biophys Acta 1853(9):2006–2011. https://doi.org/10.1016/j.bbamcr.2015.04.008

Pan X, Liu J, Nguyen T et al (2013) The physiological role of mitochondrial calcium revealed by mice lacking the mitochondrial calcium uniporter. Nat Cell Biol 15(12):1464–1472. https://doi.org/10.1038/ncb2868

Hou T, Zhang X, Xu J et al (2013) Synergistic triggering of superoxide flashes by mitochondrial Ca2+ uniport and basal reactive oxygen species elevation. J Biol Chem 288(7):4602–4612. https://doi.org/10.1074/jbc.M112.398297

Tarasov AI, Semplici F, Li D et al (2013) Frequency-dependent mitochondrial Ca2+ accumulation regulates ATP synthesis in pancreatic β cells. Pflugers Archiv 465(4):543–554. https://doi.org/10.1007/s00424-012-1177-9

Alam MR, Groschner LN, Parichatikanond W et al (2012) Mitochondrial Ca2+ uptake 1 (MICU1) and mitochondrial Ca2+ uniporter (MCU) contribute to metabolism-secretion coupling in clonal pancreatic β-cells. J Biol Chem 287(51):42453. https://doi.org/10.1074/jbc.A112.392084

Hodson DJ, Mitchell RK, Bellomo EA et al (2013) Lipotoxicity disrupts incretin-regulated human beta cell connectivity. J Clin Invest 123(10):4182–4194. https://doi.org/10.1172/jci68459

Luo J, Deng Z-L, Luo X et al (2007) A protocol for rapid generation of recombinant adenoviruses using the AdEasy system. Nat Protoc 2(5):1236–1247. https://doi.org/10.1038/nprot.2007.135

Wu J, Prole DL, Shen Y et al (2014) Red fluorescent genetically encoded Ca2+ indicators for use in mitochondria and endoplasmic reticulum. The Biochemical journal 464(1):13–22. https://doi.org/10.1042/bj20140931

Zhu L, Almaca J, Dadi PK et al (2017) β-Arrestin-2 is an essential regulator of pancreatic β-cell function under physiological and pathophysiological conditions. Nat Commun 8:14295. https://doi.org/10.1038/ncomms14295

Sun G, Tarasov AI, McGinty J et al (2010) Ablation of AMP-activated protein kinase alpha1 and alpha2 from mouse pancreatic beta cells and RIP2.Cre neurons suppresses insulin release in vivo. Diabetologia 53(5):924–936. https://doi.org/10.1007/s00125-010-1692-1

Thorens B, Tarussio D, Maestro MA, Rovira M, Heikkila E, Ferrer J (2015) Ins1Cre knock-in mice for beta cell-specific gene recombination. Diabetologia 58(3):558–565. https://doi.org/10.1007/s00125-014-3468-5

Elayat AA, el-Naggar MM, Tahir M (1995) An immunocytochemical and morphometric study of the rat pancreatic islets. J Anat 186:629–637

Benner C, van der Meulen T, Caceres E, Tigyi K, Donaldson CJ, Huising MO (2014) The transcriptional landscape of mouse beta cells compared to human beta cells reveals notable species differences in long non-coding RNA and protein-coding gene expression. BMC Genomics 15:620. https://doi.org/10.1186/1471-2164-15-620

Mammucari C, Raffaello A, Vecellio Reane D, Rizzuto R (2016) Molecular structure and pathophysiological roles of the mitochondrial calcium uniporter. Biochim Biophys Acta 1863(10):2457–2464. https://doi.org/10.1016/j.bbamcr.2016.03.006

Ashcroft FM, Rorsman P (2013) KATP channels and islet hormone secretion: new insights and controversies. Nat Rev Endocrinol 9(11):660–669. https://doi.org/10.1038/nrendo.2013.166

Tarasov AI, Griffiths EJ, Rutter GA (2012) Regulation of ATP production by mitochondrial Ca2+. Cell Calcium 52(1):28–35. https://doi.org/10.1016/j.ceca.2012.03.003

Wiederkehr A, Szanda G, Akhmedov D et al (2011) Mitochondrial matrix calcium is an activating signal for hormone secretion. Cell Metab 13(5):601–611. https://doi.org/10.1016/j.cmet.2011.03.015

Civelek VN, Deeney JT, Shalosky NJ et al (1996) Regulation of pancreatic β-cell mitochondrial metabolism: influence of Ca2+, substrate and ADP. The Biochemical journal 318(2):615–621

Mulder H, Ling C (2009) Mitochondrial dysfunction in pancreatic β-cells in type 2 diabetes. Mol Cell Endocrinol 297(1–2):34–40. https://doi.org/10.1016/j.mce.2008.05.015

Ma ZA, Zhao Z, Turk J (2012) Mitochondrial dysfunction and beta-cell failure in type 2 diabetes mellitus. Exp Diabetes Res 2012:703538. https://doi.org/10.1155/2012/703538

Denton RM, Pullen TJ, Armstrong CT, Heesom KJ, Rutter GA (2016) Calcium-insensitive splice variants of mammalian E1 subunit of 2-oxoglutarate dehydrogenase complex with tissue-specific patterns of expression. BIochem J 473(9):1165–1178. https://doi.org/10.1042/BCJ20160135

Kamer KJ, Mootha VK (2014) MICU1 and MICU2 play nonredundant roles in the regulation of the mitochondrial calcium uniporter. EMBO Rep 15(3):299–307. https://doi.org/10.1002/embr.201337946

Wang Y, Nguyen NX, She J et al (2019) Structural mechanism of EMRE-dependent gating of the human mitochondrial calcium uniporter. Cell 177(5):1252–1261. https://doi.org/10.1016/j.cell.2019.03.050

Bondarenko AI, Jean-Quartier C, Malli R, Graier WF (2013) Characterization of distinct single-channel properties of Ca2+ inward currents in mitochondria. Pflugers Archiv 465(7):997–1010. https://doi.org/10.1007/s00424-013-1224-1

Jakob R, Beutner G, Sharma VK etal (2014) Molecular and functional identification of a mitochondrial ryanodine receptor in neurons. Neurosci Lett 575:7–12. https://doi.org/10.1016/j.neulet.2014.05.026

Rutter GA, Hodson DJ (2015) Beta cell connectivity in pancreatic islets: a type 2 diabetes target? Cell Mol Life Sci 72(3):453–467. https://doi.org/10.1007/s00018-014-1755-4

Henquin JC (2000) Triggering and amplifying pathways of regulation of insulin secretion by glucose. Diabetes 49(11):1751–1760. https://doi.org/10.2337/diabetes.49.11.1751

Maechler P, Wollheim CB (1999) Mitochondrial glutamate acts as a messenger in glucose-induced insulin exocytosis. Nature 402(6762):685–689. https://doi.org/10.1038/45280

Balaban RS (2009) The role of Ca2+ signaling in the coordination of mitochondrial ATP production with cardiac work. Biochim Biophys Acta 1787(11):1334–1341. https://doi.org/10.1016/j.bbabio.2009.05.011

Palty R, Silverman WF, Hershfinkel M et al (2010) NCLX is an essential component of mitochondrial Na+/Ca2+ exchange. Proc Natl Acad Sci U S A 107(1):436–441. https://doi.org/10.1073/pnas.0908099107

Fridlyand LE, Jacobson DA, Philipson LH (2013) Ion channels and regulation of insulin secretion in human beta-cells: a computational systems analysis. Islets 5(1):1–15. https://doi.org/10.4161/isl.24166

Zhao M, Chen J, Mao K etal (2019) Mitochondrial calcium dysfunction contributes to autophagic cell death induced by MPP+ via AMPK pathway. Biochem Biophys Res Commun 509(2):390–394. https://doi.org/10.1016/j.bbrc.2018.12.148

Kefas BA, Heimberg H, Vaulont S et al (2003) AICA-riboside induces apoptosis of pancreatic beta cells through stimulation of AMP-activated protein kinase. Diabetologia 46(2):250–254. https://doi.org/10.1007/s00125-002-1030-3

Drews G, Krippeit-Drews P, Düfer M (2010) Oxidative stress and beta-cell dysfunction. Pflugers Arch - Eur J Physiol 460(4):703–718. https://doi.org/10.1007/s00424-010-0862-9

Salehi M, Aulinger B, D'Alessio DA (2012) Effect of glycemia on plasma incretins and the incretin effect during oral glucose tolerance test. Diabetes 61(11):2728–2733. https://doi.org/10.2337/db11-1825

Drucker DJ (2006) The biology of incretin hormones. Cell Metab 3(3):153–165. https://doi.org/10.1016/j.cmet.2006.01.004

Hansotia T, Drucker DJ (2005) GIP and GLP-1 as incretin hormones: lessons from single and double incretin receptor knockout mice. Regul Pept 128(2):125–134. https://doi.org/10.1016/j.regpep.2004.07.019

Carlessi R, Chen Y, Rowlands J et al (2017) GLP-1 receptor signalling promotes β-cell glucose metabolism via mTOR-dependent HIF-1α activation. Sci Rep 7(1):2661. https://doi.org/10.1038/s41598-017-02838-2

Harrington JL, Murphy E (2015) The mitochondrial calcium uniporter: mice can live and die without it. J Mol Cell Cardiol 78:46–53. https://doi.org/10.1016/j.yjmcc.2014.10.013

Samanta K, Mirams GR, Parekh AB (2018) Sequential forward and reverse transport of the Na+ Ca2+ exchanger generates Ca2+ oscillations within mitochondria. Nat Commun 9(1):156. https://doi.org/10.1038/s41467-017-02638-2

Ferdaoussi M, Dai X, Jensen MV et al (2015) Isocitrate-to-SENP1 signaling amplifies insulin secretion and rescues dysfunctional beta cells. J Clin Invest 125(10):3847–3860. https://doi.org/10.1172/jci82498
Acknowledgements
We thank G. Gherardi (University of Padova, Padova, Italy) for providing the MCU antibody. We are also grateful to B. Jones (Imperial College London, London, UK) for providing exendin-4 and GIP. Some of this work has been presented as a poster at the EASD Annual conference, Lisbon, Portugal, September 2017, and as a poster at the Diabetes UK Annual Professional Conference, London, UK, March 2018. Data were also included in an oral presentation at a conference entitled: 'Mitochondrial Form and Function' at University College London, UK, September 2017. A version of this work is deposited at BioRxiv: www.biorxiv.org/content/10.1101/781161v1
Contribution statement
EG, EH, GdSX and LL-N performed experiments and analysed data. MTD and DAJ performed the electrophysiological recordings and data analysis of VDCCs. MCC, FS and RR contributed to the generation, amplification and characterisation of R-GECO and Perceval adenoviruses important to the conception and acquisition of mitochondrial Ca2+ and ATP production measurements. SPXD, JAMcG and PMF contributed to the OPT imaging and data analysis. TJP was involved in the design of the floxed Mcu alleles and final approval of the version to be published. IL and AM-S were responsible for the maintenance and genotyping of mouse colonies and final approval of the version to be published. GAR designed the study and wrote the manuscript with EG and EH, with input and final approval of the version to be published from all authors. GAR is the guarantor of this work and, as such, had full access to all the data in the study and takes responsibility for the integrity of the data and the accuracy of the data analysis.
Funding
GAR was supported by a Wellcome Trust Senior Investigator Award (WT098424AIA) and Investigator Award (212625/Z/18/Z), MRC Programme grants (MR/R022259/1, MR/J0003042/1, MR/L020149/1), an Experimental Challenge Grant (DIVA, MR/L02036X/1), an MRC grant (MR/N00275X/1), a Diabetes UK grant (BDA/11/0004210, BDA/15/0005275, BDA16/0005485), an Imperial Confidence in Concept (ICiC) grant and a Royal Society Wolfson Research Merit Award. IL was supported by a Diabetes UK project grant (16/0005485). This project has received funding from the Innovative Medicines Initiative 2 Joint Undertaking, under grant agreement no. 115881 (RHAPSODY). This Joint Undertaking receives support from the European Union's Horizon 2020 research and innovation programme and EFPIA. This work is supported by the Swiss State Secretariat for Education' Research and Innovation (SERI), under contract no. 16.0097. RR was supported by grants from the Italian Ministries of Health (Ricerca Finalizzata) and of Education, University and Research (FIRB), the European Union (ERC mitoCalcium, no. 294777), the National Institutes of Health (grant no. 1P01AG025532-01A1), the Italian Association for Cancer Research (AIRC IG18633) and Telethon-Italy (GGP16029).
Ethics declarations
GAR has received grant funding and consultancy fees from Les Laboratoires Servier and Sun Pharmaceuticals. The remaining authors declare that there are no relationships or activities that might bias, or be perceived to bias, their work.
Additional information
Publisher's note
Springer Nature remains neutral with regard to jurisdictional claims in published maps and institutional affiliations.
Electronic supplementary material
Fluorescence imaging of cytosolic Ca2+ oscillations using Cal-520 in WT (left) and βMcu-KO (right) whole islets in response to 3 mmol/l or 17 mmol/l glucose, 17 mmol/l glucose with 0.1 mmol/l diaz or 20 mmol/l KCl with 0.1 mmol/l diaz. Scale bar, 50 μm.(AVI 20014 kb)
Fluorescence imaging of mitochondrial Ca2+ oscillations using R-GECO in WT (left) and βMcu-KO (right) whole islets in response to 3 mmol/l or 17 mmol/l glucose, 17 mmol/l glucose with 0.1 mmol/l diaz or 20 mmol/l KCl with 0.1 mmol/l diaz. Scale bar, 50 μm.(AVI 27523 kb)
Rights and permissions
Open Access This article is licensed under a Creative Commons Attribution 4.0 International License, which permits use, sharing, adaptation, distribution and reproduction in any medium or format, as long as you give appropriate credit to the original author(s) and the source, provide a link to the Creative Commons licence, and indicate if changes were made. The images or other third party material in this article are included in the article's Creative Commons licence, unless indicated otherwise in a credit line to the material. If material is not included in the article's Creative Commons licence and your intended use is not permitted by statutory regulation or exceeds the permitted use, you will need to obtain permission directly from the copyright holder. To view a copy of this licence, visit http://creativecommons.org/licenses/by/4.0/.
About this article
Cite this article
Georgiadou, E., Haythorne, E., Dickerson, M.T. et al. The pore-forming subunit MCU of the mitochondrial Ca2+ uniporter is required for normal glucose-stimulated insulin secretion in vitro and in vivo in mice. Diabetologia 63, 1368–1381 (2020). https://doi.org/10.1007/s00125-020-05148-x
Received:

Accepted:

Published:

Issue Date:

DOI: https://doi.org/10.1007/s00125-020-05148-x
Keywords
Calcium

Glucose homeostasis

Insulin secretion

Mitochondria

Mitochondrial Ca2+ uniporter (MCU)

Pancreatic beta cells

Type 2 diabetes