Diabetes as a risk factor for heart failure in women and men: a systematic review and meta-analysis of 47 cohorts including 12 million individuals
Abstract
Aims/hypothesis
The prevalence of diabetes and heart failure is increasing, and diabetes has been associated with an increased risk of heart failure. However, whether diabetes confers the same excess risk of heart failure in women and men is unknown. The aim of this study was to conduct a comprehensive systematic review with meta-analysis of possible sex differences in the excess risk of heart failure consequent to diabetes. Our null hypothesis was that there is no such sex difference.
Methods
A systematic search was conducted in PubMed for population-based cohort studies published between January 1966 and November 2018. Studies were selected if they reported sex-specific estimates of RRs for heart failure associated with diabetes, and its associated variability, which were adjusted at least for age. Random-effects meta-analyses with inverse variance weighting were used to obtain pooled sex-specific RRs and women-to-men ratio of RRs (RRRs) for heart failure associated with diabetes.
Results
Data from 47 cohorts, involving 12,142,998 individuals and 253,260 heart failure events, were included. The pooled multiple-adjusted RR for heart failure associated with type 1 diabetes was 5.15 (95% CI 3.43, 7.74) in women and 3.47 (2.57, 4.69) in men, leading to an RRR of 1.47 (1.44, 1.90). Corresponding pooled RRs for heart failure associated with type 2 diabetes were 1.95 (1.70, 2.22) in women and 1.74 (1.55, 1.95) in men, with a pooled RRR of 1.09 (1.05, 1.13).
Conclusions/interpretation
The excess risk of heart failure associated with diabetes is significantly greater in women with diabetes than in men with diabetes.
PROSPERO registration: CRD42019135246
Keywords
Diabetes 
Heart failure 
Meta-analysis 
Sex differences 
Systematic review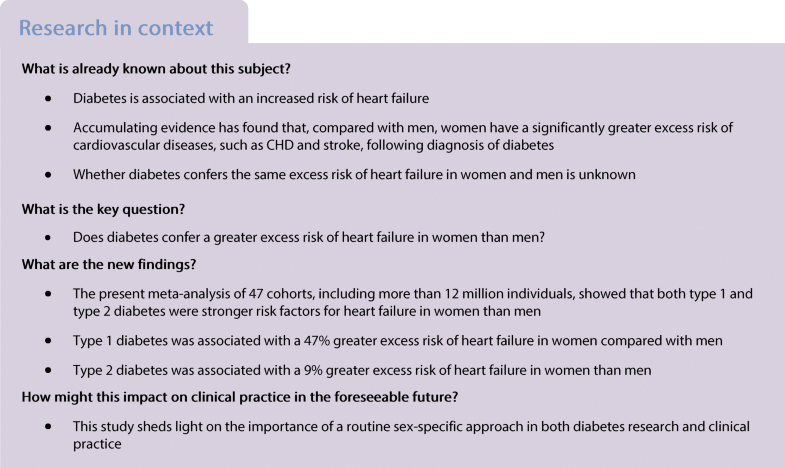 Notes
Contribution statement
TO conceived the research, conducted the systematic review and all the analyses, and wrote the paper. YK conducted the systematic review and made critical revision of the manuscript. MW supervised the work and, together with SAEP, interpreted the data and made critical revision of the manuscript. All authors gave final approval of the version to be published. TO is the guarantor of this work.
Funding
This study received no external funding. TO is supported by the John Chalmers Clinical Research Fellowship of the George Institute. SAEP is supported by a Medical Research Council (UK) fellowship and MW is supported by a National Health and Medical Research Council (Australia) fellowship and Program Grant.
Duality of interest
MW is a consultant to Amgen and Kirin. All other authors declare that there is no duality of interest associated with their contribution to this manuscript.
Copyright information
© The Author(s) 2019
Open Access This article is distributed under the terms of the Creative Commons Attribution 4.0 International License (http://creativecommons.org/licenses/by/4.0/), which permits unrestricted use, distribution, and reproduction in any medium, provided you give appropriate credit to the original author(s) and the source, provide a link to the Creative Commons license, and indicate if changes were made.