No evidence of a causal association of type 2 diabetes and glucose metabolism with atrial fibrillation
Abstract
Aims/hypothesis
Several epidemiological studies have shown an increased risk of atrial fibrillation in individuals with type 2 diabetes or milder forms of dysglycaemia. We aimed to assess whether this relation is causal using a Mendelian randomisation approach.
Methods
Two-sample Mendelian randomisation was used to obtain estimates of the influence of type 2 diabetes, fasting blood glucose (FBG), and HbA1c on the risk of atrial fibrillation. Instrumental variables were constructed using available summary statistics from meta-analyses of genome-wide association studies (GWAS) for type 2 diabetes and associated phenotypes. Pleiotropic SNPs were excluded from the analyses. The most recent GWAS meta-analysis summary statistics for atrial fibrillation, which included over 1 million individuals (approximately 60,000 individuals with atrial fibrillation) was used for outcome analysis.
Results
Neither type 2 diabetes (OR 1.01 [95% CI 0.98, 1.03]; p = 0.37), nor FBG (OR 0.95 [95% CI 0.82, 1.09] per mmol/l; p = 0.49) or HbA1c (OR 1.01 [95% CI, 0.85, 1.17] per mmol/mol [%]; p = 0.88) were associated with atrial fibrillation in Mendelian randomisation analyses. We had >80% statistical power to detect ORs of 1.08, 1.06 and 1.09 or larger for type 2 diabetes, FBG and HbA1c, respectively, for associations with atrial fibrillation.
Conclusions/interpretation
This Mendelian randomisation analysis does not support a causal role of clinical significance between genetically programmed type 2 diabetes, FBG or HbA1c and development of atrial fibrillation. These data suggest that drug treatment to reduce dysglycaemia is unlikely to be an effective strategy for atrial fibrillation prevention.
Keywords
Atrial fibrillation 
Genome-wide association 
Mendelian randomisation 
Type 2 diabetes 
Abbreviations
AFGen

Atrial Fibrillation Genetics (Consortium)

FBG

Fasting blood glucose

GWAS

Genome-wide association studies

2hBG

2 h blood glucose

MR-PRESSO

Mendelian randomisation pleiotropy residual sum and outlier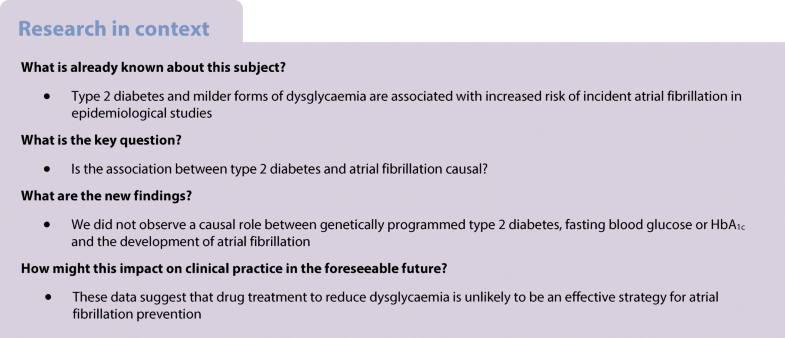 Notes
Contribution statement
HH contributed to design, analysed and interpreted the data and drafted the manuscript. DZ, AR and SG helped with data analysis and revised the article critically for important intellectual content. MP helped with the interpretation of data and critically revised the article for intellectual content. EI and JK contributed to the design, supervised the work and revised the manuscript critically for important intellectual content. All the authors approved the final version to be published. HH, JK and EI are guarantors of this work.
Funding
The research was performed with support from National Institutes of Health (T32DK007217; 1R01HL135313; 1R01DK106236) and the Doris Duke Charitable Foundation. EI and JK were supported by the Stanford Diabetes Research Center (P30DK116074).
Duality of interest
The authors declare that there is no duality of interest associated with this manuscript.
Copyright information
© Springer-Verlag GmbH Germany, part of Springer Nature 2019