Maternal glucose levels during pregnancy and childhood adiposity in the Hyperglycemia and Adverse Pregnancy Outcome Follow-up Study
Abstract
Aims/hypothesis
Maternal type 2 diabetes during pregnancy and gestational diabetes are associated with childhood adiposity; however, associations of lower maternal glucose levels during pregnancy with childhood adiposity, independent of maternal BMI, remain less clear. The objective was to examine associations of maternal glucose levels during pregnancy with childhood adiposity in the Hyperglycemia and Adverse Pregnancy Outcome (HAPO) cohort.
Methods
The HAPO Study was an observational epidemiological international multi-ethnic investigation that established strong associations of glucose levels during pregnancy with multiple adverse perinatal outcomes. The HAPO Follow-up Study (HAPO FUS) included 4832 children from ten HAPO centres whose mothers had a 75 g OGTT at ~28 weeks gestation 10–14 years earlier, with glucose values blinded to participants and clinical caregivers. The primary outcome was child adiposity, including: (1) being overweight/obese according to sex- and age-specific cut-offs based on the International Obesity Task Force (IOTF) criteria; (2) IOTF-defined obesity only; and (3) measurements >85th percentile for sum of skinfolds, waist circumference and per cent body fat. Primary predictors were maternal OGTT and HbA1c values during pregnancy.
Results
Fully adjusted models that included maternal BMI at pregnancy OGTT indicated positive associations between maternal glucose predictors and child adiposity outcomes. For one SD difference in pregnancy glucose and HbA1c measures, ORs for each child adiposity outcome were in the range of 1.05–1.16 for maternal fasting glucose, 1.11–1.19 for 1 h glucose, 1.09–1.21 for 2 h glucose and 1.12–1.21 for HbA1c. Associations were significant, except for associations of maternal fasting glucose with offspring being overweight/obese or having waist circumference >85th percentile. Linearity was confirmed in all adjusted models. Exploratory sex-specific analyses indicated generally consistent associations for boys and girls.
Conclusions/interpretation
Exposure to higher levels of glucose in utero is independently associated with childhood adiposity, including being overweight/obese, obesity, skinfold thickness, per cent body fat and waist circumference. Glucose levels less than those diagnostic of diabetes are associated with greater childhood adiposity; this may have implications for long-term metabolic health.
Keywords
Adiposity 
Childhood obesity 
Glucose 
Pregnancy 
Abbreviations
GDM

Gestational diabetes mellitus

HAPO

Hyperglycemia and Adverse Pregnancy Outcome Study

HAPO FUS

HAPO Follow-up Study

IADPSG

International Association of Diabetes in Pregnancy Study Groups

IOTF

International Obesity Task Force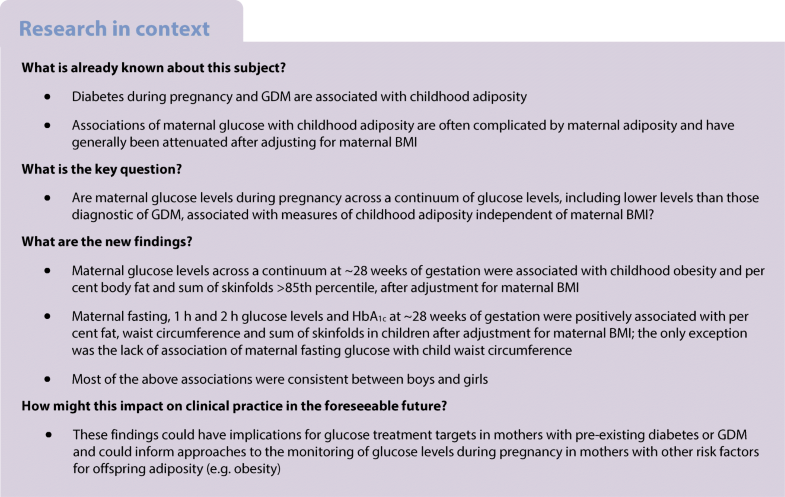 Notes
Acknowledgements
The HAPO FUS investigators are grateful to all mothers and children who participated in the HAPO and HAPO Follow-up studies. Study data were collected and managed using REDCap electronic data capture tools hosted at Northwestern University Feinberg School of Medicine (FSM). REDCap is supported at FSM by the Northwestern University Clinical and Translational Science (NUCATS) Institute. The content is solely the responsibility of the authors and does not necessarily represent the official views of the National Institutes of Health.
Data availability
Data will be made available by the authors upon request.
Contribution statement
BEM, WLL, DMS, LPL, PMC, ARD, and BL contributed to the study concept and design. All authors contributed to the acquisition, analysis or interpretation of data. DMS, AK, MN and OT performed the statistical analyses. All authors critically revised the final paper for important intellectual content and approved the final version. BEM and DMS had full access to all of the data in the study and take responsibility for the integrity of the data and the accuracy of the data analysis.
Funding
The HAPO Follow-up Study is funded by grant 1U01DK094830 from the National Institute of Diabetes and Digestive and Kidney Diseases and the Eunice Kennedy Shriver National Institute of Child Health and Human Development. Research reported in this publication was supported, in part, by the National Institutes of Health's National Center for Advancing Translational Sciences, grant UL1TR001422. BL (NIH) was a participating member of the study Steering Committee and the Writing Group for this manuscript because of the cooperative funding agreement. She was involved in the design of the study but not the conduct of the study; she was not involved in the collection, management and analysis of the data and she was involved in the preparation, review and approval of the manuscript and the decision to submit the manuscript for publication.
Duality of interest
The authors declare that there is no duality of interest associated with this manuscript.
Copyright information
© Springer-Verlag GmbH Germany, part of Springer Nature 2019