Abstract
Aims/hypothesis
Accumulating evidence suggests an impact of gestational weight gain (GWG) on pregnancy outcomes; however, data on cardiometabolic risk factors later in life have not been comprehensively studied. This study aimed to evaluate the relationship between GWG and cardiometabolic risk in offspring aged 7 years.
Methods
We included a total of 905 mother–child pairs who enrolled in the follow-up visit of the multicentre Hyperglycemia and Adverse Pregnancy Outcome study, at the Hong Kong Centre. Women were classified as having gained weight below, within or exceeding the 2009 Institute of Medicine (IOM) guidelines. A standardised GWG according to pre-pregnancy BMI categories was calculated to explore for any quadratic relationship.
Results
Independent of pre-pregnancy BMI, gestational hyperglycaemia and other confounders, women who gained more weight than the IOM recommendations had offspring with a larger body size and increased odds of adiposity, hypertension and insulin resistance (range of p values of all the traits: 4.6 × 10−9 < p < 0.0390) than women who were within the recommended range of weight gain during pregnancy. Meanwhile, women who gained less weight than outlined in the recommendations had offspring with increased risks of hypertension and insulin resistance, compared with those who gained weight within the recommended range (7.9 × 10−3 < p < 0.0477). Quadratic relationships for diastolic blood pressure, AUC for insulin, pancreatic beta cell function and insulin sensitivity index were confirmed in the analysis of standardised GWG (1.4 × 10−3 < pquadratic < 0.0282). Further adjustment for current BMI noticeably attenuated the observed associations.
Conclusions/interpretation
Both excessive and inadequate GWG have independent and significant impacts on childhood adiposity, hypertension and insulin resistance. Our findings support the notion that adverse intrauterine exposures are associated with persistent cardiometabolic risk in the offspring.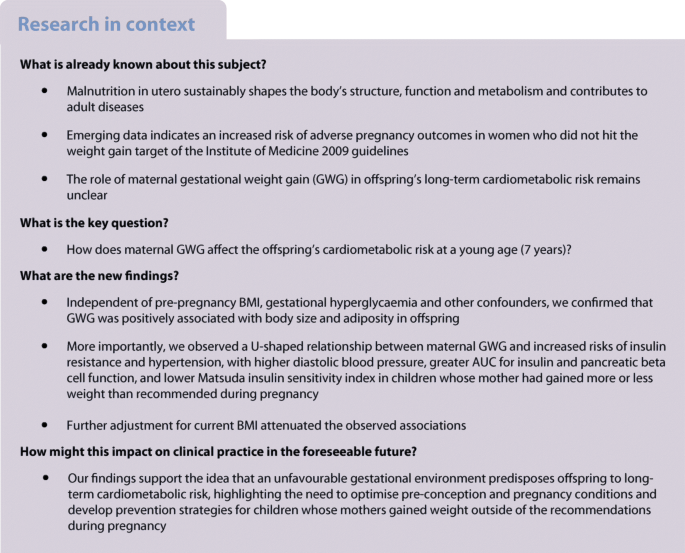 Data availability
The data supporting the findings of this study are available on request from the corresponding authors (WHT and RCWM). The data are not publicly available as they contain information that could compromise the privacy or consent of the research participants.
Abbreviations
AUCglu :

AUC for glucose

AUCins :

AUC for insulin

DBP:

Diastolic blood pressure

FPG:

Fasting plasma glucose

FPI:

Fasting plasma insulin

GWG:

Gestational weight gain

HAPO:

Hyperglycemia and Adverse Pregnancy Outcome

IOM:

Institute of Medicine

ISI:

Insulin sensitivity index

IGI:

Insulinogenic index

SBP:

Systolic blood pressure
References
Karter AJ, Rowell SE, Ackerson LM et al (1999) Excess maternal transmission of type 2 diabetes. The Northern California Kaiser Permanente Diabetes Registry. Diabetes Care 22:938–943

Tam CH, Wang Y, Luan J et al (2014) Maternal history of diabetes is associated with increased cardiometabolic risk in Chinese. Nutr Diabetes 4:e112

Ravelli AC, van der Meulen JH, Michels RP et al (1998) Glucose tolerance in adults after prenatal exposure to famine. Lancet 351:173–177

Wadhwa PD, Buss C, Entringer S, Swanson JM (2009) Developmental origins of health and disease: brief history of the approach and current focus on epigenetic mechanisms. Semin Reprod Med 27:358–368

Pettitt DJ, Nelson RG, Saad MF, Bennett PH, Knowler WC (1993) Diabetes and obesity in the offspring of Pima Indian women with diabetes during pregnancy. Diabetes Care 16:310–314

Reynolds CM, Gray C, Li M, Segovia SA, Vickers MH (2015) Early life nutrition and energy balance disorders in offspring in later life. Nutrients 7:8090–8111

Wrotniak BH, Shults J, Butts S, Stettler N (2008) Gestational weight gain and risk of overweight in the offspring at age 7 y in a multicenter, multiethnic cohort study. Am J Clin Nutr 87:1818–1824

Badon SE, Dyer AR, Josefson JL (2014) Gestational weight gain and neonatal adiposity in the hyperglycemia and adverse pregnancy outcome study-North American region. Obesity 22:1731–1738

Crozier SR, Inskip HM, Godfrey KM et al (2010) Weight gain in pregnancy and childhood body composition: findings from the Southampton Women's Survey. Am J Clin Nutr 91:1745–1751

Oken E, Rifas-Shiman SL, Field AE, Frazier AL, Gillman MW (2008) Maternal gestational weight gain and offspring weight in adolescence. Obstet Gynecol 112:999–1006

Fraser A, Tilling K, Macdonald-Wallis C et al (2010) Association of maternal weight gain in pregnancy with offspring obesity and metabolic and vascular traits in childhood. Circulation 121:2557–2564

Maftei O, Whitrow MJ, Davies MJ, Giles LC, Owens JA, Moore VM (2015) Maternal body size prior to pregnancy, gestational diabetes and weight gain: associations with insulin resistance in children at 9-10 years. Diabet Med 32:174–180

Oken E, Taveras EM, Kleinman KP, Rich-Edwards JW, Gillman MW (2007) Gestational weight gain and child adiposity at age 3 years. Am J Obstet Gynecol 196:322.e1–322.e8

Laor A, Stevenson DK, Shemer J, Gale R, Seidman DS (1997) Size at birth, maternal nutritional status in pregnancy, and blood pressure at age 17: population based analysis. BMJ 315:449–453

Mamun AA, O'Callaghan M, Callaway L, Williams G, Najman J, Lawlor DA (2009) Associations of gestational weight gain with offspring body mass index and blood pressure at 21 years of age: evidence from a birth cohort study. Circulation 119:1720–1727

Hochner H, Friedlander Y, Calderon-Margalit R et al (2012) Associations of maternal prepregnancy body mass index and gestational weight gain with adult offspring cardiometabolic risk factors: the Jerusalem Perinatal Family Follow-up Study. Circulation 125:1381–1389

Hrolfsdottir L, Rytter D, Olsen SF et al (2015) Gestational weight gain in normal weight women and offspring cardio-metabolic risk factors at 20 years of age. Int J Obes 39:671–676

Institute of Medicine (US) and National Research Council (US) Committee to Reexamine IOM Pregnancy Weight Guidelines (2009) In: Rasmussen KM, Yaktine AL (eds) Weight gain during pregnancy: reexamining the guidelines. The National Academies Press, Washington, DC

Tam WH, Ma RCW, Ozaki R et al (2017) In utero exposure to maternal hyperglycemia increases childhood cardiometabolic risk in offspring. Diabetes Care 40:679–686

McCance DR, Pettitt DJ, Hanson RL, Jacobsson LT, Knowler WC, Bennett PH (1994) Birth weight and non-insulin dependent diabetes: thrifty genotype, thrifty phenotype, or surviving small baby genotype? BMJ 308:942–945

National High Blood Pressure Education Program Working Group on High Blood Pressure in Children and Adolescents (2004) The fourth report on the diagnosis, evaluation, and treatment of high blood pressure in children and adolescents. Pediatrics 114:555–576

Matthews DR, Hosker JP, Rudenski AS, Naylor BA, Treacher DF, Turner RC (1985) Homeostasis model assessment: insulin resistance and beta-cell function from fasting plasma glucose and insulin concentrations in man. Diabetologia 28:412–419

Matsuda M, DeFronzo RA (1999) Insulin sensitivity indices obtained from oral glucose tolerance testing: comparison with the euglycemic insulin clamp. Diabetes Care 22:1462–1470

Phillips DI, Clark PM, Hales CN, Osmond C (1994) Understanding oral glucose tolerance: comparison of glucose or insulin measurements during the oral glucose tolerance test with specific measurements of insulin resistance and insulin secretion. Diabet Med 11:286–292

Stumvoll M, Mitrakou A, Pimenta W et al (2000) Use of the oral glucose tolerance test to assess insulin release and insulin sensitivity. Diabetes Care 23:295–301

Gale CR, Javaid MK, Robinson SM, Law CM, Godfrey KM, Cooper C (2007) Maternal size in pregnancy and body composition in children. J Clin Endocrinol Metab 92:3904–3911

Kasuga M (2006) Insulin resistance and pancreatic beta cell failure. J Clin Invest 116:1756–1760

Birch LL (1999) Development of food preferences. Annu Rev Nutr 19:41–62

Smith J, Cianflone K, Biron S et al (2009) Effects of maternal surgical weight loss in mothers on intergenerational transmission of obesity. J Clin Endocrinol Metab 94:4275–4283

Shankar K, Harrell A, Liu X, Gilchrist JM, Ronis MJ, Badger TM (2008) Maternal obesity at conception programs obesity in the offspring. Am J Physiol Regul Integr Comp Physiol 294:R528–R538

Godfrey KM, Gluckman PD, Hanson MA (2010) Developmental origins of metabolic disease: life course and intergenerational perspectives. Trends Endocrinol Metab 21:199–205
Acknowledgements
We thank the HAPO study steering committee for initiating and conducting the original study, and for their kind help and support. We would especially like to thank A. R. Dyer (Feinberg School of Medicine, Northwestern University, Chicago, IL, USA) for reviewing the manuscript and providing supportive comments. We are also grateful to all the study participants for their contribution. Special thanks are extended to all nursing and medical staff at the PWH Diabetes and Endocrine Centre for their dedication and professionalism.
Contribution statement
WHT and RCWM are the principal investigators of the HAPO follow-up study; they both conceived and coordinated the investigation. LYY, CHTT and WHT were responsible for data preparation and statistical analyses. AML, XY and JCNC contributed significantly to the conception and design of the study. RO contributed to data acquisition and monitoring of field work and patient safety throughout the study. CHTT, WHT and RCWM wrote the first draft of the manuscript. YH, MHMC and CSH performed the biochemical and insulin measurements from blood samples. All authors undertook revisions and contributed intellectually to the development of the report. All authors listed made significant contributions to the study and gave final approval of the version to be published. WHT and RCWM are the guarantors of this work; they had full access to all the data in the study and take responsibility for the decision to submit for publication.
Funding
The HAPO study was funded by the National Institute of Child Health and Human Development (grant no. R01-HD34242) and the National Institute of Diabetes and Digestive and Kidney Diseases (grant no. R01-HD34243). The HAPO follow-up study at the Hong Kong Center was supported by the funding from the General Research Fund of the Research Grants Council of the Hong Kong SAR, China (grants CUHK 473408 and, in part, CUHK 471713).
Ethics declarations
The authors declare that there is no duality of interest associated with this manuscript.
Electronic supplementary material
Rights and permissions
Open Access This article is distributed under the terms of the Creative Commons Attribution 4.0 International License (http://creativecommons.org/licenses/by/4.0/), which permits unrestricted use, distribution, and reproduction in any medium, provided you give appropriate credit to the original author(s) and the source, provide a link to the Creative Commons license, and indicate if changes were made.
About this article
Cite this article
Tam, C.H.T., Ma, R.C.W., Yuen, L.Y. et al. The impact of maternal gestational weight gain on cardiometabolic risk factors in children. Diabetologia 61, 2539–2548 (2018). https://doi.org/10.1007/s00125-018-4724-x
Received:

Accepted:

Published:

Issue Date:

DOI: https://doi.org/10.1007/s00125-018-4724-x
Keywords