Abstract
Aims/hypothesis
Recent studies suggest that abnormal function in Müller glial cells plays an important role in the pathogenesis of diabetic retinopathy. This is associated with the selective accumulation of the acrolein-derived advanced lipoxidation end-product, Nε-(3-formyl-3,4-dehydropiperidino)lysine (FDP-lysine), on Müller cell proteins. The aim of the current study was to identify more efficacious acrolein-scavenging drugs and determine the effects of the most potent on Müller cell FDP-lysine accumulation and neuroretinal dysfunction during diabetes.
Methods
An ELISA-based in vitro assay was optimised to compare the acrolein-scavenging abilities of a range of drugs. This identified 2-hydrazino-4,6-dimethylpyrimidine (2-HDP) as a new and potent acrolein scavenger. The ability of this agent to modify the development of diabetic retinopathy was tested in vivo. Male Sprague Dawley rats were divided into three groups: (1) non-diabetic; (2) streptozotocin-induced diabetic; and (3) diabetic treated with 2-HDP in their drinking water for the duration of diabetes. Liquid chromatography high-resolution mass spectrometry was used to detect 2-HDP reaction products in the retina. Immunohistochemistry, real-time quantitative (q)RT-PCR and electroretinography were used to assess retinal changes 3 months after diabetes induction.
Results
2-HDP was the most potent of six acrolein-scavenging agents tested in vitro (p < 0.05). In vivo, administration of 2-HDP reduced Müller cell accumulation of FDP-lysine at 3 months in rats rendered diabetic with streptozotocin (p < 0.001). A 2-HDP adduct was identified in the retinas of diabetic animals treated with this compound. 2-HDP supplementation was associated with reduced Müller cell gliosis (p < 0.05), reduced expression of the oxidative stress marker haem oxygenase-1 (p < 0.001) and partial normalisation of inwardly rectifying K+ channel 4.1 (Kir4.1) expression (p < 0.001 for staining in perivascular regions and the innermost region of the ganglion cell layer). Diabetes-induced retinal expression of inflammatory markers, inflammatory signalling compounds and activation of retinal microglial cells were all reduced in 2-HDP-treated animals. Retinal neurophysiological defects in diabetic animals, as indicated by changes in the electroretinogram 7 weeks after induction of diabetes, were also reduced by 2-HDP (p < 0.05–0.01 for b-wave amplitudes at flash intensities from −10 to +10 dB; p < 0.01 for time to peak of summed oscillatory potentials at +10 dB).
Conclusions/interpretation
These findings support the hypothesis that Müller cell accumulation of FDP-lysine plays an important role in the development of diabetic retinopathy. Our results also suggest that 2-HDP may have therapeutic potential for delaying or treating this sight-threatening complication.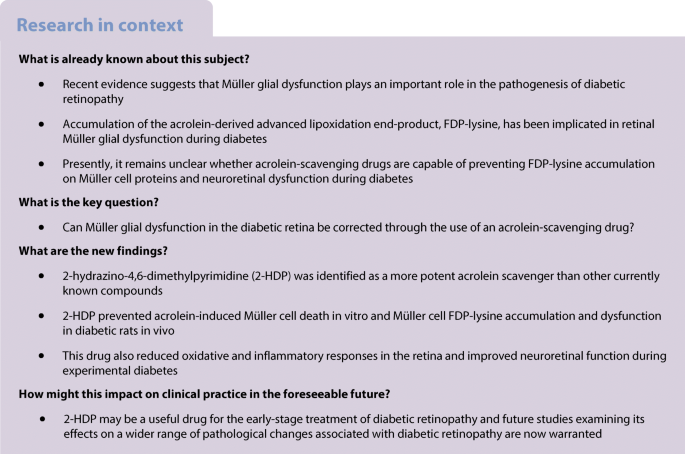 Data availability
The data that support the findings of this study are available from the corresponding author on reasonable request.
Abbreviations
ACR:

Acrolein

ALDH1A1:

Aldehyde dehydrogenase 1A1

2-AP:

2-Aminopropanol

DPH:

1,2-Diphenylhydrazine

ERG:

Electroretinogram

FDP-lysine:

Nε-(3-formyl-3,4-dehydropiperidino)lysine

GFAP:

Glial fibrillary acidic protein

2-HDP:

2-Hydrazino-4,6-dimethylpyrimidine

HDZ:

Hydralazine

HO-1:

Haem oxygenase-1

2-HQ:

2-Hydrazinoquinoline

HSA:

Human serum albumin

IBA1:

Ionised calcium-binding adapter molecule 1

Kir4.1:

Inwardly rectifying K+ channel 4.1

MESNA:

2-Mercaptoethane sulfonate

m/z:

Mass-to-charge ratio

NAC:

N-acetyl-l-cysteine

qRT-PCR:

Real-time quantitative reverse transcriptase PCR

RAGE:

Receptor for advanced glycation end-products

STZ:

Streptozotocin

S100B:

S100 calcium-binding protein B
References
Stitt AW, Curtis TM, Chen M et al (2016) The progress in understanding and treatment of diabetic retinopathy. Prog Retin Eye Res 51:156–186

Antonetti DA, Barber AJ, Bronson SK et al (2006) Diabetic retinopathy: seeing beyond glucose-induced microvascular disease. Diabetes 55:2401–2411

Coorey NJ, Shen W, Chung SH, Zhu L, Gillies MC (2012) The role of glia in retinal vascular disease. Clin Exp Optom 95:266–281

Bringmann A, Pannicke T, Grosche J et al (2006) Muller cells in the healthy and diseased retina. Prog Retin Eye Res 25:397–424

Zong H, Ward M, Madden A et al (2010) Hyperglycaemia-induced pro-inflammatory responses by retinal Muller glia are regulated by the receptor for advanced glycation end-products (RAGE). Diabetologia 53:2656–2666

Fu S, Dong S, Zhu M et al (2015) Muller glia are a major cellular source of survival signals for retinal neurons in diabetes. Diabetes 64:3554–3563

Portillo JC, Lopez CY, Miao Y et al (2017) CD40 in retinal muller cells induces P2X7-dependent cytokine expression in macrophages/microglia in diabetic mice and development of early experimental diabetic retinopathy. Diabetes 66:483–493

Curtis TM, Hamilton R, Yong PH et al (2011) Muller glial dysfunction during diabetic retinopathy in rats is linked to accumulation of advanced glycation end-products and advanced lipoxidation end-products. Diabetologia 54:690–698

Yong PH, Zong H, Medina RJ et al (2010) Evidence supporting a role for N ε -(3-formyl-3,4-dehydropiperidino)lysine accumulation in Muller glia dysfunction and death in diabetic retinopathy. Mol Vis 16:2524–2538

McDowell RE, McGeown JG, Stitt AW, Curtis TM (2013) Therapeutic potential of targeting lipid aldehydes and lipoxidation end-products in the treatment of ocular disease. Future Med Chem 5:189–211

Sadowitz PD, Hubbard BA, Dabrowiak JC et al (2002) Kinetics of cisplatin binding to cellular DNA and modulations by thiol-blocking agents and thiol drugs. Drug Metab Dispos 30:183–190

Burcham PC, Kaminskas LM, Tan D, Pyke SM (2008) Carbonyl-scavenging drugs & protection against carbonyl stress-associated cell injury. Mini Rev Med Chem 8:319–330

Burcham PC, Kerr PG, Fontaine F (2000) The antihypertensive hydralazine is an efficient scavenger of acrolein. Redox Rep 5:47–49

Rast CL Jr, Orgain ES, Muller JC, Pryor WW, Sieber HA (1955) Newer drugs in the treatment of hypertension. II. Use of hexamethonium in combination with hydralazine. Circulation 12:361–369

Kaminskas LM, Pyke SM, Burcham PC (2004) Reactivity of hydrazinophthalazine drugs with the lipid peroxidation products acrolein and crotonaldehyde. Org Biomol Chem 2:2578–2584

Druey J, Marxer A (1959) Hypotensive hydrazinophthalazines and related compounds. J Med Pharm Chem 1:1–21

Lipinski CA (2016) Rule of five in 2015 and beyond: Target and ligand structural limitations, ligand chemistry structure and drug discovery project decisions. Adv Drug Deliv Rev 101:34–41

Ghose AK, Viswanadhan VN, Wendoloski JJ (1999) A knowledge-based approach in designing combinatorial or medicinal chemistry libraries for drug discovery. 1. A qualitative and quantitative characterization of known drug databases. J Comb Chem 1:55–68

Applegate LA, Luscher P, Tyrrell RM (1991) Induction of heme oxygenase: a general response to oxidant stress in cultured mammalian cells. Cancer Res 51:974–978

Pannicke T, Iandiev I, Wurm A et al (2006) Diabetes alters osmotic swelling characteristics and membrane conductance of glial cells in rat retina. Diabetes 55:633–639

Bianchi R, Kastrisianaki E, Giambanco I, Donato R (2011) S100B protein stimulates microglia migration via RAGE-dependent up-regulation of chemokine expression and release. J Biol Chem 286:7214–7226

Kettenmann H, Hanisch UK, Noda M, Verkhratsky A (2011) Physiology of microglia. Physiol Rev 91:461–553

Li Q, Zemel E, Miller B, Perlman I (2002) Early retinal damage in experimental diabetes: electroretinographical and morphological observations. Exp Eye Res 74:615–625

Kur J, Burian MA, Newman EA (2016) Light adaptation does not prevent early retinal abnormalities in diabetic rats. Sci Rep 6:21075

Phipps JA, Fletcher EL, Vingrys AJ (2004) Paired-flash identification of rod and cone dysfunction in the diabetic rat. Invest Ophthalmol Vis Sci 45:4592–4600

Negre-Salvayre A, Coatrieux C, Ingueneau C, Salvayre R (2008) Advanced lipid peroxidation end products in oxidative damage to proteins. Potential role in diseases and therapeutic prospects for the inhibitors. Br J Pharmacol 153:6–20

McDowell RE, McGahon MK, Augustine J, Chen M, McGeown JG, Curtis TM (2016) Diabetes impairs the aldehyde detoxifying capacity of the retina. Invest Ophthalmol Vis Sci 57:4762–4771

Roy S, Kern TS, Song B, Stuebe C (2017) Mechanistic insights into pathological changes in the diabetic retina: implications for targeting diabetic retinopathy. Am J Pathol 187:9–19

Vujosevic S, Micera A, Bini S, Berton M, Esposito G, Midena E (2016) Proteome analysis of retinal glia cells-related inflammatory cytokines in the aqueous humour of diabetic patients. Acta Ophthalmol 94:56–64

Furuhata A, Nakamura M, Osawa T, Uchida K (2002) Thiolation of protein-bound carcinogenic aldehyde. An electrophilic acrolein-lysine adduct that covalently binds to thiols. J Biol Chem 277:27919–27926

Holopigian K, Seiple W, Lorenzo M, Carr R (1992) A comparison of photopic and scotopic electroretinographic changes in early diabetic retinopathy. Invest Ophthalmol Vis Sci 33:2773–2780

Juen S, Kieselbach GF (1990) Electrophysiological changes in juvenile diabetics without retinopathy. Arch Ophthalmol 108:372–375

Lecleire-Collet A, Audo I, Aout M et al (2011) Evaluation of retinal function and flicker light-induced retinal vascular response in normotensive patients with diabetes without retinopathy. Invest Ophthalmol Vis Sci 52:2861–2867

Pescosolido N, Barbato A, Stefanucci A, Buomprisco G (2015) Role of electrophysiology in the early diagnosis and follow-up of diabetic retinopathy. J Diabetes Res 2015:319692

Tzekov R, Arden GB (1999) The electroretinogram in diabetic retinopathy. Surv Ophthalmol 44:53–60

Wen R, Oakley B (1990) K+-evoked Muller cell depolarization generates b-wave of electroretinogram in toad retina. Proc Natl Acad Sci U S A 87:2117–2121

Green DG, Kapousta-Bruneau NV (1999) A dissection of the electroretinogram from the isolated rat retina with microelectrodes and drugs. Vis Neurosci 16:727–741

Stockton RA, Slaughter MM (1989) B-wave of the electroretinogram. A reflection of ON bipolar cell activity. J Gen Physiol 93:101–122

Lam BL (2005) Full-field electroretinogram. In: Lam BL (ed) Electrophysiology of vision: clinical testing and applications. CRC Press, Boca Raton, pp 1–64

Robson JG, Saszik SM, Ahmed J, Frishman LJ (2003) Rod and cone contributions to the a-wave of the electroretinogram of the macaque. J Physiol 547:509–530

Thompson CA, Burcham PC (2008) Genome-wide transcriptional responses to acrolein. Chem Res Toxicol 21:2245–2256

Chen Z, Park J, Butler B et al (2016) Mitigation of sensory and motor deficits by acrolein scavenger phenelzine in a rat model of spinal cord contusive injury. J Neurochem 138:328–338

Park J, Zheng L, Acosta G et al (2015) Acrolein contributes to TRPA1 up-regulation in peripheral and central sensory hypersensitivity following spinal cord injury. J Neurochem 135:987–997

Arai T, Koyama R, Yuasa M, Kitamura D, Mizuta R (2014) Acrolein, a highly toxic aldehyde generated under oxidative stress in vivo, aggravates the mouse liver damage after acetaminophen overdose. Biomed Res 35:389–395

Koyama R, Mizuta R (2017) Acrolein scavengers, cysteamine and N-benzylhydroxylamine, reduces the mouse liver damage after acetaminophen overdose. J Vet Med Sci 78:1903–1905

Critchley JA, Beeley JM, Clark RJ et al (1990) Evaluation of N-acetylcysteine and methylprednisolone as therapies for oxygen and acrolein-induced lung damage. Environ Health Perspect 85:89–94

Burcham PC, Raso A, Thompson CA (2010) Toxicity of smoke extracts towards A549 lung cells: role of acrolein and suppression by carbonyl scavengers. Chem Biol Interact 183:416–424

Grigsby J, Betts B, Vidro-Kotchan E, Culbert R, Tsin A (2012) A possible role of acrolein in diabetic retinopathy: involvement of a VEGF/TGFβ signaling pathway of the retinal pigment epithelium in hyperglycemia. Curr Eye Res 37:1045–1053

Vidro-Kotchan E, Yendluri BB, Le-Thai T, Tsin A (2011) NBHA reduces acrolein-induced changes in ARPE-19 cells: possible involvement of TGFβ. Curr Eye Res 36:370–378

Zhu Q, Sun Z, Jiang Y, Chen F, Wang M (2011) Acrolein scavengers: reactivity, mechanism and impact on health. Mol Nutr Food Res 55:1375–1390
Acknowledgements
Some of the information published here has been previously presented as an abstract: McGeown G, McDowell R, Chen M, Curtis T. Müller glia dysfunction during diabetic retinopathy is reduced by the novel acrolein scavenging drug, 2-hydrazino-4,6-dimethylpyrimidine. International Union of Physiological Sciences 38th World Congress, Rio de Janeiro, 1–5 Aug 2017.
Funding
This study was supported by Fight for Sight, UK (grant reference numbers 1822 and 1574/1575), Health & Social Care R&D Division, Northern Ireland (STL/4748/13) and the Medical Research Council (MC_PC_15026). The funding bodies had no role in the design, collection, analysis or interpretation of data or in writing the manuscript.
Ethics declarations
The authors declare that there is no duality of interest associated with this manuscript.
Electronic supplementary material
Rights and permissions
Open Access This article is distributed under the terms of the Creative Commons Attribution 4.0 International License (http://creativecommons.org/licenses/by/4.0/), which permits unrestricted use, distribution, and reproduction in any medium, provided you give appropriate credit to the original author(s) and the source, provide a link to the Creative Commons license, and indicate if changes were made.
About this article
Cite this article
McDowell, R.E., Barabas, P., Augustine, J. et al. Müller glial dysfunction during diabetic retinopathy in rats is reduced by the acrolein-scavenging drug, 2-hydrazino-4,6-dimethylpyrimidine. Diabetologia 61, 2654–2667 (2018). https://doi.org/10.1007/s00125-018-4707-y
Received:

Accepted:

Published:

Issue Date:

DOI: https://doi.org/10.1007/s00125-018-4707-y
Keywords
Acrolein

Advanced lipoxidation end-products

Diabetic retina

Electroretinography

Hydrazino compounds

Inflammatory signalling

Müller glia

Oxidative stress

Retinopathy

Scavenging agents