Abstract
Aims/hypothesis
Exposure to an intrauterine hyperglycaemic environment has been suggested to increase the offspring's later risk for being overweight or having metabolic abnormalities, but conclusive evidence for pregnancies affected by maternal type 1 diabetes is still lacking. This study aims to analyse the relationship between maternal type 1 diabetes and the offspring's metabolic health and investigate whether birthweight and/or changes in the offspring's metabolome are in the potential pathway.
Methods
We analysed data from 610 and 2169 offspring having a first-degree relative with type 1 diabetes from the TEENDIAB and BABYDIAB/BABYDIET cohorts, respectively. Anthropometric and metabolic outcomes, assessed longitudinally at 0.3–18 years of age, were compared between offspring of mothers with type 1 diabetes and offspring of non-diabetic mothers but with fathers or siblings with type 1 diabetes using mixed regression models. Non-targeted metabolomic measurements were carried out in 500 individuals from TEENDIAB and analysed with maternal type 1 diabetes and offspring overweight status.
Results
The offspring of mothers with type 1 diabetes had a higher BMI SD score (SDS) and an increased risk for being overweight than the offspring of non-diabetic mothers (e.g. OR for overweight status in TEENDIAB 2.40 [95% CI 1.41, 4.06]). Further, waist circumference SDS, fasting levels of glucose, insulin and C-peptide, and insulin resistance and abdominal obesity were significantly increased in the offspring of mothers with type 1 diabetes, even when adjusted for potential confounders and birthweight. Metabolite patterns related to androgenic steroids and branched-chain amino acids were found to be associated with offspring's overweight status, but no significant associations were observed between maternal type 1 diabetes and metabolite concentrations in the offspring.
Conclusions/interpretation
Maternal type 1 diabetes is associated with offspring's overweight status and metabolic health in later life, but this is unlikely to be caused by alterations in the offspring's metabolome.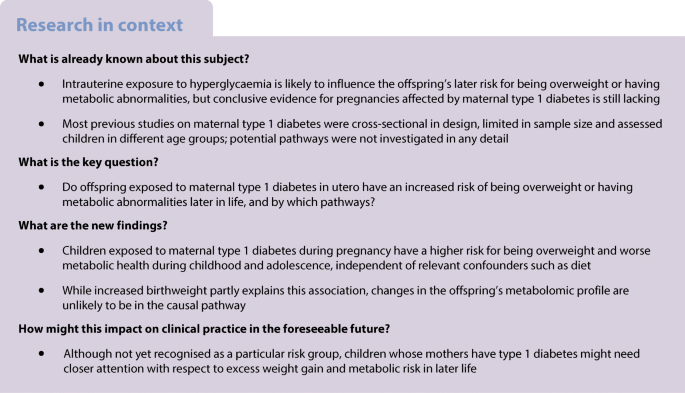 Data availability
The datasets analysed during the current study are available from the corresponding author on reasonable request.
Abbreviations
BCAA:

Branched-chain amino acid

DII:

Dietary inflammatory index

SDS:

Standard deviation score
References
Eckel RH, Grundy SM, Zimmet PZ (2005) The metabolic syndrome. Lancet (London, England) 365:1415–1428

Freinkel N (1980) Banting Lecture 1980: of pregnancy and progeny. Diabetes 29:1023

Boerschmann H, Pfluger M, Henneberger L, Ziegler AG, Hummel S (2010) Prevalence and predictors of overweight and insulin resistance in offspring of mothers with gestational diabetes mellitus. Diabetes Care 33:1845–1849

Buinauskiene J, Baliutaviciene D, Zalinkevicius R (2004) Glucose tolerance of 2- to 5-yr-old offspring of diabetic mothers. Pediatr Diabetes 5:143–146

Silverman BL, Metzger BE, Cho NH, Loeb CA (1995) Impaired glucose tolerance in adolescent offspring of diabetic mothers. Relationship to fetal hyperinsulinism. Diabetes Care 18:611–617

Manderson JG, Mullan B, Patterson CC, Hadden DR, Traub AI, McCance DR (2002) Cardiovascular and metabolic abnormalities in the offspring of diabetic pregnancy. Diabetologia 45:991–996

Clausen TD, Mathiesen ER, Hansen T et al (2009) Overweight and the metabolic syndrome in adult offspring of women with diet-treated gestational diabetes mellitus or type 1 diabetes. J Clin Endocrinol Metab 94:2464–2470

Vlachova Z, Bytoft B, Knorr S et al (2015) Increased metabolic risk in adolescent offspring of mothers with type 1 diabetes: the EPICOM study. Diabetologia 58:1454–1463

Lindsay RS, Nelson SM, Walker JD et al (2010) Programming of adiposity in offspring of mothers with type 1 diabetes at age 7 years. Diabetes Care 33:1080–1085

Weiss PA, Scholz HS, Haas J, Tamussino KF, Seissler J, Borkenstein MH (2000) Long-term follow-up of infants of mothers with type 1 diabetes: evidence for hereditary and nonhereditary transmission of diabetes and precursors. Diabetes Care 23:905–911

Beyerlein A, Von Kries R, Hummel M et al (2010) Improvement in pregnancy-related outcomes in the offspring of diabetic mothers in Bavaria, Germany, during 1987–2007. Diabet Med 27:1379–1384

Beyerlein A, Thiering E, Pflueger M et al (2014) Early infant growth is associated with the risk of islet autoimmunity in genetically susceptible children. Pediatr Diabetes 15:534–542

Yassouridis C, Leisch F, Winkler C, Ziegler AG, Beyerlein A (2017) Associations of growth patterns and islet autoimmunity in children with increased risk for type 1 diabetes: a functional analysis approach. Pediatr Diabetes 18:103–110

Hummel S, Pfluger M, Kreichauf S, Hummel M, Ziegler AG (2009) Predictors of overweight during childhood in offspring of parents with type 1 diabetes. Diabetes Care 32:921–925

Butte NF, Liu Y, Zakeri IF et al (2015) Global metabolomic profiling targeting childhood obesity in the Hispanic population. Am J Clin Nutr 102:256–267

Perng W, Gillman MW, Fleisch AF et al (2014) Metabolomic profiles and childhood obesity. Obesity (Silver Spring, Md) 22:2570–2578

Wahl S, Yu Z, Kleber M et al (2012) Childhood obesity is associated with changes in the serum metabolite profile. Obes Facts 5:660–670

Raab J, Giannopoulou EZ, Schneider S et al (2014) Prevalence of vitamin D deficiency in pre-type 1 diabetes and its association with disease progression. Diabetologia 57:902–908

Raab J, Haupt F, Kordonouri O et al (2013) Continuous rise of insulin resistance before and after the onset of puberty in children at increased risk for type 1 diabetes—a cross-sectional analysis. Diabetes Metab Res Rev 29:631–635

Ziegler AG, Meier-Stiegen F, Winkler C, Bonifacio E, Teendiab Study Group (2012) Prospective evaluation of risk factors for the development of islet autoimmunity and type 1 diabetes during puberty—TEENDIAB: study design. Pediatr Diabetes 13:419–424

Morris NM, Udry JR (1980) Validation of a self-administered instrument to assess stage of adolescent development. J Youth Adolesc 9:271–280

Sansone SA, Fan T, Goodacre R et al (2007) The metabolomics standards initiative. Nat Biotechnol 25:846–848

Krumsiek J, Mittelstrass K, Do KT et al (2015) Gender-specific pathway differences in the human serum metabolome. Metabolomics 11:1815–1833

Hummel S, Pflüger M, Hummel M, Bonifacio E, Ziegler A-G (2011) Primary dietary intervention study to reduce the risk of islet autoimmunity in children at increased risk for type 1 diabetes. Diabetes Care 34:1301

Beyerlein A, Chmiel R, Hummel S, Winkler C, Bonifacio E, Ziegler AG (2014) Timing of gluten introduction and islet autoimmunity in young children: updated results from the BABYDIET study. Diabetes Care 37:e194–e195

Ziegler AG, Hummel M, Schenker M, Bonifacio E (1999) Autoantibody appearance and risk for development of childhood diabetes in offspring of parents with type 1 diabetes: the 2-year analysis of the German BABYDIAB Study. Diabetes 48:460

Hummel M, Bonifacio E, Schmid S, Walter M, Knopff A, Ziegler A (2004) Brief communication: early appearance of islet autoantibodies predicts childhood type 1 diabetes in offspring of diabetic parents. Ann Intern Med 140:882–886

Kromeyer-Hauschild K, Wabitsch M, Kunze D et al (2001) Perzentile für den body-mass-index für das Kindes- und Jugendalter unter Heranziehung verschiedener deutscher Stichproben. Monatsschrift Kinderheilkunde 149:807–818 article in German

Robert-Koch-Institut (2013) Referenzperzentile für anthropometrische Maßzahlen und Blutdruck aus der Studie zur Gesundheit von Kindern und Jugendlichen in Deutschland (KiGGS) 2003-2006. Beiträge zur Gesundheitsberichterstattung des Bundes Berlin. Available from http://www.rki.de/DE/Content/Gesundheitsmonitoring/Gesundheitsberichterstattung/GBEDownloadsB/KiGGS_Referenzperzentile.pdf?__blob=publicationFile. Accessed 10 May 2017 [document in German]

Dathan-Stumpf A, Vogel M, Hiemisch A et al (2016) Pediatric reference data of serum lipids and prevalence of dyslipidemia: results from a population-based cohort in Germany. Clin Biochem 49:740–749

Alberti KGMM, Zimmet P, Shaw J (2006) Metabolic syndrome—a new world-wide definition. A consensus statement from the International Diabetes Federation. Diabet Med 23:469–480

Voigt M, Schneider KT, Jahrig K (1996) Analysis of a 1992 birth sample in Germany. 1: New percentile values of the body weight of newborn infants. Geburtshilfe Frauenheilkund 56:550–558 article in German

Matthews DR, Hosker JP, Rudenski AS, Naylor BA, Treacher DF, Turner RC (1985) Homeostasis model assessment: insulin resistance and beta-cell function from fasting plasma glucose and insulin concentrations in man. Diabetologia 28:412–419

Weber KS, Raab J, Haupt F et al (2014) Evaluating the diet of children at increased risk for type 1 diabetes: first results from the TEENDIAB study. Public Health Nutr 18:50–58

Willett WC, Howe GR, Kushi LH (1997) Adjustment for total energy intake in epidemiologic studies. Am J Clin Nutr 65:1220S–1228S

Shivappa N, Steck SE, Hurley TG, Hussey JR, Hebert JR (2014) Designing and developing a literature-derived, population-based dietary inflammatory index. Public Health Nutr 17:1689–1696

Beyerlein A, Ruckinger S, Toschke AM, Schaffrath Rosario A, von Kries R (2011) Is low birth weight in the causal pathway of the association between maternal smoking in pregnancy and higher BMI in the offspring? Eur J Epidemiol 26:413–420

Wang Y, Lim H (2012) The global childhood obesity epidemic and the association between socio-economic status and childhood obesity. Int Rev Psychiatry (Abingdon, England) 24:176–188

Rijpert M, Evers IM, de Vroede MA, de Valk HW, Heijnen CJ, Visser GH (2009) Risk factors for childhood overweight in offspring of type 1 diabetic women with adequate glycemic control during pregnancy: nationwide follow-up study in the Netherlands. Diabetes Care 32:2099–2104

Silverman BL, Rizzo T, Green OC et al (1991) Long-term prospective evaluation of offspring of diabetic mothers. Diabetes 40(Suppl 2):121–125

Baptiste-Roberts K, Nicholson WK, Wang N-Y, Brancati FL (2012) Gestational diabetes and subsequent growth patterns of offspring: the National Collaborative Perinatal Project. Matern Child Health J 16:125–132
Acknowledgements
We thank L. Lachmann, C. Matzke, J. Stock, S. Krause, A. Knopff, F. Haupt, M. Pflüger, M. Scholz, A. Gavrisan, S. Schneider, K. Remus, S. Biester (Bläsig), E. Sadeghian and A. Bokelmann for data collection and expert technical assistance. We also thank all families participating in the BABYDIAB/BABYDIET and TEENDIAB studies and also all paediatricians, diabetologists and family doctors in Germany for recruitment and continuous support.
Funding
The work was supported by grants from the Competence Network for Diabetes Mellitus (Kompetenznetz Diabetes Mellitus) funded by the Federal Ministry of Education and Research (FKZ 01GI0805-07), JDRF (JDRF-No 17-2012-16, JDRF-No 2-SRA-2015-13-Q-R) and the European Union's HORIZON 2020 research and innovation programme (grant agreement number 633595 DynaHEALTH). This work was supported by iMed, the Helmholtz Initiative on Personalized Medicine.
Ethics declarations
The authors declare that there is no duality of interest associated with this manuscript.
Electronic supplementary material
About this article
Cite this article
Pitchika, A., Jolink, M., Winkler, C. et al. Associations of maternal type 1 diabetes with childhood adiposity and metabolic health in the offspring: a prospective cohort study. Diabetologia 61, 2319–2332 (2018). https://doi.org/10.1007/s00125-018-4688-x
Received:

Accepted:

Published:

Issue Date:

DOI: https://doi.org/10.1007/s00125-018-4688-x
Keywords
Birthweight

Maternal type 1 diabetes

Offspring metabolic health

Offspring metabolome

Offspring overweight