Efficacy and safety of methionine aminopeptidase 2 inhibition in type 2 diabetes: a randomised, placebo-controlled clinical trial
Abstract
Aims/hypothesis
This multicentre randomised double-blind placebo-controlled clinical trial assessed the efficacy and safety of a methionine aminopeptidase 2 (MetAP2) inhibitor, beloranib, in individuals with obesity (BMI ≥30 kg/m2) and type 2 diabetes (HbA1c 53–97 mmol/mol [7–11%] and fasting glucose <15.6 mmol/l).
Methods
Participants were randomised (via a centralised interactive web response system) to placebo, 1.2 or 1.8 mg beloranib s.c. twice weekly for 26 weeks. Participants, investigators and the sponsor were blinded to group assignment. The primary endpoint was the change in weight from baseline to week 26. The trial was terminated early when beloranib development was stopped because of an imbalance of venous thromboembolism events in beloranib-treated individuals vs placebo that became evident during late-stage development of the drug.
Results
In total, 153 participants were randomised, 51 to placebo, 52 to 1.2 mg beloranib and 50 to 1.8 mg beloranib. In participants who completed week 26, the least squares mean ± SE weight change (baseline 111 kg) was −3.1 ± 1.2% with placebo (n = 22) vs −13.5 ± 1.1% and −12.7 ± 1.3% with 1.2 and 1.8 mg beloranib, respectively (n = 25; n = 19; p < 0.0001). The change in HbA1c (baseline 67 mmol/mol [8.3%]) was −6.6 ± 2.2 mmol/mol (−0.6 ± 0.2%) with placebo vs −21.9 ± 2.2 mmol/mol (−2.0 ± 0.2%) or −21.9 ± 3.3 mmol/mol (−2.0 ± 0.3%) with 1.2 or 1.8 mg beloranib (p < 0.0001), respectively. The most common beloranib adverse events were sleep related. One beloranib-treated participant experienced a non-fatal pulmonary embolism.
Conclusions/interpretation
MetAP2 inhibitors represent a novel mechanism for producing meaningful weight loss and improvement in HbA1c.
Funding:
The study was funded by Zafgen, Inc.
Keywords
Anti-obesity medication 
Glucose-lowering medication 
Glycaemic control 
MetAP2 
Abbreviations
AE

Adverse event

hsCRP

High-sensitivity C-reactive protein

MetAP2

Methionine aminopeptidase 2

PWS

Prader–Willi syndrome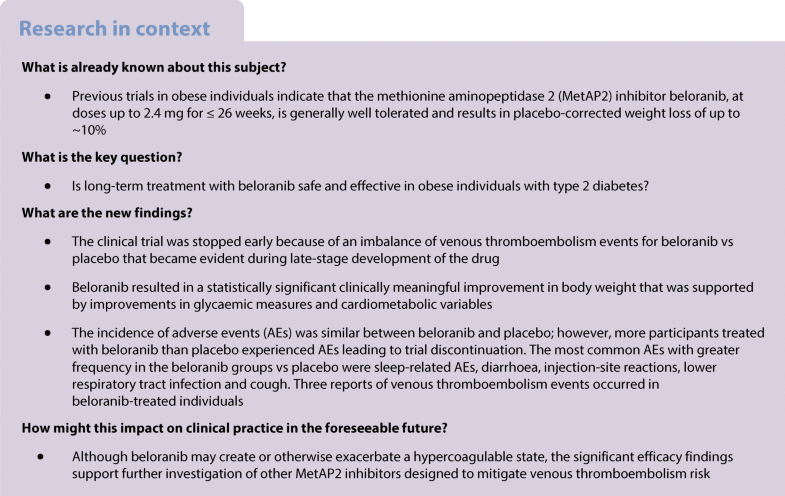 Notes
Acknowledgements
We thank T. Haugen (Zafgen, Inc.) for assistance with clinical operations. Writing assistance was provided by S. K. Billes (August Scientific) and B. Clapper (BioMedCom) and was funded by Zafgen, Inc.
Contribution statement
JM, KT and DK took part in clinical trial design. JP, MA, NDC, FJdL, CG, PG, SH, TN, GSO, DNO, AR, BGAS, DY, JM and KT were responsible for screening and enrolment of participants and arranged informed consent. JP, MA, NDC, FJdL, CG, PG, SH, TN, GSO, DNO, AR, BGAS and DY were responsible for acquisition of data. JM, DZ, KT and DK contributed to the statistical analysis. JM, DZ, KT and DK participated in data review and interpretation. JM, DZ and KT contributed to the writing of the manuscript. JM and DZ had full access to all data in the clinical trial and take responsibility for the integrity of the work. All authors critically reviewed and revised the manuscript and have read and approved the final version.
Funding
This work is sponsored by Zafgen, Inc. The sponsor was involved in study design and collection, analysis and interpretation of data, writing of the report, and decision to submit the report for publication.
Duality of interest
JP, MA, FJdL, CG, PG, SH, TN, GSO, DNO, AR and DY received institutional grant support from Zafgen. NDC received institutional support from Zafgen and advisory board/speaking fees from Boehringer-Ingelheim, Lilly, Novo Nordisk, Astra Zeneca, Medtronic, Servier and Abbott. BGAS received institutional grant support from Zafgen and speaking fees from Bayer and Besins. JM, DZ, KT and DK are employees of, and hold stock in, Zafgen.
Copyright information
© Springer-Verlag GmbH Germany, part of Springer Nature 2018