Persistence of abnormalities in white matter in children with type 1 diabetes
Abstract
Aims/hypothesis
Prior studies suggest white matter growth is reduced and white matter microstructure is altered in the brains of young children with type 1 diabetes when compared with brains of non-diabetic children, due in part to adverse effects of hyperglycaemia. This longitudinal observational study examines whether dysglycaemia alters the developmental trajectory of white matter microstructure over time in young children with type 1 diabetes.
Methods
One hundred and eighteen children, aged 4 to <10 years old with type 1 diabetes and 58 age-matched, non-diabetic children were studied at baseline and 18 months, at five Diabetes Research in Children Network clinical centres. We analysed longitudinal trajectories of white matter using diffusion tensor imaging. Continuous glucose monitoring profiles and HbA1c levels were obtained every 3 months.
Results
Axial diffusivity was lower in children with diabetes at baseline (p = 0.022) and at 18 months (p = 0.015), indicating that differences in white matter microstructure persist over time in children with diabetes. Within the diabetes group, lower exposure to hyperglycaemia, averaged over the time since diagnosis, was associated with higher fractional anisotropy (p = 0.037). Fractional anisotropy was positively correlated with performance (p < 0.002) and full-scale IQ (p < 0.02).
Conclusions/interpretation
These results suggest that hyperglycaemia is associated with altered white matter development, which may contribute to the mild cognitive deficits in this population.
Keywords
Brain development 
Paediatric diabetes 
White matter 
Abbreviations
CGM

Continuous glucose monitor

DirecNet

Diabetes Research in Children Network

DKA

Diabetic ketoacidosis

DTI

Diffusion tensor imaging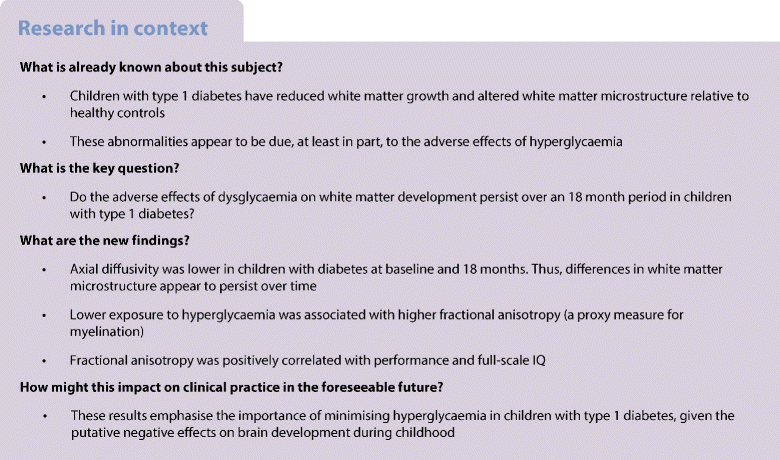 Notes
Acknowledgements
The authors thank the participants and their families, as well as the clinical and imaging staff at all investigator sites. They also thank the external collaborators at the University of California at San Francisco (San Francisco, CA, USA), El Camino Hospital (Mountain View, CA, USA) and University of Florida/Shands-Jacksonville Medical Center (Jacksonville, FL, USA) for the use of their imaging facilities. The authors also thank K. Winer, at the Eunice Kennedy Shriver National Institute of Child Health and Human Development, for advice and support.
Contribution statement
Each listed author has participated in the work represented by the article. Participation has included: (1) substantial contributions to the conception and design of the work or the acquisition, analysis or interpretation of data and (2) drafting the article or revising it critically for important intellectual content. All authors have given final approval of the version to be published. LAF and PM are the guarantors of this work and, as such, had full access to all the data in the study and take responsibility for the integrity of the data and the accuracy of the data analysis.
Funding
This research was supported by the National Institutes of Health and the Eunice Kennedy Shriver National Institute of Child Health and Human Development (DIRECNET HD-41906, HD-41908, HD-41915, HD-41918, HD-56526, R01-HD-078463).
Duality of interest
LAF reports a research device agreement with Johnson & Johnson (Animas, Inc.); NM reports a research device supply agreement with her institution from Medtronic and Lifescan, research grant support from Medtronic and consultancy from PicoLife Technologies; BB is a consultant for Dexcom and has received research support from and conducted research studies for Dexcom and Medtronic. WVT, AMA and KE report consultancy from PicoLife Technologies. All other authors declare that there is no duality of interest associated with their contribution to this manuscript.
Copyright information
© Springer-Verlag GmbH Germany, part of Springer Nature 2018