SIRT6-mediated transcriptional suppression of Txnip is critical for pancreatic beta cell function and survival in mice
Abstract
Aims/hypothesis
Better understanding of how genetic and epigenetic components control beta cell differentiation and function is key to the discovery of novel therapeutic approaches to prevent beta cell dysfunction and failure in the progression of type 2 diabetes. Our goal was to elucidate the role of histone deacetylase sirtuin 6 (SIRT6) in beta cell development and homeostasis.
Methods
Sirt6 endocrine progenitor cell conditional knockout and beta cell-specific knockout mice were generated using the Cre-loxP system. Mice were assayed for islet morphology, glucose tolerance, glucose-stimulated insulin secretion and susceptibility to streptozotocin. Transcriptional regulatory functions of SIRT6 in primary islets were evaluated by RNA-Seq analysis. Reverse transcription-quantitative (RT-q)PCR and immunoblot were used to verify and investigate the gene expression changes. Chromatin occupancies of SIRT6, H3K9Ac, H3K56Ac and active RNA polymerase II were evaluated by chromatin immunoprecipitation.
Results
Deletion of Sirt6 in pancreatic endocrine progenitor cells did not affect endocrine morphology, beta cell mass or insulin production but did result in glucose intolerance and defective glucose-stimulated insulin secretion in mice. Conditional deletion of Sirt6 in adult beta cells reproduced the insulin secretion defect. Loss of Sirt6 resulted in aberrant upregulation of thioredoxin-interacting protein (TXNIP) in beta cells. SIRT6 deficiency led to increased acetylation of histone H3 lysine residue at 9 (H3K9Ac), acetylation of histone H3 lysine residue at 56 (H3K56Ac) and active RNA polymerase II at the promoter region of Txnip. SIRT6-deficient beta cells exhibited a time-dependent increase in H3K9Ac, H3K56Ac and TXNIP levels. Finally, beta cell-specific SIRT6-deficient mice showed increased sensitivity to streptozotocin.
Conclusions/interpretation
Our results reveal that SIRT6 suppresses Txnip expression in beta cells via deacetylation of histone H3 and plays a critical role in maintaining beta cell function and viability.
Data availability
Sequence data have been deposited in the National Institutes of Health (NIH) Gene Expression Omnibus (GEO) with the accession code GSE104161.
Keywords
Beta cell 
Diabetes 
H3K9Ac 
Insulin secretion 
SIRT6 
TXNIP 
Abbreviations
BKO

Beta cell-specific knockout

ChIP

Chromatin immunoprecipitation

EKO

Endocrine pancreas-specific knockout

HAT

Histone acetyltransferase

HDAC

Histone deacetylase

H3K9Ac

Acetylation of histone H3 lysine residue at 9

H3K18Ac

Acetylation of histone H3 lysine residue at 18

H3K56Ac

Acetylation of histone H3 lysine residue at 56

MIP1-CreER

Mouse insulin promoter 1-driven, inducible CreERT transgenic line

NGN3

Neurogenin 3

NIH

National Institutes of Health

ROS

Reactive oxygen species

SIRT6

Sirtuin 6

STZ

Streptozotocin

TSS

Transcriptional start site

TXNIP

Thioredoxin-interacting protein
Introduction
Beta cells, the major cell type in the endocrine pancreas, control glucose homeostasis by secreting insulin in response to blood sugar level [1]. Dysfunction of beta cells and impaired insulin sensitivity of peripheral tissues lead to type 2 diabetes [2]. Histone modifications, including acetylation, methylation, phosphorylation and ubiquitination, affect the accessibility of genetic information by altering the physical interaction of DNA, histones and non-histone proteins [3]. Studies have shown that histone acetylation and deacetylation play pivotal roles in regulating endocrine differentiation and beta cell maturation and function [4]. In addition, histone acetylation and deacetylation are implicated in the pathogenesis of diabetes [5]. Thus, targeting such mechanisms may provide a potential approach to treat diabetes [5]. The biochemical reactions of histone acetylation and deacetylation in cells are executed by catalytic enzymes called histone acetyltransferases (HATs) and histone deacetylases (HDACs) [5]. Despite the identification of more than 20 HATs and 18 HDACs [6, 7], the expression pattern and precise function of these specific enzymes in beta cells are not yet fully understood. Furthermore, despite extensive studies conducted in vitro, the physiological functions of these proteins have not been completely established [8].
Sirtuins, first identified in yeast as ageing regulators, belong to the class III HDACs [9]. There are seven members in the mammalian sirtuin family (sirtuin 1–7) [9], all of which exhibit NAD-dependent deacetylation activity. However, different sirtuins act on different substrates and are localised in specific subcellular compartments [10]. For example, SIRT6 is closely associated with chromatin and works as a transcriptional co-suppressor by catalysing the deacetylation of histone H3 lysine residues acetylated at positions 9, 56 and 18 (H3K9Ac, H3K56Ac and H3K18Ac) [11, 12, 13]. Prior genetic studies showed that SIRT6 is essential for mouse development and plays versatile roles in regulating glucose homeostasis, lipid metabolism and many other processes [14]. To elucidate the role of SIRT6 in beta cell development and homeostasis, we generated endocrine pancreas-specific (EKO) and beta cell-specific knockout (BKO) mouse models in which Sirt6 was deleted at the embryonic and adult stages, respectively. By taking advantage of transcriptome analysis, we further investigated the underlying mechanisms by which SIRT6 contributes to endocrine pancreas functions.
Methods
Animal studies
All mouse studies were approved by the Institutional Animal Care and Use Committee of the University of Texas Health Science Centre at San Antonio. The Sirt6 flox/flox (f/f) [15], Ngn3-Cre [16] (Ngn3 is also known as Neurog3) and mouse insulin promoter 1-driven, inducible CreERT transgenic line (MIP1-CreERT) [17] mice were obtained from the Jackson Laboratory (Bar Harbor, ME, USA) and maintained in a mix genetic background. Mice were housed in a conventional facility with a 12 h night–day cycle and free access to food and water. Mouse genotyping was performed using a dirty-tail method as previously described [18]. Tamoxifen (T5648; Sigma, St Louis, MO, USA) was used to delete the floxed Sirt6 allele via the MIP1-CreERT system [19]. Male mice at 2–11 months old and female mice at 2–9 months old were used in the analysis. For all the experiments, Sirt6 EKO mice or Sirt6 BKO mice and their littermate control mice (see electronic supplementary material [ESM] Fig. 1a and ESM Fig. 4 for the breeding strategy) were selected by genotype and were randomly assigned a unique label in the tail, with the genotype blinding to operators until experiments were completed. No data were excluded in all the analysis. See ESM Table 1 and ESM Methods for genotyping primers and experimental procedures for tamoxifen injection, verapamil (V4629; Sigma) treatment and streptozotocin (STZ) (S0130; Sigma) challenge.
Changes in pancreas and islet architecture were revealed by H&E staining and anti-insulin, anti-glucagon and anti-somatostatin immunostaining. Beta cell apoptosis was determined by anti-cleaved caspase 3 immunostaining. The metabolic studies, including glucose measurement, insulin measurement, IPGTT, ITT and hyperglycaemic clamp were performed as previously reported [20]. See ESM Methods for details.
Pancreatic islet isolation and glucose-stimulated insulin secretion
Islets were isolated by collagenase perfusion and used for determination of glucose-stimulated insulin secretion as previously described [21]. See ESM Methods for details.
Gene expression
Sirt6 mRNA levels in Ngn3-null and Ngn3-positive cells at mouse embryonic day 15.5 (E15.5) were generated using data from Table S6 in Benitez et al [22]. Sirt6 and Txnip mRNA levels in isolated islets were determined by reverse transcription (RT) quantitative (q)-PCR. See ESM Methods for details.
Immunoblotting
SIRT6, thioredoxin-interacting protein (TXNIP), H3K9Ac, H3K27Ac and H3K56Ac levels were determined by immunoblotting. See ESM Methods for details.
RNA-Seq analysis
Islets isolated from 2 weeks post-tamoxifen control (Sirt6f/+; MIP1-CreERT) and Sirt6 BKO (Sirt6f/f; MIP1-CreERT) mice and 2-month-old control (Sirt6+/+; Ngn3-Cre or Sirt6f/f) and Sirt6 EKO (Sirt6f/f; Ngn3-Cre) mice were used for the RNA-Seq analysis. See ESM Methods for details.
ChIP
Chromatin occupancies of SIRT6, IgG, H3K9Ac, H3K56Ac and Active RNA polymerase II in beta cells were determined by chromatin immunoprecipitation (ChIP) [23]. See ESM Methods for details.
Statistical analysis
All results are presented as means ± SEM. Statistical analysis was performed by two-tailed Student's t test. p values <0.05 were considered statistically significant.
Discussion
In this study, we reported that SIRT6 is not required for beta cell development but is essential for insulin secretion function of beta cells. Our unbiased gene expression profiling studies identified
Txnip
as a SIRT6 target. Concurrently, inhibition of TXNIP by verapamil could partially rescue the insulin secretion defect in
Sirt6-
knockout mice. In addition, we showed that SIRT6 directly suppresses
Txnip
expression by catalysing the deacetylation of H3K9 and H3K56 at the
Txnip
promoter region. Finally, we uncovered an unanticipated time-dependent increase in H3K9Ac, H3K56Ac and TXNIP levels in SIRT6 null beta cells, which correlates with a worsened insulin secretion defect and leads to increased susceptibility to the diabetogenic agent STZ. These findings clearly highlight the important roles of SIRT6 histone deacetylation activity in supporting beta cell function and viability (Fig.
9
).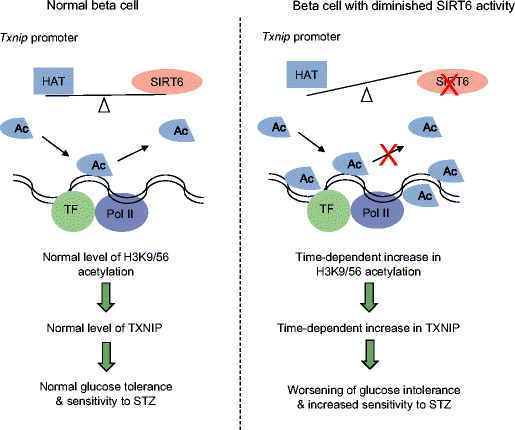 Glucose-stimulated insulin secretion in beta cells is a complex process that requires coupling of cellular metabolism with ATP-sensitive potassium channels and subsequent activation of voltage-dependent calcium channel-mediated Ca2+ influx [1]. Xiong et al observed a decrease in cellular ATP levels, accumulation of damaged mitochondria, reduction in electron transport chain protein levels and impaired Ca2+ influx in SIRT6-deficient beta cells [25]. However, they did not identify the molecular mechanism linking these phenotypic findings with loss of SIRT6. We found that expression of TXNIP is upregulated in Sirt6 null mouse islets and that reducing TXNIP level by verapamil was able to partially restore the insulin secretion and largely rescue the glucose intolerance in mice. In agreement with our findings, TXNIP expression is negatively correlated with glucose-stimulated insulin secretion capacity in beta cells [29, 30, 31]. Importantly, Yoshihara et al demonstrated that genetic disruption of Txnip enhanced glucose-stimulated insulin secretion, whereas overexpression of TXNIP in INS1 cells in the first 48 h attenuated this process, likely through an effect on mitochondrial ATP production [29]. Although Ucp2 was identified as a TXNIP transcriptional target in their study and presumably caused the reduction in cellular ATP levels [29], we did not detect significant changes in Ucp2 mRNA levels in our model. In addition, Song et al showed that loss of SIRT6 in beta cells stimulated transcriptional repression activity of forkhead box O1 and led to downregulation of its two targets, Pdx1 and Glut2 (also known as Slc2a2) [26]. However, expression levels of Pdx1 and Glut2 were not changed in either of our models. These discrepancies could be attributed to differences in mouse genetic background and methodologies used in these molecular characterisations. However, it is still unclear how TXNIP affects insulin secretion in our model.
Verapamil is a calcium antagonist and has been shown to inhibit insulin release in islets isolated from rodents [38, 39]. However, verapamil treatment has no significant effect on either glucose tolerance or insulin secretion in vivo [39, 40], consistent with our observations. Thus, our finding that oral verapamil treatment improved glucose tolerance and insulin secretion is likely mediated by Txnip suppression. As verapamil inhibits Txnip through an indirect calcium-dependent calcineurin pathway [32], genetically or pharmacologically attenuating TXNIP activity would be necessary for future studies to more precisely dissect the contribution of TXNIP to the SIRT6-deficient mouse phenotype.
TXNIP mainly functions as an inhibitor of thioredoxin by antagonising its scavenger effect on ROS [28]. Thus, upregulation of TXNIP is implicated in glucose-, endoplasmic reticulum (ER) stress- and STZ-induced cell death [28]. We found that upregulation of TXNIP in SIRT6-deficient beta cells did not cause spontaneous cell death. Consistent with this finding, SIRT6 deficiency did not induce ROS accumulation in islets (data not shown). However, several genes in the oxidation–reduction pathway including Nqo1, Gstm7 and Dusp26 were significantly upregulated in the islets from Sirt6 EKO but not Sirt6 BKO mice (GSE104161). Whether this is a compensatory response to TXNIP-induced oxidative stress or the direct consequence of SIRT6 deficiency requires further investigation. We speculate that the progressive upregulation of TXNIP in SIRT6-deficient beta cells induces a gradual increase in ROS that the cells can cope with by upregulating the genes in the oxidation–reduction pathways.
Genetic background of mice is a contributing factor to phenotypic variation, including metabolic traits and the response to STZ [37, 41]. However, the severity and time-dependent progression of the functional defects in our models, as well as the similarity between our EKO and BKO model, strongly suggest that these phenotypes are independent of mouse genetic background. Multiple studies have reported that the transgene-driven human growth hormone expression in the MIP-CreER mouse strain has a profound effect on gene expression and beta cell integrity [19, 42, 43]. Specifically, islets in MIP1-CreER mice are less sensitive to the cytotoxic effect of STZ [19]. To avoid this potential confounding factor, mice carrying the Cre transgene were used as controls throughout the BKO study (ESM Fig. 4).
In conclusion, our study demonstrates that SIRT6 is required for glucose-stimulated insulin secretion and cell survival in beta cells, partially via suppression of Txnip transcription. As defective insulin secretion and loss of beta cell mass are the main culprits of type 2 diabetes [1], our findings raise the possibility that preserving SIRT6 activity and expression could be beneficial in improving beta cell function and maintaining beta cell mass in individuals with impaired glucose tolerance or type 2 diabetes.
Notes
Acknowledgements
We thank Y. Liu (Department of Cell Systems & Anatomy, Greehey Children's Cancer Research Institute, University of Texas Health Science Centre at San Antonio, USA) for assistance in analysing the RNA-Seq data and thank C. Cervantes (Department of Pharmacology, University of Texas Health Science Centre at San Antonio, USA) and C. Dong (Biochemistry Molecular Biology, Indiana University, USA) for critical reading of the manuscript.
Contribution statement
KQ and PW were responsible for designing the experiments. KQ, NZ, ZZ, MN, ZXZ and JL were responsible for acquisition of data. KQ, NZ, KX, NM and PW analysed and interpreted data. KQ drafted the manuscript. All authors critically revised the manuscript and approved the final version. PW is the guarantor of this work.
Funding
PW and KX are CPRIT Scholars and are supported by the Cancer Prevention and Research Institute of Texas. This work was supported by grants from the NIH (R01-DK80157 and R01-DK089229) and the American Diabetes Association to NM. This research also was supported by the San Antonio Nathan Shock Centre of Excellence in Aging Biology (P30 AG013319) and San Antonio Claude D. Pepper Older Americans Independence Centre (P30 AG044271).
Duality of interest
The authors declare that there is no duality of interest associated with this manuscript.
Copyright information
© Springer-Verlag GmbH Germany, part of Springer Nature 2018