Characterising metabolically healthy obesity in weight-discordant monozygotic twins
Abstract
Aims/hypothesis
Not all obese individuals display the metabolic disturbances commonly associated with excess fat accumulation. Mechanisms maintaining this 'metabolically healthy obesity' (MHO) are as yet unknown. We aimed to study different fat depots and transcriptional pathways in subcutaneous adipose tissue (SAT) as related to the MHO phenomenon.
Methods
Sixteen rare young adult obesity-discordant monozygotic (MZ) twin pairs (intra-pair difference (∆) in BMI ≥3 kg/m2), aged 22.8–35.8 years, were examined for detailed characteristics of metabolic health (subcutaneous, intra-abdominal and liver fat [magnetic resonance imaging/spectroscopy]), OGTT, lipids, adipokines and C-reactive protein (CRP). Affymetrix U133 Plus 2.0 chips were used to analyse transcriptomics pathways related to mitochondrial function and inflammation in SAT.
Results
Based on liver fat accumulation, two metabolically different subgroups emerged. In half (8/16) of the pairs (∆weight 17.1 ± 2.0 kg), the obese co-twin had significantly higher liver fat (∆718%), 78% increase in AUC insulin during OGTT and CRP, significantly more disturbance in the lipid profile and greater tendency for hypertension compared with the lean co-twin. In these obese co-twins, SAT expression of mitochondrial oxidative phosphorylation, branched-chain amino acid catabolism, fatty acid oxidation and adipocyte differentiation pathways were downregulated and chronic inflammation upregulated. In the other eight pairs (∆weight 17.4 ± 2.8 kg), the obese co-twin did not differ from the non-obese co-twin in liver fat (∆8%), insulin sensitivity, CRP, lipids, blood pressure or SAT transcriptomics.
Conclusions/interpretation
Our results suggest that maintenance of high mitochondrial transcription and lack of inflammation in SAT are associated with low liver fat and MHO.
Keywords
Adipose tissue 
Diabetes 
Fatty liver 
Inflammation 
Metabolically healthy obesity 
Obesity 
Abbreviations
BCAA

Branched-chain amino acid

CIRP

Chronic inflammatory response pathway

CRP

C-reactive protein

DXA

Dual energy x-ray absorptiometry

GCRMA

GeneChip robust multiarray averaging

GO

Gene ontology

hsCRP

High-sensitivity CRP

MHO

Metabolically healthy obesity

MRS

Magnetic resonance spectroscopy

mtDNA

Mitochondrial DNA

MZ

Monozygotic

SAT

Subcutaneous adipose tissue

VAT

Visceral adipose tissue
Introduction
Obesity is associated with a cluster of metabolic disturbances including insulin resistance, dyslipidaemia and high blood pressure. A sizable subgroup (10–40%) of obese individuals, however, seems to be protected from these disturbances [1, 2, 3, 4]. The mechanisms behind the remarkably different outcomes of obesity are not yet well understood. Many [5, 6, 7, 8, 9, 10, 11] but not all [12] cross-sectional studies have shown that the metabolically healthier, insulin-sensitive obese individuals have less visceral adipose tissue (VAT), and less ectopic fat deposition in the liver [12] and skeletal muscle [7, 12, 13] than insulin-resistant obese individuals. A few studies also report that fatty liver remains the main correlate of insulin resistance independent of overall fat, VAT [14] and intramyocellular fat [15]. Such data suggest that low liver fat is a hallmark of metabolically more benign obesity. Interestingly, the proportion of the obese population without excess liver fat [16] is in the same range as that observed for metabolically healthy obesity (MHO) [1, 2].
It has been hypothesised that ectopic fat accumulation is caused by an inadequate subcutaneous adipose tissue (SAT) enlargement [17]. Indeed, lipodystrophic patients with total or partial absence of SAT have severe ectopic fat accumulation and insulin resistance [18]. In obesity, depression of SAT lipid storage after meals is related to abdominal obesity [19]. Furthermore, in normal-weight men, defective expression of lipid storage genes in SAT (DGAT2, SREBP1c [also known as SREBF1] and CIDEA) favours VAT accumulation during prolonged overfeeding [20]. These data suggest that handling of incoming energy in SAT is a key process in the prevention of VAT and perhaps also of ectopic fat.
Mitochondria, the organelles responsible for harvesting energy from food, are essential in the adipocyte differentiation programme [21]. Within human adipose tissue, mitochondrial DNA (mtDNA) copy number correlates with basal and insulin-stimulated lipogenesis [22, 23], suggesting that the enlargement of SAT is dependent on mitochondrial activity. We have earlier shown in obese (as compared with lean) monozygotic (MZ) co-twins that SAT mtDNA copy number and mitochondrial gene expression, especially branched-chain amino acid (BCAA) catabolism [24] and oxidative phosphorylation [25] pathways, are significantly downregulated in obesity. Low BCAA catabolism in SAT correlated with increased liver fat, whole-body insulin resistance and an inflammatory transcription profile in SAT [24]. Increased expression of inflammatory markers in SAT have previously been found to characterise obese women with high liver fat content compared with equally obese women with normal liver fat [26]. While definite causation cannot be claimed, the data suggest that inflammation and mitochondrial dysfunction in SAT underlie the development of the fatty liver. However, whether or not remaining free of these pathologies characterises MHO has not yet been studied.
Genetic and multiple environmental factors, as well as age, sex and age of onset of weight gain, may play a role in an individual's metabolic response to obesity. In the present study, we used a rare MZ obesity-discordant twin-pair design, which uniquely enables the control for genetic background, early development and environment, age and sex between obese and lean individuals [27]. In this contemporary collection of MZ twin pairs, we set out to study the relative contributions of different fat depots and their characteristics in relation to the development of obesity-associated pathological sequelae and insulin resistance. Concordant twin pairs were also included in the study for comparison purposes and to provide a wider distribution of within-pair differences in BMI.
Results
Two distinct groups of obesity-discordant MZ pairs
The obesity-discordant pairs had a mean ∆weight of 17.4 kg (24%) and large differences in all adiposity measures (Table 
1
). However, for liver fat two very distinct subgroups emerged within the obesity-discordant pairs (Fig. 
1
). In half of these pairs, the obese co-twins had liver fat percentages as low as those of their leaner co-twins (∆liver fat 8%, Wilcoxon's test between co-twins
p
 = 0.21, group 1, Fig. 
1
,
n
 = 8 pairs), whereas in the other half, the obese co-twins had strikingly increased liver fat content (∆liver fat 718%,
p
 = 0.012, group 2, Fig. 
1
,
n
 = 8 pairs).
Table 1
Clinical characteristics of the 16 MZ pairs discordant for obesity and 11 MZ concordant pairs
Characteristic

MZ discordant pairs (∆BMI ≥3 kg/m2)

MZ concordant pairs (∆BMI <3 kg/m2)

ANOVA (p value between ∆ in concordant vs group 1 vs group 2)

Mann–Whitney U test (p value between ∆ in concordant vs group 1)

Mann-Whitney U test (p value between ∆ in concordant vs group 2)

Mann–Whitney U test (p value between ∆ in group 1 vs group 2)

Group 1 with ∆liver fat <2%

Group 2 with ∆liver fat ≥2%

 
 

Non-obese (n = 8)

Obese (n = 8)

Non-obese (n = 8)

Obese (n = 8)

Leaner (n = 11)

Heavier (n = 11)

Age (years)

27.0 ± 1.0

27.0 ± 1.0

27.7 ± 1.0

27.7 ± 1.0

31.1 ± 0.7

31.1 ± 0.7

0.063

0.083

0.186

0.916

Sex (male/female)

2/6

2/6

4/4

4/4

7/4

7/4

 
 
 

0.30a

Height (cm)

171.3 ± 3.8

171.3 ± 3.7

175.3 ± 4.1

175.7 ± 3.7

170.9 ± 3.1

171.7 ± 2.9

0.6020

0.80

0.84

0.96

Weight (kg)

69.2 ± 5.7

86.6 ± 6.4*

81.3 ± 7.2

98.3 ± 6.7*

79.2 ± 3.5

84.6 ± 3.5**

<0.0001

0.0003

0.0004

0.98

BMI (kg/m2)

23.3 ± 1.0

29.1 ± 1.1*

26.2 ± 1.5

31.7 ± 1.5*

27.1 ± 1.0

28.7 ± 1.0**

<0.0001

<0.0001

<0.0001

0.92

Body fat (%)

33.3 ± 2.7

42.6 ± 2.7*

31.4 ± 3.8*

39.5 ± 2.8*

30.5 ± 2.7

32.2 ± 2.2

0.0015

0.0039

0.0019

0.34

Liver fat (%)

0.5 ± 0.03

0.7 ± 0.1

1.1 ± 0.4

6.1 ± 0.8*

2.3 ± 1.1

4.4 ± 2.2

0.0070

0.32

0.039

0.0008

Adipocyte volume (pl)c

326.6 ± 41.6

466.9 ± 52.2*

409.5 ± 64.8

691.8 ± 142.9*

389.1 ± 82.9

443.9 ± 66.5

0.10

0.31

0.028

0.20

Adipocyte number × 1013c

8.2 ± 0.9

8.9 ± 0.8

8.4 ± 1.4

7.4 ± 0.9

7.8 ± 1.0

8.0 ± 1.0

0.13

0.11

0.12

0.049

AUC glucose (mmol/l × h)b

11.8 ± 0.8

12.2 ± 0.8

13.0 ± 0.7

15.9 ± 0.8*

14.1 ± 0.8

13.9 ± 0.9

0.0096

0.33

0.0067

0.022

AUC insulin (pmol/l × h)b

571.6 ± 91.0

608.4 ± 115.7

537.5 ± 64.6

897.3 ± 77.8*

625.7 ± 174.3

520.2 ± 76.4

0.067

0.92

0.0075

0.032

LDL-cholesterol (mmol/l)

2.6 ± 0.2

2.8 ± 0.2

2.3 ± 0.2

2.9 ± 0.2*

2.5 ± 0.2

2.8 ± 0.2

0.28

0.93

0.67

0.20

HDL-cholesterol (mmol/l)

1.6 ± 0.1

1.4 ± 0.1

1.7 ± 0.2

1.4 ± 0.2*

1.2 ± 0.1

1.3 ± 0.1

0.051

0.090

0.017

0.49

Triacylglycerol (mmol/l)

1.0 ± 0.2

1.1 ± 0.1

1.0 ± 0.1

1.3 ± 0.2

1.2 ± 0.3

1.0 ± 0.2

0.26

0.56

0.20

0.60

fP-BCAA (μmol/l)c

278.9 ± 18.1

322.8 ± 16.8*

303.9 ± 24.2

350.1 ± 34.5

312.6 ± 23.5

343.6 ± 33.2

0.88

0.19

0.64

1.00

Systolic blood pressure (mmHg)

117 ± 5

117 ± 4

120 ± 3

124 ± 4

120 ± 3

116 ± 2

0.34

0.52

0.074

0.91

Diastolic blood pressure (mmHg)

79 ± 1

81 ± 1

76 ± 3

81 ± 3

81 ± 2

79 ± 2

0.071

0.046

0.047

0.36

fP-Leptin (pg/ml)b

18,663 ± 7,026

30,243 ± 7,123*

17,016 ± 4,787

34,877 ± 8,521*

16,294 ± 5,463

17,365 ± 6,435

0.015

0.064

0.0021

0.25

fP-Adiponectin (ng/ml)b

2,829 ± 356

2,284 ± 305*

2,565 ± 404

2,035 ± 266

3,059 ± 834

2,338 ± 285

0.94

0.081

0.50

0.42

Alcohol intake (dose [12 g alcohol]/week)

7.7 ± 5.4

6.7 ± 2.9

4.3 ± 1.0

12.3 ± 3.6

5.5 ± 2.4

6.7 ± 2.2

0.039

0.65

0.12

0.064

Total physical activity indexd

8.2 ± 0.5

8.7 ± 0.5

9.1 ± 0.5

7.9 ± 0.3

8.7 ± 0.6

8.7 ± 0.5

0.014

0.31

0.18

0.16

Sports activity indexd

2.3 ± 0.3

2.8 ± 0.3

3.6 ± 0.3

2.5 ± 0.3*

3.2 ± 0.4

3.2 ± 0.3

0.015

0.32

0.072

0.009

Leisure time activity indexd

3.0 ± 0.3

3.0 ± 0.2

3.0 ± 0.2

2.8 ± 0.2

2.8 ± 0.2

2.8 ± 0.2

0.69

0.90

0.53

0.51

Work activity indexd

2.9 ± 0.1

2.8 ± 0.2

2.6 ± 0.1

2.6 ± 0.1

2.7 ± 0.1

2.7 ± 0.1

0.91

0.80

0.90

0.70

Energy intake (kJ/day)

8,023 ± 771

8,044 ± 715

8,872 ± 1,048

9,137 ± 806

7,985 ± 614

9,371 ± 1,009

0.69

0.37

0.50

1.0
Obesity-discordant pairs concordant and discordant for liver fat (Fig. 
2a
) did not differ for measures of overall fatness. Both groups had similar ∆weight (group 1, mean 17.4 kg, range 11.1–30.3 kg; group 2, mean 17.1 kg, range 9.6–25.8 kg) and ∆BMI (group 1, mean 5.9 kg/m
2
; range 3.8–10.0 kg/m
2
; group 2, mean 5.5 kg/m
2
, range 3.1–8.3 kg/m
2
). Neither did the groups differ for ∆SAT (Fig. 
2b
). However, ∆VAT was larger in group 2 than in group 1 pairs (Fig. 
2c
). Examples of twin pairs in each of the groups are presented in ESM Fig. 
1
.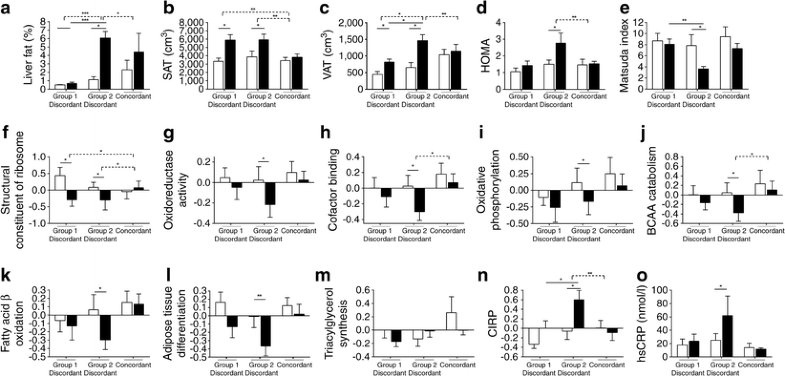 Glucose and lipid metabolism and blood pressure
In group 1, there were no differences between the obese and lean co-twins in glucose and insulin curves during the OGTT (Fig. 
3
). The co-twins also had similar insulin resistance (HOMA-IR, Fig. 
2d
) and insulin sensitivity (Matsuda, Fig. 
2e
). In group 2, the obese co-twins had a significantly higher AUC for glucose (23%,
p
 = 0.028) and insulin (78%,
p
 = 0.028) during the OGTT (Fig. 
3
), as well as a 119% (
p
 = 0.018) higher HOMA-IR and 55% (
p
 = 0.028) lower Matsuda index than their lean co-twins (Fig. 
2d, e
). The obese co-twins in group 2 had significantly higher LDL- and lower HDL-cholesterol than their leaner co-twins (Table 
1
), while in group 1 the circulating lipids did not differ between co-twins. The blood pressure of the co-twins in both groups were similar, but a trend for increased blood pressure was observed in obese co-twins in group 2 (Table 
1
).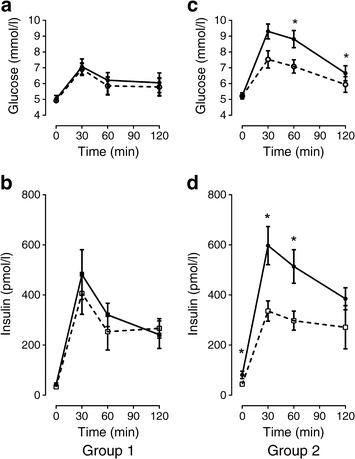 The obese co-twins in group 2 had significantly more liver fat (p = 0.0008) and VAT (p = 0.021), lower Matsuda index (Mann–Whitney U test p = 0.006) and higher HOMA-IR (p = 0.049) than the obese co-twins in group 1. Lean co-twins in group 2 did not differ from lean co-twins in group 1 in any of the metabolic values. Furthermore, co-twins from the weight-concordant group had similar metabolic measures (Table 1).
SAT cellularity and gene expression
Compared with the leaner co-twins, the obese co-twins had 11% more adipocytes in group 1 (p = 0.069) but 8% less in group 2 (p = 0.13) and, accordingly, ∆adipocyte cell number differed significantly between the groups (p = 0.037). The mean adipocyte cell size was increased in all obese co-twins (53%, p = 0.017 in group 1 and 69%, p = 0.018 in group 2) (Table 1).
Initially, a hypothesis-free GO enrichment analysis was done using the 'Molecular function' category to identify significant pathways. No differences were identified in the group of weight-concordant twins. Group 1 discordant twins differed only for 'structural constituent of ribosome' (GO:0003735) (FDR corrected p = 0.016). Next, a mean centroid of this pathway was constructed, revealing a decreased transcriptional activity in every obese co-twin (also in group 2, although not reaching statistical significance) (Fig. 2f). In contrast, the group 2 obese and lean co-twins differed significantly for mitochondrial pathways in the obese co-twin, namely 'oxidoreductase activity' (GO:0016491) (FDR corrected p = 0.045) and 'Cofactor binding' (GO:0048037) (p = 0.0096), the latter of which also included several mitochondrial genes. These pathway activities were lower in the obese co-twins and restricted to group 2 (Fig. 2g, h).
Based on these findings, additional pathways of interest were studied to explain biological differences between groups 1 and 2. Three mitochondrial pathways were selected to represent different aspects of energy handling. All of them were downregulated in the SAT of group 2, but not group 1 obese co-twins: oxidative phosphorylation pathway (p = 0.48 in group 1, p = 0.028 in group 2) (Fig. 2i); BCAA catabolism pathway (p = 0.48 in group 1, p = 0.018 in group 2) (Fig. 2j) and fatty acid β oxidation pathway (p = 1.0 in group1, p = 0.018 in group 2) (Fig. 2k). Along with decreased catabolism, or clearance of BCAAs, circulating levels of BCAAs were increased in the obese co-twins compared with their lean counterparts (p = 0.016), but in within-group analyses the difference was statistically significant only in group 1 twins (Table 1).
We also tested two pathways relating to SAT enlargement (i.e. triacylglycerol synthesis and adipocyte cell differentiation). The triacylglycerol synthesis pathways did not differ between the obese and lean co-twins' SAT in either of the groups (Fig. 2m). In contrast, the adipocyte differentiation pathway was significantly downregulated in group 2 obese co-twins (p = 0.004), whereas the pathway expressions in group 1 co-twins were similar (p = 0.33) (Fig. 2l). Further, the major transcript responsible for SAT lipolysis, LIPE, suggested that lipolysis was downregulated in group 2 but not in group 1 obese co-twins (ESM Fig. 2a).
Finally, significantly elevated activity of the chronic inflammatory response pathway (CIRP) was observed in the obese co-twins of group 2 (p = 0.028) but not group 1 (p = 0.31) (Fig. 2n). The CIRP pathway was also significantly more active in the obese co-twins from group 2 when compared with the equally obese co-twins from group 1 (p = 0.037) (Fig. 2n). Circulating hsCRP levels also differed between the co-twins only in group 2 (Fig. 2o).
Adipokines in serum and in SAT
In both groups 1 and 2, the obese co-twins had significantly higher SAT expression and plasma levels of leptin than the non-obese co-twins (Table 1 and ESM Fig. 2b). Comparisons of group 1 and 2 were performed on sex-adjusted values, because both circulating (p < 0.001) and SAT leptin mRNA levels (p = 0.0095) were higher in women than in men. Despite similar BMI differences, plasma leptin concentrations showed larger intra-pair differences in group 2 than in group 1 (p = 0.014) suggesting that circulating leptin levels were disproportionally increased in the obese twins with adipose tissue inflammation and fatty livers. The obese co-twins had lower expression levels of adiponectin in adipose tissue only in group 2 (p = 0.018 vs p = 0.58 in group 1) (ESM Fig. 2c). In plasma, ∆adiponectin was similar in both groups, but within-pair differences were statistically significant only in group 1 (Table 1).
Age, sex, lifestyle factors and onset of obesity
Groups 1 and 2 were similar with regards to age, sex, smoking habits, alcohol intake, total physical activity and mean daily energy intake (Table 1). In group 2, sports activity was lower and alcohol intake tended to be higher in the obese than in lean co-twins. The onset of obesity discordance between the two groups was similar (18.8 and 20.0 years in groups 1 and 2, respectively).
Independent associations of adipose tissue function and liver fat
∆Liver fat correlated with ∆VAT (r = 0.40, p = 0.038) but not with ∆SAT (r = 0.17, p = 0.39). Of the metabolic measures studied, ∆liver fat correlated with ∆CIRP pathway (r = 0.44, p = 0.026) and ∆plasma leptin (r = 0.51, p = 0.011). In a multivariate model including both ∆VAT and ∆SAT and confounding factors (twin-pair sex, age and ∆sports activity), ∆VAT was the only variable independently explaining ∆liver fat (β = 4,800 ± 1,600 cm3, p = 0.007, adjusted R 2 in the whole model 31%, p = 0.023). However, when we included the two metabolic measures of SAT that were in univariate analyses associated with ∆liver fat (∆CIRP pathway expression and ∆plasma leptin), the results changed completely. The independent contributors to ∆liver fat in the subsequent model were ∆CIRP (β = 2.4 ± 1.0, p = 0.025), ∆leptin (β = 0.00017 ± 0.000056 pg/ml, p = 0.008), age (β = 0.29 ± 0.12 years, p = 0.030) and reduced ∆SAT (β = −1,600 ± 600 cm3, p = 0.017). The whole model explained 48% of variation in ∆liver fat (p = 0.019).
Discussion
With in-depth phenotyping of the exceptional obesity-discordant young, healthy adult MZ twin pairs, it became evident that the metabolic responses to obesity differ vastly: half of the obese co-twins exhibited a typical response to obesity, with marked insulin resistance, dyslipidaemia and fatty liver (group 2), whereas the other half of the obese co-twins were metabolically as healthy as their lean co-twins (group 1). In the MHO group the obese and lean co-twins had remarkably similar profiles in numerous measures. Compared with their lean co-twins, despite an average of 17.4 kg higher body weight, the obese co-twins had identical liver fat levels, serum lipid profiles, responses to OGTT, blood pressure and levels of mitochondrial and inflammatory transcript pathways in SAT. In the other group of twin pairs, where the obese state accumulated fat in the liver, all of these measures were clearly disturbed in the obese as compared with lean co-twins.
Earlier studies have already established the accumulation of liver fat as being clearly linked to a disadvantageous metabolic phenotype [12, 14, 15], in particular to insulin resistance [14, 15]. In the present study, the most pronounced alteration in obese co-twins with high liver fat was the increase in insulin and glucose AUC during the OGTT. We also observed dyslipidaemia within these obese co-twins. All metabolic variables in our study of these young, still healthy, but obese individuals, were within the normal range, which suggests that the increase in liver fat is an early preclinical sign of metabolic disturbances. This was true even though not all obese co-twins exceeded the 5% increase generally considered pathological.
Our study demonstrated that excess fat accumulation in the liver varies among obese individuals. High liver fat can be observed in normal-weight individuals and even in conditions of lipodystrophy where SAT stores are depleted [38]. The mechanisms behind this mismatch are not completely understood. One hypothesis is the inadequate expandability of SAT, which directs lipids into ectopic sites [17]. Decreased lipid storage in SAT has previously been associated with accumulation of VAT in obesity [19] or during overfeeding [20]. Our study further suggests that deficient mitochondrial fat and amino acid oxidation in SAT may be associated with increased liver fat accumulation. Downregulation of mitochondrial metabolism reduces the availability of acetyl-CoA and ATP, key substrates necessary to support de novo lipogenesis [23] and lipolysis [39] within the adipocytes. Mitochondria are thus essential for flexible remodelling of SAT. Our samples were taken in a fasting condition, when no lipogenesis, but rather lipolysis, of SAT is expected. In line with this, the triacylglycerol synthesis pathway was not affected in either of the groups in obesity; in contrast, low LIPE mRNA expression suggested impaired lipolysis in group 2 obese twins. Downregulation of SAT lipolysis may also reflect preferential usage of hepatic lipids in individuals with high liver fat [40].
As multiple mitochondrial pathways are vital in the adipocyte differentiation process [41], it is also possible that mitochondrial malfunction impairs the development of new fat cells. This hypothesis was supported by a significantly decreased expression of the adipocyte differentiation pathway and a relative decrease in adipocyte number in group 2 obese co-twins. One possible mechanism behind impaired adipocyte differentiation could be decreased catabolism of BCAAs. Mitochondrial metabolism of BCAAs, especially leucine, stimulates adipocyte growth and differentiation through activation of the mammalian target of rapamycin (mTOR) signalling [42]. Our previous finding of downregulation of SAT BCAA catabolism transcription in obesity [24] was now shown to be restricted to only the group 2 obese co-twins. Decreased adipose BCAA catabolism, or clearance, would lead to a rise in plasma BCAA in obesity [43], a phenomenon first observed in the 1960s [44] and later found to predict subsequent development of type 2 diabetes [45].
One of the suspected hallmarks of MHO is a favourable plasma inflammation profile [4]. VAT but not SAT macrophage infiltration was found to distinguish insulin-resistant from insulin-sensitive morbidly obese individuals [10]. On the other hand, levels of SAT inflammatory mRNA markers and lipids were higher in obese women with high liver fat than in equally obese women with normal liver fat content [26]. In the present study, inflammation in both SAT and the circulation characterised metabolically deranged obesity. SAT inflammation, together with hyperleptinaemia and a relative decrease in SAT amount explained liver fat in the multivariate analyses within the twin pairs. Consistent findings of mitochondrial dysfunction and inflammation in SAT in the present and previous studies [24, 46] suggest that these two aberrations may produce a self-perpetuating vicious cycle. Whereas poor mitochondrial function and ATP production may violate the cells and direct them to phagocytosis, inflamed SAT may present a toxic environment for mitochondria and thus further risk the vitality of the tissue.
In rodents, knocking out genes that are involved in the formation of the inflammatory response prevent the development of type 2 diabetes [47, 48, 49] and in humans, use of anti-inflammatory medications improves glycaemic control in type 2 diabetes and obesity [50]. In humans, the contribution of genes to the large metabolic variation in response to obesity is not known. Based on the present study, genetic factors determining mitochondrial function and inflammatory reactions may play a role in MHO. We also found some evidence for the role of lifestyle in MHO: the obese twins with metabolic aberrations had lower sports activity and a tendency for higher alcohol use than their lean co-twins but this pattern was not found in the MHO twins.
While this study has several advantages, it also has limitations. Young adult obesity-discordant MZ twins with no major confounding factors, such as medications and diseases, are extremely rare and, despite screening of ten yearly cohorts with well over 5,000 twin pairs, the final sample size was quite small. We did not have biopsies of VAT and liver and had SAT only from the periumbilical location, and thus we were not able to study the tissue-specific metabolism behind the group differences. The gene expression analyses were obtained from whole adipose tissue and contain the stromavascular cells, the independent contribution of which cannot be differentiated from that of the adipocytes. Transcript measurements of relevant genes may not represent functional protein levels. The cross-sectional nature of the study precludes the ability to solidly make cause-and-effect claims. It is also possible that the MHO stage will change with age or with advanced obesity. However, at present the two metabolically distinct groups were of the same age and had similar age of onset of obesity discordance. Weight differences between the groups were similar, but a given weight difference may have different metabolic effects depending on where in the distribution of BMI a pair is located.
In conclusion, in our collection of MZ twin pairs discordant for obesity, the SAT transcript profile in MHO was characterised by the maintenance of mitochondrial function and absence of inflammation. Only those individuals that, along with increased obesity, developed SAT dysfunction (low mitochondrial and high inflammatory transcript activity) had fatty livers and the hallmarks of the metabolic syndrome, impaired glucose tolerance and dyslipidaemia. The adipose tissue of the MHO individuals was characterised by the capability for both hypertrophy and hyperplasia of adipocytes with increasing BMI. Future studies of the MHO phenotype may suggest new potentially druggable targets—with the most proximal intervention point perhaps being improving mitochondrial function and prevention of inflammation in adipose tissue.
Notes
Acknowledgements
We thank the participants for their invaluable contributions to the study. M. Turunen, Helsinki University Central Hospital and L. Mustelin, University of Helsinki are acknowledged for their help in the collection of the data. E. Rautaheimo and E. Järvinen, University of Helsinki are thanked for their RT-PCR work. R. J. Rose, University of Indiana, is thanked for contributing to funding of FinnTwin16 and FinnTwin12.
Array data
Microarray data are available in the ArrayExpress database (www.ebi.ac.uk/arrayexpress) under accession number E-MTAB-1895.
Funding
The study was supported by grants from Helsinki University Central Hospital (AR, KH, NL), Novo Nordisk, Biomedicum Helsinki, Jalmari and Rauha Ahokas (KHP) and Finnish Medical Foundations (PP), Finnish Foundation for Cardiovascular Research (KHP), Competitive Research Funding of the Pirkanmaa Hospital District (EM) and the Academy of Finland Centre of Excellence in Complex Disease Genetics (JK). Data collection in FinnTwin16 and FinnTwin12 was supported by the National Institute of Alcohol Abuse and Alcoholism (grants AA-12502 and AA-09203 to R. J. Rose), Academy of Finland (grants 44069, 205585, 118555 to JK), EU funded projects TORNADO (FP7-KBBE-22270) and ENGAGE (FP7- HEALTH-F4-2007- 201413).
Duality of interest
The authors declare that there is no duality of interest associated with this manuscript.
Contribution statement
KHP, ARi, JK and JN conceived the study concept and design. KHP, ARi and JK were responsible for acquisition of data and funding. KHP examined the twins clinically and was responsible for carrying out the study protocol and statistical analyses. AH, JL and NL researched MRI and MRS data, SHe and ARo helped with handling of the fat biopsies, TH and MO performed BCAA measurements and KV and EM performed adiponectin and leptin measurements. LS and SHa were responsible for the GO enrichment analysis. SHe contributed to the manuscript writing. JN researched and interpreted data (transcriptomics analyses) and together with KHP wrote the manuscript. AS, PP and GF participated in interpretation of data. All authors contributed to discussion, edited the manuscript and approved the version to be published. KHP is the guarantor of this work and had full access to all of the data, and takes full responsibility for the integrity of the data and the accuracy of the data analysis.
Copyright information
© Springer-Verlag Berlin Heidelberg 2013