Abstract
Aims/hypothesis
The aim of this study was to determine the contemporary rate ratio of mortality and changes over time in individuals with vs without diabetes.
Methods
Annual age- and sex-adjusted mortality rates were compared for adults (>20 years) with and without diabetes in Ontario, Canada, and the UK from January 1996 to December 2009 using The Health Improvement Network (THIN) and Ontario databases. The total number of individuals evaluated increased from 8,757,772 in 1996 to 12,696,305 in 2009.
Results
The excess risk of mortality for individuals with diabetes in both cohorts was significantly lower during later vs earlier years of the follow-up period (1996–2009). In Ontario the diabetes mortality rate ratio decreased from 1.90 (95% CI 1.86, 1.94) in 1996 to 1.51 (1.48, 1.54) in 2009, and in THIN from 2.14 (1.97, 2.32) to 1.65 (1.57, 1.72), respectively. In Ontario and THIN, the mortality rate ratios among diabetic patients in 2009 were 1.67 (1.61, 1.72) and 1.81 (1.68, 1.94) for those aged 65–74 years and 1.11 (1.10, 1.13) and 1.19 (1.14, 1.24) for those aged over 74 years, respectively. Corresponding rate ratios in Ontario and THIN were 2.45 (2.36, 2.54) and 2.64 (2.39, 2.89) for individuals aged 45–64 years, and 4.89 (4.35, 5.45) and 5.18 (3.73, 6.69) for those aged 20–44 years.
Conclusions/interpretation
The excess risk of mortality in individuals with vs without diabetes has decreased over time in both Canada and the UK. This may be in part due to earlier detection and higher prevalence of early diabetes, as well as to improvements in diabetes care.
Access options
Buy single article
Instant access to the full article PDF.
USD 39.95
Price excludes VAT (USA)
Tax calculation will be finalised during checkout.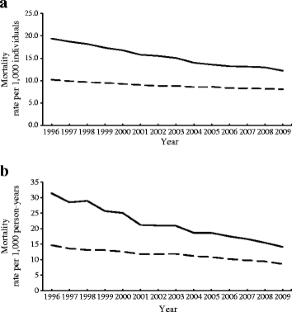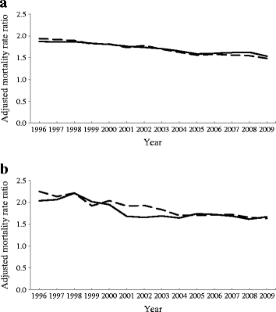 Abbreviations
ODD:

Ontario Diabetes Database

THIN:

The Health Improvement Network
References
Whiting DR, Guariguata L, Weil C, Shaw J (2011) IDF Diabetes Atlas: global estimates of the prevalence of diabetes for 2011 and 2030. Diabetes Res Clin Pract 94:311–321

American Diabetes Association (2011) Standards of medical care in diabetes—2011. Diabetes Care 34(Suppl. 1):S11–S61

Booth GL, Kapral MK, Fung K, Tu JV (2006) Relation between age and cardiovascular disease in men and women with diabetes compared with non-diabetic people: a population-based retrospective cohort study. Lancet 368:29–36

Booth GL, Kapral MK, Fung K, Tu JV (2006) Recent trends in cardiovascular complications among men and women with and without diabetes. Diabetes Care 29:32–37

Holman RR, Paul SK, Bethel MA, Matthews DR, Neil HA (2008) 10-year follow-up of intensive glucose control in type 2 diabetes. N Engl J Med 359:1577–1589

Seshasai SR, Kaptoge S, Thompson A et al (2011) Diabetes mellitus, fasting glucose, and risk of cause-specific death. N Engl J Med 364:829–841

Eberly LE, Cohen JD, Prineas R, Yang L, Intervention Trial Research Group (2003) Impact of incident diabetes and in incident nonfatal cardiovascular disease on 18-year mortality: the multiple risk factor intervention trial experience. Diabetes Care 26:848–854

Mulnier HE, Seaman HE, Raleigh VS, Soedamah-Muthu SS, Colhoun HM, Lawrenson RA (2006) Mortality in people with type 2 diabetes in the UK. Diabet Med 23:516–521

Gregg EW, Gu Q, Cheng YJ, Narayan KM, Cowie CC (2007) Mortality trends in men and women with diabetes, 1971 to 2000. Ann Intern Med 147:149–155

Lipscombe LL, Hux JE (2007) Trends in diabetes prevalence, incidence, and mortality in Ontario, Canada 1995–2005: a population-based study. Lancet 369:750–756

Dale AC, Vatten LJ, Nilsen TI, Midthjell K, Wiseth R (2008) Secular decline in mortality from coronary heart disease in adults with diabetes mellitus: cohort study. BMJ 337:a236

Eliasson M, Talbäck M, Rosén M (2008) Improved survival in both men and women with diabetes between 1980 and 2004—a cohort study in Sweden. Cardiovasc Diabetol 7:32

Fox CS, Coady S, Sorlie PD et al (2004) Trends in cardiovascular complications of diabetes. JAMA 292:2495–2499

Gregg EW, Cheng YJ, Saydah S et al (2012) Trends in death rates among U.S. adults with and without diabetes between 1997 and 2006: findings from the National Health Interview Survey. Diabetes Care 35:1252–1257

Gulliford MC, Charlton J (2009) Is relative mortality of type 2 diabetes mellitus decreasing? Am J Epidemiol 169:455–461

Carstensen B, Kristensen JK, Ottosen P, Borch-Johnsen K, Steering Group of the National Diabetes Register (2008) The Danish National Diabetes Register: trends in incidence, prevalence and mortality. Diabetologia 51:2187–2196

Rodriguez LA, Cea-Soriano L, Martin-Merino E, Johansson S (2011) Discontinuation of low dose aspirin and risk of myocardial infarction: case-control study in UK primary care. BMJ 343:d4094

Hux JE, Ivis F, Flintoft V, Bica A (2002) Diabetes in Ontario: determination of prevalence and incidence using a validated administrative data algorithm. Diabetes Care 25:512–516

Bourke A, Dattani H, Robinson M (2004) Feasibility study and methodology to create a quality-evaluated database of primary care data. Inform Prim Care 12:171–177

First Databank (2010) MULTILEX for primary care, 2010. Available from: www.firstdatabank.co.uk/8/multilex-drug-data-file. Accessed May 2013

González EL, Johansson S, Wallander MA, Rodríguez LA (2009) Trends in the prevalence and incidence of diabetes in the UK: 1996–2005. J Epidemiol Community Health 63:332–336

Gulliford MC, Latinovic R, Charlton J (2008) Diabetes diagnosis, resource utilization, and health outcomes. Am J Manage Care 14:32–38

UK Prospective Diabetes Study Group (1998) Tight blood pressure control and risk of macrovascular and microvascular complications in type 2 diabetes: UKPDS 38. BMJ 317:703–713

UK Prospective Diabetes Study (UKPDS) Group (1998) Intensive blood-glucose control with sulphonylureas or insulin compared with conventional treatment and risk of complications in patients with type 2 diabetes (UKPDS 33). Lancet 352:837–853

Colhoun HM, Betteridge DJ, Durrington PN, CARDS investigators et al (2004) Primary prevention of cardiovascular disease with atorvastatin in type 2 diabetes in the Collaborative Atorvastatin Diabetes Study (CARDS): multicentre randomised placebo-controlled trial. Lancet 364:685–696

Harper W, Woo V, Dawson K et al (2008) Pharmacologic management of type 2 diabetes: Canadian Diabetes Association 2008 Clinical Practice Guidelines. Can J Diabetes 32(Suppl. 1):S53–S61

Grant RW, Pirraglia PA, Meigs JB, Singer DE (2004) Trends in complexity of diabetes care in the United States from 1991 to 2000. Arch Intern Med 164:1134–1139

Misra P, Upadhyay RP, Misra A, Anand K (2011) A review of the epidemiology of diabetes in rural India. Diabetes Res Clin Pract 92:303–311

Yang W, Lu J, Weng J, China National Diabetes and Metabolic Disorders Study Group et al (2010) Prevalence of diabetes among men and women in China. N Engl J Med 362:1090–1101

Soedamah-Muthu SS, Fuller JH, Mulnier HE, Raleigh VS, Lawrenson RA, Colhoun HM (2006) All-cause mortality rates in patients with type 1 diabetes mellitus compared with a non-diabetic population from the UK general practice research database, 1992–1999. Diabetologia 49:660–666
Acknowledgements
J. Murphy, an independent consultant, based in Kansas City, KS, USA, assisted in language editing of a first draft of the manuscript. S. Dahlqvist from the NU-Hospital Organization assisted in manuscript preparation. The authors thank P. Li (Institute for Clinical Evaluative Sciences) for assistance with statistical analyses and V. Urosevic (Women's College Research Institute) for assistance with manuscript preparation and data presentation. The corresponding author had full access to all the data in the study and had final responsibility for the decision to submit for publication. This study was supported through provision of data by the Institute for Clinical Evaluative Sciences (ICES) and through funding support to ICES from an annual grant by the Ontario Ministry of Health and Long-Term Care (MOHLTC). The opinions, results and conclusions reported in this paper are those of the authors. No endorsement by ICES or the Government of Ontario is intended or should be inferred.
Funding
This study was supported by the National Diabetes Surveillance System funding from Ontario's Ministry of Health and Long-Term Care and an unrestricted grant from AstraZeneca and Novo Nordisk Scandinavia. The NU-Hospital Organization supports ML for research. LLL was supported by the Canadian Diabetes Association/Canadian Institute of Health Research (CDA/CIHR) Clinician Scientist Award, and currently receives support from a CIHR New Investigator Award. BRS receives support from the CDA, CIHR and the Banting and Best Diabetes Centre at the University of Toronto. GLB is supported by a new investigator award from the Ontario Women's Health Council and CIHR and by a Helene and Reuben Dennis Scholar Award from the Banting and Best Diabetes Centre at the University of Toronto.
The funding agencies had no role in the original protocol design, data collection, data analysis, data interpretation, writing of the report or the decision to submit the report for publication.
Duality of interest
ML has received honoraria or served as a consultant for Bayer, Eli Lilly, Novartis, Novo Nordisk Scandinavia, Medtronic Pfizer and Sanofi and has been a member of an advisory board for Novo Nordisk Scandinavia. ML's institution (NU-Hospital Organization) has received grants from Abbot Scandinavia, AstraZeneca and Novo Nordisk Scandinavia. CEIFE has received research grants from AstraZeneca and Bayer. Other authors declare that there is no duality of interest associated with their contribution to this manuscript.
Contribution statement
ML, LAGR, GLB, BRS and LLL designed the study protocol. ML, LAGR, LCS and GE performed the statistical analyses. ML and LLL wrote a draft of the manuscript. All authors participated in reviewing and finalising the report. ML had full access to all of the data in the study and takes responsibility for the integrity of the data and the accuracy of the data analysis. All authors approved the final version of the manuscript.
Electronic supplementary material
Below is the link to the electronic supplementary material.
About this article
Cite this article
Lind, M., Garcia-Rodriguez, L.A., Booth, G.L. et al. Mortality trends in patients with and without diabetes in Ontario, Canada and the UK from 1996 to 2009: a population-based study. Diabetologia 56, 2601–2608 (2013). https://doi.org/10.1007/s00125-013-3063-1
Received:

Accepted:

Published:

Issue Date:

DOI: https://doi.org/10.1007/s00125-013-3063-1
Keywords
Adult

Diabetes

Incidence

Mortality

Prevalence