Do post-translational beta cell protein modifications trigger type 1 diabetes?
Abstract
Type 1 diabetes is considered an autoimmune disease characterised by specific T cell-mediated destruction of the insulin-producing beta cells. Yet, except for insulin, no beta cell-specific antigens have been discovered. This may imply that the autoantigens in type 1 diabetes exist in modified forms capable of specifically triggering beta cell destruction. In other immune-mediated diseases, autoantigens targeted by the immune system have undergone post-translational modification (PTM), thereby creating tissue-specific neo-epitopes. In a similar manner, PTM of beta cell proteins might create beta cell-specific neo-epitopes. We suggest that the current paradigm of type 1 diabetes as a classical autoimmune disease should be reconsidered since the immune response may not be directed against native beta cell proteins. A modified model for the pathogenetic events taking place in islets leading to the T cell attack against beta cells is presented. In this model, PTM plays a prominent role in triggering beta cell destruction. We discuss literature of relevance and perform genetic and human islet gene expression analyses. Both direct and circumstantial support for the involvement of PTM in type 1 diabetes exists in the published literature. Furthermore, we report that cytokines change the expression levels of several genes encoding proteins involved in PTM processes in human islets, and that there are type 1 diabetes-associated polymorphisms in a number of these. In conclusion, data from the literature and presented experimental data support the notion that PTM of beta cell proteins may be involved in triggering beta cell destruction in type 1 diabetes. If the beta cell antigens recognised by the immune system foremost come from modified proteins rather than native ones, the concept of type 1 diabetes as a classical autoimmune disease is open for debate.
Keywords
Antigen-presenting cells 
Autoantigens 
Autoimmune 
Beta cell 
Dendritic cells 
Neo-epitopes 
Pathogenesis 
Post-translational modifications 
T cell 
Type 1 diabetes 
Abbreviations
APC

Antigen-presenting cell

BB

BioBreeding

DC

Dendritic cell

GAD65

GAD 65 kDa

MLD

Multiple low dose

PTM

Post-translational modification

RIP

Rat insulin promoter

ROS

Reactive oxygen species

SNP

Single nucleotide polymorphism

STZ

Streptozotocin

TCR

T cell receptor

ZnT8

Zinc transporter 8
Introduction
Since the early 1970s, type 1 diabetes has been considered to be the result of an immune reaction against the beta cells [1, 2, 3]. The disease is multifactorial, with both environmental and genetic factors contributing to type 1 diabetes risk. There is broad consensus that the pathogenesis of type 1 diabetes comprises two distinct phases: (1) the 'initiation phase', which is non-antigen-driven and non-lymphocyte-dependent. In this phase, initial beta cell damage is thought to be induced by environmental factors, e.g. a virus and/or cytokines secreted by activated monocytes, macrophages and dendritic cells resident in islets and/or possibly by beta cells themselves; and (2) the 'amplification phase' or 'execution phase', which is characterised by antigen-driven, lymphocyte-dependent progressive and selective destruction of the beta cells, causing clinical diabetes [4, 5, 6]. GAD 65 kDa (GAD65), insulin, protein tyrosine phosphatase (IA-2), zinc transporter 8 (ZnT8) and several additional proteins have been identified as autoantigens based on antibody or T cell reactivity in sera from type 1 diabetes patients [7, 8]. However, the paradigm of type 1 diabetes as a classical autoimmune disorder contains a paradox: none of the established autoantigens [9, 10, 11, 12], with the possible exception of insulin, are exclusively expressed in the beta cells, thus failing to explain the selective immune-mediated destruction of the beta cells—a fact that has been largely neglected by researchers in the field.
We suggest a simple pathogenetic model in which epitopes recognised by the immune system are not derived from native beta cell proteins but occur on proteins that have been post-translationally modified, creating immunogenic neo-epitopes in beta cells during the initiation phase (Fig. 
1a
). Such neo-epitopes have not been expressed in thymus during lymphocyte selection or in the normal, i.e. non-damaged, beta cell for induction of peripheral tolerance and are thus seen as 'foreign' by the immune system. Therefore, an immune attack is mounted to eliminate the target tissue (Fig. 
1b
). Implicit in this model is that type 1 diabetes is not caused by failure of normal clearance of autoreactive T cells. That neo-epitopes might play a role in the development of type 1 diabetes has also recently been considered by other researchers [
13
,
14
,
15
]. However, here we place the generation of neo-epitopes arising from modified beta cell proteins into a pathogenetic context (Fig. 
1
). We further propose that part of the genetic risk of type 1 diabetes is caused by variation in genes encoding proteins involved in post-translational modification (PTM) processes that could increase PTM of beta cell proteins in at-risk individuals.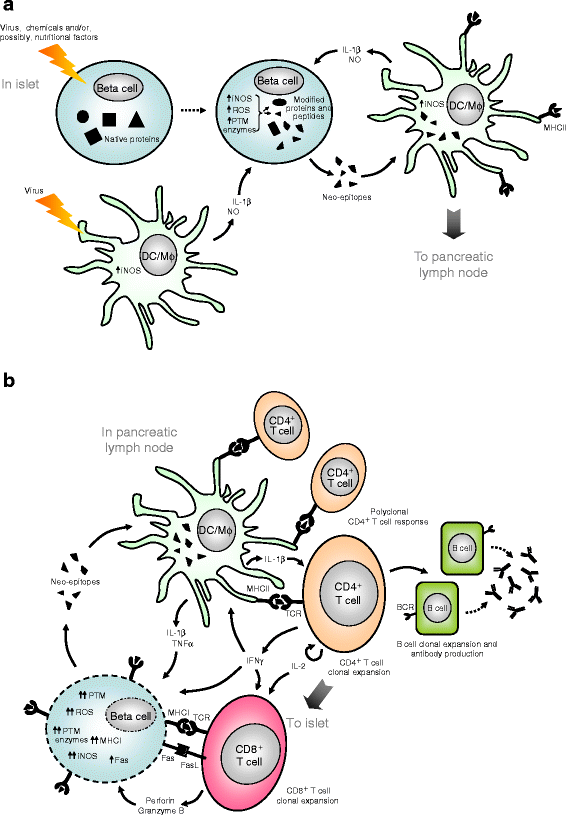 To support the concept that PTMs trigger the immune-mediated beta cell destruction in type 1 diabetes, we present relevant literature, measure the expression of genes encoding proteins involved in PTM processes in human islets and investigate these genes for type 1 diabetes-associated single nucleotide polymorphisms (SNPs). Of note, the purpose of this paper is not to give a comprehensive overview of the literature, but to present key findings in animal models and humans supporting the concept that PTM of beta cell antigens plays an important role in type 1 diabetes. We hope this will stimulate debate and lead to studies that will eventually solve the puzzle as to why the immune system destroys beta cells in type 1 diabetes.
Evidence from the literature
Analysis of genes involved in PTM processes
We hypothesised that part of the genetic component of type 1 diabetes is due to variation in genes regulating PTM processes. We first identified all known genes encoding proteins involved in different PTMs of potential relevance for type 1 diabetes: acetylation, glycosylation, amidation, amination, citrullination, sumoylation, methylation, nitrosylation/nitration and hydroxylation. These PTMs were chosen because they are either enzyme-catalysed and have previously been associated with other immune-mediated diseases or because they are produced by ROS, which are generated in islets during inflammatory stress. We identified a total of 291 genes encoding proteins involved in these PTM categories (electronic supplementary material [ESM] Table 1, ESM Methods).
We then examined whether cytokines (IL-1β + IFNγ + TNFα) change the mRNA expression of the identified genes in four individual human islet preparations. It was found that the expression of 39 genes was regulated by cytokines (p < 0.05, uncorrected value; ESM Table 2).
To examine for genetic variation in the cytokine-regulated genes, we took advantage of the genome-wide association study and meta-analysis performed by the Type 1 Diabetes Genetics Consortium [60]. The analysis revealed that 17 out of the 39 regulated genes contained nominally associated SNPs (ESM Table 2). For all 17 genes, the SNPs were located in either introns or up- or downstream of the gene (within 5 kb of the gene), suggesting that the polymorphisms in these genes might primarily affect the expression levels of the genes. We conclude that several genes involved in PTM processes are regulated by cytokines in human islets and also contain SNPs that are nominally associated with type 1 diabetes, providing support that such genes contribute to PTMs in islets that could create neo-epitopes.
Discussion
Of the established autoantigens in type 1 diabetes, insulin might be the only one that is exclusively expressed in beta cells [9, 10, 11, 12]. The current paradigm of type 1 diabetes as a bona fide autoimmune disease therefore contains a paradox since the beta cell-specific destruction in type 1 diabetes cannot be explained by an immune response against the currently known antigens. We suggest that PTMs are induced during the initiation phase of pathogenesis and that these PTMs give rise to altered peptide structures, creating neo-epitopes not previously exposed to the immune system. There is both direct and circumstantial support for this concept in the published literature. Our analyses suggest that part of the non-HLA genetic susceptibility to type 1 diabetes may be explained by variation in the genes encoding enzymes involved in PTM processes specifically in islets. The mRNA expression of 39 of 291 identified genes encoding PTM enzymes of interest in human islets was changed following exposure to cytokines. Seventeen of these genes also harboured nominally associated SNPs, suggesting that they are of particular importance. It will be of importance to establish if these genes are also expressed and regulated at the protein level in islets and beta cells. Further, it will be highly relevant to determine whether the enzymatic activities of the PTM enzymes are altered in stressed (cytokine exposed) islets.
In support of the concept that cytokine-regulated genes may be involved in PTM processes that can affect type 1 diabetes, proteomic studies of islets exposed to cytokines in vitro and isolated islets from BB rats have shown that many PTM enzymes change expression levels and several proteins undergo PTM [33, 34, 35]. Consistent with an anticipated important pathogenetic role for PTM in the BB model, treatment of BB rats with a chemical inducer (CGP3466B) of the 'PTM enzyme' protein l-isoaspartate (d-aspartate) O-methyltransferase (PIMT) which recognises isomerised aspartate residues in proteins and converts them back to l-aspartate [61], delays disease onset and severity of disease and correlates with an increased number of beta cells in the islets [62]. These findings show that reversing a PTM by CGP3466B-induced upregulation of PIMT beneficially influences diabetes development in BB rats.
The observation that the transglutaminase (TGM)-2 gene contains a type 1 diabetes-associated polymorphism and is transcriptionally upregulated in human islets by cytokines is of interest. In celiac disease, TGM2 plays a prime role in breaking the immune tolerance to gluten via deamidation of glutamine residues in gluten peptides. Furthermore, this disease is characterised by autoantibodies to TGM2 [19]. The coexistence of type 1 diabetes and celiac disease [63] might thus, in part, be related to TGM2. In this context, it is interesting that the naturally occurring proteolytic cleavage product of chromogranin A, the WE14 peptide, becomes a highly antigenic T cell epitope following in vitro treatment with transglutaminase [54, 55].
Several diseases traditionally considered as autoimmune, e.g. rheumatoid arthritis, celiac disease and multiple sclerosis, are known to involve PTM of target proteins. The literature cited here and the experimental data presented support the hypothesis that PTM of beta cell proteins brought about by activation of members and mechanisms of the innate immune system during the initiation phase produce neo-epitopes on beta cell proteins. These neo-epitopes are presented on APCs and the beta cells on MHC class II and I molecules, respectively, and are foreign to the immune system. Therefore, the adaptive immune system will recognise them and mount a response to eliminate them. PTM of beta cell proteins are therefore causative rather than just a consequence of beta cell destruction. It is reasonable to assume that multiple antigens contribute to the activation of the polyclonal T cell attack against the beta cells.
Considering the complexity and polygenic nature of type 1 diabetes, it is plausible that the induced PTMs do not take place uniformly in the beta cells either within an individual islet or in different islets. Furthermore, there might be a great deal of interindividual variation. Thus, the same PTMs and proteins may not be equally important in triggering and exacerbating disease in different individuals.
If the PTM of beta cell proteins triggers beta cell destruction, the intriguing question is whether type 1 diabetes can be defined as truly 'autoimmune' when the T cells react against modified proteins that do not normally occur rather than native ones. Hence, it could be argued that there is nothing wrong with the immune system in type 1 diabetes in that it does what it is supposed to, i.e. destroy cells that contain modified and hence 'foreign' proteins. However, it is beyond doubt that part of the genetic contribution to type 1 diabetes is made by genes that have primary functions in immune cells. Variation in genes that modulate the effects of regulatory T cells might also be important. Such effects, however, are not causal, but are critical for the amplitude of the mounted immune response once initiated and are therefore important in determining how quickly clinical diabetes manifests itself.
To understand the pathogenesis of type 1 diabetes, the postulate of broken immunological tolerance as an underlying mechanism should be reconsidered. The hypothesis presented here is simple, but clearly in need of further experimental support. If correct, it leaves the concept of type 1 diabetes as a bona fide autoimmune disease open for debate. It is our aspiration that this For Debate article, together with the accompanying counter-debate by Lernmark [64] will stimulate researchers to re-think current dogmas and initiate experiments to confirm or refute a critical role of PTM in type 1 diabetes.
Notes
Funding
This work was supported by funding from the Danish Research Council, European Foundation for the Study of Diabetes (joint EFSD/JDRF/Novo Nordisk grant), Novo Nordisk Foundation, Beckett Foundation and the Sehested-Hansen Foundation.
Duality of interest
JS, AJO, CAB, FP, CHB-B, JN, and F. Pociot declare no duality of interests. C.H. is employed by Novo Nordisk A/S and holds shares in Novo Nordisk A/S, which manufactures and markets drugs to treat diabetes.
Contribution statement
JS, JN and F. Pociot were responsible for the conception of the manuscript. All authors were responsible for the design of the manuscript, drafting the article and revising it critically for important intellectual content. All authors approved the version to be published.
Copyright information
© Springer-Verlag Berlin Heidelberg 2013