Abstract
Key message
Fine mapping of barley 6H pericentromeric region identified FHB QTL with opposite effects, and high grain protein content was associated with increased FHB severity.
Abstract
Resistance to Fusarium head blight (FHB), kernel discoloration (KD), deoxynivalenol (DON) accumulation and grain protein content (GPC) are important traits for breeding malting barley varieties. Previous work mapped a Chevron-derived FHB QTL to the pericentromeric region of 6H, coinciding with QTL for KD resistance and GPC. The Chevron allele reduced FHB and KD, but unfavorably increased GPC. To determine whether the correlations are caused by linkage or pleiotropy, a fine mapping approach was used to dissect the QTL underlying these quality and disease traits. Two populations, referred to as Gen10 and Gen10/Lacey, derived from a recombinant near-isogenic line (rNIL) were developed. Recombinants were phenotyped for FHB, KD, DON, GPC and other agronomic traits. Three FHB, two DON and two KD QTLs were identified. One of the three FHB QTLs, one DON QTL and one KD QTL were coincident with the GPC QTL, which contains the Hv-NAM1 locus affecting grain protein accumulation. The Chevron allele at the GPC QTL increased GPC and FHB and decreased DON and KD. The other two FHB QTL and the other DON and KD QTL were identified in the regions flanking the Hv-NAM1 locus, and the Chevron alleles decreased FHB, DON and KD. Our results suggested that the QTL associated with FHB, KD, DON and GPC in the pericentromeric region of 6H was controlled by both pleiotropy and tightly linked loci. The rNILs identified in this study with low FHB severity and moderate GPC may be used for breeding malting barley cultivars.
Access options
Buy single article
Instant access to the full article PDF.
USD 39.95
Price excludes VAT (USA)
Tax calculation will be finalised during checkout.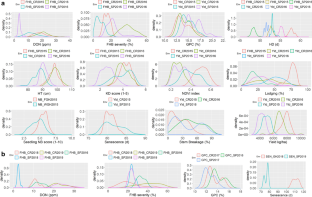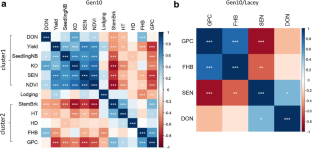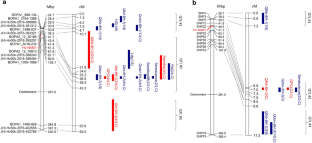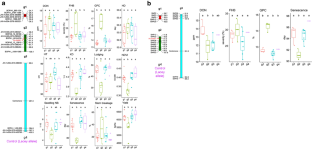 Availability of data and materials
Phenotype and genotype data of mapping populations are presented in the supplemental materials and deposited in T3 barley (https://triticeaetoolbox.org/barley/) for the Gen10/Lacey population and Data Repository for University of Minnesota (https://doi.org/10.13020/hwkm-ev34) for the Gen10 population. Materials reported in this study are available upon request.
References
Aghnoum R, Marcel TC, Johrde A, Pecchioni N, Schweizer P, Niks RE (2010) Basal host resistance of barley to powdery mildew: connecting quantitative trait Loci and candidate genes. Mol Plant Microbe Interact 23:91–102

Banttari EE, Anderson WH, Rasmusson DC (1975) Helminthosporium head blight resistance in six-row spring barleys. Plant Dis Rep 59:274–277

Bates D, Mächler M, Bolker B, Walker S (2015) Fitting linear mixed-effects models using lme4. J Stat Softw 67:1–48

Bayer MM, Rapazote-Flores P, Ganal M, Hedley PE, Macaulay M, Plieske J, Ramsay L, Russell J, Shaw PD, Thomas W, Waugh R (2017) Development and evaluation of a barley 50k iSelect SNP array. Front Plant Sci 8:1792

Boddu J, Cho S, Muehlbauer GJ (2007) Transcriptome analysis of trichothecene-induced gene expression in barley. Mol Plant Microbe Interact 20:1364–1375

Buerstmayr H, Legzdina L, Steiner B, Lemmens M (2004) Variation for resistance to Fusarium head blight in spring barley. Euphytica 137:279–290

Cai S, Yu G, Chen X, Huang Y, Jiang X, Zhang G, Jin X (2013) Grain protein content variation and its association analysis in barley. BMC Plant Biol 13:35

Canci PC, Nduulu LM, Dill-Macky R, Muehlbauer GJ, Rasmusson DC, Smith KP (2003) Genetic relationship between kernel discoloration and grain protein concentration in barley. Crop Sci 43:1671–1679

Canci PC, Nduulu LM, Muehlbauer GJ, Dill-Macky R, Rasmusson DC, Smith KP (2004) Validation of quantitative trait loci for Fusarium head blight and kernel discoloration in barley. Mol Breed 14:91–104

Choo TM, Vigier B, Shen QQ, Martin RA, Ho KM, Savard M (2004) Barley traits associated with resistance to Fusarium head blight and deoxynivalenol accumulation. Phytopathology 94:1145–1150

Dahleen LS, Agrama HA, Horsley RD, Steffenson BJ, Schwarz PB, Mesfin A, Franckowiak JD (2003) Identification of QTLs associated with Fusarium head blight resistance in Zhedar 2 barley. Theor Appl Genet 108:95–104

de la Peña RC, Smith KP, Capettini F, Muehlbauer GJ, Gallo-Meagher M, Dill-Macky R, Somers DA, Rasmusson DC (1999) Quantitative trait loci associated with resistance to Fusarium head blight and kernel discoloration in barley. Theor Appl Genet 99:561–569

Desmond OJ, Manners JM, Stephens AE, Maclean DJ, Schenk PM, Gardiner DM, Munn AL, Kazan K (2008) The Fusarium mycotoxin deoxynivalenol elicits hydrogen peroxide production, programmed cell death and defence responses in wheat. Mol Plant Pathol 9:435–445

Diamond M, Reape TJ, Rocha O, Doyle SM, Kacprzyk J, Doohan FM, McCabe PF (2013) The Fusarium Mycotoxin Deoxynivalenol can inhibit plant apoptosis-like programmed cell death. PLoS One 8:e69542

Ding L, Xu H, Yi H, Yang L, Kong Z, Zhang L, Xue S, Jia H, Ma Z (2011) Resistance to hemi-biotrophic F. graminearum infection is associated with coordinated and ordered expression of diverse defense signaling pathways. PLoS One 6:e19008

Distelfeld A, Avni R, Fischer AM (2014) Senescence, nutrient remobilization, and yield in wheat and barley. J Exp Bot 65:3783–3798

Distelfeld A, Korol A, Dubcovsky J, Uauy C, Blake T, Fahima T (2008) Colinearity between the barley grain protein content (GPC) QTL on chromosome arm 6HS and the wheat Gpc-B1 region. Mol Breeding 22:25–38

Fernando WGD, Oghenekaro AO, Tucker JR, Badea A (2021) Building on a foundation: advances in epidemiology, resistance breeding, and forecasting research for reducing the impact of Fusarium head blight in wheat and barley. Can J Plant Pathol, pp 1–32

Gabriel S, Ziaugra L, Tabbaa D (2009) SNP genotyping using the Sequenom MassARRAY iPLEX platform. Curr Protoc Hum Genet. https://doi.org/10.1002/0471142905.hg0212s60

Gebhardt DJ, Rasmusson DC, Wilcoxson RD (1992) Cyclic breeding used to incorporate kernel discoloration resistance into malting barley. Crop Sci 32:352–356

Gomez KA, Gomez AA (1984) Statistical procedures for agricultural research. John Wiley & Sons, Hoboken, pp 334–339

Häffner E, Konietzki S, Diederichsen E (2015) Keeping control: the role of senescence and development in plant pathogenesis and defense. Plants (basel, Switzerland) 4:449–488

Hayes PM, Liu BH, Knapp SJ, Chen F, Jones B, Blake T, Franckowiak J, Rasmusson D, Sorrells M, Ullrich SE, Wesenberg D, Kleinhofs A (1993) Quantitative trait locus effects and environmental interaction in a sample of North American barley germ plasm. Theor Appl Genet 87:392–401

Huang Y, Haas M, Heinen S, Steffenson BJ, Smith KP, Muehlbauer GJ (2018) QTL mapping of Fusarium head blight and correlated agromorphological traits in an elite barley cultivar rasmusson. Front Plant Sci 9:1260

Huang Y, Li L, Smith KP, Muehlbauer GJ (2016) Differential transcriptomic responses to Fusarium graminearum infection in two barley quantitative trait loci associated with Fusarium head blight resistance. BMC Genomics 17:1–16

Immer FR, Christensen JJ (1943) Studies on susceptibility of varieties and strains of barley to Fusarium and Helminthosporium kernel blight when tested under muslin tents or in nurseries. J Am Soc Agron 35:515–522

Jamar C, Loffet F, Frettinger P, Ramsay L, Fauconnier M-L, du Jardin P (2010) NAM-1 gene polymorphism and grain protein content in Hordeum. J Plant Physiol 167:497–501

Jia H, Cho S, Muehlbauer GJ (2009) Transcriptome analysis of a wheat near-isogenic line pair carrying Fusarium head blight-resistant and -susceptible alleles. Mol Plant Microbe Interact 22:1366–1378

Jia H, Millett B, Cho S, Bilgic H, Xu W, Smith K, Muehlbauer G (2011) Quantitative trait loci conferring resistance to Fusarium head blight in barley respond differentially to Fusarium graminearum infection. Funct Integr Genom 11:95–102

Jibran R, Hunter DA, Dijkwel PP (2013) Hormonal regulation of leaf senescence through integration of developmental and stress signals. Plant Mol Biol 82:547–561

Joppa LR, Du C, Hart GE, Hareland GA (1997) Mapping gene(s) for grain protein in tetraploid wheat (Triticum turgidum L.) using a population of recombinant inbred chromosome lines. Crop Sci 37:1586–1589

Jukanti AK, Heidlebaugh NM, Parrott DL, Fischer IA, McInnerney K, Fischer AM (2008) Comparative transcriptome profiling of near-isogenic barley (Hordeum vulgare) lines differing in the allelic state of a major grain protein content locus identifies genes with possible roles in leaf senescence and nitrogen reallocation. New Phytol 177:333–349

Kassambara A (2020) ggpubr: 'ggplot2' based publication ready plots. https://rpkgs.datanovia.com/ggpubr/.

Lacerenza JA, Parrott DL, Fischer AM (2010) A major grain protein content locus on barley (Hordeum vulgare L.) chromosome 6 influences flowering time and sequential leaf senescence. J Exp Bot 61:3137–3149

Lamb KE, Gonzalez-Hernandez JL, Zhang B, Green M, Neate SM, Schwarz PB, Horsley RD (2009) Identification of QTL conferring resistance to Fusarium head blight resistance in the breeding line C93-3230-24. Crop Sci 49:1675–1680

Lawlor DW (2002) Carbon and nitrogen assimilation in relation to yield: mechanisms are the key to understanding production systems. J Exp Bot 53:773–787

Ma Z, Steffenson BJ, Prom LK, Lapitan NL (2000) Mapping of quantitative trait Loci for Fusarium head blight resistance in barley. Phytopathology 90:1079–1088

Makowski D (2018) The psycho package: an efficient and publishing-oriented workflow for psychological science. J Open Source Softw 3:470

Massman J, Cooper B, Horsley R, Neate S, Dill-Macky R, Chao S, Dong Y, Schwarz P, Muehlbauer G, Smith K (2011) Genome-wide association mapping of Fusarium head blight resistance in contemporary barley breeding germplasm. Mol Breeding 27:439–454

Mendiburu Fd, Yaseen M (2020) Agricolae: statistical procedures for agricultural research. R package version 1.4.0. https://cran.r-project.org/package=agricolae.

Mesfin A, Smith KP, Dill-Macky R, Evans CK, Waugh R, Gustus CD, Muehlbauer GJ (2003) Quantitative trait loci for Fusarium head blight resistance in barley detected in a two-rowed by six-rowed population. Crop Sci 43:307–318

Mickelson S, See D, Meyer FD, Garner JP, Foster CR, Blake TK, Fischer AM (2003) Mapping of QTL associated with nitrogen storage and remobilization in barley (Hordeum vulgare L.) leaves. J Exp Bot 54:801–812

Miles MR, Wilcoxson RD, Rasmusson DC, Wiersma J, Warnes D (1987) Influence of genotype and environment on kernel discoloration of midwestern malting barley. Plant Dis 71:500–504

Miles MR, Wilcoxson RD, Rasmusson DC (1989) Inheritance of resistance to kernel discoloration of barley. Plant Dis 73:711–715

Mirocha CJ, Kolaczkowski E, Xie W, Yu H, Jelen H (1998) Analysis of deoxynivalenol and its derivatives (batch and single kernel) using gas chromatography/mass spectrometry. J Agric Food Chem 46:1414–1418

Mudge AM, Dill-Macky R, Dong Y, Gardiner DM, White RG, Manners JM (2006) A role for the mycotoxin deoxynivalenol in stem colonisation during crown rot disease of wheat caused by Fusarium graminearum and Fusarium pseudograminearum. Physiol Mol Plant Pathol 69:73–85

Nice L, Huang Y, Steffenson BJ, Gyenis L, Schwarz P, Smith KP, Muehlbauer GJ (2019) Mapping malting quality and yield characteristics in a North American two-rowed malting barley × wild barley advanced backcross population. Mol Breeding 39:121

Ogrodowicz P, Kuczyńska A, Mikołajczak K, Adamski T, Surma M, Krajewski P, Ćwiek-Kupczyńska H, Kempa M, Rokicki M, Jasińska D (2020) Mapping of quantitative trait loci for traits linked to fusarium head blight in barley. PLoS One 15:e0222375

Olmos S, Distelfeld A, Chicaiza O, Schlatter AR, Fahima T, Echenique V, Dubcovsky J (2003) Precise mapping of a locus affecting grain protein content in durum wheat. Theor Appl Genet 107:1243–1251

Pasam RK, Sharma R, Malosetti M, van Eeuwijk FA, Haseneyer G, Kilian B, Graner A (2012) Genome-wide association studies for agronomical traits in a world wide spring barley collection. BMC Plant Biol 12:16

Peters RA, Timian RG, Wesenberg D (1983) A bacterial kernel spot of barley caused by Pseudomonas syringae pv. syringae. Plant Dis 67:435–438

Prom LK, Steffenson BJ, Salas B, Fetch TG, Fetch JR, Casper HHCFpd, (1997) Barley accessions resistant to Fusarium head blight and the accumulation of deoxynivalenol. Cereal Res Commun 25:807–808

R Core Team (2014) R: A language and environment for statistical computing. R foundation for statistical computing, Vienna, Austria. URL http://www.R-project.org/.

Rasmusson DC, Smith KP, Dill-Macky R, Schiefelbein EL, Wiersma JV (2001) Registration of 'lacey' barley. Crop Sci 41:1991–1991

Romero CCT, Vels A, Niks RE (2018) Identification of a large-effect QTL associated with kernel discoloration in barley. J Cereal Sci 84:62–70

Sallam AH, Beaubien KA, Dill-Macky R, Chao S, Dong Y, Smith KP (2010) Fine mapping of a region on chromosme 6H associated with DON in barley. Proceedings of the 2010 National Fusarium Head Blight Forum, Milwaukee, WI

Sato K, Hori K, Takeda K (2008) Detection of Fusarium head blight resistance QTLs using five populations of top-cross progeny derived from two-row × two-row crosses in barley. Mol Breeding 22:517–526

See D, Kanazin V, Kephart K, Blake T (2002) Mapping genes controlling variation in barley grain protein concentration contribution no. J-2000-76. Crop Sci 42:680–685

Simmonds NW (1995) The relation between yield and protein in cereal grain. J Sci Food Agriculture 67:309–315

Skov Kristensen P, Dockter C, Lundqvist U, Lu Q, Gregersen PL, Thordal-Christensen H, Hansson M (2016) Genetic mapping of the barley lodging resistance locus Erectoides-k. Plant Breed 135:420–428

Smith KP, Evans CK, Dill-Macky R, Gustus C, Xie W, Dong Y (2004) Host genetic effect on deoxynivalenol accumulation in Fusarium head blight of barley. Phytopathology 94:766–771

Smith KP, Budde A, Dill-Macky R, Rasmusson DC, Schiefelbein E, Steffenson B, Wiersma JJ, Wiersma JV, Zhang B (2013) Registration of 'quest' spring malting barley with improved resistance to Fusarium head blight. J Plant Regist 7:125–129

Stam P (1993) Construction of integrated genetic linkage maps by means of a new computer package: join map. Plant J 3:739–744

Steffenson BJ (2003) Fusarium head blight of barley: impact, epidemics, management, and strategies for identifying and utilizing genetic resistance. In: Leonard KJ, Bushnell WR (eds) Fusarium head blight of wheat and barley. The American Phytopathological Society, St. Paul, pp 241–295

Steffenson BJ, Hayes PM, Kleinhofs A (1996a) Genetics of seedling and adult plant resistance to net blotch (Pyrenophora teres f. teres) and spot blotch (Cochliobolus sativus) in barley. Theor Appl Genet 92:552–558

Steffenson BJ, Prom LK, Salas B, Fetch TG, Wesenberg DM, Bockelman HE (1996b) Severity of Fusarium head blight and concentrations of deoxynivalenol in near isogenic lines of barley differing for several agronomic characters. In: Slinkard A, Scoles G, Rossnagel B (eds) Proceedings 7th international barley genetics symposium. University Extension Press, Saskatoon, Saskatchewan, pp 774–776

Steiner B, Buerstmayr M, Wagner C, Danler A, Eshonkulov B, Ehn M, Buerstmayr H (2019) Fine-mapping of the Fusarium head blight resistance QTL Qfhs.ifa-5A identifies two resistance QTL associated with anther extrusion. Theor Appl Genet 132:2039–2053

Studer AJ, Doebley JF (2011) Do large effect QTL fractionate? A case study at the maize domestication QTL teosinte branched1. Genetics 188:673

Tekauz A (1985) A numerical scale to classify reactions of barley to Pyrenophora Teres. Can J Plant Path 7:181–183

Uauy C, Brevis JC, Dubcovsky J (2006a) The high grain protein content gene Gpc-B1 accelerates senescence and has pleiotropic effects on protein content in wheat. J Exp Bot 57:2785–2794

Uauy C, Distelfeld A, Fahima T, Blechl A, Dubcovsky J (2006b) A NAC gene regulating senescence improves grain protein, zinc, and iron content in wheat. Science 314:1298–1301

Voorrips RE (2002) MapChart: software for the graphical presentation of linkage maps and QTLs. J Hered 93:77–78

Wang S, Basten CJ, Zeng ZB (2012) Windows QTL Cartographer 2.5. Department of statistics, North Carolina State University, Raleigh, NC.

Wang L, Li Q, Liu Z, Surendra A, Pan Y, Li Y, Zaharia LI, Ouellet T, Fobert PR (2018) Integrated transcriptome and hormone profiling highlight the role of multiple phytohormone pathways in wheat resistance against Fusarium head blight. PLoS One 13:e0207036

Wang Y, Ren X, Sun D, Sun G (2015) Origin of worldwide cultivated barley revealed by NAM-1 gene and grain protein content. Front Plant Sci. https://doi.org/10.3389/fpls.2015.00803

Wei T, Simko V (2016) Package 'corrplot'. https://CRAN.R-project.org/package=corrplot.

Wilcoxson RD, Rasmusson DC, Banttari EE, Johnson DA (1980) Feasibility of selecting for kernel discoloration in barley. Plant Dis 64:928–930

Wu Y, Bhat PR, Close TJ, Lonardi S (2008) Efficient and accurate construction of genetic linkage maps from the minimum spanning tree of a graph. PLoS Genet 4:e1000212

Yin L (2017) Fine mapping coincident QTL on a chromosome 6H introgression region from unadapted germplasm into elite malting barley. University of Minnesota, M.S. Thesis

Zeng ZB (1994) Precision mapping of quantitative trait loci. Genetics 136:1457–1468
Acknowledgements
We thank Dr. Shiaoman Chao (USDA-ARS, Fargo, ND) for genotyping the Gen10 population with GBS markers and the Gen10/Lacey population with SSR markers. Edward Schiefelbein and Guillermo Velasquez (Department of Agronomy and Plant Genetics, University of Minnesota) are thanked for assistance with field trials.
Funding
This material is based upon work supported by the U.S. Department of Agriculture, under Agreement Nos. 59-0206-4-021 and 59-0206-8-203. This is a cooperative project with the U.S. Wheat & Barley Scab Initiative. Any opinions, findings, conclusions or recommendations expressed in this publication are those of the authors and do not necessarily reflect the view of the U.S. Department of Agriculture.
Ethics declarations
Conflict of interest
The authors declare no conflict of interest.
Additional information
Communicated by Maria von Korff.
Publisher's Note
Springer Nature remains neutral with regard to jurisdictional claims in published maps and institutional affiliations.
Supplementary Information
Below is the link to the electronic supplementary material.
About this article
Cite this article
Huang, Y., Yin, L., Sallam, A.H. et al. Genetic dissection of a pericentromeric region of barley chromosome 6H associated with Fusarium head blight resistance, grain protein content and agronomic traits. Theor Appl Genet 134, 3963–3981 (2021). https://doi.org/10.1007/s00122-021-03941-9
Received:

Accepted:

Published:

Issue Date:

DOI: https://doi.org/10.1007/s00122-021-03941-9