Abstract
Key message
High-resolution genome-wide association study (GWAS) facilitated QTL fine mapping and candidate gene identification, and the GWAS based genomic prediction models were highly predictive and valuable in wheat genomic breeding.
Abstract
Wheat is a major staple food crop and provides more than one-fifth of the daily calories and dietary proteins for humans. Genome-wide association study (GWAS) and genomic selection (GS) for wheat stress resistance and tolerance related traits are critical to understanding their genetic architecture for improvement of breeding selection efficiency. However, the insufficient marker density in previous studies limited the utility of GWAS and GS in wheat genomic breeding. Here, we conducted a high-resolution GWAS for wheat leaf rust (LR), yellow rust (YR), powdery mildew (PM), and cold tolerance (CT) by genotyping a panel of 768 wheat cultivars using genotyping-by-sequencing. Among 153 quantitative trait loci (QTLs) identified, 81 QTLs were delimited to ≤ 1.0 Mb intervals with three validated using bi-parental populations. Furthermore, 837 stress resistance-related genes were identified in the QTL regions with 12 showing induced expression by YR and PM pathogens. Genomic prediction using 2608, 4064, 3907, and 2136 pre-selected SNPs based on GWAS and genotypic correlations between the SNPs showed high prediction accuracies of 0.76, 0.73, and 0.78 for resistance to LR, YR, and PM, respectively, and 0.83 for resistance to cold damage. Our study laid a solid foundation for large-scale QTL fine mapping, candidate gene validation and GS in wheat.
Access options
Buy single article
Instant access to the full article PDF.
USD 39.95
Price includes VAT (USA)
Tax calculation will be finalised during checkout.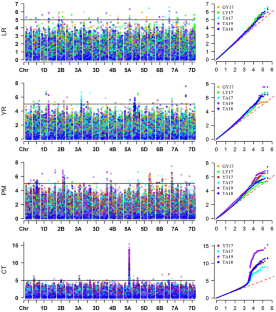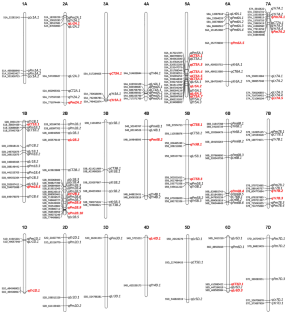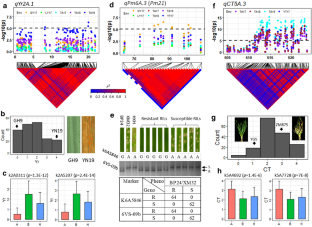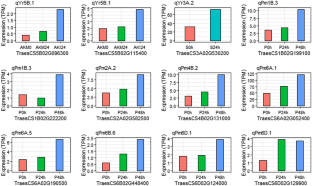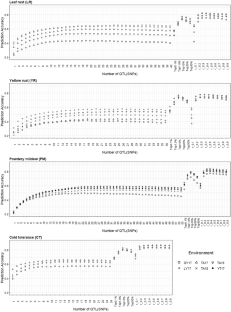 Data availability
The datasets used in the current study are available from the corresponding author on reasonable request.
References
Afzal F, Chaudhari SK, Gul A, Farooq A, Ali H, Nisar S, Sarfraz B, Shehzadi KJ, Mujeeb-Kazi A (2015) Bread wheat (Triticum aestivum L.) under biotic and abiotic stresses: an overview. In: Hakeem KR (ed) Crop production and global environmental issues. Springer, New York, pp 293–317

Bassi FM, Bentley AR, Charmet G, Ortiz R, Crossa J (2016) Breeding schemes for the implementation of genomic selection in wheat (Triticum spp.). Plant Sci 242:23–36

Battenfield SD, Guzmán C, Gaynor RC, Singh RP, Peña RJ, Dreisigacker S, Fritz AK, Poland JA (2016) Genomic selection for processing and end-use quality traits in the CIMMYT spring bread wheat breeding program. The Plant Genome. https://doi.org/10.3835/plantgenome2016.01.0005

Borrill P, Harrington SA, Uauy C (2019) Applying the latest advances in genomics and phenomics for trait discovery in polyploid wheat. Plant J 97:56–72

Bradbury PJ, Zhang Z, Kroon DE, Casstevens TM, Ramdoss Y, Buckler ES (2007) TASSEL: software for association mapping of complex traits in diverse samples. Bioinformatics 23:2633–2635

Cheng P, Xu LS, Wang MN, See DR, Chen XM (2014) Molecular mapping of genes Yr64 and Yr65 for stripe rust resistance in hexaploid derivatives of durum wheat accessions PI 331260 and PI 480016. Theor Appl Genet 127:2267–2277

Cloutier S, McCallum BD, Loutre C, Banks TW, Wicker T, Feuillet C, Keller B, Jordan MC (2007) Leaf rust resistance gene Lr1, isolated from bread wheat (Triticum aestivum L.) is a member of the large psr567 gene family. Plant Mol Biol 65:93–106

Daetwyler HD, Bansal UK, Bariana HS, Hayden MJ, Hayes BJ (2014) Genomic prediction for rust resistance in diverse wheat landraces. Theor Appl Genet 127:1795–1803

Desta ZA, Ortiz R (2014) Genomic selection: genome-wide prediction in plant improvement. Trends Plant Sci 19:592–601

Ding Y, Shi Y, Yang S (2019) Advances and challenges in uncovering cold tolerance regulatory mechanisms in plants. New Phytol 222:1690–1704

Dong Z, Hegarty JM, Zhang J, Zhang W, Chao S, Chen X, Zhou Y, Dubcovsky J (2017) Validation and characterization of a QTL for adult plant resistance to stripe rust on wheat chromosome arm 6BS (Yr78). Theor Appl Genet 130:2127–2137

Endelman JB (2011) ridge regression and other kernels for genomic selection with R package rrBLUP. The Plant Genome 4:250–255

Figueroa M, Hammond-Kosack KE, Solomon PS (2018) A review of wheat diseases—a field perspective. Mol Plant Pathol 19:1523–1536

Fu D, Uauy C, Distelfeld A, Blechl A, Epstein L, Chen X, Sela H, Fahima T, Dubcovsky J (2009) A kinase-START gene confers temperature-dependent resistance to wheat stripe rust. Science 323:1357–1360

Graham J, McNeney B, Blay S, Shin J-H (2006) LDheatmap: an r function for graphical display of pairwise linkage disequilibria between single nucleotide polymorphism. J Stat Softw 16(3):1–10

Guo J, Ren Y, Tang Z, Shi W, Zhou M (2019) Characterization and expression profiling of the ICE-CBF-COR genes in wheat. PeerJ 7:e8190–e8190

Guo W, Xin M, Wang Z, Yao Y, Hu Z, Song W, Yu K, Chen Y, Wang X, Guan P, Appels R, Peng H, Ni Z, Sun Q (2020) Origin and adaptation to high altitude of Tibetan semi-wild wheat. Nat Commun 11:5085

Hao Y, Parks R, Cowger C, Chen Z, Wang Y, Bland D, Murphy JP, Guedira M, Brown-Guedira G, Johnson J (2015) Molecular characterization of a new powdery mildew resistance gene Pm54 in soft red winter wheat. Theor Appl Genet 128:465–476

Hao Y, Wang T, Wang K, Wang X, Fu Y, Huang L, Kang Z (2016) Transcriptome analysis provides insights into the mechanisms underlying wheat plant resistance to stripe rust at the adult plant stage. PLoS ONE 11:e0150717

Harrell FE, Jr. (2019) Hmisc: harrell miscellaneous. R package version 42–0 https://CRAN.R-project.org/package=Hmisc

He H, Ji Y, Zhu S, Li B, Zhao R, Jiang Z, Bie T (2017) Genetic, physical and comparative mapping of the powdery mildew resistance gene Pm21 Originating from Dasypyrum villosum. Front Plant Sci. https://doi.org/10.3389/fpls.2017.01914

He H, Zhu S, Zhao R, Jiang Z, Ji Y, Ji J, Qiu D, Li H, Bie T (2018) Pm21, encoding a typical CC-NBS-LRR protein, confers broad-spectrum resistance to wheat powdery mildew disease. Mol Plant 11:879–882

Hua W, Liu Z, Zhu J, Xie C, Yang T, Zhou Y, Duan X, Sun Q, Liu Z (2009) Identification and genetic mapping of pm42, a new recessive wheat powdery mildew resistance gene derived from wild emmer (Triticum turgidum var. dicoccoides). Theor Appl Genet 119:223–230

Huerta-Espino J, Singh RP, Germán S, McCallum BD, Park RF, Chen WQ, Bhardwaj SC, Goyeau H (2011) Global status of wheat leaf rust caused by Puccinia triticina. Euphytica 179:143–160

IWGSC (2018) Shifting the limits in wheat research and breeding using a fully annotated reference genome. Science 361:eaar7191

Jannink JL, Lorenz AJ, Iwata H (2010) Genomic selection in plant breeding: from theory to practice. Brief Funct Genomics 9:166–177

Jia J, Xie Y, Cheng J, Kong C, Wang M, Gao L, Zhao F, Guo J, Wang K, Li G, Cui D, Hu T, Zhao G, Wang D, Ru Z, Zhang Y (2021) Homology-mediated inter-chromosomal interactions in hexaploid wheat lead to specific subgenome territories following polyploidization and introgression. Genome Biol 22:26

Jin Y, Zhai S, Wang W, Ding X, Guo Z, Bai L, Wang S (2018) Identification of genes from the ICE–CBF–COR pathway under cold stress in Aegilops-Triticum composite group and the evolution analysis with those from Triticeae. Physiol Mol Biol Plants 24:211–229

Juliana P, Singh RP, Singh PK, Crossa J, Huerta-Espino J, Lan C, Bhavani S, Rutkoski JE, Poland JA, Bergstrom GC, Sorrells ME (2017) Genomic and pedigree-based prediction for leaf, stem, and stripe rust resistance in wheat. Theor Appl Genet 130:1415–1430

Kang Y, Zhou M, Merry A, Barry K (2020) Mechanisms of powdery mildew resistance of wheat – a review of molecular breeding. Plant Pathol 69:601–617

Kolmer JA, Bernardo A, Bai G, Hayden MJ, Chao S (2018) Adult plant leaf rust resistance derived from toropi wheat is conditioned by Lr78 and three minor QTL. Phytopathology 108:246–253

Krattinger S, Lagudah E, Spielmeyer W, Singh R, Huerta-Espino J, McFadden H, Bossolini E, Selter L, Keller B (2009) A putative ABC transporter confers durable resistance to multiple fungal pathogens in wheat. Science 323:1360–1363

Kruse EB, Carle SW, Wen N, Skinner DZ, Murray TD, Garland-Campbell KA, Carter AH (2017) Genomic regions associated with tolerance to freezing stress and snow mold in winter wheat. G3-Genes Genom Genet 7(3):775–780. https://doi.org/10.1534/g3.116.037622

Li Y, Shi X, Hu J, Wu P, Qiu D, Qu Y, Xie J, Wu Q, Zhang H, Yang L, Liu H, Zhou Y, Liu Z, Li H (2020b) Identification of a recessive gene PmQ conferring resistance to powdery mildew in wheat landrace Qingxinmai using BSR-Seq analysis. Plant Dis 104:743–751

Li M, Dong L, Li B, Wang Z, Xie J, Qiu D, Li Y, Shi W, Yang L, Wu Q, Chen Y, Lu P, Guo G, Zhang H, Zhang P, Zhu K, Li Y, Zhang Y, Wang R, Yuan C, Liu W, Yu D, Luo M-C, Fahima T, Nevo E, Li H, Liu Z (2020a) A CNL protein in wild emmer wheat confers powdery mildew resistance. New Phytol 228(3):1027–1037. https://doi.org/10.1111/nph.16761

Lipka AE, Tian F, Wang Q, Peiffer J, Li M, Bradbury PJ, Gore MA, Buckler ES, Zhang Z (2012) GAPIT: genome association and prediction integrated tool. Bioinformatics 28:2397–2399

Liu B, Liu T, Zhang Z, Jia Q, Wang B, Gao L, Peng Y, Jin S, Chen W (2017) Discovery and pathogenicity of CYR34, a new race of Puccinia striiformis f. sp. tritici in China. Acta Phytopathol Sin 47:681–687

Liu J, Shi Y, Yang S (2018) Insights into the regulation of C-repeat binding factors in plant cold signaling. J Integr Plant Biol 60:780–795

Lu J-l, Chen C, Liu P, He Z-h, Xia X-c (2016) Identification of a new stripe rust resistance gene in Chinese winter wheat Zhongmai 175. J Integr Agr 15:2461–2468

Lu P, Guo L, Wang Z, Li B, Li J, Li Y, Qiu D, Shi W, Yang L, Wang N, Guo G, Xie J, Wu Q, Chen Y, Li M, Zhang H, Dong L, Zhang P, Zhu K, Yu D, Zhang Y, Deal KR, Huo N, Liu C, Luo M-C, Dvorak J, Gu YQ, Li H, Liu Z (2020) A rare gain of function mutation in a wheat tandem kinase confers resistance to powdery mildew. Nat Commun 11:680

Meuwissen THE, Hayes BJ, Goddard ME (2001) Prediction of total genetic value using genome-wide dense marker maps. Genetics 157:1819–1829

Michel S, Ametz C, Gungor H, Epure D, Grausgruber H, Löschenberger F, Buerstmayr H (2016) Genomic selection across multiple breeding cycles in applied bread wheat breeding. Theor Appl Genet 129:1179–1189

Moore JW, Herrera-Foessel S, Lan C, Schnippenkoetter W, Ayliffe M, Huerta-Espino J, Lillemo M, Viccars L, Milne R, Periyannan S, Kong X, Spielmeyer W, Talbot M, Bariana H, Patrick JW, Dodds P, Singh R, Lagudah E (2015) A recently evolved hexose transporter variant confers resistance to multiple pathogens in wheat. Nat Genet 47:1494–1498

Oliver RP (2014) A reassessment of the risk of rust fungi developing resistance to fungicides. Pest Manag Sci 70:1641–1645

Pang Y, Liu C, Wang D, St Amand P, Bernardo A, Li W, He F, Li L, Wang L, Yuan X, Dong L, Su Y, Zhang H, Zhao M, Liang Y, Jia H, Shen X, Lu Y, Jiang H, Wu Y, Li A, Wang H, Kong L, Bai G, Liu S (2020) High-resolution genome-wide association study identifies genomic regions and candidate genes for important agronomic traits in wheat. Mol Plant 13:1311–1327

Pinto da Silva GB, Zanella CM, Martinelli JA, Chaves MS, Hiebert CW, McCallum BD, Boyd LA (2018) Quantitative trait loci conferring leaf rust resistance in hexaploid wheat. Phytopathology 108:1344–1354

Prasad P, Savadi S, Bhardwaj SC, Gupta PK (2020) The progress of leaf rust research in wheat. Fungal Biol 124:537–550

Rong JK, Millet E, Manisterski J, Feldman M (2000) A new powdery mildew resistance gene: introgression from wild emmer into common wheat and RFLP-based mapping. Euphytica 115:121–126

Sánchez-Martín J, Widrig V, Herren G, Wicker T, Zbinden H, Gronnier J, Spörri L, Praz CR, Heuberger M, Kolodziej MC, Isaksson J, Steuernagel B, Karafiátová M, Doležel J, Zipfel C, Keller B (2021) Wheat Pm4 resistance to powdery mildew is controlled by alternative splice variants encoding chimeric proteins. Nat Plants 7:327–341

Sapkota S, Hao Y, Johnson J, Buck J, Aoun M, Mergoum M (2019) Genome-wide association study of a worldwide collection of wheat genotypes reveals novel quantitative trait loci for leaf rust resistance. Plant Genome 12(3):190033

Sasaki K, Christov NK, Tsuda S, Imai R (2013) Identification of a Novel LEA Protein Involved in Freezing Tolerance in Wheat. Plant Cell Physiol 55:136–147

Schulz-Streeck T, Ogutu JO, Piepho H-P (2011) Pre-selection of markers for genomic selection. BMC Proceed 5:S12

Schwessinger B (2017) Fundamental wheat stripe rust research in the 21st century. New Phytol 213:1625–1631

Sheng B (1988) Scoring powdery mildew with infection type at wheat seedling stage. Plant Prot 1:49

Sun H, Hu J, Song W, Qiu D, Cui L, Wu P, Zhang H, Liu H, Yang L, Qu Y, Li Y, Li T, Cheng W, Zhou Y, Liu Z, Li J, Li H (2018) Pm61: a recessive gene for resistance to powdery mildew in wheat landrace Xuxusanyuehuang identified by comparative genomics analysis. Theor Appl Genet 131:2085–2097

Tang X, Cao X, Xu X, Jiang Y, Luo Y, Ma Z, Fan J, Zhou Y (2017) Effects of climate change on epidemics of powdery mildew in winter wheat in China. Plant Dis 101:1753–1760

Tang K, Zhao L, Ren Y, Yang S, Zhu J-K, Zhao C (2020) The transcription factor ICE1 functions in cold stress response by binding to the promoters of CBF and COR genes. J Integr Plant Biol 62:258–263

Thind AK, Wicker T, Šimková H, Fossati D, Moullet O, Brabant C, Vrána J, Doležel J, Krattinger SG (2017) Rapid cloning of genes in hexaploid wheat using cultivar-specific long-range chromosome assembly. Nat Biotechnol 35:793–796

Walkowiak S, Gao L, Monat C, Haberer G, Kassa MT, Brinton J, Ramirez-Gonzalez RH, Kolodziej MC, Delorean E, Thambugala D, Klymiuk V, Byrns B, Gundlach H, Bandi V, Siri JN, Nilsen K, Aquino C, Himmelbach A, Copetti D, Ban T, Venturini L, Bevan M, Clavijo B, Koo D-H, Ens J, Wiebe K, N'Diaye A, Fritz AK, Gutwin C, Fiebig A, Fosker C, Fu BX, Accinelli GG, Gardner KA, Fradgley N, Gutierrez-Gonzalez J, Halstead-Nussloch G, Hatakeyama M, Koh CS, Deek J, Costamagna AC, Fobert P, Heavens D, Kanamori H, Kawaura K, Kobayashi F, Krasileva K, Kuo T, McKenzie N, Murata K, Nabeka Y, Paape T, Padmarasu S, Percival-Alwyn L, Kagale S, Scholz U, Sese J, Juliana P, Singh R, Shimizu-Inatsugi R, Swarbreck D, Cockram J, Budak H, Tameshige T, Tanaka T, Tsuji H, Wright J, Wu J, Steuernagel B, Small I, Cloutier S, Keeble-Gagnère G, Muehlbauer G, Tibbets J, Nasuda S, Melonek J, Hucl PJ, Sharpe AG, Clark M, Legg E, Bharti A, Langridge P, Hall A, Uauy C, Mascher M, Krattinger SG, Handa H, Shimizu KK, Distelfeld A, Chalmers K, Keller B, Mayer KFX, Poland J, Stein N, McCartney CA, Spannagl M, Wicker T, Pozniak CJ (2020) Multiple wheat genomes reveal global variation in modern breeding. Nature 588:277–283

Wang H, Zou S, Li Y, Lin F, Tang D (2020) An ankyrin-repeat and WRKY-domain-containing immune receptor confers stripe rust resistance in wheat. Nat Commun 11:1353

Wickham H (2016) ggplot2: Elegant Graphics for Data Analysis. Springer-Verlag, New York

Winfield MO, Lu C, Wilson ID, Coghill JA, Edwards KJ (2010) Plant responses to cold: transcriptome analysis of wheat. Plant Biotechnol J 8:749–771

Wu J, Yu R, Wang H, Ce Z, Huang S, Jiao H, Yu S, Nie X, Wang Q, Liu S, Weining S, Singh RP, Bhavani S, Kang Z, Han D, Zeng Q (2020) A large-scale genomic association analysis identifies the candidate causal genes conferring stripe rust resistance under multiple field environments. Plant Biotechnol J. https://doi.org/10.1111/pbi.13452

Würschum T, Longin CFH, Hahn V, Tucker MR, Leiser WL (2017) Copy number variations of CBF genes at the Fr-A2 locus are essential components of winter hardiness in wheat. Plant J 89:764–773

Xiao L, Liu L, Asseng S, Xia Y, Tang L, Liu B, Cao W, Zhu Y (2018) Estimating spring frost and its impact on yield across winter wheat in China. Agr Forest Meteorol 260–261:154–164

Xing L, Hu P, Liu J, Witek K, Zhou S, Xu J, Zhou W, Gao L, Huang Z, Zhang R, Wang X, Chen P, Wang H, Jones JDG, Karafiátová M, Vrána J, Bartoš J, Doležel J, Tian Y, Wu Y, Cao A (2018) Pm21, Encoding a typical CC-NBS-LRR protein, encodes a CC-NBS-LRR protein conferring powdery mildew resistance in wheat. Mol Plant 11:874–878

Xu X-d, Feng J, Fan J-r, Liu Z-y, Li Q, Zhou Y-l, Ma Z-h (2018) Identification of the resistance gene to powdery mildew in Chinese wheat landrace Baiyouyantiao. J Integr Agr 17:37–45

Zeng S-M, Luo Y (2006) Long-distance spread and interregional epidemics of wheat stripe rust in China. Plant Dis 90:980–988

Zhang H, Yang Y, Wang C, Liu M, Li H, Fu Y, Wang Y, Nie Y, Liu X, Ji W (2014) Large-scale transcriptome comparison reveals distinct gene activations in wheat responding to stripe rust and powdery mildew. BMC Genomics 15:898

Zhang P, Hiebert CW, McIntosh RA, McCallum BD, Thomas JB, Hoxha S, Singh D, Bansal U (2016) The relationship of leaf rust resistance gene Lr13 and hybrid necrosis gene Ne2m on wheat chromosome 2BS. Theor Appl Genet 129:485–493

Zhang C, Huang L, Zhang H, Hao Q, Lyu B, Wang M, Epstein L, Liu M, Kou C, Qi J, Chen F, Li M, Gao G, Ni F, Zhang L, Hao M, Wang J, Chen X, Luo M-C, Zheng Y, Wu J, Liu D, Fu D (2019) An ancestral NB-LRR with duplicated 3′UTRs confers stripe rust resistance in wheat and barley. Nat Commun 10:4023

Zimin AV, Puiu D, Hall R, Kingan S, Clavijo BJ, Salzberg SL (2017) The first near-complete assembly of the hexaploid bread wheat genome, Triticum aestivum. Gigascience 6:1–7. https://doi.org/10.1093/gigascience/gix097
Funding
This work is supported by the National Key Research and Development Programs of China (2016YFD0101802, 2016ZX08009003-001–006) and the Shandong Province Agricultural Fine Seeds Project (2019LZGC015, 2016LZGC023).
Ethics declarations
Conflict of interests
The authors declare no competing interests.
Additional information
Publisher's Note
Springer Nature remains neutral with regard to jurisdictional claims in published maps and institutional affiliations.
Communicated by Andreas Graner.
Supplementary Information
Below is the link to the electronic supplementary material.
About this article
Cite this article
Pang, Y., Wu, Y., Liu, C. et al. High-resolution genome-wide association study and genomic prediction for disease resistance and cold tolerance in wheat. Theor Appl Genet 134, 2857–2873 (2021). https://doi.org/10.1007/s00122-021-03863-6
Received:

Accepted:

Published:

Issue Date: