Abstract
Key message
A variable genomic region containing two Harosoy-derived loci related to Rps7 and one Nemashirazu-derived locus confers broad-spectrum Phytophthora sojae resistance in Tosan-231 and is useful for developing resistant cultivars.
Abstract
We investigated resistance to pathotypically variable Phytophthora sojae isolates in the soybean variety Tosan-231, which has broad-spectrum resistance. Mapping analysis using descendent lines from a cross between Shuurei and Tosan-231 demonstrated that a genomic region between SSR markers BARCSOYSSR_03_0209 and BARCSOYSSR_03_0385 (termed "Region T"), confers broad-spectrum resistance in Tosan-231 and contains three closely linked resistance loci. Inoculation tests with 20 P. sojae isolates of different pathotypes and simple sequence repeat (SSR) analysis of progenitors of Tosan-231 facilitated identification and characterization of Rps genes at the three resistance loci. Two resistance genes, RpsT1 and RpsT2, were found to be derived from Harosoy carrying Rps7. This result suggested two mutually exclusive possibilities: (1) either RpsT1 or RpsT2 is Rps7, and the other is a locally functional novel gene; (2) Rps7 is not a single gene but in fact comprises RpsT1 and RpsT2. The resistance locus containing RpsT3 is derived from Nemashirazu, in which Rps genes have remained poorly defined. Moreover, we identified two genomic regions with relatively high recombination frequencies on the basis of mapping information and proposed a strategy to readily assemble useful resistance genes in or around Region T.
Access options
Buy single article
Instant access to the full article PDF.
US$ 39.95
Tax calculation will be finalised during checkout.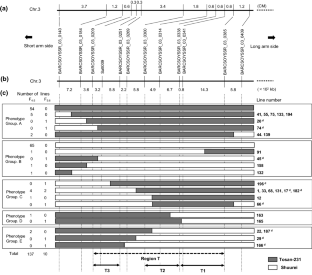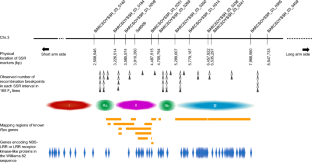 References
Abney TS, Melgar JC, Richards TL, Scott DH, Grogan J, Young J (1997) New races of Phytophthora sojae with Rps1-d virulence. Plant Dis 81:653–655

Afzal AJ, Wood AJ, Lightfoot DA (2008) Plant receptor–like serine threonine kinases: roles in signaling and plant defense. Mol Plant Microbe Interact 21:507–517

Allen TW, Bradley CA, Sisson AJ, Bbyamukama E, Chilvers MI, Coker CM, Collins AA, Damicone JP, Dorrance AE, Dufault NS (2017) Soybean yield loss estimates due to diseases in the United States and Ontario, Canada, from 2010 to 2014. Plant Health Prog 18:19–22

Bernard RL, Smith PE, Kaufmann MJ, Schmitthenner AF (1957) Inheritance of resistance to Phytophthora root and stem rot in soybean. Agron J 49:39

Burnham KD, Dorrance AE, Francis DM, Fioritto RJ, Martin SKS (2003) Rps8, a new locus in soybean for resistance to Phytophthora sojae. Crop Sci 43:101–105

Buzzell RI, Anderson TR (1992) Inheritance and race reaction of a new soybean Rps1 gene. Plant Dis 76:600–601

Buzzell RI, Anderson TR, Rennie BD (1987) Harosoy Rps isolines. Soybean Genet Newsl 14:79–81

Cheng Y, Ma Q, Ren H, Xia Q, Song E, Tan Z (2017) Fine mapping of a Phytophthora-resistance gene RpsWY in soybean (Glycine max L.) by high-throughput genome-wide sequencing. Theor Appl Genet 130:1041–1051

Dangl JL, Jones JD (2001) Plant pathogens and integrated defense responses to infection. Nature 411:826–833

Demirbas A, Rector BG, Lohnes DG, Fioritto RJ, Graef GL, Cregan PB, Shoemaker RC, Specht JE (2001) Simple sequence repeat markers linked to the soybean Rps genes for Phytophthora resistance. Crop Sci 41:1220–1227

Dorrance AE (2018) Management of Phytophthora sojae of soybean: a review and future perspectives. Can J Plant Pathol 40:210–219

Dorrance AE, Schmitthenner AF (2000) New sources of resistance to Phytophthora sojae in the soybean plant introductions. Plant Dis 84:1303–1308

Dorrance AE, McClure SA, St. Martin SK (2003) Effect of partial resistance on Phytophthora stem rot incidence and yield of soybean in Ohio. Plant Dis 87:308–312

Dorrance AE, Jia H, Abney TS (2004) Evaluation of soybean differentials for their interaction with Phytophthora sojae. Plant Health Prog. https://doi.org/10.1094/PHP-2004-0309-01-RS

Dorrance AE, Mills D, Robertson AE, Draper MA, Giesler L, Tenuta A (2007) Phytophthora root and stem rot of soybean. Plant Health Instr. https://doi.org/10.1094/PHI-I-2007-0830-07

Fan AY, Wang XM, Fang XP, Wu XF, Zhu ZD (2009) Molecular identification of Phytophthora resistance gene in soybean cultivar Yudou 25. Acta Agron Sin 35:1844–1850

Gao H, Bhattacharyya MK (2008) The soybean-Phytophthora resistance locus Rps1-k encompasses coiled coil-nucleotide binding leucine rich repeat-like genes and repetitive sequences. BMC Plant Biol 8:29

Grau CR, Dorrance AE, Bond J, Russin JS (2004) Fungal diseases. In: Boerma HR, Specht JE (eds) Soybeans: improvement, production, and uses. Wilery, New Jersey, pp 679–763

Jiang C-J, Sugano S, Kaga A, Lee SS, Sugimoto T, Takahashi M, Ishimoto M (2017) Evaluation of resistance to Phytophthora sojae in soybean mini core collections using an improved assay system. Phytopathology 107:216–223

Kato M, Minamida K, Tojo M, Kokuryu T, Hamaguchi H, Shimada S (2013) Association of Pythium and Phytophthora with pre-emergence seedling damping-off of soybean grown in a field converted from a paddy field in Japan. Plant Prod Sci 16:95–104

Kaufmann MJ, Gerdemann JW (1958) Root and stem rot of soybean caused by Phytophthora sojae n. sp. Phytopathology 48:201–208

Koenning SR, Wrather JA (2010) Suppression of soybean yield potential in the continental United States by plant diseases from 2006 to 2009. Plant Health Prog. https://doi.org/10.1094/PHP-2010-1122-01-RS

Kosambi DD (1944) The estimation of map distances from recombination values. Ann Eugen 12:172–175

Laboratory of Soybean Breeding (1967) The new soybean variety "Nema-shirazu." Bulletin of the Tohoku National Agricultural Experiment Station 35:41–84 ((In Japanese))

Laviolette FA, Athow KL (1971) Relationship of age of soybean seedlings and inoculum to infection by Pythium ultimum. Phytopathology 61:439–440

Li L, Lin F, Wang W, Ping J, Fitzgerald J, Zhao M, Li S, Sun L, Cai C, Ma J (2016) Fine mapping and candidate gene analysis of two loci conferring resistance to Phytophthora sojae in soybean. Theor Appl Genet 129:2379–2386

Li Y, Sun S, Zhong C, Wang X, Wu X, Zhu Z (2017) Genetic mapping and development of co-segregating markers of RpsQ, which provides resistance to Phytophthora sojae in soybean. Theor Appl Genet 130:1223–1233

Lin F, Zhao MX, Ping JQ, Johnson A, Zhang B, Abney TS, Hughes TJ, Ma JX (2013) Molecular mapping of two genes conferring resistance to Phytophthora sojae in a soybean landrace PI 567139B. Theor Appl Genet 126:2177–2185

Lincoln SE, Daly MJ, Lander ES (1993) Construction of a genetic linkage map with MAPMAKER/EXP v3.0: a tutorial and reference manual. An whitehead institute technical report, Cambridge, p 97

Moriwaki J (2010) Aiming of the construction of the race distinction system of Phytophthora sojae. Plant Prot 64:508–510 (In Japanese)

Morris PF, Ward EWB (1992) Chemoattraction of zoospores of the soybean pathogen, Phytophthora sojae, by isoflavones. Physiol Mol Plant Pathol 40:17–22

Niu J, Guo N, Sun J, Li L, Cao Y, Li S, Huan J, Zhao J, Zhao T, Xing H (2017) Fine mapping of a resistance gene RpsHN that controls Phytophthora sojae using recombinant inbred lines and secondary populations. Front Plant Sci 8:538

Samsampour D, Maleki Zanjani B, Singh A, Pallavi JK, Prabhu KV (2009) Marker assisted selection to pyramid seedling resistance gene Lr24 and adult plant resistance gene Lr48 for leaf rust resistance in wheat. Indian J Genet 69:1–9

Schmitthenner AF (1985) Problems and progress in control of Phytophthora root rot of soybean. Plant Dis 69:362–368

Schmitthenner AF, Hobe M, Bhat RG (1994) Phytophthora sojae races in Ohio over a 10-year interval. Plant Dis 78:269–276

Schmutz J, Cannon SB, Schlueter J, Ma J, Mitros T, Nelson W, Hyten DL, Song Q, Thelen JJ, Cheng J, Xu D, Hellsten U, May GD, Yu Y, Sakurai T, Umezawa T, Bhattacharyya MK, Sandhu D, Valliyodan B, Lindquist E, Peto M, Grant D, Shu S, Goodstein D, Barry K, Futrell-Griggs M, Abernathy B, Du J, Tian Z, Zhu L, Gill N, Joshi T, Libault M, Sethuraman A, Zhang XC, Shinozaki K, NguyenHT WRA, Cregan PB, Specht J, Grimwood J, Rokhsar D, Stacey G, Shoemaker RC, Jackson SA (2010) Genome sequence of the palaeopolyploid soybean. Nature 463:178–183

Singh S, Sidhu JS, Huang N, Vikal Y, Li Z, Brar DS, Dhaliwal HS, Khush GS (2001) Pyramiding three bacterial blight resistance genes (xa5, xa13 and Xa21) using marker-assisted selection into indica rice cultivar PR106. Theor Appl Genet 102:1011–1015

Sugimoto T, Yoshida S, Aino M, Watanabe K, Shiwaku K, Sugimoto M (2006) Race distribution of Phytophthora sojae on soybean in Hyogo, Japan. J Gen Plant Pathol 72:92–97

Sugimoto T, Watanabe S, Yoshida M, Aino M, Furiki M, Shiono T, Matoh T, Biggs AR (2010) Field application of calcium to reduce Phytophthora stem rot of soybean, and calcium distribution in plants. Plant Dis 94:812–819

Sugimoto T, Yoshida S, Kaga A, Hajika M, Watanabe K, Aino M, Tatsuda K, Yamamoto R, Matoh T, Walker DR (2011) Genetic analysis and identification of DNA markers linked to a novel Phytophthora sojae resistance gene in the Japanese soybean cultivar Waseshiroge. Euphytica 182:133

Sugimoto T, Kato M, Yoshida S, Matsumoto I, Kobayashi T, Kaga A, Hajika M, Yamamoto R, Watanabe K, Aino M, Matoh T, Walker DR, Biggs AR, Ishimoto M (2012) Pathogenic diversity of Phytophthora sojae and breeding strategies to develop Phytophthora-resistant soybeans. Breed Sci 61:511–522

Takahashi M, Hatakeyama T (1959) The soybean "Gedenshirazu-1." Tohoku Agri Res 1:73–75 (In Japanese)

Takahashi M, Matsuoka J, Yamada T, Kono Y, Yamada N, Takahashi K, Moriwaki J, Akamatsu H (2019) Characterization of Phytophthora rot resistance in 36 Japanese soybean varieties on the basis of inoculation with 54 isolates. Proc Assoc Plant Prot Hokuriku 68:45–50 (In Japanese)

Weng C, Yu K, Anderson TR, Poysa V (2001) Mapping genes conferring resistance to Phytophthora root rot of soybean, Rps1a and Rps7. J Hered 92:442–446

Wrather JA, Koenning SR (2009) Effects of diseases on soybean yields in the United States 1996 to 2007. Plant Health Prog. https://doi.org/10.1094/PHP-2009-0401-01-RS

Wrather A, Shannon G, Balardin R, Carregal L, Escobar R, Gupta GK, Ma Z, Morel W, Ploper D, Tenuta A (2010) Effect of diseases on soybean yield in the top eight producing countries in 2006. Plant Health Prog. https://doi.org/10.1094/PHP-2010-0102-01-RS

Xue AG, Marchand G, Chen Y, Zhang S, Cober ER, Tenuta A (2015) Races of Phytophthora sojae in Ontario, Canada, 2010–2012. Can J Plant Pathol 37:376–383

Yamada T, Shimada S, Hajika M, Hirata K, Takahashi K, Nagaya T, Hamaguchi H, Maekawa T, Sayama T, Hayashi T, Ishimoto M, Tanaka J (2014) Major QTLs associated with green stem disorder insensitivity of soybean (Glycine max (L.) Merr.). Breed Sci 64:331–338

Zhang JQ, Xia CJ, Wang XM, Duan CX, Sun SL, Wu XF, Zhu ZD (2013) Genetic characterization and fine mapping of the novel Phytophthora resistance gene in a Chinese soybean cultivar. Theor Appl Genet 126:1555–1561

Zhang ZN, Hao JJ, Yuan JZ, Song QJ, Hyten DL, Cregan PB, Zhang GR, Gu CH, Li M, Wang DC (2014) Phytophthora root rot resistance in soybean E00003. Crop Sci 54:492–499

Zhong C, Sun S, Li Y, Duan C, Zhu Z (2018) Next-generation sequencing to identify candidate genes and develop diagnostic markers for a novel Phytophthora resistance gene, RpsHC18, in soybean. Theor Appl Genet 131:525–538
Acknowledgements
This work was supported in part by a Commissioned Project Study entitled "Development of Soybean and Buckwheat Cultivars with Processability and Wide Area Adaptability According to the Users' Needs" from the Ministry of Agriculture, Forestry and Fisheries of Japan. We thank Dr. M. Hajika for invaluable suggestions and technical staffs of Central Region Agricultural Research Center of NARO for technical assistance.
Ethics declarations
Conflict of interest
The authors declare that they have no conflict of interest.
Ethical approval
The experiments were performed in accordance with all relevant Japanese laws.
Human and animal rights
This article does not contain any studies with human participants or animals performed by any of the authors.
Additional information
Publisher's Note
Springer Nature remains neutral with regard to jurisdictional claims in published maps and institutional affiliations.
Communicated by Henry T. Nguyen.
Supplementary Information
Below is the link to the electronic supplementary material.
About this article
Cite this article
Matsuoka, Ji., Takahashi, M., Yamada, T. et al. Identification of three closely linked loci conferring broad-spectrum Phytophthora sojae resistance in soybean variety Tosan-231. Theor Appl Genet 134, 2151–2165 (2021). https://doi.org/10.1007/s00122-021-03813-2
Received:

Accepted:

Published:

Issue Date: