Abstract
Key message
A large collection of Ethiopian sorghum landraces, characterized by agro-ecology and racial-group, was found to contain high levels of diversity and admixture, with significant SNP associations identified for environmental adaptation.
Abstract
Sorghum [Sorghum bicolor L. (Moench)] is a major staple food crop in Ethiopia, exhibiting extensive genetic diversity with adaptations to diverse agroecologies. The environmental and climatic drivers, as well as the genomic basis of adaptation, are poorly understood in Ethiopian sorghum and are critical elements for the development of climate-resilient crops. Exploration of the genome–environment association (GEA) is important for identifying adaptive loci and predicting phenotypic variation. The current study aimed to better understand the GEA of a large collection of Ethiopian sorghum landraces (n = 940), characterized with genome-wide SNP markers, to investigate key traits related to adaptation to temperature, precipitation and altitude. The Ethiopian sorghum landrace collection was found to consist of 12 subpopulations with high levels of admixture (47%), representing all the major racial groups of cultivated sorghum with the exception of kafir. Redundancy analysis indicated that agroecology explained up to 10% of the total SNP variation, and geographical location up to 6%. GEA identified 18 significant SNP markers for environmental variables. These SNPs were found to be significantly enriched (P < 0.05) for a priori QTL for drought and cold adaptation. The findings from this study improve our understanding of the genetic control of adaptive traits in Ethiopian sorghum. Further, the Ethiopian sorghum germplasm collection provides sources of adaptation to harsh environments (cold and/or drought) that could be deployed in breeding programs globally for abiotic stress adaptation.
Access options
Buy single article
Instant access to the full article PDF.
US$ 39.95
Tax calculation will be finalised during checkout.
Subscribe to journal
Immediate online access to all issues from 2019. Subscription will auto renew annually.
US$ 119
Tax calculation will be finalised during checkout.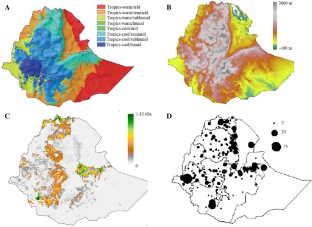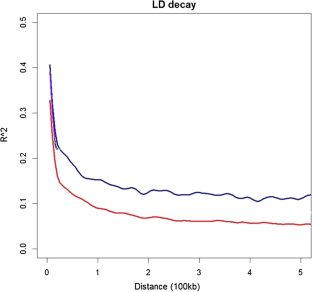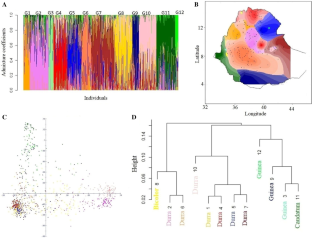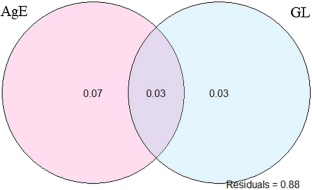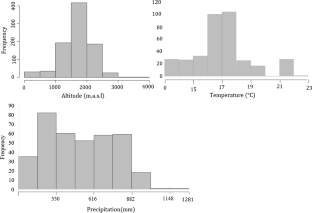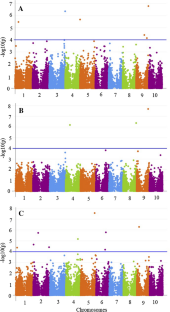 Availability of data and material
All data are publicly accessible. SNP genotype, geographic and precipitation data are available from Digital Repository and provided in Online Resource.
References
Adugna A (2s01) Analysis of in situ diversity and population structure in Ethiopian cultivated Sorghum bicolor (L) landraces using phenotypic traits and SSR markers. SpringerPlus 3:21. https://doi.org/10.1186/2193-1801-3-212

Ayana A, Bryngelsson T, Bekele E (2000) Genetic variation of Ethiopian and Eritrean sorghum (Sorghum bicolor (L) Moench) germplasm assessed by random amplified polymorphic DNA (RAPD). Genet Resour Crop Ev 47:471–482. https://doi.org/10.1023/A:1008751721825

Amede T, Auricht C, Boffa J, Dixon J, Mallawaarachchi T, Rukuni M, Teklewold DT (2015) The evolving farming and pastoral landscapes in ethiopia: a farming system framework for investment planning and priority setting. ACIAR, Canberra

Barnaud A, Deu M, Garine E, McKey D, Joly HI (2007) Local genetic diversity of sorghum in a village in northern Cameroon: structure and dynamics of landraces. Theor Appl Genet 114(2):237–248. https://doi.org/10.1007/s00122-006-0426-8

Blum A (2004) Sorghum physiology. In: Physiology and biotechnology integration for plant breeding. CRC Press, Boca Raton, FL, USA, pp 136–204

Blum A (2010) Plant breeding for water-limited environments. Springer, New York Dordrecht Heidelberg, London

Borrell A, Jordan D, Mullet J, Henzell B, Hammer G, Ribaut J (2006) Drought adaptation in sorghum: drought adaptation in cereals. The Hawath Press 65:335–399

Borrell A, Oosterom E, George-Jaeggli B, Rodriguez D, Eyre J, Jordan D, Mace E, Singh V, Vadez V, Bell M, Godwin I, Cruickshank A, Tao Y, Hammer G (2020) Sorghum. In: Sadras V, Calderini D (eds) Crop Physiology Case Histories for Major Crops. Elsevier, USA

Brown PJ, Myles S, Kresovich S (2011) Genetic support for phenotype-based racial classification in sorghum. Crop sci 51(1):224–230. https://doi.org/10.2135/cropsci2010.03.0179

Browning BL, Zhou Y, Browning SR (2018) A one-penny imputed genome from next-generation reference panels. Am J Hum Genet 103(3):338–348. https://doi.org/10.1016/j.ajhg.2018.07.015

Buckler E (2007) TASSEL: Trait analysis by association, evolution, and linkage. User manual.

Caniato FF, Guimarães CT, Hamblin M, Billot C, Rami JF, Hufnagel B, Kochian LV, Liu J, Garcia AF, Hash CT (2011) The relationship between population structure and aluminum tolerance in cultivated sorghum. PLoS ONE 6(6):e20830. https://doi.org/10.1371/journal.pone.0020830

Caye K, Deist TM, Martins H, Michel O, François O (2016) TESS3: fast inference of spatial population structure and genome scans for selection. Mol Ecol Resour 16(2):540–548. https://doi.org/10.1111/1755-0998.12471

Cuevas HE, Prom LK (2013) Assessment of molecular diversity and population structure of the Ethiopian sorghum Sorghum bicolor (L) Moench germplasm collection maintained by the USDA–ARS National Plant Germplasm System using SSR markers. Genet Resour Crop Evol 60:1817–1830. https://doi.org/10.1007/s10722-013-9956-5

Cuevas HE, Rosa-Valentin G, Hayes CM, Rooney WL, Hoffmann L (2017) Genomic characterization of a core set of the USDA-NPGS Ethiopian sorghum germplasm collection: implications for germplasm conservation, evaluation, and utilization in crop improvement. Bmc Genomics 18(1):108. https://doi.org/10.1186/s12864-016-3475-7

Damon E (1962) The cultivated sorghums of Ethiopia. Project Report, Imperial Ethiopian College of Agriculture and Mechanical Arts, Ethiopia

De Wet J, Harlan J, Price E, Stemler A (1976) Variability in sorghum bicolor origins of african plant domestication. Mouton Publisher, Hague

Desmae H, Jordan DR, Godwin ID (2016) DNA markers reveal genetic structure and localized diversity of Ethiopian sorghum landraces. African J Biotech Afr J Biotechnol 15(41):2301–2311. https://doi.org/10.5897/AJB2016.15404

Deu M, Hamon P, DufourD'hont PA, Lanaud C, Chantereau J (1995) Mitochondrial DNA diversity in wild and cultivated sorghum. Genome 38(4):635–645. https://doi.org/10.1139/g95-081

Doggett H, Hawkes JG (1991) The Ethiopian gene center and its genetic diversity. Cambridge University Press, Plant genetic resources of Ethiopia, Cambridge, New York

Engels JM, Hawkes JG, Worede M (1991) Plant genetic resources of Ethiopia. Cambridge University Press, Cambridge

FAOSTAT (2017) Agriculture Organization of the United Nations. FAO, Retrieved am from http://faostat3.fao.org/faostat-gateway/go/to/download/Q/QC/S.Acceso20.

Faye JM, Maina F, Hu Z, Fonceka D, Cisse N, Morris G (2019) Genomic signatures of adaptation to Sahelian and Soudanian climates in sorghum landraces of Senegal. Ecol Evol 9(10):6038–6051. https://doi.org/10.1002/ece3.5187

Folkertsma RT, Rattunde HW, Chandra S, Raju GS, Hash CT (2005) The pattern of genetic diversity of Guinea-race Sorghum bicolor (L) Moench landraces as revealed with SSR markers. Theor Appl Genet 111(3):399–409. https://doi.org/10.1007/s00122-005-1949-0

Frichot E, François O (2015) LEA: an R package for landscape and ecological association studies. Methods in Ecol Evol 6(8):925–929. https://doi.org/10.1111/2041-210X.12382

Frichot E, Mathieu F, Trouillon T, Bouchard G, François O (2014) Fast and efficient estimation of individual ancestry coefficients. J Genet 196(4):973–983. https://doi.org/10.1534/genetics.113.160572

Garvin DF, Carver BF (2003) Role of the genotype in tolerance to acidity and aluminum toxicity. Handbook of Soil Acidity. Marcel Dekker, New York, pp 387–406

Gebretsadik R, Shimelis H, Laing M, Tongoona P, Mandefro N (2014) A diagnostic appraisal of the sorghum farming system and breeding priorities in Striga infested agro-ecologies of Ethiopia. Agric Syst 123:54–61

Girma G, Nida H, Mekonen M, Seyoum A, Nega A, Gebreyohannes A, Ayana G, Taddese T, Lule D, Dessalegn K (2019) A large-scale genome-wide association analyses of ethiopian sorghum landrace collection reveal loci associated with important traits. Front Plant Sci 10:691. https://doi.org/10.3389/fpls.2019.00691

Hajjar R, Hodgkin T (2007) The use of wild relatives in crop improvement: a survey of developments over the last 20 years. Euphytica 156(1–2):1–13. https://doi.org/10.1007/s10681-007-9363-0

Harlan J, De Wet J (1972) A simplified classification of cultivated sorghum. Crop Sci 12(2):172–176. https://doi.org/10.2135/cropsci1972.0011183X001200020005x

Harlan JR, Stemler A (1976) The races of sorghum in Africa: origins of African plant domestication. Mount publisher, Hague

HarvestChoice (2010) Agro-ecological Zones of sub-Saharan Africa.

Hijmans RJ, Cameron SE, Parra JL, Jones PG, Jarvis A (2005) Very high resolution interpolated climate surfaces for global land areas. International J ClimatoL: Q J Roy Meteor Soc 25(15):1965–1978. https://doi.org/10.1002/joc.1276

Hijmans RJ, Etten J, Cheng J, Mattiuzzi M, Sumner M, Greenberg JA, Lamigueiro OP, Bevan A, Racine EB, Shortridge A (2015) Package 'raster' for R .

House LR (1985) A guide to sorghum breeding. International Crops Res Institute for the Semi-Arid Tropics Patancheru, India

Huang M, Liu X, Zhou Y, Summers RM, Zhang Z (2018) BLINK: a package for the next level of genome-wide association studies with both individuals and markers in the millions. GigaScience 8(2):154. https://doi.org/10.1093/gigascience/giy154

Labeyrie V, Deu M, Barnaud A, Calatayud C, Buiron M, Wambugu P et al (2014) Influence of ethnolinguistic diversity on the sorghum genetic patterns in subsistence farming systems in Eastern Kenya. PLoS ONE 9(3):e92178

Labeyrie V, Thomas M, Muthamia K, Leclerc C (2016) Seed exchange networks, ethnicity, and sorghum diversity. Proc Natl Acad Sci 113(1):98–103

Lasky JR, Upadhyaya HD, Ramu P, Deshpande S, Hash CT, Bonnette J, Juenger TE, Hyma K, Acharya C, Mitchell SE (2015) Genome-environment associations in sorghum landraces predict adaptive traits. Sci Adv 1(6):e1400218. https://doi.org/10.1126/sciadv.1400218

Li MX, Yeung JM, Cherny SS, Sham PC (2012) Evaluating the effective numbers of independent tests and significant p-value thresholds in commercial genotyping arrays and public imputation reference datasets. Hum Genet 131(5):747–756. https://doi.org/10.1007/s00439-011-1118-2

Mace E, Innes D, Hunt C, Wang X, Tao Y, Baxter J, Hassall M, Hathorn A, Jordan D (2018) The Sorghum QTL Atlas: a powerful tool for trait dissection, comparative genomics and crop improvement. Theor Appl Genet 132(3):751–766. https://doi.org/10.1007/s00122-018-3212-5

Mace E, Tai S, Gilding EK, Li Y, Prentis PJ, Bian L, Campbell BC, Hu W, Innes DJ, Han X (2013) Whole-genome sequencing reveals untapped genetic potential in Africa's indigenous cereal crop sorghum. Nat Commun 4:2320. https://doi.org/10.1038/ncomms3320

Mann J, Gbur E, Miller F (1985) A screening index for adaptation in sorghum cultivars 1. Crop Sci 25(4):593–598. https://doi.org/10.2135/cropsci1985.0011183X002500040004x

Maunder AB (2002) Sorghum worldwide. Sorghum and millet diseases. Iowa State Press, 11: 17.

McCormick RF, Truong SK, Sreedasyam A, Jenkins J, Shu S, Sims D, Kennedy M, Amirebrahimi M, Weers BD, McKinley B (2018) The Sorghum bicolor reference genome: improved assembly, gene annotations, a transcriptome atlas, and signatures of genome organization. The Plant J 93(2):338–354. https://doi.org/10.1111/tpj.13781

Moreno-Gonzalez J, Cubero J (1993) Selection strategies and choice of breeding methods. Plant Breeding, Springer, Dordrecht

Morris GP, Ramu P, Deshpande SP, Hash CT, Shah T, Upadhyaya HD, Riera-Lizarazu O, Brown PJ, Acharya CB, Mitchell SE (2013) Population genomic and genome-wide association studies of agroclimatic traits in sorghum. Proc Natl Acad Sci 110(2):453–458. https://doi.org/10.1073/pnas.1215985110

Nei M, Li WH (1979) Mathematical model for studying genetic variation in terms of restriction endonucleases. Proc Natl Acad Sci 76(10):5269–5273. https://doi.org/10.1073/pnas.76.10.5269

Ng'uni D, Geleta M, Bryngelsson T (2011) Genetic diversity in sorghum (Sorghum bicolor (L) Moench) accessions of Zambia as revealed by simple sequence repeats (SSR). Hereditas 148(2):52–62. https://doi.org/10.1111/j.1601-5223.2011.02208.x

Olatoye MO, Hu Z, Maina F, Morris GP (2018) Genomic signatures of adaptation to a precipitation gradient in Nigerian sorghum. G3-Genes Genom Genet 8:3269–3281. https://doi.org/10.1534/g3.118.200551

Paterson AH, Bowers JE, Bruggmann R, Dubchak I, Grimwood J, Gundlach H, Haberer G, Hellsten U, Mitros T, Poliakov A et al (2009) The Sorghum bicolor genome and the diversification of grasses. Nature 457(7229):551–556. https://doi.org/10.1038/nature07723

Perrier X, Jacquemoud-Collet JP (2015) DARwin software. http://darwin.cirad.fr/

Perrier X, Flori A, Bonnot F (2003) Data analysis methods. In: Hamon P, Seguin M, Perrier X, Glaszmann JC (eds) Genetic diversity of cultivated tropical plants. Enfield, Science Publishers, Montpellier, pp 43–76

Poehlman JM (1987) Breeding sorghum and millet. Breeding field crops, Springer, Dordrecht

Reddy S, Patil J (2015) Genetic Enhancement of Rabi Sorghum: Adapting the Indian durras. Academic Press, USA

Reddy V, Rao N, Reddy B and Rao K (2002) Geographic distribution of basic and intermediate races in the world collection of sorghum germplasm. International Sorghum and Millets Newsletter 43: 15–17 https://oar.icrisat.org/id/eprint/1622

Regassa H and Agegnehu G (2011) Potentials and limitations of acid soils in the highlands of Ethiopia: Proceedings of the 2nd National Barley Research and Development Review Workshop 103–112.

Reynolds C (2008) Ethiopia 2008 crop assessment travel report. USDA Foreign Agriculture Service. Available at http://www.pecad.fas.usda.gov

Singh SP (1985) Sources of cold tolerance in grain sorghum. Can J Plant Sci 65:251–257. https://doi.org/10.4141/cjps85-037

Smith CW, Frederiksen RA (2000) Sorghum: Origin, history, technology, and production. Wiley, New York

Sokal RR, Rohlf FJ (1962) The comparison of dendrograms by objective methods. Taxon 11(2) 33–40 www.jstor.org/stable/1217208

Stemler AL, Harlan JR, de Wet JJ (1977) The sorghums of Ethiopia. Econ Bot 31:446–460. https://doi.org/10.1007/BF02912558

Tao Y, Zhao X, Wang X, Hathorn A, Hunt C, Cruickshank AW, Oosterom EJ, Godwin ID, Mace ES, Jordan DR (2020) Large-scale GWAS in sorghum reveals common genetic control of grain size among cereals. Plant Biotechnol J 8(4):1093–1105. https://doi.org/10.1111/pbi.13284

Teshome M, Feyissa T (2013) Genetic diversity of wild sorghum (Sorghum bicolor ssp verticilliflorum (L) Moench) germplasm from Ethiopia as revealed by ISSR markers. Asian J Plant Sci 12(3): 137–144 https://scialert.net/abstract/?doi=ajps.2013.137.144

Tirfessa A, McLean G, Mace E, Oosterom E, Jordan D, Hammer G (2020) Differences in temperature response of phenological development among diverse Ethiopian sorghum genotypes are linked to racial grouping and agro-ecological adaptation. Crop Sci. https://doi.org/10.1002/csc2.20128

Wang J, Hu Z, Upadhyaya HD, Morris GP (2020) Genomic signatures of seed mass adaptation to global precipitation gradients in sorghum. Heredity 124(1):108–121. https://doi.org/10.1038/s41437-019-0249-4

Zhang D, Kong W, Robertson J, Goff VH, Epps E, Kerr A, Mills G, Cromwell J, Lugin Y, Phillips C (2015) Genetic analysis of inflorescence and plant height components in sorghum (Panicoidae) and comparative genetics with rice (Oryzoidae). BMC Plant Biol 15(1):107. https://doi.org/10.1186/s12870-015-0477-6

Zhang C, Dong SS, Xu JY, He WM, Yang TL (2019) PopLDdecay: a fast and effective tool for linkage disequilibrium decay analysis based on variant call format files. Bioinformatics 35:1786–1788. https://doi.org/10.1093/bioinformatics/bty875
Acknowledgements
We thank the Ethiopian Biodiversity Institute (EBI) and EIAR's Melkassa Agricultural Research Center for providing us with the sorghum landraces and passport data. This study was supported by the Bill and Melinda Gates Foundation PEARL (Program for Emerging Agricultural Leaders) Program.
Ethics declarations
Conflict of interest
Authors have declared that no conflict of interests exists.
Additional information
Publisher's Note
Springer Nature remains neutral with regard to jurisdictional claims in published maps and institutional affiliations.
Communicated by Hai-Chun Jing.
Electronic supplementary material
Below is the link to the electronic supplementary material.
About this article
Cite this article
Menamo, T., Kassahun, B., Borrell, A.K. et al. Genetic diversity of Ethiopian sorghum reveals signatures of climatic adaptation. Theor Appl Genet 134, 731–742 (2021). https://doi.org/10.1007/s00122-020-03727-5
Received:

Accepted:

Published:

Issue Date: