Abstract
Key message
The yellow margin (ym) gene was mapped to a 30-kb genomic region in potato and the mutation of a pectate lyase gene led to this phenotype.
Abstract
The practice of clonally propagating potato (Solanum tuberosum L.), which has been lasted for thousands of years, has caused the accumulation of deleterious alleles. Despite yellow margin (ym) being a common cause of a detrimental weak-vigor phenotype and reduced yield in diploid potato, the underlying gene has eluded discovery to date. In this paper, we mapped the ym gene to a 30-kb region containing four annotated genes. Among them, PGSC0003DMG402023481 encodes a pectate lyase-like gene (StPLL) with lower expression in ym plants than in the wild-type plants. PCR amplification confirmed a 4.1-kb deletion in the mutant allele of StPLL. Knockout of StPLL in diploid potato resulted in a similar phenotype with the ym plants. This study not only characterizes the ym allele but also provides the molecular tools to select and purge it from populations, while also deepening our understanding of the morphogenesis in potato.
Access options
Buy single article
Instant access to the full article PDF.
US$ 39.95
Tax calculation will be finalised during checkout.
Subscribe to journal
Immediate online access to all issues from 2019. Subscription will auto renew annually.
US$ 119
Tax calculation will be finalised during checkout.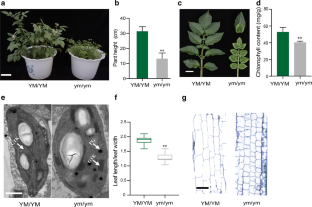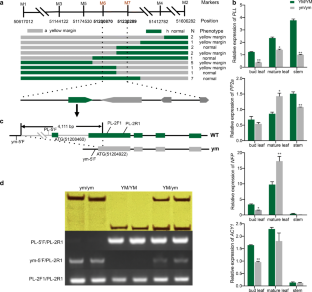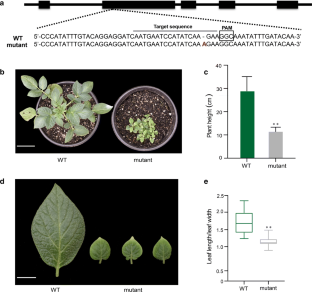 References
Bai Y, Wu D, Liu F, Li Y, Chen P, Lu M, Zheng B (2017) Characterization and functional analysis of the poplar pectate lyase-like gene ptpl1-18 reveal its role in the development of vascular tissues. Front Plant Sci 8:1123

Bethke G, Thao A, Xiong G, Li B, Soltis NE, Hatsugai N, Hillmer RA, Katagiri F, Kliebenstein DJ, Pauly M, Glazebrook J (2016) Pectin biosynthesis is critical for cell wall integrity and immunity in Arabidopsis thaliana. Plant Cell 28:537–556

Chan SY, Choo WS, Young DJ, Loh XJ (2017) Pectin as a rheology modifier: origin, structure, commercial production and rheology. Carbohydr Polym 161:118–139

Charlesworth B, Charlesworth D (1999) The genetic basis of inbreeding depression. Genet Res 74:329–340

Charlesworth D, Willis JH (2009) The genetics of inbreeding depression. Nat Rev Genet 10:783–796

De Jong H (2016) Impact of the potato on society. Am J Potato Res 93:415–429

Dodds KS, Paxman GJ (1962) The genetic system of cultivated diploid potatoes. Evolution 16:154–167

Feng Z, Zhang B, Ding W, Liu X, Yang DL, Wei P, Cao F, Zhu S, Zhang F, Mao Y, Zhu JK (2013) Efficient genome editing in plants using a CRISPR/Cas system. Cell Res 23:1229–1232

Ivakov A, Flis A, Apelt F, Fünfgeld M, Scherer U, Stitt M, Kragler F, Vissenberg K, Persson S, Suslov D (2017) Cellulose synthesis and cell expansion are regulated by different mechanisms in growing Arabidopsis hypocotyls. Plant Cell 29(6):1305–1315

Jacobs JM, Van Eck HJ, Arens P, Verkerk-Bakker B, Te Lintel Hekkert B, Bastiaanssen HJ, El-Kharbotly A, Pereira A, Jacobsen E, Stiekema WJ (1995) A genetic map of potato (Solanum tuberosum) integrating molecular markers, including transposons, and classical markers. Theor Appl Genet 91:289–300

Jansky SH, Charkowski AO, Douches DS, Gusmini G, Richael C, Bethke PC, Spooner DM, Novy RG, De Jong H, De Jong WS (2016) Reinventing potato as a diploid inbred line-based crop. Crop Sci 56:1412–1422

Jorgensen RA (2004) Sequencing maize: just sample the salsa or go for the whole enchilada? Plant Cell 16:787–788

Krizek BA (2009) Making bigger plants: key regulators of final organ size. Curr Opin Plant Biol 12:17–22

Leng Y, Yang Y, Ren D, Huang L, Dai L, Wang Y, Chen L, Tu Z, Gao Y, Li X, Zhu L, Hu J, Zhang G, Gao Z, Guo L, Kong Z, Lin Y, Qian Q, Zeng D (2017) A rice pectate lyase-like gene is required for plant growth and leaf senescence. Plant Physiol 174:1151–1166

Lian Q, Tang D, Bai Z, Qi J, Lu F, Huang S, Zhang C (2019) Acquisition of deleterious mutations during potato polyploidization. J Integr Plant Biol 61:7–11

Liepman AH, Wightman R, Geshi N, Turner SR, Scheller HV (2010) Arabidopsis—a powerful model system for plant cell wall research. Plant J 61:1107–1121

Lindhout P, Meijer D, Schotte T, Hutten RC, Visser RG, van Eck HJ (2011) Towards F1 hybrid seed potato breeding. Potato Res 54:301–312

Manary MJ, Singhakul SS, Flannery EL, Bopp SE, Corey VC, Bright A, Mcnamara CW, Walker JR, Winzeler EA (2014) Identification of pathogen genomic variants through an integrated pipeline. BMC Bioinform 15:63

Marin-Rodriguez MC, Orchard J, Seymour GB (2002) Pectate lyases, cell wall degradation and fruit softening. J Exp Bot 53:2115–2119

Mohnen D (2008) Pectin structure and biosynthesis. Curr Opin Plant Biol 11:266–277

Murray MG, Thompson WF (1980) Rapid isolation of high molecular weight plant DNA. Nucleic Acids Res 8:4321–4325

Potato Genome Sequencing Consortium (2011) Genome sequence and analysis of the tuber crop potato. Nature 475:189–195

Rameau C, Bertheloot J, Leduc N, Andrieu B, Foucher F, Sakr S (2014) Multiple pathways regulate shoot branching. Front Plant Sci 5:741

Ridley BL, O'Neill MA, Mohnen DA (2001) Pectins: structure, biosynthesis, and oligogalacturonide-related signaling. Phytochemistry 57:929–967

Robinson JT, Robinson Thorvaldsdóttir H, Wenger AM, Zehir A, Mesirov JP (2017) Variant review with the Integrative Genomics Viewer (IGV). Can Res 77(21):31–34

Rozen S, Skaletsky H (2000) Primer3 on the WWW for general users and for biologist programmers. Methods Mol Biol 132:365–386

Sartory D, Grobbelaar J (1984) Extraction of chlorophyll a from freshwater phytoplankton for spectrophotometric analysis. Hydrobiologia 114:177–187

Stokstad E (2019). The new potato. Breeders seek a breakthrough to help farmers facing an uncertain future

Sun L, van Nocker S (2010) Analysis of promoter activity of members of the pectate lyase-like (pll) gene family in cell separation in Arabidopsis. BMC Plant Biol 10:152

Sun H, Hao P, Ma Q, Zhang M, Qin Y, Wei H, Su J, Wang H, Gu L, Wang N, Liu G, Yu S (2018) Genome-wide identification and expression analyses of the pectate lyase (PEL) gene family in cotton (Gossypium hirsutum L.). BMC Genom 19:661

Vogel JP, Raab TK, Schiff C, Somerville SC (2002) PMR6, a pectate lyase-like gene required for powdery mildew susceptibility in Arabidopsis. Plant Cell 14:2095–2106

Wagenvoort M (1982) Location of the recessive gene ym (yellow margin) on chromosome 12 of diploid Solatium tuberosum by means of trisomic analysis. Theor Appl Genet 61:239–243

Wang B, Smith SM, Li J (2018) Genetic regulation of shoot architecture. Annu Rev Plant Biol 69:437–468

Wing RA, Yamaguchi J, Larabell SK, Ursin VM, McCormick S (1990) Molecular and genetic characterization of two pollen-expressed genes that have sequence similarity to pectate lyases of the plant pathogen Erwinia. Plant Mol Biol 14:17–28

Yadav S, Yadav PK, Yadav D, Yadav KDS (2009) Pectin lyase: a review. Process Biochem 44:1–10

Yang Y, Xu J, Huang L, Leng Y, Dai L, Rao Y, Chen L, Wang Y, Tu Z, Hu J, Ren D, Zhang G, Zhu L, Guo L, Qian Q, Zeng D (2016) PGL, encoding chlorophyllide a oxygenase 1, impacts leaf senescence and indirectly affects grain yield and quality in rice. J Exp Bot 67:1297–1310

Ye M, Peng Z, Tang D, Yang Z, Li D, Xu Y, Zhang C, Huang S (2018) Generation of self-compatible diploid potato by knockout of S-RNase. Nat Plants 4:651–654

Zhang C, Wang P, Tang D, Yang Z, Lu F, Qi J, Tawari NR, Shang Y, Li C, Huang S (2019) The genetic basis of inbreeding depression in potato. Nat Genet 51:374–378

Zheng Y, Yan J, Wang S, Xu M, Huang K, Chen G, Ding Y (2018) Genome-wide identification of the pectate lyase-like (PLL) gene family and functional analysis of two PLL genes in rice. Mol Genet Genom 293:1317–1331
Acknowledgements
We thank Henry De Jong for valuable suggestions to improve the manuscript. This research was funded by National Natural Science Foundation of China (No. 31601360), the Agricultural Science and Technology Innovation Program (ASTIP-CAAS), the Agricultural Science and Technology Innovation Program Cooperation and Innovation Mission (CAAS-XTCX2016), and Advanced Technology Talents in Yunnan Province (2013HA025).
Ethics declarations
Conflict of interest
All authors declare that they have no conflict of interest.
Ethical standard
The experiments reported in this study comply with the current laws of China.
Additional information
Publisher's Note
Springer Nature remains neutral with regard to jurisdictional claims in published maps and institutional affiliations.
Communicated by Albrecht E. Melchinger.
Electronic supplementary material
Below is the link to the electronic supplementary material.
Candidate interval sequence alignment and candidate allele amplification. a Alignment of resequencing data of normal and mutant plants using the IGV software. b PCR amplification of the StPLL in normal and mutant plants. Supplementary Fig. S2 Phylogenetic and conserved domain analysis of the StPLL protein. a Phylogenetic tree of StPLL and its homologs in Arabidopsis, the accession numbers are shown in the figure. b The PelC sequence in StPLL and its homologs in Arabidopsis. c Conserved domain analysis of StPLL and its alleles (PDF 3287 kb)
About this article
Cite this article
Yang, Z., Feng, S., Tang, D. et al. The mutation of a PECTATE LYASE-LIKE gene is responsible for the Yellow Margin phenotype in potato. Theor Appl Genet 133, 1123–1131 (2020). https://doi.org/10.1007/s00122-020-03536-w
Received:

Accepted:

Published:

Issue Date: