Abstract
Key message
A complete set wheat-R. ciliaris disomic addition lines (DALs) were characterized and the homoeologous groups and genome affinities of R. ciliaris chromosomes were determined.
Abstract
Wild relatives are rich gene resources for cultivated wheat. The development of alien addition chromosome lines not only greatly broadens the genetic diversity, but also provides genetic stocks for comparative genomics studies. Roegneria ciliaris (genome ScScYcYc), a tetraploid wild relative of wheat, is tolerant or resistant to many abiotic and biotic stresses. To develop a complete set of wheat-R. ciliaris disomic addition lines (DALs), we undertook a euplasmic backcrossing program to overcome allocytoplasmic effects and preferential chromosome transmission. To improve the efficiency of identifying chromosomes from Sc and Yc, we established techniques including sequential genomic in situ hybridization/fluorescence in situ hybridization (FISH) and molecular marker analysis. Fourteen DALs of wheat, each containing one pair of R. ciliaris chromosomes pairs, were characterized by FISH using four repetitive sequences [pTa794, pTa71, RcAfa and (GAA)10] as probes. One hundred and sixty-two R. ciliaris-specific markers were developed. FISH and marker analysis enabled us to assign the homoeologous groups and genome affinities of R. ciliaris chromosomes. FHB resistance evaluation in successive five growth seasons showed that the amphiploid, DA2Yc, DA5Yc and DA6Sc had improved FHB resistance, indicating their potential value in wheat improvement. The 14 DALs are likely new gene resources and will be phenotyped for more agronomic performances traits.
Access options
Buy single article
Instant access to the full article PDF.
USD 39.95
Price includes VAT (USA)
Tax calculation will be finalised during checkout.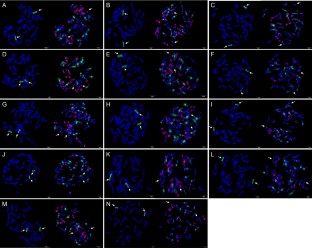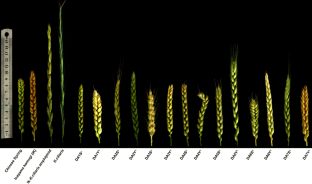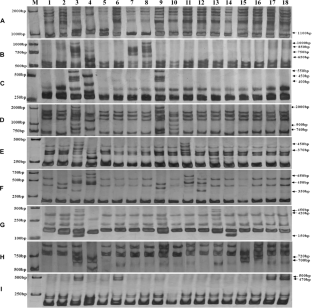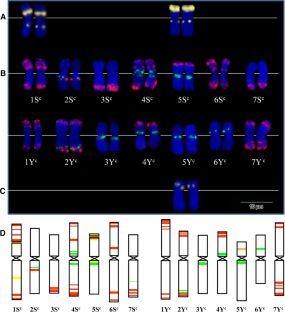 References
Badaeva ED, Zoshchuk SA, Paux E, Gay G, Zoshchuk NV, Roger D, Zelenin AV, Bernard M, Feuillet C (2010) Fat element-a new marker for chromosome and genome analysis in the Triticeae. Chromosome Res 18:697–709

Chang XG, Zhu XU, Jin YI, Yan WH (2011) Physiological evaluation of seven Roegneria species to drought stress at seedling stage. Chin J Grassland 33:44–50

Chen PD, Qi LL, Zhou B, Zhang SZ, Liu DJ (1995) Development and molecular cytogenetic analysis of wheat-Haynaldia villosa 6VS/6AL translocation lines specifying resistance to powdery mildew. Theor Appl Genet 91:1125–1128

Chen Q, Conner RL, Li HJ, Sun SC, Ahmad F, Laroche A, Graf RJ (2003) Molecular cytogenetic discrimination and reaction to wheat streak mosaic virus and the wheat curl mite in Zhong series of wheat-Thinopyrum intermedium partial amphiploids. Genome 46:135–145

Cuadrado A, Cardoso M, Jouve N (2008) Increasing the physical marker of wheat chromosomes using SSR as FISH probes. Genome 51:809–815

Devos KM, Atkinson MD, Chinoy CN, Liu CJ, Gale MD (1992) RFLP-based genetic map of the homoeologous group 3 chromosomes of wheat and rye. Theor Appl Genet 83:931–939

Dewey DR (1984) The genomic system of classification as a guideto intergeneric hybridization with the perennial Triticeae. In: Gustafson JP (ed) Gene manipulation in plant improvement. Plenum Publishing Corporation, New York, pp 209–279

Du W, Wang J, Wang L, Wu J, Zhao J, Liu S, Yang Q, Chen X (2014) Molecular characterization of a wheat-Psathyrostachys huashanica Keng 2Ns disomic addition line with resistance to stripe rust. Mol Genet Genom 289:735–743

Fasahat P, Muhammad K, Abdullah A, Wickneswari R (2012) Identification of introgressed alien chromosome segments associated with grain quality in Oryza rufipogon × MR219 advanced breeding lines using SSR markers. Genet Mol Res 11:3534–3546

Friebe B, Qi LL, Nasuda S, Zhang P, Tuleen NA, Gill BS (2000) Development of a complete set of Triticum aestivum–Aegilops speltoides chromosome addition lines. Theor Appl Genet 101:51–58

Gerlach WL, Bedbrook JR (1979) Cloning and characterization of ribosomal RNA genes from wheat and barley. Nucleic Acids Res 7:1869–1885

Gerlach WL, Dyer TA (1980) Sequence organization of the repeating units in the nucleus of wheat which contain 5S rRNA genes. Nucleic Acids Res 8:4851–4865

Jauhar PP, Peterson TS, Xu SS (2009) Cytogenetic and molecular characterization of a durum alien disomic addition line with enhanced tolerance to Fusarium head blight. Genome 52:467–483

Jiang JM, Raupp WJ, Gill BS (1992) Rf genes restore fertility in wheat lines with cytoplasms of Elymus trachycaulus and E. ciliaris. Genome 35:614–620

Jiang JM, Chen PD, Friebe B, Raupp WJ, Gill BS (1993) Alloplasmic wheat-Elymus ciliaris chromosome addition lines. Genome 36:327–333

Jiang JM, Friebe B, Gill BS (1994) Recent advances in alien gene-transfer in wheat. Euphytica 73:199–212

Kong LN, Li Q, Wang HY, Cao AZ, Chen PD, Wang XE (2008) Molecular marker analysis of wheat-Roegneria ciliaris additions lines. Hereditas 30:1356–1362

Lei YX, Zhang Y, Li YY, Fan X, Sha LN, Wang Y, Kang HY, Zhou YH, Zhang HQ (2016) Phylogenetic analysis of the species with awnless lemma in Roegneria (Poaceae, Triticeae) based on single copy of nuclear gene DMC1. Biochem Syst Ecol 65:185–191

Li HF, Gill BS, Wang XE, Chen PD (2011) A Tal-PhI wheat genetic stock facilitates efficient alien introgression. Genet Resour Crop Ev 58:667–678

Liu DJ, Weng YQ, Chen PD (1990) Transfer of scab resistancefrom Roegneria C. Koch (Agropyron) species into wheat. In: Kimber G (ed) Proceedings of the 2nd international symposium on chromium engineering in plants. University of Missouri, Columbia, pp 166–176

Liu QL, Ge S, Tang HB, Zhang XL, Zhu GF, Lu BR (2006) Phylogenetic relationships in Elymus (Poaceae: Triticeae) based on the nuclear ribosomal internal transcribed spacer and chloroplast trnL-F sequences. New Phytol 170:411–420

Liu Z, Li DY, Zhang XY (2007) Genetic relationships among five basic genomes St, E, A, B and D in triticeae revealed by genomic southern and in situ hybridization. J Integr Plant Biol 49:1080–1086

Liu R, Wang RR, Yu F, Lu X, Dou Q (2017) Characterization of genome in tetraploid StY species of Elymus (Triticeae: Poaceae) using sequential FISH and GISH. Genome 60:679–685

Lu BR, von Bothmer R (1989) Cytological studies of a dihaploid and hybrid from intergeneric cross Elymus shandongensis × Triticum aestivum. Hereditas 111:231–238

Lu BR, von Bothmer R (1990) Genomic constitution of Elymus parviglumis and E.pseudonutans: Triticeae (Poaceae). Hereditas 113:109–119

Lu BR, von Bothmer R (1991) Cytogenetic studies of the intergeneric hybrids between Secale cereale and Elymus caninus, Elymus brevipes, and E. tsukushiensis (Triticeae: Poaceae). Theor Appl Genet 81:524–532

Lu BR, Yan J, Yang J, Flink J (1990) Biosystematic studies among Roegneria pendulina, R. cilliaris and R. kamoji of the Tribe Triticeae, Gramineae. Acta Bot Yunn 12:161–171

Morris KLD, Gill BS (1987) Genomic affinities of individual chromosomes based on C-banding and N-banding analyses of tetraploid Elymus species and their diploid progenitor species. Genome 29:247–252

Mukai Y, Friebe B, Gill BS (1992) Comparison of C-banding patterns and in situ hybridization sites using highly repetitive and total genomic rye DNA probes of imperial rye chromosomes added to Chinese Spring wheat. Jpn J Genet 67:71–83

Muramatsu M, Kaneta S, Ikeda R, Uetsuki T, Takahashi K (1983) Hybridization of Japanese indigenous Agropyron (Roegneria) species with hexaploid wheat and cytogenetics of some of the F1, BF1 and amphiploid plants. In: Sakamoto S (ed) Proceedings of the 6th international wheat genetics symposium. Maruzen, Kyoto, pp 1041–1048

Pedersen C, Langridge P (1997) Identification of the entire chromosome complement of bread wheat by two-colour FISH. Genome 40:589–593

Qi ZJ, Du P, Qian BL, Zhuang LF, Chen HF, Chen TT, Shen JA, Guo J, Feng YG, Pei ZY (2010) Characterization of a wheat-Thinopyrum bessarabicum (T2JS-2BS center dot 2BL) translocation line. Theor Appl Genet 121:589–597

Sharma HC, Gill BS (1983) New hybrids between Agropyron and wheat: 2. Production, morphology and cytogenetic analysis of F1 hybrids and backcross derivatives. Theor Appl Genet 66:111–121

Sharma HC, Gill BS, Uyemoto JK (1984) High level of resistance in Agropyron species to barley yellow dwarf and wheat streak mosaic virus. Phytopathol Z 110:143–147

Sharp PJ, Chao S, Desai S, Gale MD (1989) The isolation, characterization and application in the Triticeae of a set of wheat RFLP probes identifying each homoeologous chromosome arm. Theor Appl Genet 78:342–348

Svitashev S, Bryngelsson T, Li XM, Wang RRC (1998) Genome-specific repetitive DNA and RAPD markers for genome identification in Elymus and Hordelymus. Genome 41:120–128

Tomohiro B (1997) Evaluation of resistance to Fusarium head blight in indigenous Japanese species of Agropyron (Elymus). Euphytica 97:39–44

Tsujimoto H, Gill BS (1991) Repetitive DNA sequences from polyploid Elymus trachycaulus and the diploid progenitor species: detection and genomic affinity of Elymus chromatin added to wheat. Genome 34:782–789

Wang XE, Chen PD, Liu DJ, Zhang P, Zhou B, Friebe B, Gill BS (2001) Molecular cytogenetic characterization of Roegneria ciliaris chromosome additions in common wheat. Theor Appl Genet 102:651–657

Wang QX, Xiang JS, Gao AN, Yang XM, Liu WH, Li XQ, Li LH (2010) Analysis of chromosomal structural polymorphisms in the St, P, and Y genomes of Triticeae (Poaceae). Genome 53:241–249

Wang L, Shi Q, Su H, Wang Y, Sha L, Fan X, Kang H, Zhang H, Zhou Y (2017) St2-80: a new FISH marker for St genome and genome analysis in Triticeae. Genome 60:553–563

Weng YQ, Liu DJ (1989) Morphology, scab resisitance and cytogenetics of intergeneric hybrids of Triticum aestivum L.with Roegneria C. Koch (Agropyron) Species. Sci Agric Sin 22:1–7

Xiao J, Jia XP, Wang HY, Zhao RH, Fang YH, Gao RH, Wu ZZ et al (2011) A fast-neutron induced chromosome fragment deletion of 3BS in wheat landrace Wangshuibai increased its susceptibility to Fusarium head blight. Chromosome Res 19:225–234

Yang XM, Li LH, Li XQ, Dong YC (1999) Introduction of genes resistant to barley yellow dwarf virus from Roegneria ciliaris to common wheat. J Genet Genom 26:370–376

Yuan WY, Tomita M (2009) Centromeric distribution of 350-family in Dasypyrum villosum and its application to identifying Dasypyrum chromatin in the wheat genome. Hereditas 146:58–66

Zhang P, Li WL, Fellers J, Friebe B, Gill BS (2004) BAC-FISH in wheat identifies chromosome landmarks consisting of different types of transposable elements. Chromosoma 112:288–299

Zhang C, Fan X, Yu HQ, Zhang HQ, Wang XL, Zhou YH (2009) Phylogenetic analysis of questionable tetraploid species in Roegneria and Pseudoroegneria (Poaceae: Triticeae) inferred from a gene encoding plastid acety1-CoA carboxylase. Biochem Syst Ecol 37:412–420
Acknowledgements
This research was supported by the National Key Research and Development Program (2016YFD0102001, 2017YFD0100801), International Cooperation and Exchange of the National Natural Science Foundation of China (Grant No. 31661143005), '948' Project of Ministry of Agriculture (2016-X10), Science and Technology Service of CAS (KFJ-STS-ZDTP-002), Shanghai Agriculture Applied Technology Development Program, China (20160101), Jiangsu Province scientific and technological achievements into a special fund project (BA2017138), Indigenous Innovation Foundation of Jiangsu Provincial Agricultural Science and Technology [CX(15)1001], the Program of Introducing Talents of Discipline to Universities (No. B08025), and the Project Funded by the Priority Academic Program Development of Jiangsu Higher Education Institutions (PAPD).
Ethics declarations
Conflict of interest
The authors declare that they have no conflicts of interest.
Additional information
Communicated by Beat Keller.
Electronic supplementary material
Below is the link to the electronic supplementary material.
About this article
Cite this article
Kong, L., Song, X., Xiao, J. et al. Development and characterization of a complete set of Triticum aestivum–Roegneria ciliaris disomic addition lines. Theor Appl Genet 131, 1793–1806 (2018). https://doi.org/10.1007/s00122-018-3114-6
Received:

Accepted:

Published:

Issue Date: