Abstract
Key message
The dwarfing gene Rht24 on chromosome 6A acts in the wheat population 'Solitär × Bussard', considerably reducing plant height without increasing Fusarium head blight severity and delaying heading stage.
Abstract
The introduction of the Reduced height (Rht)-B1 and Rht-D1 semi-dwarfing genes led to remarkable increases in wheat yields during the Green Revolution. However, their utilization also brings about some unwanted characteristics, including the increased susceptibility to Fusarium head blight. Thus, Rht loci that hold the potential to reduce plant height in wheat without concomitantly increasing Fusarium head blight (FHB) susceptibility are urgently required. The biparental population 'Solitär × Bussard' fixed for the Rht-1 wild-type alleles, but segregating for the recently described gibberellic acid (GA)-sensitive Rht24 gene, was analyzed to identify quantitative trait loci (QTL) for FHB severity, plant height, and heading date and to evaluate the effect of the Rht24 locus on these traits. The most prominent QTL was Rht24 on chromosome 6A explaining 51% of genotypic variation for plant height and exerting an additive effect of − 4.80 cm. For FHB severity three QTL were detected, whereas five and six QTL were found for plant height and heading date, respectively. No FHB resistance QTL was co-localized with QTL for plant height. Unlike the Rht-1 semi-dwarfing alleles, Rht24b did not significantly affect FHB severity. This demonstrates that the choice of semi-dwarfing genes used in plant breeding programs is of utmost consideration where resistance to FHB is an important breeding target.
Access options
Buy single article
Instant access to the full article PDF.
US$ 39.95
Tax calculation will be finalised during checkout.
Subscribe to journal
Immediate online access to all issues from 2019. Subscription will auto renew annually.
US$ 119
Tax calculation will be finalised during checkout.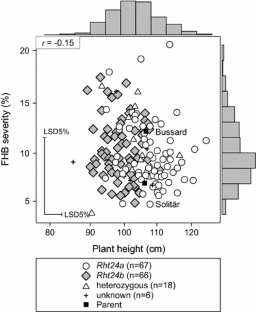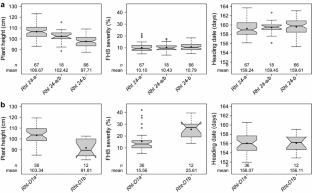 References
Bai GH, Shaner G (1994) Scab of wheat—prospects for control. Plant Dis 78:760–766

Brennan JM, Fagan B, van Maanen A, Cooke BM, Doohan FM (2003) Studies on in vitro growth and pathogenicity of European Fusarium fungi. Eur J Plant Pathol 109:577–587

Buerstmayr M, Buerstmayr H (2016) The semidwarfing alleles Rht-D1b and Rht-B1b show marked differences in their associations with anther-retention in wheat heads and with Fusarium head blight susceptibility. Phytopathology 106:1544–1552

Buerstmayr H, Ban T, Anderson JA (2009) QTL mapping and marker-assisted selection for Fusarium head blight resistance in wheat: a review. Plant Breed 128:1–26

Churchill G, Doerge R (1994) Empirical threshold values for quantitative trait mapping. Genetics 138:963–971

Draeger R, Gosman N, Steed A et al (2007) Identification of QTLs for resistance to Fusarium head blight, DON accumulation and associated traits in the winter wheat variety Arina. Theor Appl Genet 115:617–625

Falconer DS, Mackay TFC (1996) Introduction to quantitative genetics, 4th edn. Prentice Hall, London

Fisher RA (1921) On the "probable error" of a coefficient of correlation deduced from a small sample. Metron 1:1–32

Flintham JE, Börner A, Worland AJ, Gale MD (1997) Optimizing wheat grain yield: effects of Rht (gibberellin-insensitive) dwarfing genes. J Agric Sci 128:11–25

Gale MD, Youssefian S (1985) Dwarfing genes in wheat. In: Russell GE (ed) Progress in plant breeding 1. Butterworth, London, pp 1–35

Gervais L, Dedryver F, Morlais JY, Bodusseau V, Negre S, Bilous M, Groos C, Trottet M (2003) Mapping of quantitative trait loci for field resistance to Fusarium head blight in an European winter wheat. Theor Appl Genet 106:961–970

Gilbert J, Tekauz A (2000) Review: recent developments in research on Fusarium head blight of wheat in Canada. Can J Plant Pathol 22:1–8

Gilmour AR, Gogel BJ, Cullis BR, Thompson R (2009) ASReml user guide release 3.0. VSN International Hemel Ltd, Hempstead. http://www.vsni.co.uk. Accessed 3 Mar 2017

Gosman N, Steed A, Simmonds J, Leverington-Waite M, Wang Y, Snape J, Nicholson P (2008) Susceptibility to Fusarium head blight is associated with the Rht-D1b semi-dwarfing allele in wheat. Theor Appl Genet 116:1145–1153

Griffiths S, Simmonds J, Leverington M et al (2012) Meta-QTL analysis of the genetic control of crop height in elite European winter wheat germplasm. Mol Breed 29:159–171

Haley CS, Knott SA (1992) A simple regression method for mapping quantitative trait loci in line crosses using flanking markers. Heredity 69:315–324

Hallauer AR, Miranda JB (1981) Quantitative genetics in maize breeding. Iowa State University Press, Ames

Hedden P (2003) The genes of the Green Revolution. Trends Genet 19:5–9

Hilton AJ, Jenkinson P, Hollins TW, Parry DW (1999) Relationship between cultivar height and severity of Fusarium ear blight in wheat. Plant Pathol 48:202–208

Holzapfel J, Voss HH, Miedaner T et al (2008) Inheritance of resistance to Fusarium head blight in three European winter wheat populations. Theor Appl Genet 117:1119–1128

Korzun V, Roder MS, Ganal MW, Worland AJ, Law CN (1998) Genetic analysis of the dwarfing gene (Rht8) in wheat. Part I. Molecular mapping of Rht8 on the short arm of chromosome 2D of bread wheat (Triticum aestivum L.). Theor Appl Genet 96:1104–1109

Leonard K, Bushnell W (2003) Fusarium head blight of wheat and barley. The American Phytopathological Society, Minnesota

Li XP, Lan SQ, Liu YP, Gale M, Worland T (2006) Effects of different Rht-B1b, Rht-D1b and Rht-B1c dwarfing genes on agronomic characteristics in wheat. Cereal Res Commun 34:919–924

Li T, Bai G, Wu S et al (2011) Quantitative trait loci for resistance to Fusarium head blight in a Chinese wheat landrace Haiyanzhong. Theor Appl Genet 122:1497–1502

Li X, Xia X, Xiao Y et al (2015) QTL mapping for plant height and yield components in common wheat under water-limited and full irrigation environments. Crop Pasture Sci 66:660–670

Löffler M, Schön CC, Miedaner T (2009) Revealing the genetic architecture of FHB resistance in hexaploid wheat (Triticum aestivum L.) by QTL meta-analysis. Mol Breed 23:473–488

Lu Q, Lillemo M, Skinnes H et al (2013) Anther extrusion and plant height are associated with Type I resistance to Fusarium head blight in bread wheat line 'Shanghai-3/Catbird'. Theor Appl Genet 126:317–334

Mao SL, Wei YM, Cao W et al (2010) Confirmation of the relationship between plant height and Fusarium head blight resistance in wheat (Triticum aestivum L.) by QTL meta-analysis. Euphytica 174:343–356

McGill R, Tukey JW, Larsen WA (1978) Variations of box plots. Am Stat 32:12–16

McIntosh RA, Dubcovsky J, Rogers WJ, Morris C, Xia XC (2017) Catalogue of gene symbols for wheat: 2017 supplement. http://shigen.nig.ac.jp/wheat/komugi/genes/symbolClassList.jsp. Accessed 11 Sept 2017

McMullen M, Jones R, Gallenberg D (1997) Scab of wheat and barley: a re-emerging disease of devastating impact. Plant Dis 81:1340–1348

Mesterházy A (1995) Types and components of resistance to Fusarium head blight of wheat. Plant Breed 114:377–386

Miedaner T, Voss HH (2008) Effect of dwarfing genes on Fusarium head blight resistance in two sets of near-isogenic lines of wheat and check cultivars. Crop Sci 48:2115–2122

Miedaner T, Gang G, Geiger HH (1996) Quantitative-genetic basis of aggressiveness of 42 isolates of Fusarium culmorum for winter rye head blight. Plant Dis 80:500–504

Paillard S, Schnurbusch T, Tiwari R, Messmer M, Winzeler M, Keller B, Schachermayr G (2004) QTL analysis of resistance to Fusarium head blight in Swiss winter wheat (Triticum aestivum L.). Theor Appl Genet 109:323–332

Parry DW, Jenkinson P, McLeod L (1995) Fusarium ear blight (scab) in small grain cereals—a review. Plant Pathol 44:207–238

Peng JR, Richards DE, Hartley NM et al (1999) 'Green revolution' genes encode mutant gibberellin response modulators. Nature 400:256–261

Piepho HP, Williams ER, Fleck M (2006) A note on the analysis of designed experiments with complex treatment structure. HortScience 41:446–452

R Core Team (2017) R: a language and environment for statistical computing. R Foundation for Statistical Computing, Vienna, Austria. https://www.R-project.org/. Accessed 14 Dec 2017

Saville RJ, Gosman N, Burt CJ et al (2012) The "Green Revolution" dwarfing genes play a role in disease resistance in Triticum aestivum and Hordeum vulgare. J Exp Bot 63:1271–1283

Schmolke M, Zimmermann G, Buerstmayr H, Schweizer G, Miedaner T, Korzun V, Ebmeyer E, Hartl L (2005) Molecular mapping of Fusarium head blight resistance in the winter wheat population Dream/Lynx. Theor Appl Genet 111:747–756

Shen R, Kong LR, Ohm H (2004) Fusarium head blight resistance in hexaploid wheat (Triticum aestivum)—Lophopyrum genetic lines and tagging of the alien chromatin by PCR markers. Theor Appl Genet 108:808–813

Snijders CHA, Perkowski J (1990) Effects of head blight caused by Fusarium culmorum on toxin content and weight of wheat kernels. Phytopathology 80:566–570

Srinivasachary Gosman N, Steed A, Hollins TW, Bayles R, Jennings P, Nicholson P (2009) Semi-dwarfing Rht-B1 and Rht-D1 loci of wheat differ significantly in their influence on resistance to Fusarium head blight. Theor Appl Genet 118:695

Stram DO, Lee JW (1994) Variance component testing in the longitudinal mixed effects model. Biometrics 50:1171–1177

Tanksley SD (1993) Mapping polygenes. Annu Rev Genet 27:205–233

Tian X, Wen W, Xie L et al (2017) Molecular mapping of reduced plant height gene Rht24 in bread wheat. Front Plant Sci 8:1379

Tinker NA, Fortin MG, Mather DE (1993) Random amplified polymorphic DNA and pedigree relationships in spring barley. Theor Appl Genet 85:976–984

Utz HF (2012) PlabMQTL—software for meta-QTL analysis with composite interval mapping. Version 0.5s. PlabMQTL manual. Institute of Plant Breeding, Seed Science, and Population Genetics, Stuttgart

Utz HF, Melchinger AE, Schön CC (2000) Bias and sampling error of the estimated proportion of genotypic variance explained by quantitative trait loci determined from experimental data in maize using cross validation and validation with independent samples. Genetics 154(4):1839–1849

Voss HH, Holzapfel J, Hartl L et al (2008) Effect of the Rht-D1 dwarfing locus on Fusarium head blight rating in three segregating populations of winter wheat. Plant Breed 127:333–339

Waldron BL, Moreno-Sevilla B, Anderson JA, Stack RW, Frohberg RC (1999) RFLP mapping of QTL for Fusarium head blight resistance in wheat. Crop Sci 39:805–811

Wang S, Wong D, Forrest K et al (2014) Characterization of polyploid wheat genomic diversity using a high-density 90 000 single nucleotide polymorphism array. Plant Biotechnol J 12:787–796

Wong LSL, Tekauz A, Leisle D, Abrarnson D, McKenzie RIH (1992) Prevalence, distribution, and importance of Fusarium head blight in wheat in Manitoba. Can J Plant Pathol 14:233–238

Worland AJ, Korzun V, Roder MS, Ganal MW, Law CN (1998) Genetic analysis of the dwarfing gene Rht8 in wheat. Part II. The distribution and adaptive significance of allelic variants at the Rht8 locus of wheat as revealed by microsatellite screening. Theor Appl Genet 96:1110–1120

Würschum T, Langer SM, Longin CFH, Tucker MR, Leiser WL (2017) A modern Green Revolution gene for reduced height in wheat. Plant J. https://doi.org/10.1111/tpj.13726
Acknowledgements
We highly appreciate the excellent technical support of the teams at KWS LOCHOW and University of Hohenheim. We want to acknowledge Prof. Dr. H. F. Utz, Institute of Plant Breeding, Seed Science and Population Genetics, University of Hohenheim, for his committed assistance in QTL mapping. This research was funded by the German Federal Ministry of Education and Research (BMBF, Grant no. 031B0011A+E) in the framework of Bioeconomy International (FusResist). The responsibility of the content of this publication rests with the authors.
Ethics declarations
Conflict of interest
The authors declare no conflict of interest.
Ethical standards
The experiments comply with the current laws of Germany in which they were performed.
Additional information
Communicated by Hermann Buerstmayr.
Electronic supplementary material
Below is the link to the electronic supplementary material.
About this article
Cite this article
Herter, C.P., Ebmeyer, E., Kollers, S. et al. Rht24 reduces height in the winter wheat population 'Solitär × Bussard' without adverse effects on Fusarium head blight infection. Theor Appl Genet 131, 1263–1272 (2018). https://doi.org/10.1007/s00122-018-3076-8
Received:

Accepted:

Published:

Issue Date: