Abstract
Key message
The barley eceriferum-b.2 (cer-b.2) mutant produces glossy leaf sheaths and is deficient in the cuticular wax component 14,16-hentriacontanedione. The mutated gene maps to a 1.3-cM interval on chromosome 3HL flanked by the genes MLOC_10972 and MLOC_69561.
Abstract
The cuticular wax coating of leaves and stems in many grass species is responsible for the plants' glaucous appearance. A major component of the wax is a group of β-diketone compounds. The barley eceriferum-b.2 (cer-b.2) mutant produces glossy leaf sheaths and is deficient for the compound 14,16-hentriacontanedione. A linkage analysis based on 708 gametes allowed the gene responsible for the mutant phenotype to be mapped to a 1.3-cM interval on chromosome 3HL flanked by the two genes MLOC_10972 and _69561. The product of the wild type allele may represent a step in the β-diketone synthesis pathway.
Access options
Buy single article
Instant access to the full article PDF.
US$ 39.95
Tax calculation will be finalised during checkout.
Subscribe to journal
Immediate online access to all issues from 2019. Subscription will auto renew annually.
US$ 119
Tax calculation will be finalised during checkout.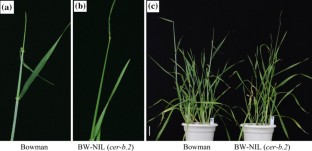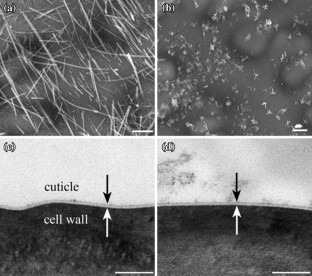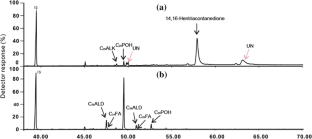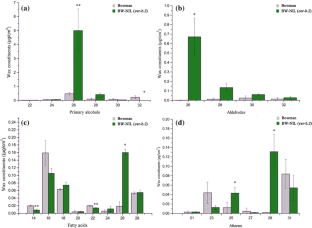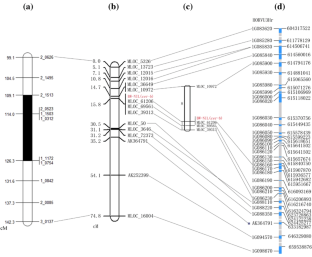 References
Adamski NM, Bush MS, Simmonds J, Turner AS, Mugford SG, Jones A, Findlay K, Pedentchouk N, von Wettstein-Knowles P, Uauy C (2013) The Inhibitor of wax 1 locus (Iw1) prevents formation of β- and OH-β-diketones in wheat cuticular waxes and maps to a sub-cM interval on chromosome arm 2BS. Plant J 74:989–1002

Bernard A, Joubès J (2013) Arabidopsis cuticular waxes: advances in synthesis, export and regulation. Prog Lipid Res 52:110–129

Bi H, Luang S, Li Y, Bazanova N, Morran S, Song Z, Perera MA, Hrmova M, Borisjuk N, Lopato S (2016) Identification and characterization of wheat drought-responsive MYB transcription factors involved in the regulation of cuticle biosynthesis. J Exp Bot 67:5363–5380

Bianchi G, Figini ML (1986) Epicuticular waxes of glaucous and nonglaucous durum Wheat lines. J Agric Food Chem 34:429–433

Broun P, Poindexter P, Osborne E, Jiang CZ, Riechmann JL (2004) WIN1, a transcriptional activator of epidermal wax accumulation in Arabidopsis. Pro Natl Acad Sci USA 101:4706–4711

Cárdenas PD, Sonawane PD, Pollier J, Vanden Bossche R, Dewangan V, Weithorn E, Tal L, Meir S, Rogachev I, Malitsky S, Giri AP, Goossens A, Burdman S, Aharoni A (2016) GAME9 regulates the biosynthesis of steroidal alkaloids and upstream isoprenoids in the plant mevalonate pathway. Nat Commun 7:10654

Druka A, Franckowiak J, Lundqvist U, Bonar N, Alexander J, Houston K, Radovic S, Shahinnia F, Vendramin V, Morgante M, Stein N, Waugh R (2011) Genetic dissection of barley morphology and development. Plant Physiol 155:617–627

Eslick RF, McProud WL (1974) Positioning of genetic male sterile 5 (msg5) on chromosome 3. BGN 4:16–23

Franckowiak JD, Lundqvist U (2011) Descriptions of barley genetic stocks for 2011. Barley Genet Newsl 41:141–142

Hen-Avivi S, Savin O, Racovita RC, Lee WS, Adamki N, Malitsky S, Almekias-Siegl E, Levy M, Vautrin S, Bergès H, Friedlander G, Kartvelishvily E, Ben-Zvi G, Alkan N, Uauy C, Kanyuka K, Jetter R, Distelfeld A, Aharoni A (2016) A metabolic gene cluster in the Wheat W1 and the Barley Cer-cqu loci determines β-diketone biosynthesis and glaucousness. Plant Cell 28:1440–1460

Jenks MA, Eigenbrode SD, Lemieux B (2002) Cuticular waxes of Arabidopsis. Arabidopsis Book/Am Soc Plant Biol 1:e0016

Jetter R, Schäffer S (2001) Chemical composition of the Prunus laurocerasus leaf surface. Dynamic changes of the epicuticular wax film during leaf development. Plant Physiol 126:1725–1737

Komatsuda T, Nakamura I, Takaiwa F, Oka S (1998) Development of STS markers closely linked to the vrs1 locus in barley, Hordeum vulgare. Genome 41:680–685

Konishi T (1970) Genetic analyses of two kinds of EMS-induced mutants of barley. Barley Newsl 13:57–58

Kosambi DD (1944) The estimation of map distances from recombination values. Ann Eugen 12:172–175

Kunst L, Samuels AL (2003) Biosynthesis and secretion of plant cuticular wax. Prog Lipid Res 12:721–727

Kunst L, Samuels L (2009) Plant cuticles shine: advances in wax biosynthesis and export. Curr Opin Plant Biol 12:721–727

Kyazma (2006) https://www.kyazma.nl/index.php/mc.JoinMap/. Accessed 10 May 2016

Lee SB, Kim HU, Suh MC (2016) MYB94 and MYB96 additively activate cuticular wax biosynthesis in Arabidopsis. Plant Cell Physiol 57:2300–2311

Li-Beisson Y, Shorrosh B, Beisson F, Andersson MX, Arondel V, Bates PD, Baud S, Bird D, Debono A, Durrett TP, Franke RB, Graham IA, Katayama K, Kelly AA, Larson T, Markham JE, Miquel M, Molina I, Nishida I, Rowland O, Samuels L, Schmid KM, Wada H, Welti R, Xu C, Zallot R, Ohlrogge J (2010) Acyl-lipid metabolism. Arabidopsis Book/Am Soc Plant Biol 8:e0133

Lundqvist U, Lundqvist A (1988) Mutagen specificity in barley for 1580 eceriferurn mutants localized to 79 loci. Hereditas 108:1–12

Lundqvist U, Wettstein D (2009) Induction of Eceriferum mutants in barley by ionizing radiations and chemical mutagens. Hereditas 48:342–362

Mayer KF, Martis M, Hedley PE, Simkova H, Liu H, Morris JA, Steuernagel B, Taudien S, Roessner S, Gundlach H, Kubalakova M, Suchankova P, Murat F, Felder M, Nussbaumer T, Graner A, Salse J, Endo T, Sakai H, Tanaka T, Itoh T, Sato K, Platzer M, Matsumoto T, Scholz U, Dolezel J, Waugh R, Stein N (2011) Unlocking the barley genome by chromosomal and comparative genomics. Plant Cell 23:1249–1263

Mikkelsen J (1979) Structure and biosynthesis of β-diketones in barley spike epicuticular wax. Carlsberg Res Commun 44: 133–147

Oshima Y, Shikata M, Koyama T, Ohtsubo N, Mitsuda N, Ohme-Takagi M (2013) MIXTA-like transcription factors and WAX INDUCER1/SHINE1 coordinately regulate cuticle development in Arabidopsis and Torenia fournieri. Plant Cell 25:1609–1624

Rasmusson DC, Lambert JW (1965) Inheritance of the glossy-sheath character in barley, Hordeum vulgare L. Crop Sci 5:251–253

Riederer M, Schreiber L (2001) Protecting against water loss: analysis of the barrier properties of plant cuticles. J Exp Bot 52:2023–2032

Schneider LM, Adamski NM, Christensen CE, Stuart DB, Vautrin S, Hansson M, Uauy C, von Wettstein-Knowles P (2016) The Cer-cqu gene cluster determines three key players in a β-diketone synthase polyketide pathway synthesizing aliphatics in epicuticular waxes. J Exp Bot 67:2715–2730

Schondelmaier J, Fischbeck G, Jahoor A (1993) Linkage studies between morphological and RFLP markers in the barley genome. BGN 22:57–62

Singh RJ, Tsuchiya T (1974) Further information on telotrisomic analysis in barley. BGN 44:66–69

Tsuchiya T (1972) Cytogenetics of telotrisomics in barley. BGN 2:93–98

Tsunewaki K, Ebana K (1999) Production of near-isogenic lines of common wheat for glaucousness and genetic basis of this trait. Genes Genet Syst 74:33–41

Varshney RK, Balyan HS, Langridge P (2006) Wheat. In:Kole C (ed) Cereals and millets. Springer, Berlin, pp 79–134

von Wettstein-Knowles P (1972) Genetic control of β-diketone and hydroxy-β-diketone synthesis in epicuticular waxes of barley. Planta 106:113–130

von Wettstein-Knowles P (1980) The cer-cqu region in barley: gene cluster or multifunctional gene. Carlsberg Res Commun 45:125–141

von Wettstein-Knowles P (1986) The role of cer-cqu in epicuticular wax biosynthesis. Biochem Soc Trans 14:576–579

von Wettstein-Knowles P (1992) Molecular genetics of lipid synthesis in barley. In: Munck L (ed) Barley genetics, VI, pp 753–771

von Wettstein-Knowles P (2012) Plant waxes. In: eLS. Wiley, Chichester. doi:10.1002/9780470015902.a0001919.pub2

Voorrips RE (2002) MapChart software for the graphical presentation of linkage maps and QTLs. J Hered 93:77–78

Wang Y, Wang ML, Sun YL, Hegebarth D, Li TT, Jetter R, Wang ZH (2015) Molecular characterization of TaFAR1 involved in primary alcohol biosynthesis of cuticular wax in hexaploid wheat. Plant Cell Physiol 56:1944–1961

Xu XJ, Charles R, Dietrich (1997) Sequence analysis of the cloned glossy 8 gene of Maize suggests that it may code for a β-ketoacyl reductase required for the biosynthesis of cuticular waxes. Plant Physiol 115:501–510

Yeats TH, Rose JK (2013) The formation and function of plant cuticles. Plant Physiol 163:5–20
Acknowledgements
This work was supported by grants from the National Natural Science Foundation of China (41621001 and 31170369), by the Key Project of the Chinese National Programs for Fundamental Research and Development (973 Program, 2013CB429904 awarded to G.C.), by the Japanese Ministry of Agriculture, Forestry and Fisheries "Genomics for Agricultural Innovation" program (TRS1002 to T.K.), and by Gansu Innovation Research Group Fund (Y339N91001 to G.C.). We acknowledge IBSC, Leibniz Institute of Plant Genetics and Crop Plant Research (IPK), OT Gatersleben, Corrensstraße 3, Stadt Seeland, 06466, Germany; (2016): Pseudomolecules of the map-based reference genome assembly of barley cv. Morex.
Ethics declarations
Conflict of interest
The authors declare that they have no conflict of interest.
Additional information
Communicated by Alan H. Schulman.
Electronic supplementary material
Below is the link to the electronic supplementary material.
About this article
Cite this article
Zhou, Q., Li, C., Mishina, K. et al. Characterization and genetic mapping of the β-diketone deficient eceriferum-b barley mutant. Theor Appl Genet 130, 1169–1178 (2017). https://doi.org/10.1007/s00122-017-2877-5
Received:

Accepted:

Published:

Issue Date:
Keywords
Leaf Sheath

Wild Barley Accession

Flag Leaf Sheath

International Barley Genome Sequencing Consortium

Cuticle Membrane