Abstract
Key message
Here we report the production of a set of wheat - Aegilops speltoides Robertsonian translocations covering all Ae. speltoides chromosome arms except the long arm of the homoeologous group 4 chromosome.
Abstract
Aegilops speltoides of the Poaceae family is the most probable donor of the B and G genomes of polyploid Triticum species and also an important source of resistance to diseases and pests of wheat. Previously, we reported the production of a complete set of T aestivum-Ae. speltoides chromosome addition lines and a set of disomic S(B/A)-genome chromosome substitution lines. The isolation of compensating Robertsonian translocations (RobTs) composed of alien chromosome arms translocated to homoeologous wheat chromosome arms is the important next step to exploit the genetic variation of a wild relative of wheat. Here, we report the development of molecular markers specific for the S-genome chromosomes and their use in the isolation of a set of 13 compensating wheat-Ae. speltoides RobTs covering the S genome of Ae. speltoides except for the long arm of chromosome 4S. Most of the RobTs were fully fertile and will facilitate mapping of genes to specific chromosome arms and also will accelerate the introgression of agronomically useful traits from Ae. speltoides into wheat by homologous recombination.
Access options
Buy single article
Instant access to the full article PDF.
USD 39.95
Price excludes VAT (USA)
Tax calculation will be finalised during checkout.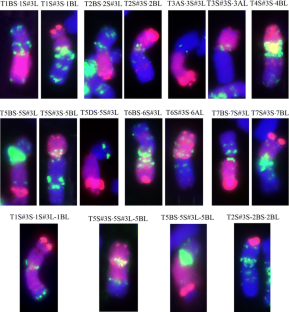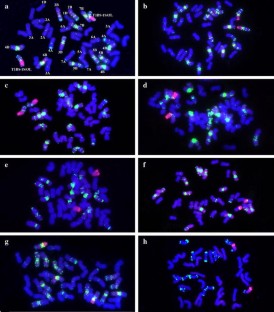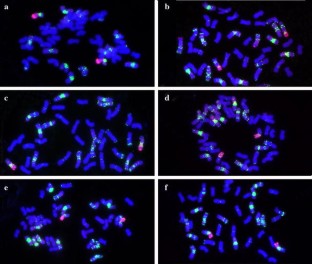 References
Cainong JC, Zavatsky LE, Chen MS, Johnson J, Friebe B, Gill BS, Lukaszewski AJ (2010) Wheat-rye T2BS·2BL-2RL recombinants with resistance to hessian fly (H21). Crop Sci 50:920–925

Danilova TV, Friebe B, Gill BS (2012) Single-copy gene fluorescence in situ hybridization and genome analysis: Acc-2 loci mark evolutionary chromosomal rearrangements in wheat. Chromosoma 121:597–611

Danilova TV, Friebe B, Gill BS (2014) Development of a wheat single gene FISH map for analyzing homoeologous relationship and chromosomal rearrangements within the Triticeae. Theor Appl Genet 127:715–730

Dvorak J (1976) The relationship between the genome of Triticum urartu and the A and B genomes of Triticum aestivum. Can J Genet Cytol 18:371–377

Dvorak J, Zhang H-B (1990) Variation in repeated nucleotide sequences shed light on the phylogeny of the wheat B and G genomes. Proc Natl Acad Sci USA 87:9640–9644

Dvorak J, Deal KR, Luo MC (2006) Discovery and mapping of wheat Ph1 suppressors. Genetics 174:17–27

Feldman M, Lupton FGH, Miller TE (1995) Wheats. In: Smartt J, Simmonds NW (eds) Evolution of crops. J Smartt and NW Simmonds Longman Group, London, pp 184–192

Friebe B, Heun M, Tuleen N, Zeller FJ, Gill BS (1994) Cytogenetically monitored transfer of powdery mildew resistance from rye into wheat. Crop Sci 34:621–625

Friebe B, Jiang J, Raupp WJ, McIntosh RA, Gill BS (1996) Characterization of wheat-alien translocations conferring resistance to diseases and pests: current status. Euphytica 91:59–87

Friebe B, Qi LL, Nasuda S, Zhang P, Tuleen NA, Gill BS (2000) Development of a complete set of Triticum aestivum-Aegilops speltoides chromosome addition lines. Theor Appl Genet 101:51–58

Friebe B, Zhang P, Linc G, Gill BS (2005) Robertsonian translocations in wheat arise by centric misdivision of univalents at anaphase I and rejoining of broken centromeres during interkinesis of meiosis II. Cytogenet Genome Res 109:293–297

Friebe B, Qi LL, Liu C, Gill BS (2011) Genetic compensation abilities of Aegilops speltoides chromosomes for homoeologous B-genome chromosomes of polyploid wheat in disomic S(B) chromosome substitution lines. Cytogenet Genome Res 134:144–150

Huang S, Sirikhachornkit A, Su X, Faris J, Gill B, Haselkorn R, Gornicki P (2002) Genes encoding plastid acetyl-CoA carboxylase and 3-phosphoglycerate kinase of the Triticum/Aegilops complex and the evolutionary history of polyploidy wheat. Proc Natl Acad Sci USA 99:8133–8138

Kilian B, Zkan H, Deusch O, Effgen S, Brandolini A, Kohl J, Martin K, Salamini F (2007) Independent wheat B and G genome origins in outcrossing Aegilops progenitor haplotypes. Mol Biol Evol 24:217–227

Liu C, Qi L, Liu W, Zhao W, Wilson J, Friebe B, Gill BS (2011a) Development of a set of compensating Triticum aestivum-Dasypyrum villosum Robertsonian translocation lines. Genome 54:836–844

Liu W, Jin Y, Rouse M, Friebe B, Gill BS, Pumphrey MO (2011b) Development and characterization of wheat-Ae. searsii Robertsonian translocations and a recombinant chromosome conferring resistance to stem rust. Theor Appl Genet 122:1537–1545

Lukaszewski AJ (1993) Reconstruction in wheat of complete chromosomes 1B and 1R from the 1RS.1BL translocation of 'Kavkas' origin. Genome 36:821–824

Lukaszewski AJ (1994) Manipulation of the genome by chromosome breakage. In: Proceedings, US–Japan Symposium on Classical and Molecular Cytogenetic Analysis. Gill BS, Raupp WJ (eds), KS Agric Exp Sta. Rep 95-352-D, Manhattan, Kansas. pp 136–139

Lukaszewski AJ (1997) Further manipulations by centric misdivision of the 1RS.1BL translocation in wheat. Euphytica 94:257–261

Maestra B, Naranjo T (1998) Homoeologous relationships of Aegilops speltoides chromosomes to bread wheat. Theor Appl Genet 97:181–186

Marais GF, Marais AS (1994) The derivation of compensating translocations involving homoeologous group 3 chromosomes of wheat and rye. Euphytica 79:75–80

Nagy ED, Eder C, Molnar-Lang M, Lelley T (2003) Genetic mapping of sequence-specific PCR-based markers on the short arm of the 1BL.1RS wheat-rye translocation. Euphytica 132:243–250

Nave M, Avni R, Ben-Zvi Hale I, Distelfeld A (2016) QTLs for uniform grain dimensions and germination selected during wheat domestication are co-localized on chromosome 4B. Theor Appl Genet 219:1303–1315

Qi LL, Friebe B, Zhang P, Gill BS (2007) Homoeologous recombination, chromosome engineering and crop improvement. Chromosome Res 15:3–19

Raupp WJ, Friebe B, Gill BS (1995) Suggested guidelines for the nomenclature and abbreviation of the genetic stocks of wheat, Triticum aestivum L. em Thell. and its relatives. Wheat Inf Serv 81:51–55

Sourdille P, Singh S, Cadalen T, Brown-Guedira GL, Gay G, Qi L, Gill BS, Dufour P, Murigneux A, Bernard M (2004) Microsatellite based deletion bin system for the establishment of genetic physical map relationships in wheat (Triticum aestivum L.). Funct Integr Genom 4:12–25

van Slageren MW (1994) Wild wheats: a monograph of Aegilops L. and Amblyopyrum (Jaub. & Spach) Eig (Poaceae). Wageningen Agric Univ Pap 94(7):i–xiv, 1–512 (joint publication of Wageningen Agricultural University, The Netherlands, and the International Center for Agricultural Research in the Dry Areas (ICARDA), Aleppo, Syria)
Acknowledgments
We thank W. John Raupp for editorial assistance and Duane L. Wilson for the excellent assistance. This research was supported by Grants from Bayer CropScience, the WGRC I/UCRC NSF contract 1338897, the Kansas Wheat Commission, and the Kansas Crop Improvement Association. This paper is contribution number 16-375-J from the Kansas Agricultural Experiment Station, Kansas State University, Manhattan, KS 66506-5502.
Ethics declarations
Conflict of interest
The authors declare that they do not have conflict of interest.
Additional information
Communicated by B. Keller.
W. Liu and D. H. Koo have contributed equally.
About this article
Cite this article
Liu, W., Koo, DH., Friebe, B. et al. A set of Triticum aestivum-Aegilops speltoides Robertsonian translocation lines. Theor Appl Genet 129, 2359–2368 (2016). https://doi.org/10.1007/s00122-016-2774-3
Received:

Accepted:

Published:

Issue Date:

DOI: https://doi.org/10.1007/s00122-016-2774-3
Keywords
Robertsonian Translocation

Recombinant Chromosome

Aegilops Speltoides

Speltoides Chromosome

Homoeologous Wheat Chromosome