Abstract
Key message
Hard red wheats can donate genes to hard white wheats for tolerance to preharvest sprouting, the effects are quantitative in nature, and may be tracked with previously described DNA markers.
Abstract
Pre-harvest sprouting (PHS) of wheat (Triticum aestivum L.) can negatively impact end-use quality and seed viability at planting. Due to preferences for white over red wheat in international markets, white wheat with PHS tolerance has become increasingly desired for worldwide wheat production. In general, however, red wheat is more tolerant of sprouting than white wheat. The main objective of this study was the identification of PHS tolerance conditioned by genes donated from hard red winter wheat, using markers applicable to the Great Plains hard white wheat gene pool. Three red wheat by white wheat populations, Niobrara/NW99L7068, NE98466/NW99L7068 and Jagalene/NW99L7068 were developed, and white-seeded progenies were analyzed for PHS tolerance and used to identify markers for the trait. In the three populations, marker loci with significant allelic effects were most commonly located on chromosomes of group 2, 3, 4 and 5, though additional markers were detected across the wheat genome. Chromosome 3A was the only chromosome with significant markers in all three populations. Markers were inconsistent across the three populations, and markers linked to tolerance-inducing loci were identified in both tolerant and susceptible parents. Additive effects of marker loci were common. In the present investigation, a wide range of PHS tolerance was observed, even though all lines were fixed for the recently reported positive TaPHS1 allele. PHS tolerance is controlled by additive major gene effects with minor gene effects where variations of minor gene effects were still unclear.
Access options
Buy single article
Instant access to the full article PDF.
USD 39.95
Price excludes VAT (USA)
Tax calculation will be finalised during checkout.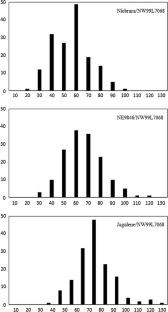 References
Baenziger PS, Moreno-Sevilla B, Peterson CJ, Schmidt JW, Shelton DR, Baltensperger DD, Graybosch RA (1996) Registration of 'Niobrara' wheat. Crop Sci 36(3):803

Bewley JD, Black M (1982) Physiological and biochemistry of seeds in relation to germination, vol 2. Springer, Berlin, pp 61–81

Clarke FR, Clarke JM, DePauw RM, Fernandez MR, Fox S, Gilbert J, Humphreys G, Knox RE, McCaig TN, Procunier D, Sissons M, Somers D (2005) Strategic approach to mitigating weather induced defects of wheat quality. Euphytica 143:285–290

DePauw RM, Knox RE, Singh AK, Fox SL, Humphreys DG, Hucl P (2012) Developing standardized methods for breeding pre-harvest sprouting resistant wheat, challenges and successes in Canadian wheat. Euphytica 188:7–14

Doyle JJ, Doyle JL (1987) A rapid DNA isolation procedure for small quantities of fresh leaf tissue. Phytochem Bull 19:11–15

Fakthongphan J (2015) Potential of red wheats to donate genes influencing preharvest sprouting of white wheats, independent of grain color. PhD Dissertation, University of Nebraska-Lincoln. Nebraska, USA

Flintham JE (2000) Different genetic components control coat-imposed and embryo imposed dormancy in wheat. Seed Sci Res 10:43–50

Flintham JE, Adlam R, Gale MD (1999) Seed coat and embryo dormancy in wheat. In: Weipert D (ed) Eighth international symposium on pre-harvest sprouting in cereals. Association of Cereal Research, Detmold, pp 67–76

Fofana B, Humphreys DG, Rasul G, Cloutier S, Brûlé-Babel A, Woods S, Lukow OM, Somers DJ (2009) Mapping quantitative trait loci controlling pre-harvest sprouting resistance in a red × white seeded spring wheat cross. Euphytica 165:509–521

Graybosch RA, St Amand P, Bai G (2013) Evaluation of genetic markers for prediction of preharvest sprouting tolerance in hard white winter wheats. Plant Breed 132:359–366

Groos C, Gay G, Perretant MR, Gervais L, Bernard M, Dedryver F, Charmet G (2002) Study of the relationship between pre-harvest sprouting and grain color by quantitative trait loci analysis in a white–red grain bread wheat cross. Theor Appl Genet 104:39–47

Gu XY, Kianian SF, Foley ME (2004) Multiple loci and epitases control genetic variation for seed dormancy in weedy rice (Oryza sativa). Genetics 166:1503–1516

Gu X-Y, Kianian SF, Foley ME (2006) Isolation of three dormancy QTLs as Mendelian factors in rice. Heredity 96:93–99

Guyomarc'h H, Sourdille P, Edwards KJ, Bernard M (2002) Studies of the transferability of microsatellites derived from Triticum tauschii to hexaploid wheat and to diploid related species using amplification, hybridization and sequence comparisons. Theor Appl Genet 105:736–744

Herrmann M (2007) A diallel analysis of various traits in winter triticale. Plant Breed 126:19–23

Ibrahim A, Langham M, Rickertsen J, Kalsbeck S, Little R, Haley S, Baenziger P, Chung OK, Seabourn BW, Jin Y, Mcvey DV, Bai G (2008) Registration of 'Darrell' wheat. J Plant Reg 2:115–121

Jiang G-L, Xiao S (2005) Factorial cross analysis of pre-harvest sprouting resistance in white wheat. Field Crop Res 91:63–69

Kato K, Nakamura W, Tabiki T, Miura H, Sawada S (2001) Detection of loci controlling seed dormancy on group 4 chromosomes of wheat and comparative mapping with rice and barley genomes. Theor Appl Genet 102:980–985

Knox RE, Clarke FR, Clarke JM, Fox SL, DePauw RM, Singh AK (2012) Enhancing the identification of genetic loci and transgressive segregants for preharvest sprouting resistance in a durum wheat population. Euphytica 186:193–206

Kottearachchi NS, Uchino N, Kato K (2006) Increased grain dormancy in white-grained wheat by introgression of preharvest sprouting tolerance QTLs. Euphytica 152:421–428

Kulwal PL, Singh R, Balyan HS, Khurana P, Khurana JP, Tyagi AK, Balyan HS, Gupta PK (2005) Mapping of a major QTl for pre-harvest sprouting tolerance on chromosome 3A in bread wheat. Theor Appl Genet 111:1357–1364

Lawson RW, Godwin ID, Cooper M, Brennan PS (1997) Genetic analysis of preharvest sprouting tolerance in three wheat crosses. Aust J Agric Res 48:215–221

Li C, Ni P, Francki M, Hunter A, Zhang Y, Schibeci D, Li H, Tarr A, Wang J, Cakir M, Yu J, Bellgard M, Lance R, Appels R (2004) Genes controlling seed dormancy and pre-harvest sprouting in a rice–wheat–barley comparison. Funct Integr Genom 4:84–93

Liu S, Bai G (2010) Dissection and fine mapping of a major QTL for preharvest sprouting resistance in white wheat Rio Blanco. Theor Appl Genet 121:1395–1404

Liu S, Cai S, Graybosch R, Chen C, Bai G (2008) Quantitative trait loci for resistance to pre-harvest sprouting in US hard white winter wheat Rio Blanco. Theor Appl Genet 117:691–699

Liu S, Sehgal SK, Li J, Lin M, Trick HN, Yu J, Gill BS, Bai G (2013) Cloning and characterization of a critical regulator for preharvest sprouting in wheat. Genetics 195:263–273

Lorieux M (2012) MapDisto: fast and efficient computation of genetic linkage maps. Mol Breed 30:1231–1235

Mares D, Mrva K, Cheong J, Williams K, Watson B, Storlie E, Sutherland M, Zou Y (2005) A QTL located on chromosome 4A associated with Dormancy in white and red-grained wheats of diverse origin. Theor Appl Genet 111:1357–1364

McKibbin RS, Wilkinson MD, Bailey PC, Flintham JE, Andrew LM, Lazzeri PA, Gale D, Lenton JR, Holdsworth MJ (2002) Transcripts of Vp-1 homeologues are misspliced in modern wheat and ancestral species. Proc Natl Acad Sci USA 99(15):10203–10208

Morris CF, Paulsen GM (1989) Registration of five preharvest sprouting-resistant hard white winter wheat germplasm. Crop Sci 29:246–247

Morris CF, Paulsen GL (1992) Review: research on pre-harvest sprouting resistance in hard red and white winter wheats at Kansas State University. In: Walker-Simmons MD, and Reid JJ (eds) Pre-Harvest Sprouting in Cereals. Am. Assoc. of Cereal Chemists. St. Paul. MN, pp 113–120

Nakamura S, Abe F, Kawahigashi H, Nakazono K, Tagiri A, Matsumoto T, Utsugi S, Ogawa T, Handa H, Ishida H, Mori M, Kawaura K, Ogihara Y, Miura H (2011) A wheat homolog of MOTHER OF FT AND TFL1 acts in the regulation of germination. Plant Cell 23:3215–3229

Pearson T, Brabec D, Haley S (2008) Color image based sorter for separating red and white wheat. Sens Instrum Food Qual 2:280–288

Röder MS, Korzun V, Wendehake K, Plaschke J, Tixier MH, Leroy P, Ganal MW (1998) A microsatellite map of wheat. Genetics 149:2007–2023

Ross AS, Bettge AD (2009) Passing the test of wheat end-use quality. In: Carver BF (ed) Wheat Science and Trade. Wildey-Blackwell, Oxford, pp 445–493

Roy JK, Prasad M, Varshney RK, Balyan HS, Blake TK, Dhaliwal HS, Singh H, Edwards KJ, Gupta PK (1999) Identification of a microsatellite on chromosomes 6B and a STS on 7D of bread wheat showing an association with preharvest sprouting tolerance. Theor Appl Genet 99:336–340

Sing R, Matus-Cádiz M, Båga M, Hucl P, Chibbar RN (2010) Identification of genomic regions associated with seed dormancy in white-grained wheat. Euphytica 174:391–408

Sing R, Hucl P, Båga M, Chibbar RN (2012) Validation of molecular markers for pre-harvest sprouting resistance in bread wheat. Cereal Res Commun 40(2):194–203

Singh AK, Knox RE, Clarke JM, Clarke FR, Singh A, DePauw RM, Cuthbert RD (2014) Genetics of pre-harvest sprouting resistance in a cross of Canadian adapted durum wheat genotypes. Mol Breed 33:919–929

Somers DJ, Isaac P, Edwards K (2004) A high-density wheat microsatellite consensus map for bread wheat (Triticum aestivum L.). Theor Appl Genet 109:1105–1114

Song QJ, Shi JR, Singh S, Fickus EW, Costa JM, Lewis J, Gill BS, Ward R, Cregan PB (2005) Development and mapping of microsatellite (SSR) markers in wheat. Theor Appl Genet 110:550–560

Wu J, Carver B (1999) Sprout damage and preharvest sprout resistance in hard white winter wheat. Crop Sci 39:441–447

Zanetti S, Winzeler M, Keller M, Keller B, Messmer M (2000) Genetic analysis of pre-harvest sprouting resistance in a wheat × spelt cross. Crop Sci 40:1406–1417
Ethics declarations
Conflict of interest
The authors declare no conflict of interest.
Additional information
Communicated by A. Zhang.
Electronic supplementary material
Below is the link to the electronic supplementary material.
About this article
Cite this article
Fakthongphan, J., Bai, G., St. Amand, P. et al. Identification of markers linked to genes for sprouting tolerance (independent of grain color) in hard white winter wheat (HWWW). Theor Appl Genet 129, 419–430 (2016). https://doi.org/10.1007/s00122-015-2636-4
Received:

Accepted:

Published:

Issue Date:

DOI: https://doi.org/10.1007/s00122-015-2636-4
Keywords